With the fresh favors of garlic and white wine, this Linguine with Clams recipe is the best! You will soon see why this is the best linguine and clams recipe!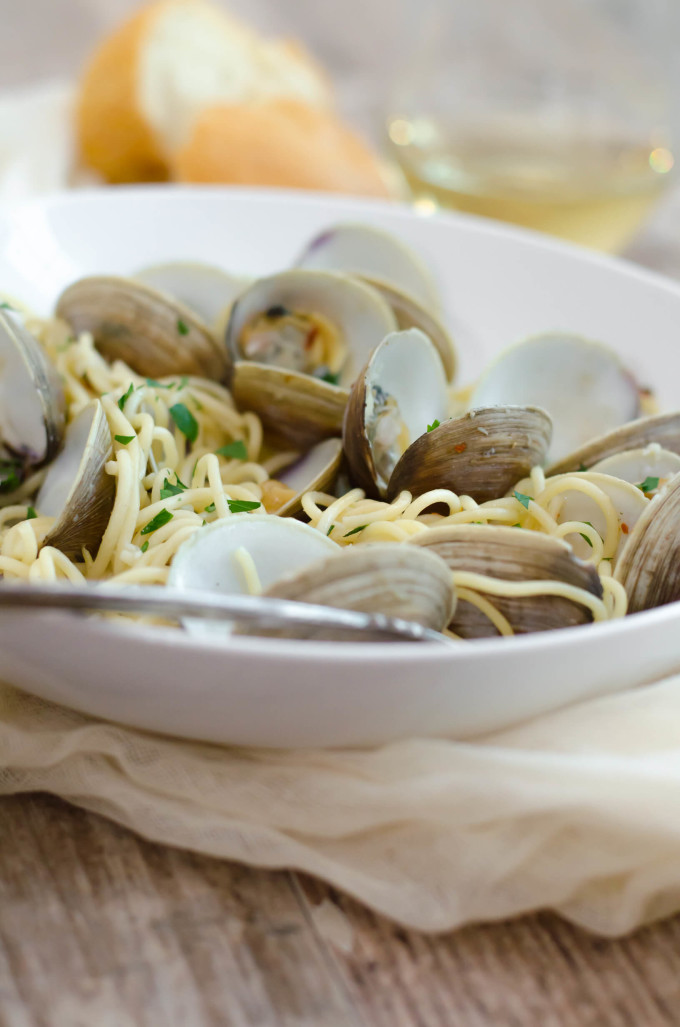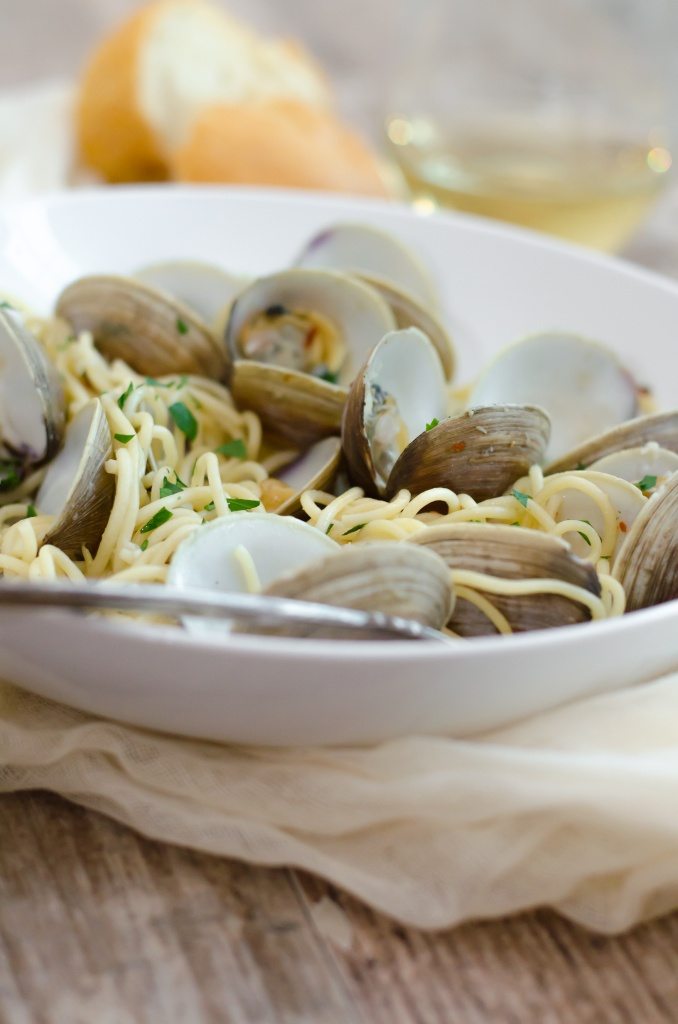 I have an idea for something else I am going to do for this site. I think I need to make another page listing my go-to favorite cookbooks. As time marches forward, I think you will find that a great deal of my recipes either come straight from, or are adaptations, of recipes in a few select books. I have to say though, I love cookbooks and I fear I may have a minor addiction to them. I have already packed two boxes of them, and will easily be filling two or three more by the time we move. If anyone ever needs an idea of what to give me for any gift-giving occasion, it's a safe bet to go to Barnes and Noble's food section and find me something interesting. I'll love you.
I think that the Williams Sonoma collection of cookbooks are particularly excellent-and it has nothing to do with my obsession with the store. They are just good, quality, dependable cookbooks, and I know I can rely on their recipes to be straight-forward and delicious. Mine quickly became loved and well-worn.
There is something so warm and comforting about a big bowl of pasta with clams for dinner. When I eat it, I am instantly sitting on the deck of Alonzo's oyster bar in Key West, watching the fishermen clean their daily catch and throw the remains to the tarpon rolling below to everyone's delight. Heaven! The combination of the brininess of the clams with the garlic and wine just soothes my soul.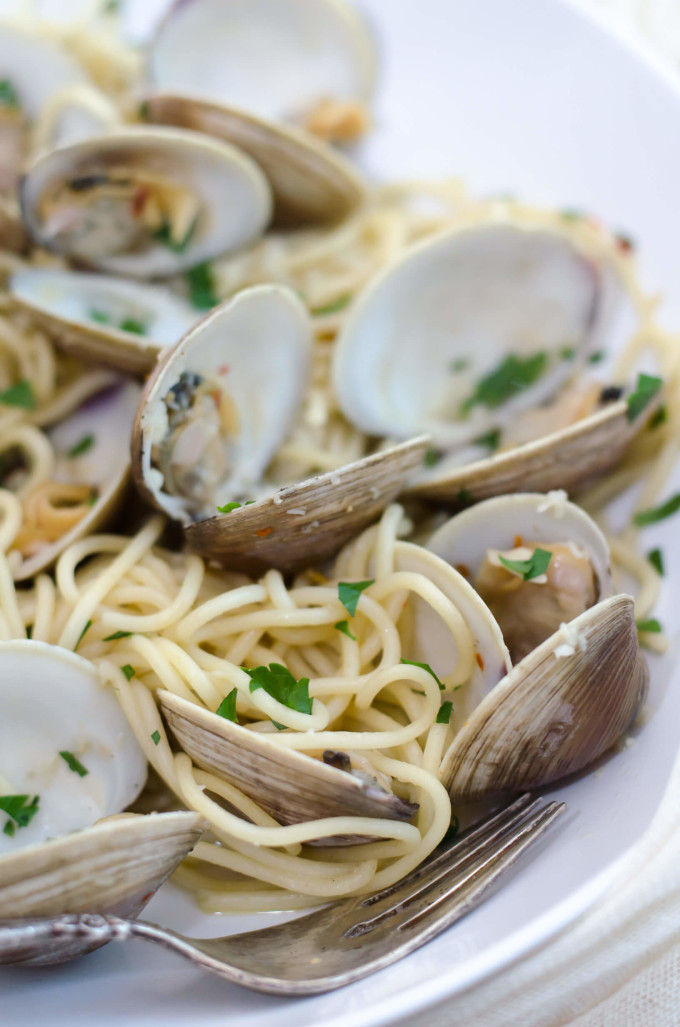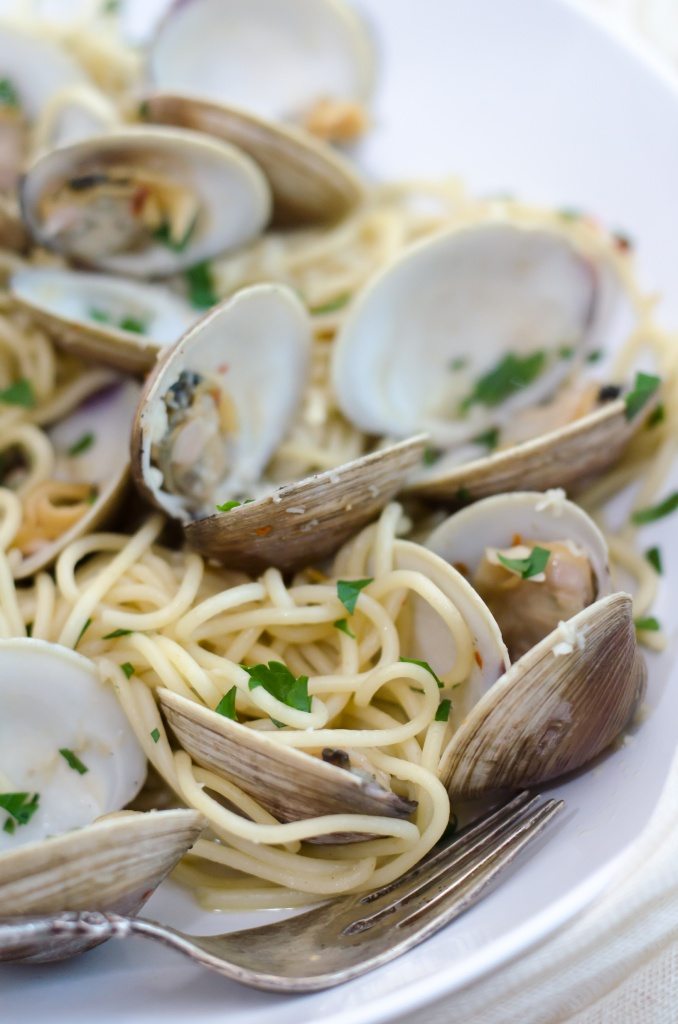 Linguine with Clams
Ingredients
3

dozen littleneck clams

about 3 lbs.

1

lb.

linguine

1/4

cup

extra-virgin olive oil

3

cloves

garlic

minced

1/4

tsp.

red pepper flakes

or to taste

1/2

cup

dry white wine

2

Tbs.

unsalted butter

3

Tbs.

fresh flat-leaf parsley

finely chopped

Scrub the clams well under cold running water.
Instructions
Meanwhile, bring a large pot of salted water to a boil over high heat. Add the linguine and stir occasionally until the water returns to a boil. Cook according to the package directions until al dente.

While the linguine is cooking, in a large saucepan over medium heat, heat together the olive oil, garlic and red pepper flakes until the garlic softens and is fragrant but not browned, about 3 minutes. Add the clams and wine and cover. Increase the heat to high and cook, shaking the pan occasionally by its handle, until the clams have opened, about 4 minutes. Remove from the heat and discard any unopened clams. Add the butter and swirl the saucepan to melt the butter into the cooking liquid.

Drain the linguine and return it to its cooking pot. Pour the clams and sauce over the linguine and mix gently. Transfer to a serving platter or individual pasta bowls, dividing the clams evenly. Sprinkle with the parsley and serve at once. Serves 4.
Tools needed to make this recipe:
All you really need to make this recipe is a [easyazon_link identifier="B00EZS5PEO" locale="US" tag="gogogogo03-20″]large pot[/easyazon_link] to boil the linguine, and a [easyazon_link identifier="B00008CM69″ locale="US" tag="gogogogo03-20″]saucepan[/easyazon_link] to cook the clams and sauce. Easy peasy!
If you liked this linguine and clams recipe, check out these other seafood recipes:
Note about this linguine with fresh clams:
As a general FYI, littleneck clams are the small clams usually carried at your grocery store. There may also be middleneck clams (slightly larger) or topneck (big boys, and what is pictured above). You can use any size, but you will need to adjust the amount that you buy. We love them around here, so for topneck clams I buy about 18 ea and 2 dozen if they have middleneck. Cooking time will also vary, but the nice thing about clams is that they are self-timing. Cook them until they open!