If you've ever wondered how to make spaghetti carbonara, wonder no more! With pancetta, garlic and plenty of cheese, this is the best Spaghetti Carbonara recipe ever!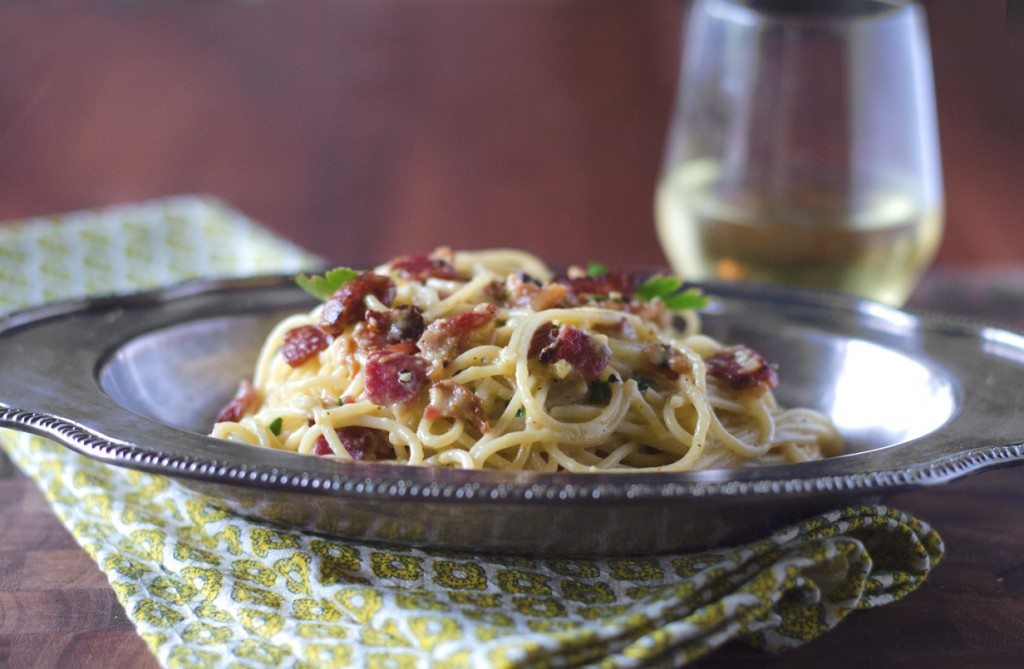 I haven't felt as overwhelmed as I feel right now in a very long time. Our current house is going to close next week, and we leave for Florida the day after that. I am still in negotiations for a house in Florida, so technically I am still homeless. I'm going back and forth, comparing lenders, interest rates, and closing costs while simultaneously trying to negotiate with people that won't negotiate.
All super fun times, let me tell you. I'm trying to remember that this is temporary, and hopefully it will be over soon, and we will have our favorite house at the end. But as I'm arguing with sellers and realtors and banks, its tough to remember.
There just doesn't seem to be enough time for anything anymore! Trying to get anything done while J is awake is completely pointless- the kid never, never, ever stops moving and/or inevitably finding something that can potentially injure him in some way.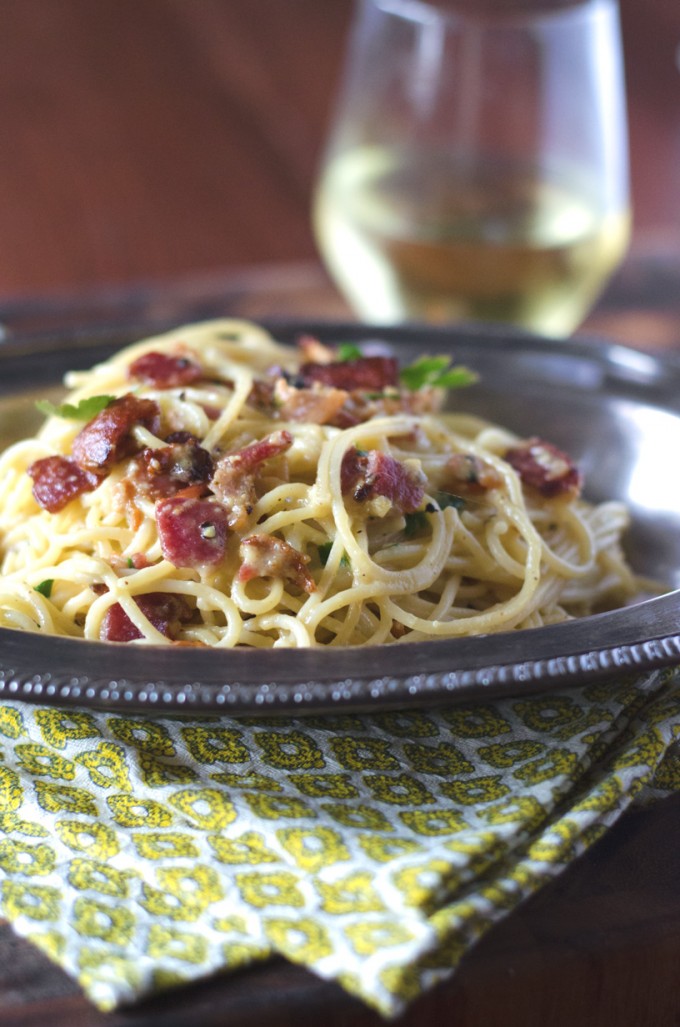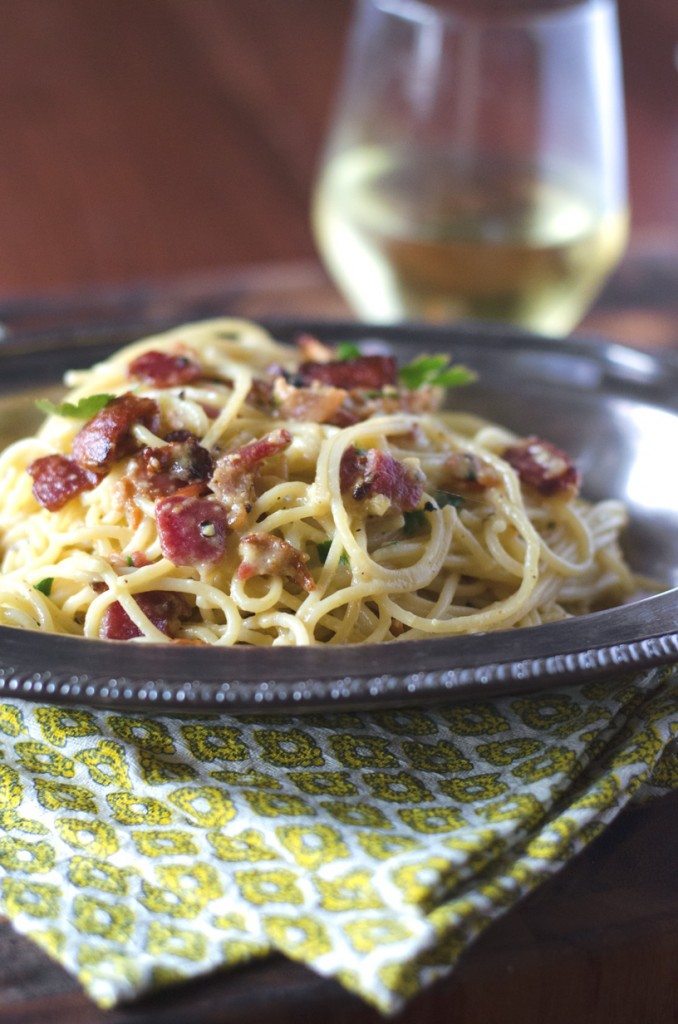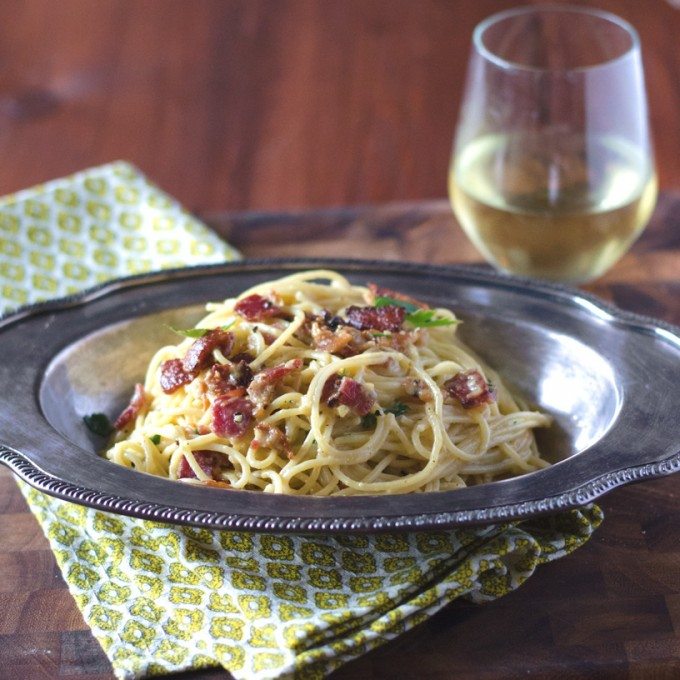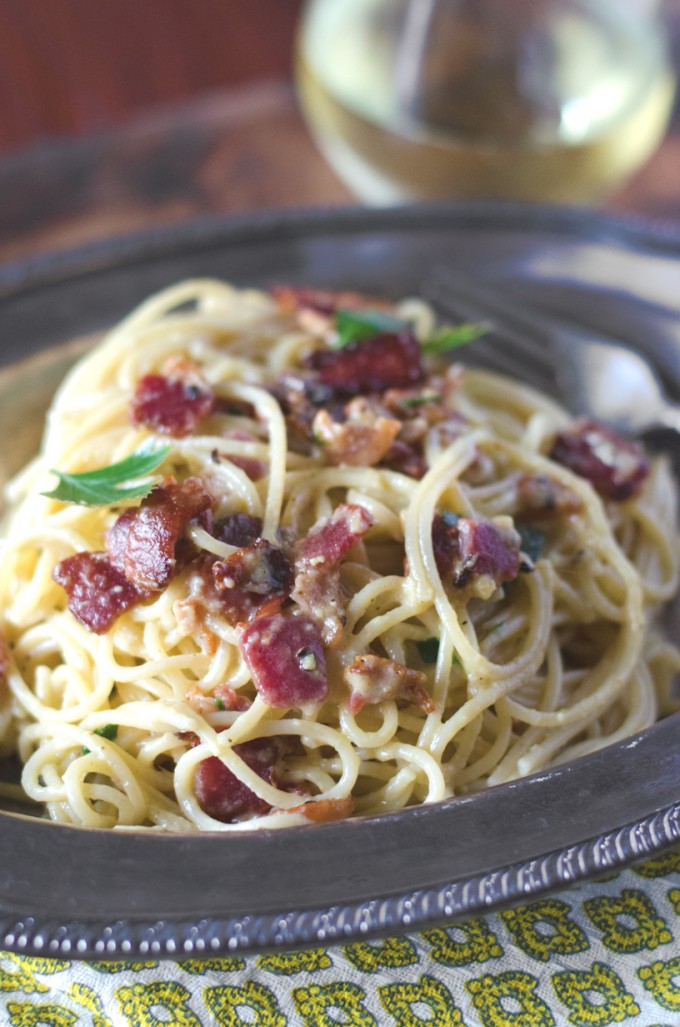 Take right now for example. I got home from work, and was set to write this post and call some banks to negotiate closing costs during nap time. J decided that he was going to screw around in his crib for an hour, banging on the wall. I had to go up and lie him back down-sternly. He started to cry. I left and shut the door. By the time I got back downstairs, he was already back up and banging on the wall. I gave him five minutes, then said "You need to lie down and go to sleep right now!" over the monitor. He sobbed for 90 seconds and then fell asleep. Hey everybody, I'm a monster.
And in case you were wondering, he woke up sobbing after only 45 minutes. Its certainly shaping up to be a fantastic evening.
Just keeping it real over here.
Don't have any time to get into detail about this meal, but just know I used to work in an Italian restaurant, carbonara was one of my favorites, I love this because the whole dish is done in the time it takes to boil water and cook pasta, and it is delicious.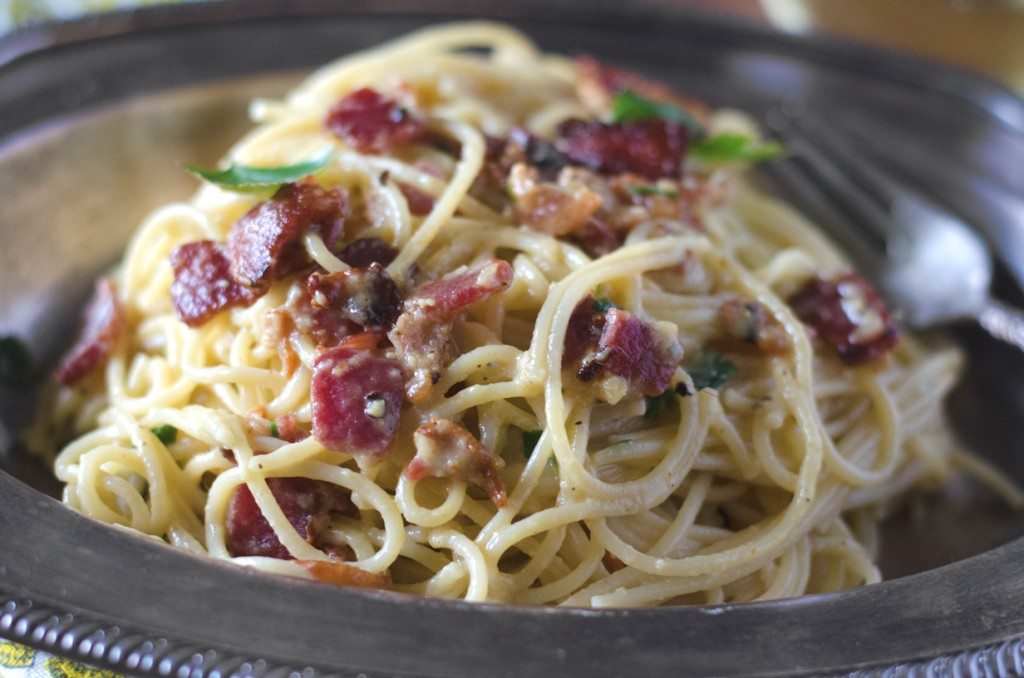 Spaghetti Carbonara
Ingredients
1/4

lb

pancetta

diced, or 6 slices bacon, chopped

4

garlic cloves

minced

3

T

extra virgin olive oil

1/4

cup

dry white wine

2

large eggs

1/4

cup

freshly grated romano cheese

1/2

cup

freshly grated parmigiano-reggiano cheese

Freshly ground black pepper

2

T

parsley

chopped

3/4

lb

pasta
Instructions
Bring a large pot of salted water to a boil. Add the pasta and cook until al dente. Do not drain.

Meanwhile, in a large skillet over medium heat, brown the pancetta until crisp along the edges. Add garlic and sauté an additional two minutes, until lightly golden. Add the wine, let it deglaze the pan for 1-2 minutes, and then turn off the heat.

Break the two eggs into the serving bowl where you will be tossing the pasta. Beat lightly with a form, then add the two cheese, a liberal amount of pepper, and the chopped parsley. Mix thoroughly.

Drain pasta, reserving 1/2 cup of cooking water. Add pasta to the bowl and toss rapidly, coating the strands well. Briefly reheat the pancetta over high heat, turn out the entire contents of the pan into the bowl, toss thoroughly again, and serve at once.

(If pasta seems too dry, add small amounts of the reserved pasta water until satisfied with the sauce consistency).
If you liked this Spaghetti Carbonara, you'll also love these other pasta recipes:
NOTE about this Pancetta Carbonara recipe:
The original recipe calls for 1/2 lb pancetta and 1 1/2 lbs of pasta. Since I was only making it for two people, I cut the pasta and the pancetta, but did not cut the ingredients for the sauce in half. I have had two different experiences with carbonara, where its either a rich creamy sauce or its a bit dryer. Personally I prefer it to be a little richer, but try it both ways and see what you think. Both are delicious, just a matter of personal preference.