This Spinach Parmesan Oysters have such incredible flavor! Baked oysters with parmesan cheese don't get any easier than this!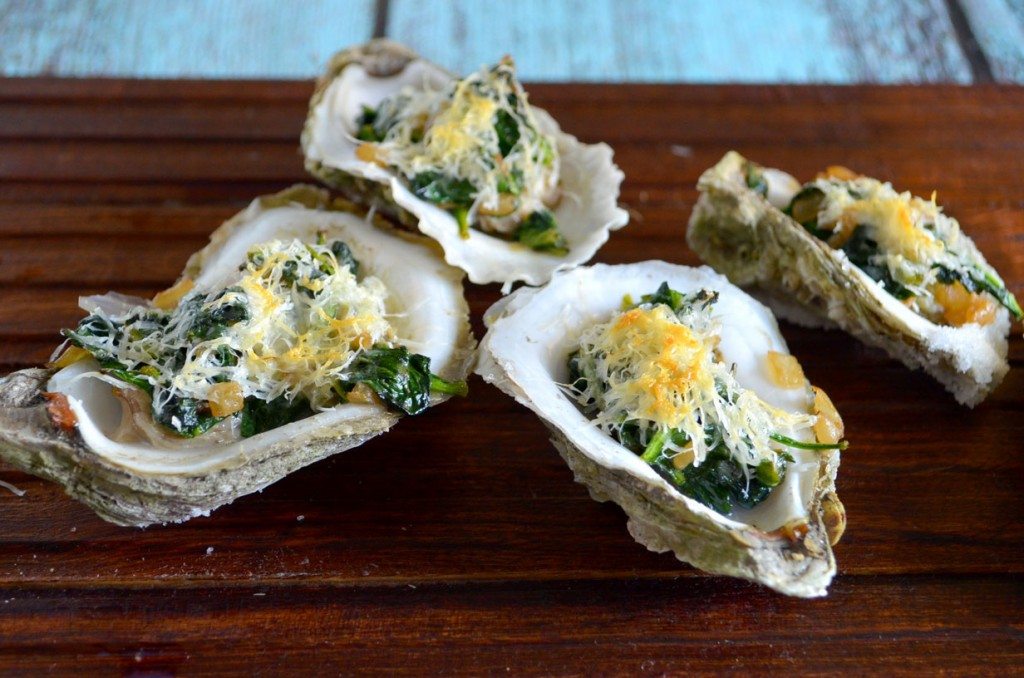 It's no secret that I am less then ecstatic about the grocery store selection down here in the sunshine State. However, sometimes I can run into pleasant surprises. I went into a rundown looking grocery store the other day, that I never go to, but we need to pick up a couple quick things for something that I was making for dinner. It was certainly nothing special even when walking around- it clearly hadn't been updated in probably 30 years. But then I walked by The first seafood case and almost fell over. There was a box of oysters standing there!
Now, you wouldn't think that fresh seafood or oysters would be particularly difficult to locate down in Florida, but that is where you'd be wrong. I still don't understand it, but it is not an easy thing. In fact, we have lived here for almost 9 months now and I'm fairly certain I have not seen oysters here once.
I asked for a dozen and he said he couldn't split up the box.
"Well, how many are in a box?"
"Three dozen."
Oh okay.
Actually there weren't 36. There were 41. Holy cow.
One of my favorite places in the planet is a restaurant on the marina in Key West called Alonso oyster bar. I combined my favorite things a beautiful spot looking at water, great food, and great drinks. They are hands-down the best spot for happy hour in Key West.
One of my personal favorites are the different oysters that they do – so today I'm copycatting their Spinach Parmesan oysters and tomorrow I'll be doing their key lime garlic ones.
If you liked these parmesan crusted oysters, you'll also love these parmesan recipes: