If you're looking for a homemade blueberry cobbler recipe, this Blueberry Cobbler with Cinnamon Whiskey Creme Anglaise is the best!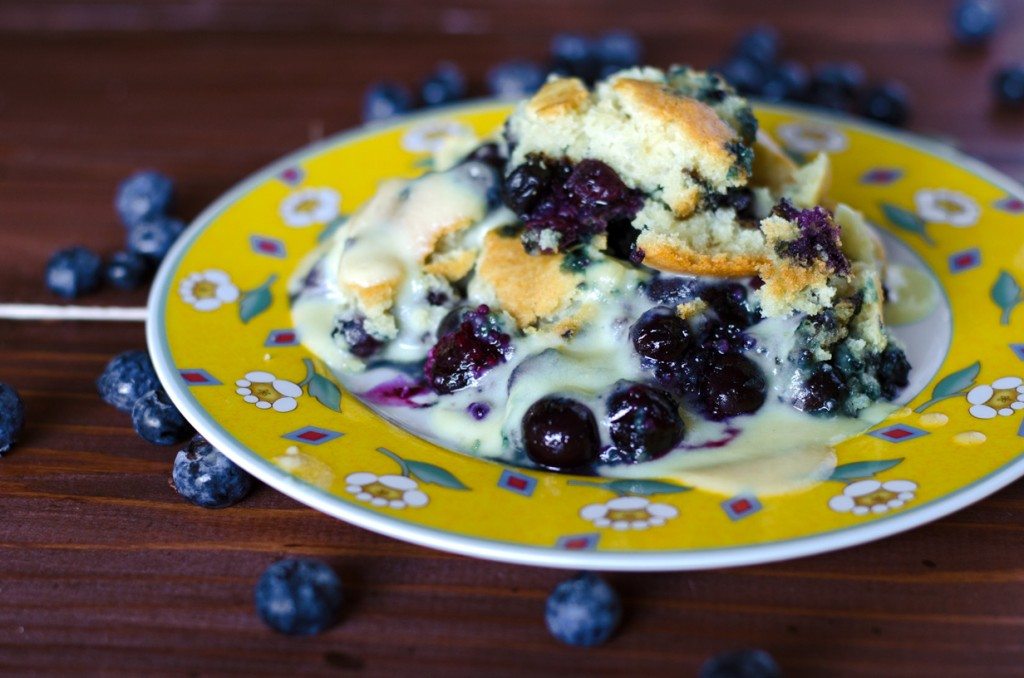 I'm always looking for new things to do with Jonathan. Some days, I need something to break up the monotony of the day-to-day, but really, I just like to expose him to all kinds of different things. Lord only knows how long we will have our feet here, so we might as well make the most of the time we have here.
So when I found out that you could go pick your own blueberries at a farm (patch? I don't know.) about 25 minutes away. Since it is already hotter than Hades here some days, I decided that we would go first thing in the morning. As soon as Jonathan woke up, I threw some clothes on them and got them in the car. We drove about 20 miles south into the countriest of the country. I drove past a couple antique stores, a lot of pick your own peaches/berries/oranges signs, and a whole lot of very hot looking house. I pulled in the Berrypatch and then had a thought.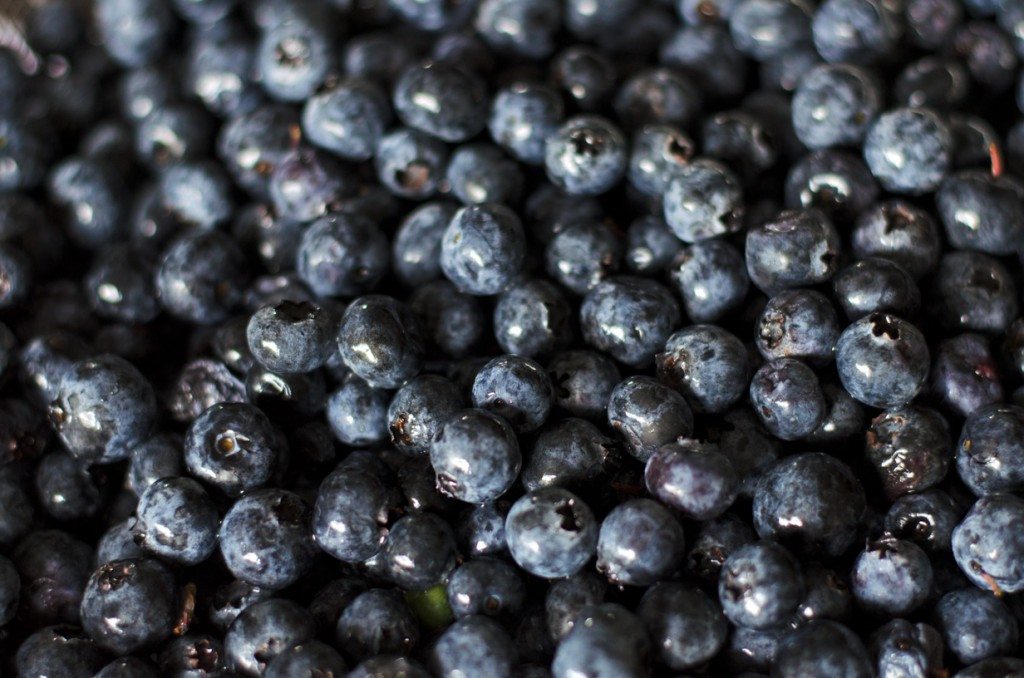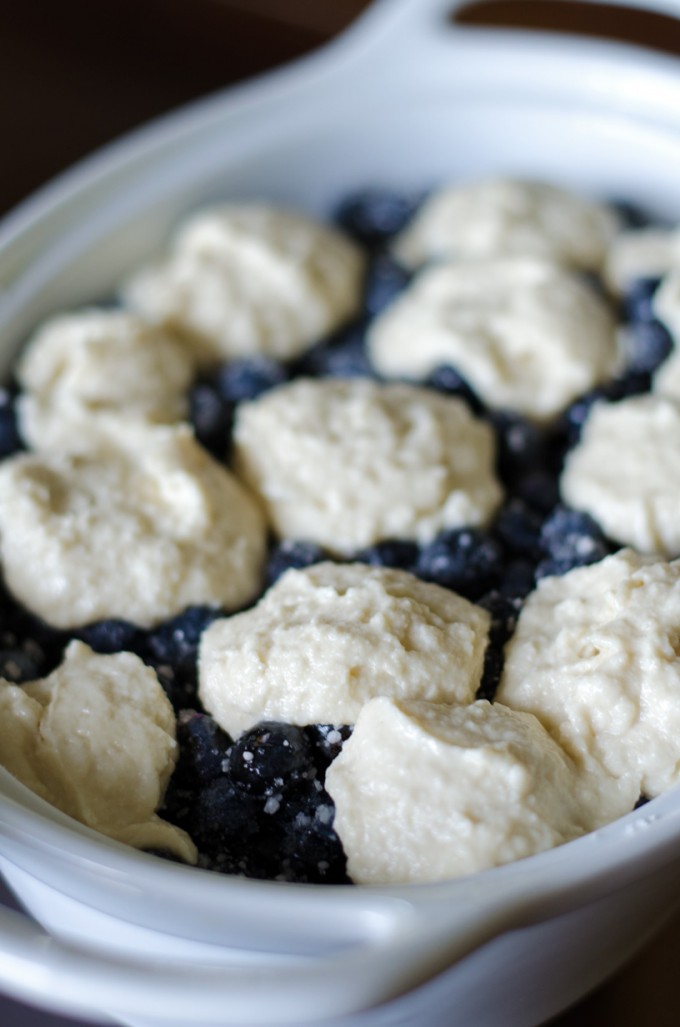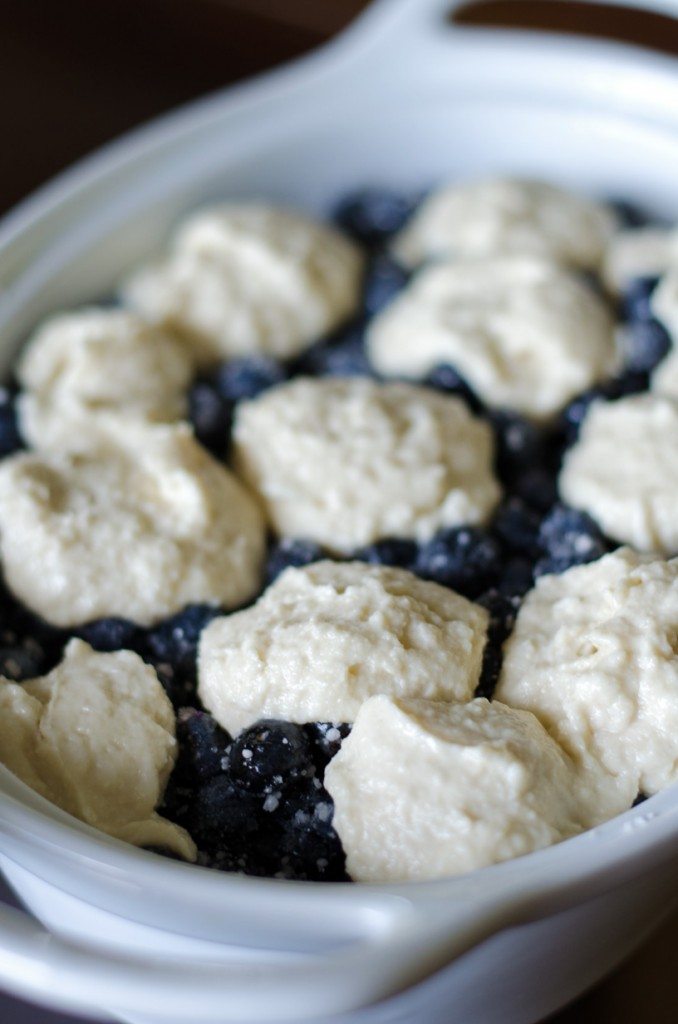 Now, don't get me wrong, Ohio has its own fair share of country-ish activities – pumpkin patches, farmers markets, produce stands, apple orchards. All of these places also take credit cards. As soon as I drove into the parking lot/open grassy area, spied the picnic tables underneath a canopy, I knew I might be in trouble. I rarely carry cash anymore; I live and die by credit cards. I ran up to a woman handing out buckets and asked her if they take credit cards.
"Oh, no. Just cash and check."
Perfect. "Do you know where the closest ATM might be?"
"Aw. There's a grocery store up the road. They might have one."
I called. They didn't. Of course.
I stopped another woman that worked there and asked her my ATM question. "Well there's a grocery store up the road. If they don't have one, You'll probably have to drive to the nearest town, about 9 miles away."
Super. I started off towards the town, then had a momentary flash of what I hoped was genius. I called the grocery store. "If I buy something from you, can I pay with debit and get cash back?"
"Well, I'll have to charge you a $1.00 convenience fee."
OH MY GOD THATS FINE.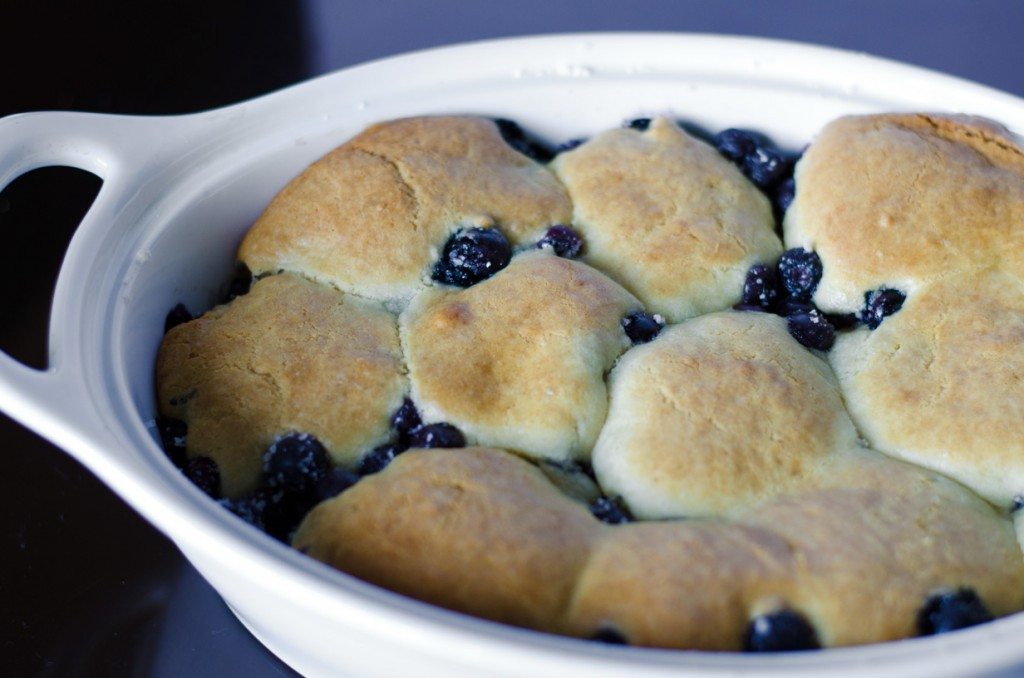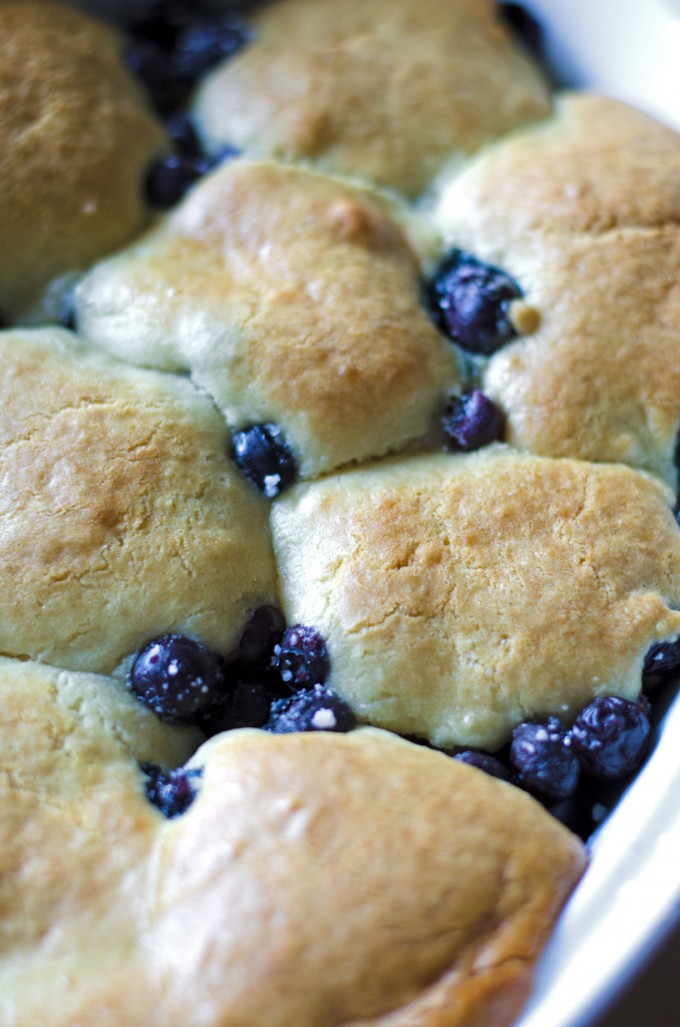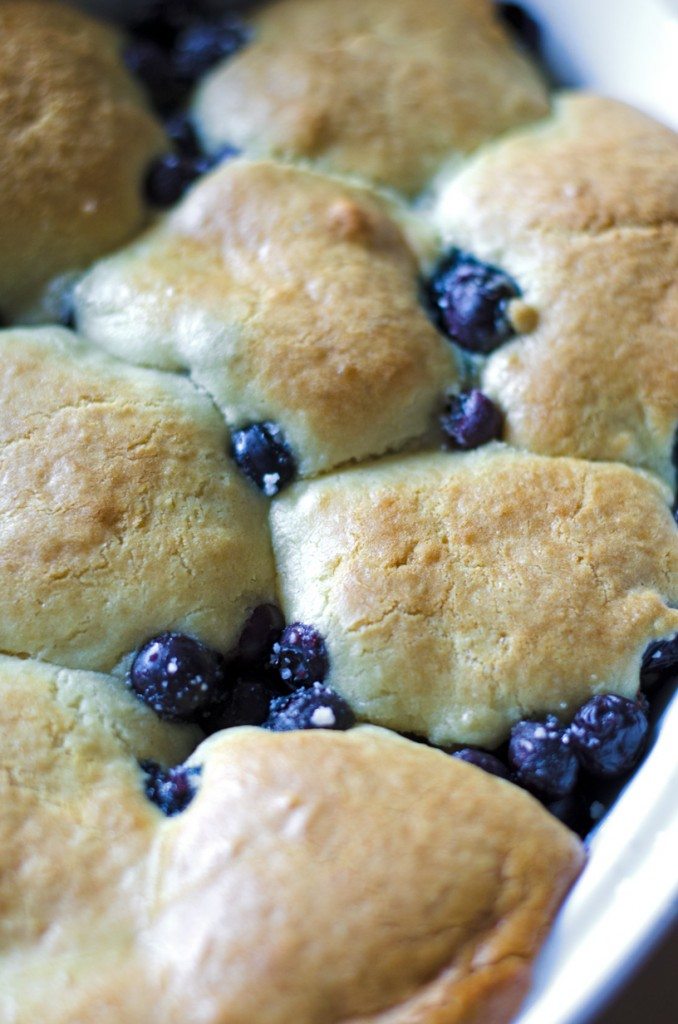 Now when someone tells me that theres a grocery store nearby, thats what I expect. This was a straight up gas station. Figures. I had high hopes of getting Jonathan something remotely healthy, but nope, he had powdered doughnuts for breakfast that day. He was thrilled.
Blueberry picking was a blast. I'm fairly sure that Jonathan ate a solid pound of blueberries while we were there, and he a great time running through the rows and rows of bushes playing hide-and-seek with me. He started off pulling the berries off the bushes, then figured out that it was far easier to just eat what I had already picked and put in our bucket. He has already adopted the "work smarter, not harder" mentality.
It takes a long time to pick 6 lbs of blueberries when someone is constantly working against you.
So THEN, we finally finished, we were hot and sweaty, and I went to pay. I reached into the pocket of my shorts for the cash- AND IT WASN'T THERE.
I couldn't believe it. I had to walk back through the rows and rows, because OF COURSE we didn't go in any sort of normal pattern. After about 10 minutes, I ended up finding it right where we had started- it had fallen out when I stopped to snap this picture of Jonathan, hard at work.
So. An eventful morning.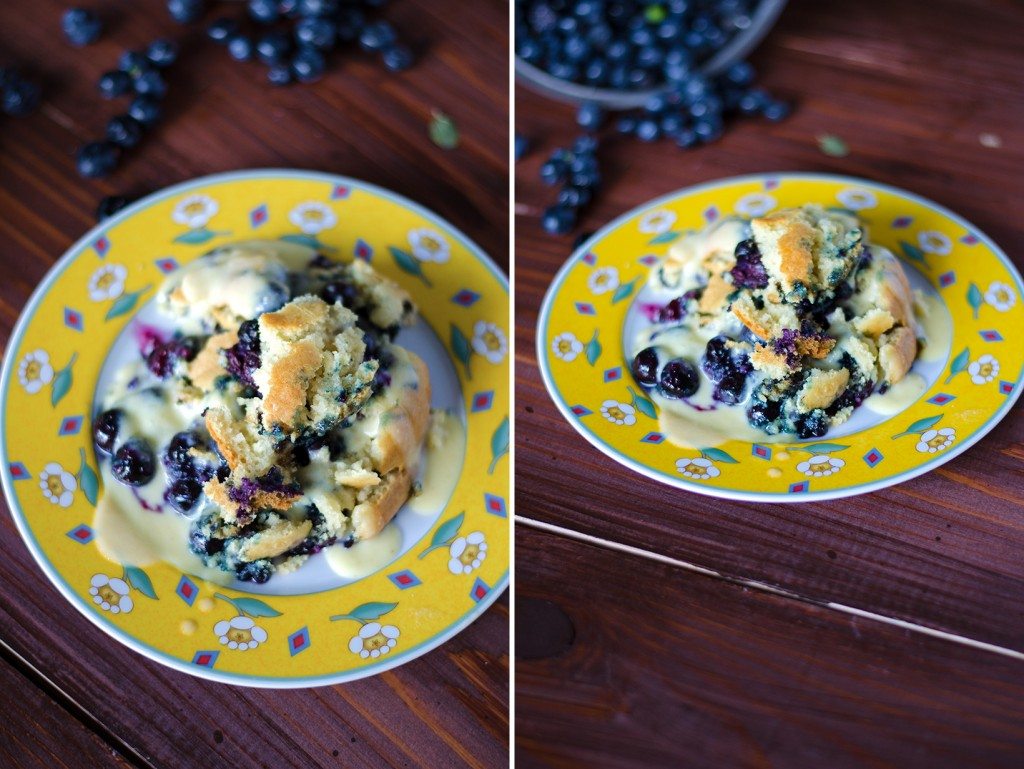 But we had a great time together and hey, we ended up with 6 lbs of blueberries. Now what to do with them? We had neighbors over, and I decided that blueberry cobbler with a cinnamon whiskey crème anglaise sounded like a perfect way to finish off a great meal. In fact, there was absolutely ZERO left at the end of the night, and there were only four of us there. Declarations of "this is the best cobbler I've ever had!" abounded and, in addition to the cobbler, I ate it all up.
Bad pun. Sorry not sorry.
Note: I did have a little trouble with the anglaise, but I was able to "hack" it and fix it. After one total destroyed batch, and a second one that was following in its footsteps, I determined that keeping your heat at the right level is of vital important- too high, and it will completely break. I would probably recommend making this in a double boiler, BUT it is totally feasible to make this in just a saucepan. That is how I wrote the recipe, since that is typically how it was made. I'm not sure if it was due to the copper pan that I was using (I think its temperature tends to accelerate more rapidly), or what. SO, that being said: If you start to notice that your sauce is beginning to thin out and maybe curdle a little, immediately pour it into an ice bath and whisk rapidly until the mixture comes back together. I then returned it to the heat, stirring frequently. I couldn't get it to the thickness that I wanted, so I ladled out a bit of it into a bowl, whisked in 1 tsp cornstarch, then poured it back into the pan and stirred until it thickened.
For those of you who are perhaps more "in the know" than I am, is there anything different that you would advise?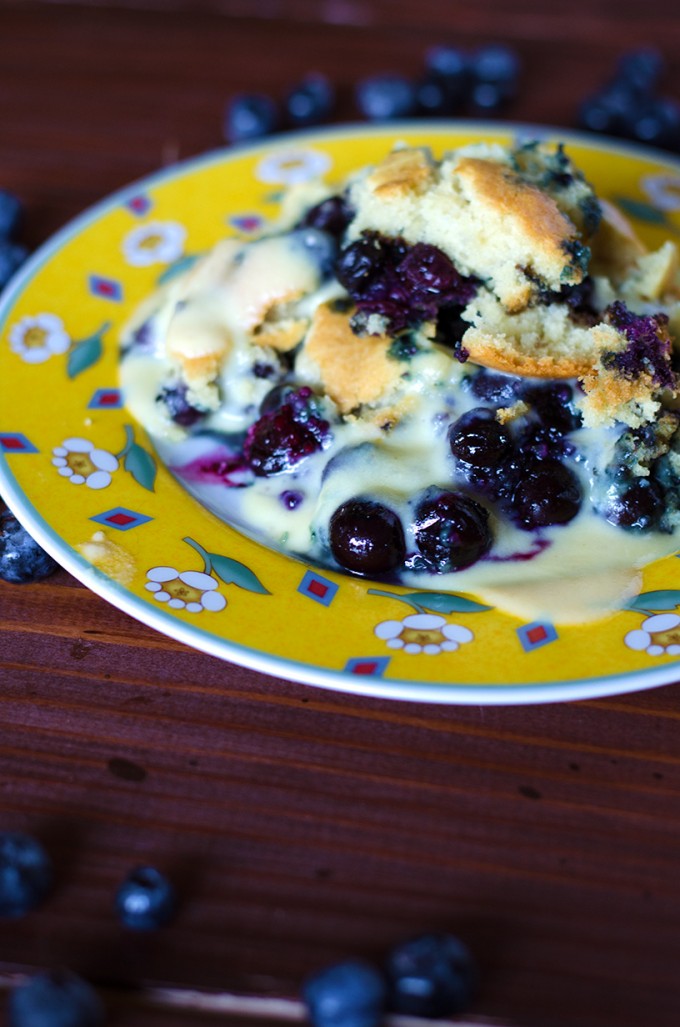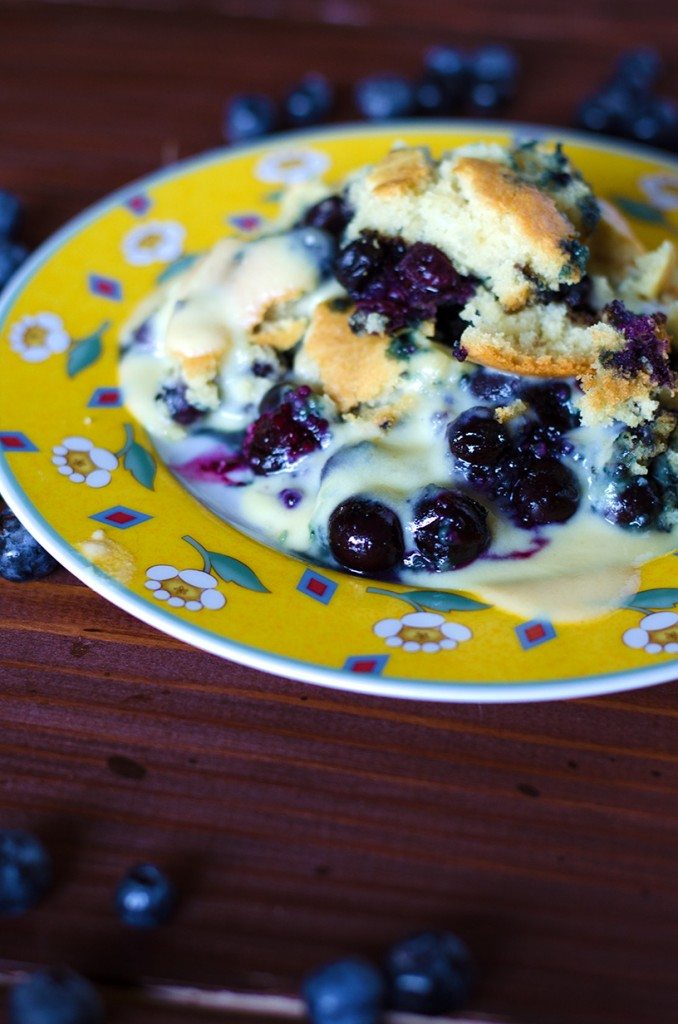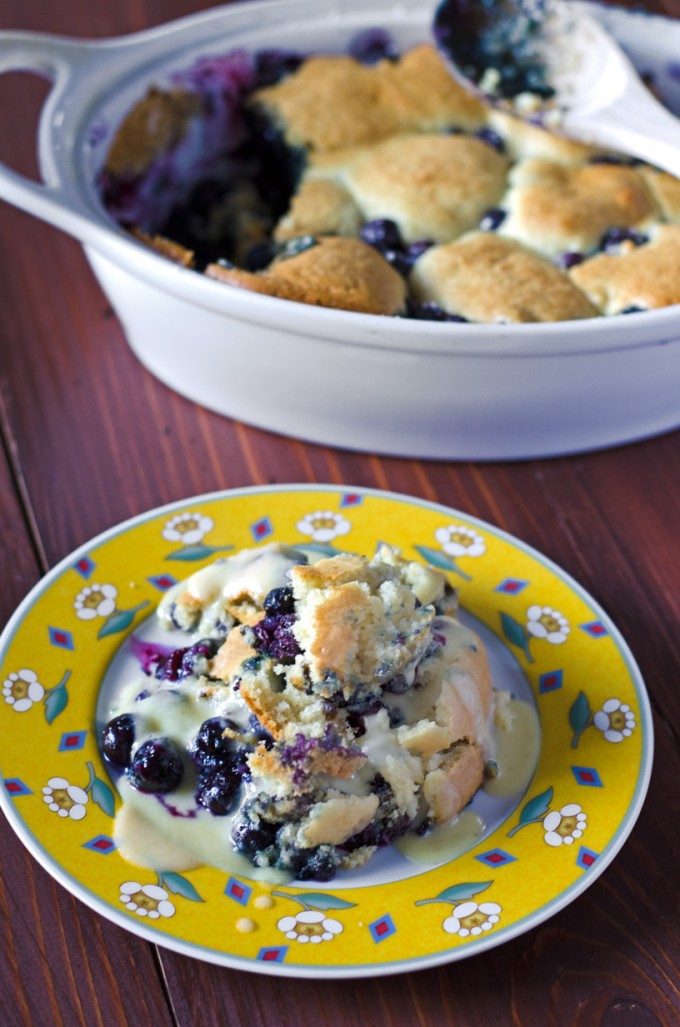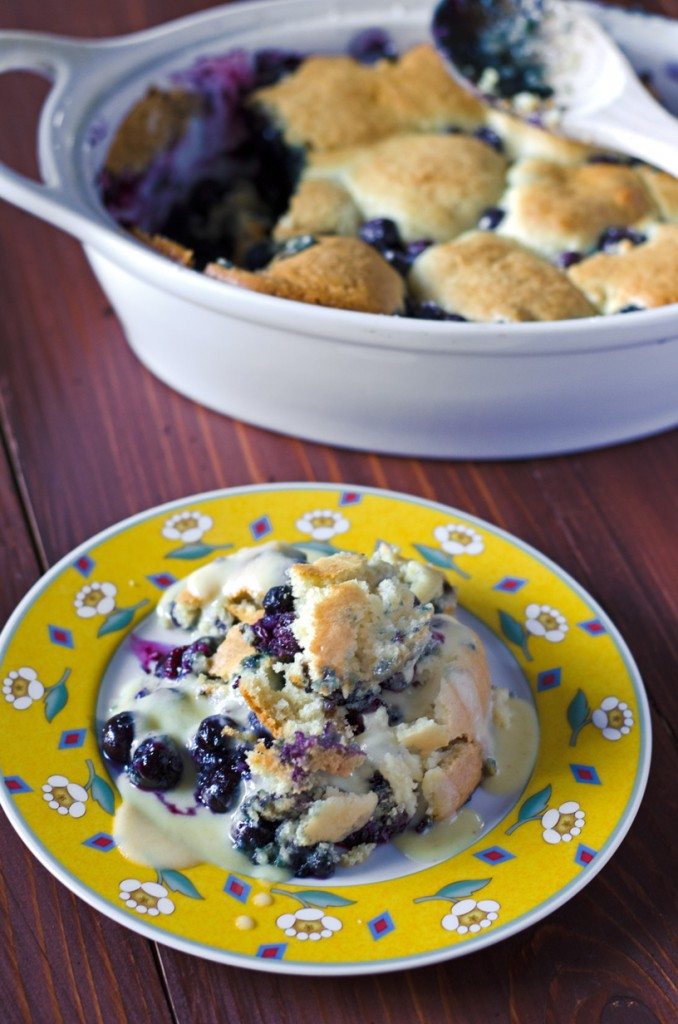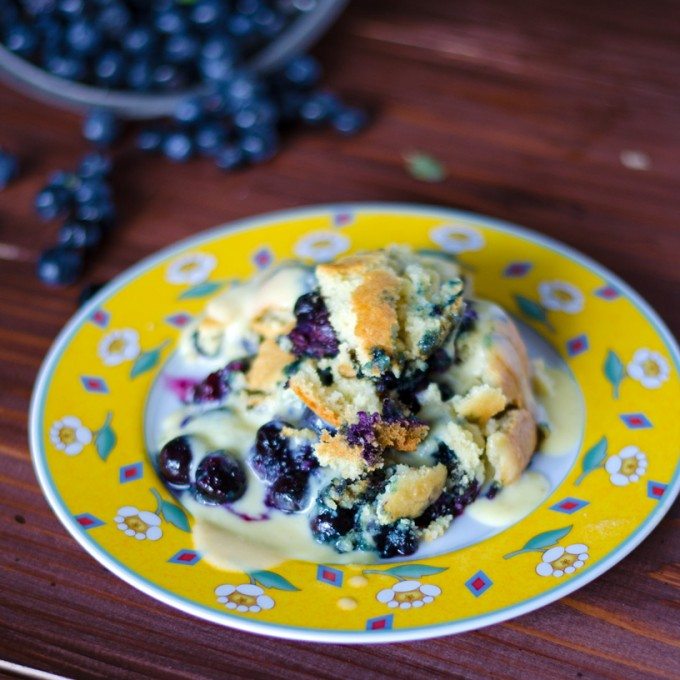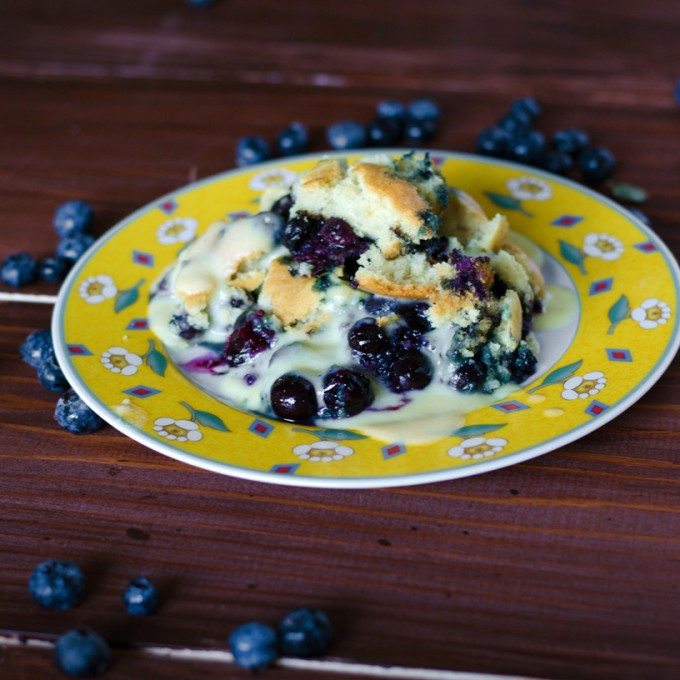 Tools needed to make this best ever blueberry cobbler:
You will need a [easyazon_link identifier="B004CFY55A" locale="US" tag="gogogogo03-20″]baking dish[/easyazon_link] to bake this blueberry dessert in.
You will also need a [easyazon_link identifier="B008J8MJIQ" locale="US" tag="gogogogo03-20″]food processor[/easyazon_link] to mix up the ingredients for the crust.
If you liked this fresh blueberry cobbler recipe, check out these other blueberry recipes:
Blueberry Cobbler with Cinnamon Whiskey Crème Anglaise
Ingredients
6

cups

blueberries

1/4

cup

tapioca

1/2

cup

sugar

For the crust:

3/4

cup

milk

2

tsp

lemon juice

1/2

cup

sugar

1

tsp

baking soda

1

tsp

baking powder

pinch

salt

1 1/2

cup

flour

6

T

butter

For the creme anglaise:

1 1/3

cup

heavy cream

2/3

cup

milk

5

egg yolks

2/3

cup

sugar

1/4

cup

cinnamon whiskey

used: Fireball
Instructions
Preheat the oven to 375.

In a large baking dish, toss the blueberries, 1/2 cup sugar and tapioca together.

Stir the lemon juice and milk together and allow to sit for 5 minutes.

In the bowl of a food processor, pulse together the flour, sugar, baking powder, baking soda, and salt. Pulse the butter into the dry ingredients until course crumbs form. Stir in the milk mixture gently until a soft dough forms.

Use an ice cream scoop to drop the dough evenly over the berries.

Bake in the preheated oven for 35 minutes, or until the top is golden brown. Place a baking sheet on a rack underneath to catch any overflow.

To make the creme anglaise: In a large bowl, vigorously whisk the egg yolks and sugar together until pale yellow. Warm the milk and cream in a saucepan on the stove, then slowly pour in to the egg mixture, whisking constantly, to temper the eggs. Pour the mixture back into the saucepan and cook over medium-low heat until the temperature reaches 180 F, or the creme is thick enough to coat the back of a spoon and hold a line when you drag your finger through it. Stir in the whiskey.

To serve, scoop the cobbler out onto a plate and pour some anglaise over the top. Best served warm.