These Baked Spinach Artichoke Dip Cups are the perfect party appetizer for all the spinach artichoke dip recipe fans out there. Using ready made phyllo cups gets these in the oven in under 10 minutes!

You've heard me say before, and you'll hear me say it again- one of the things that I miss most about Ohio is how fabulous the grocery stores were. In fact, there were so many specialty departments with fabulous ready-prepared foods that you never felt like you weren't in a major metropolitan area. Giant Eagle rocks – I might move back to Akron just for that.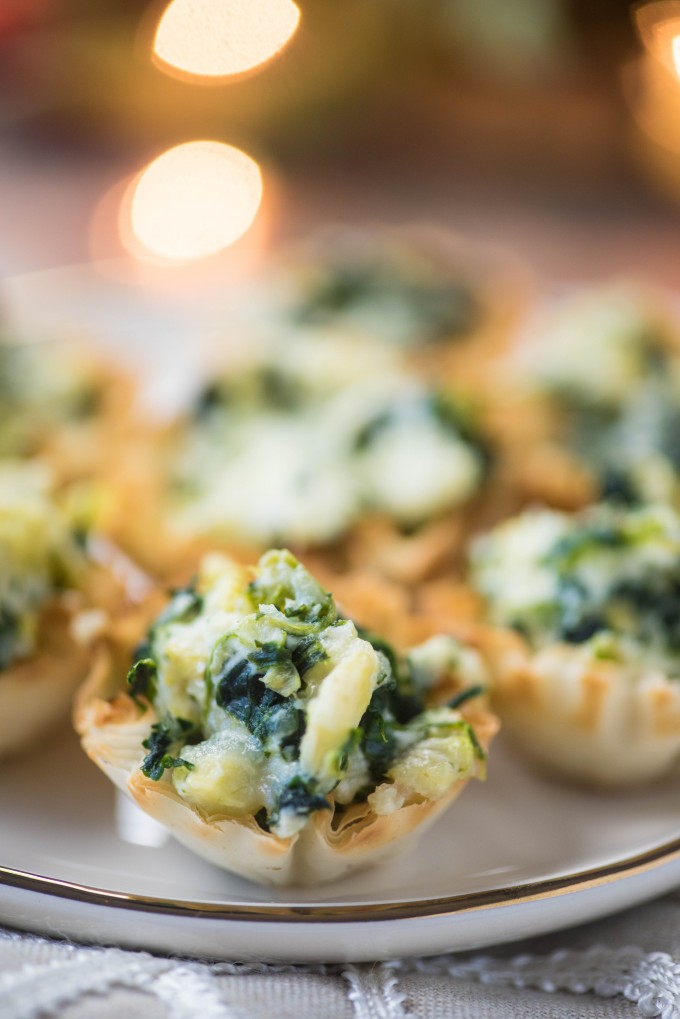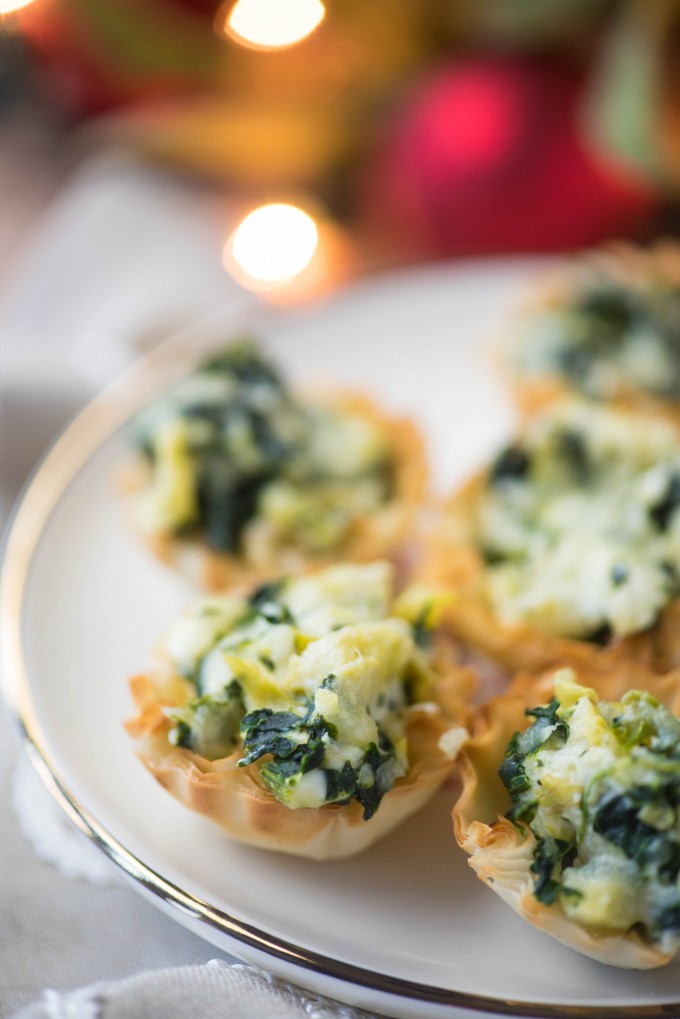 One of the things that they used to offer in their cheese department was a fabulous spinach artichoke dip cheese spread. It was great cold on crackers or chips and AMAZING when heated up. It morphed  into an even better version of the spinach artichoke dip that is a popular frequenter on restaurant appetizer menus.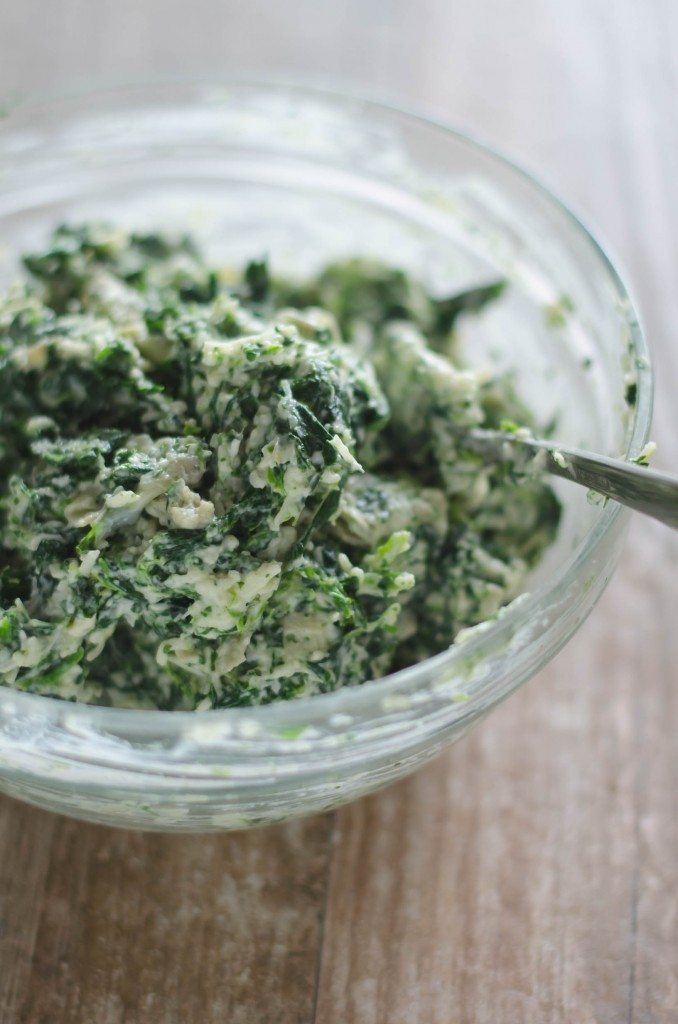 There aren't very many ingredients that I would say I hate working with, but phyllo dough  is definitely one of them.  Every time I try and use it, I just end up irrationally angry with butter all over the place, torn sheets of dough, dried out sheets of dough- there has to be an easier way to work with it, but I haven't figured it out yet. When I saw the box of perfect little appetizer sized cups in the freezer section, I was pumped. I do
love
the flavor and texture of phyllo, it gives such a nice crunch to whatever you're making, but I just don't have the patience.
One year at our Christmas party I had an idea to fill the ready-made phyllo cups with this dip and bake them. It might've been one of the best food related ideas that I ever had, because that year, and every year thereafter, they were always the first appetizer to be completely wiped out. I really wanted to figure out how to re-create it and I'm super happy to say that I succeeded. Cheesy and melty and full of spinach.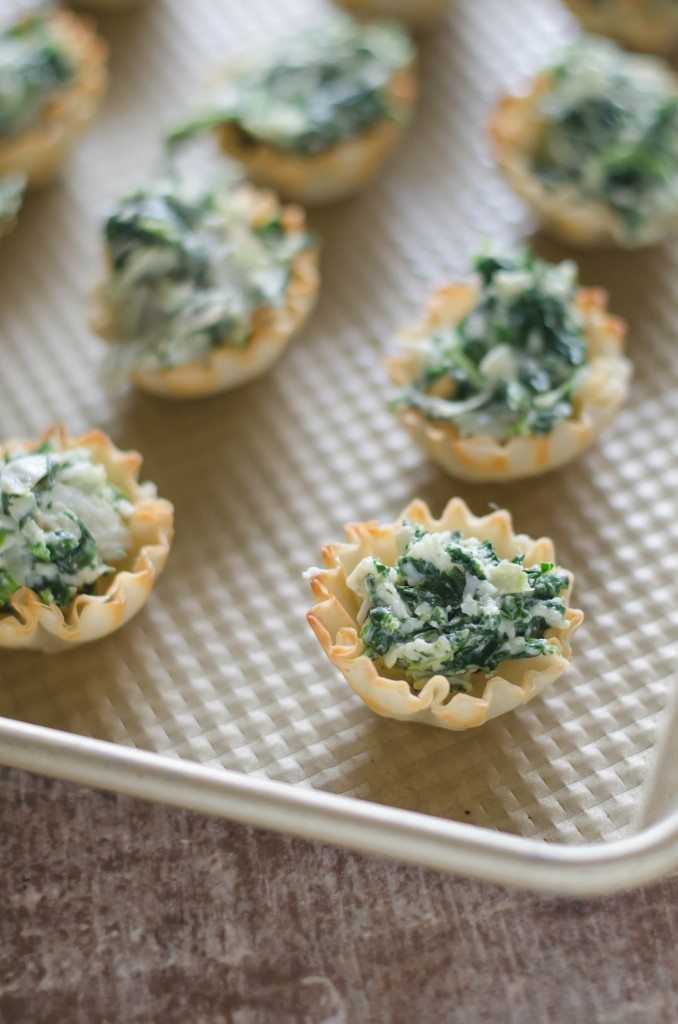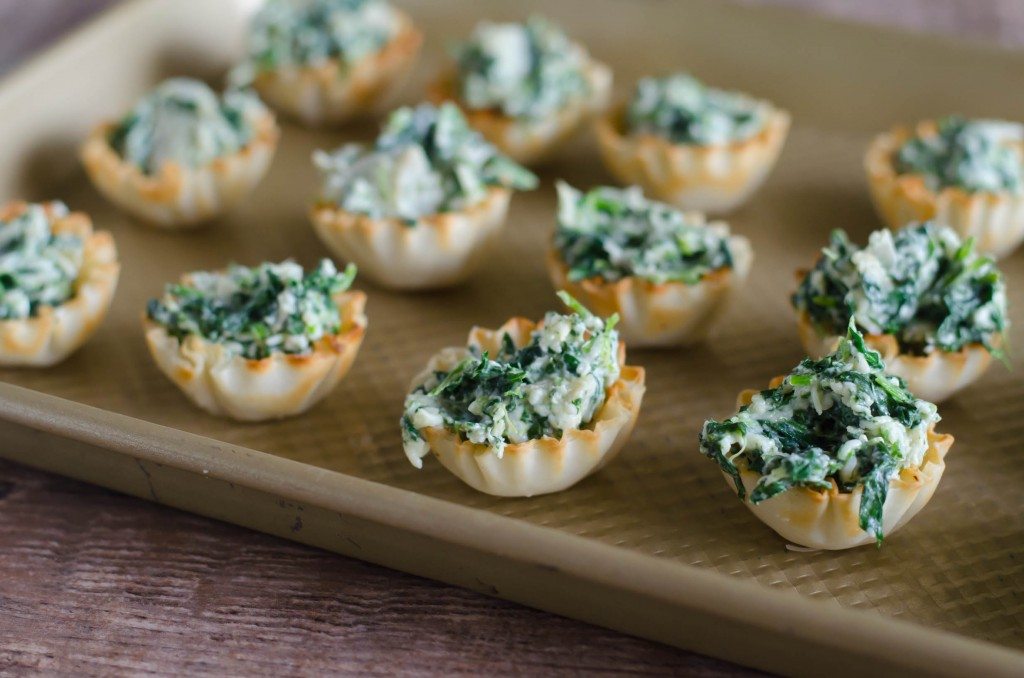 These also freeze superbly – so feel free to fill your shells, lay the cellophane back on top of it, but back in the box and slide it in the freezer. Next time you need quick snack or hors d'oeuvres, youre ready to go – just increase your baking time to 15 minutes. If you don't want to do the filled shells, just placed in a shallow baking dish, bake until the dip is bubbling hot, and serve it with chips or crackers. Amazing, versatile stuff!
Also, these are very easily made ahead- I usually fill the day before, cover, and stack in the refrigerator until it is close to party time. Such a time saving party appetizer recipe!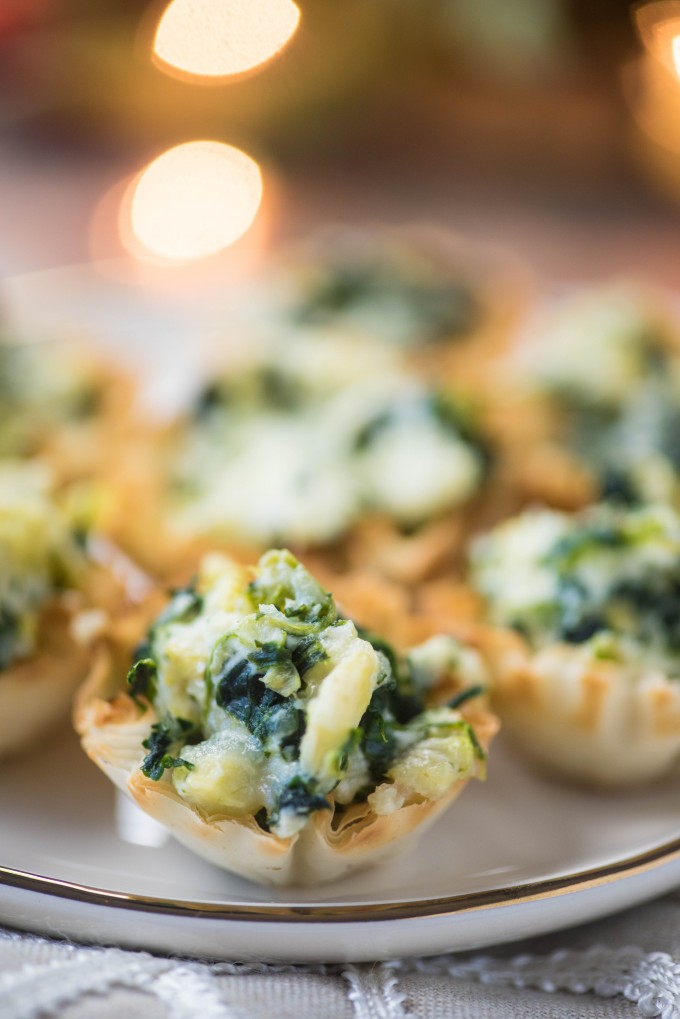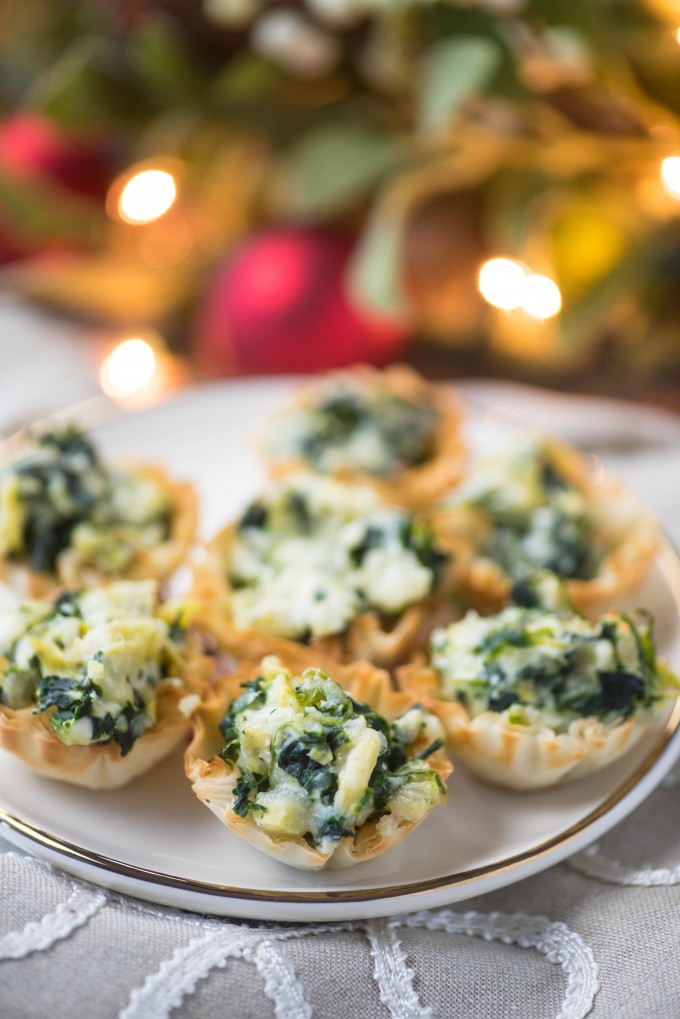 For this recipe, you will need:
If you like this recipe for Baked Spinach Artichoke Dip Cup Bites, try these:
Spinach Artichoke Phyllo Cups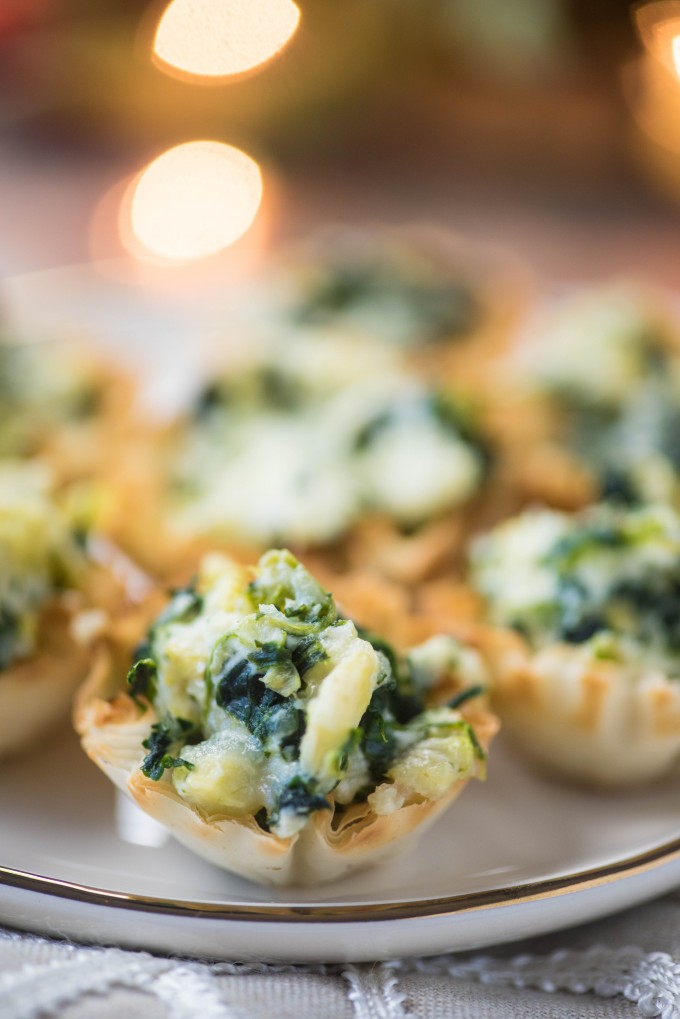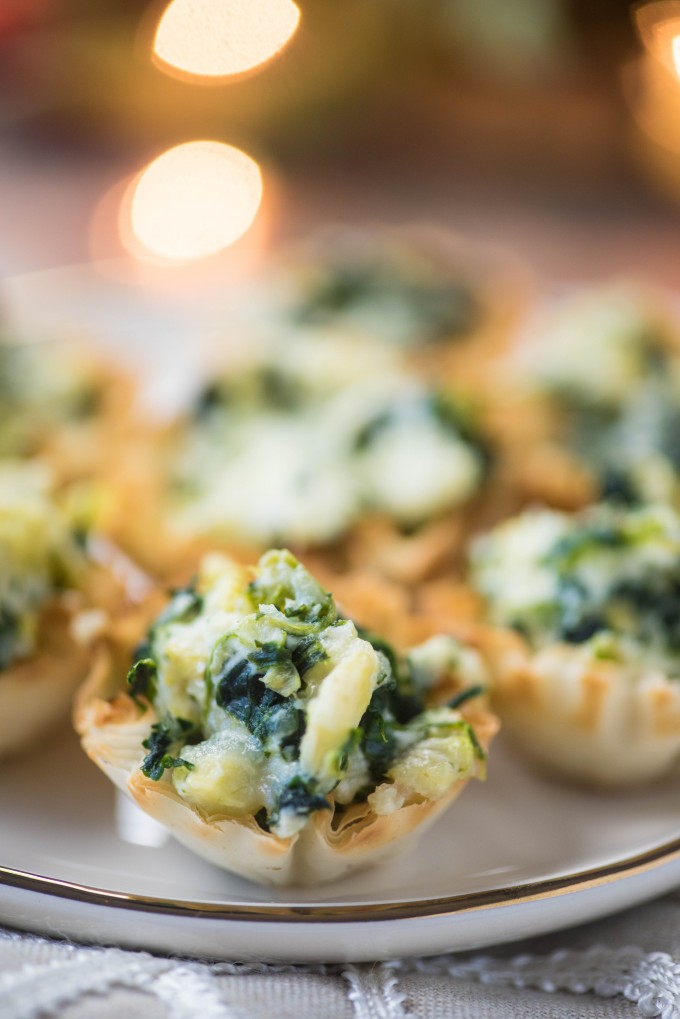 Ingredients
1 cup of well-drained, previously frozen chopped spinach
3/4 cup roughly chopped artichoke hearts
3 T cream cheese, softened
1/2 cup mayonnaise (I used low fat)
2 cups shredded 6 blend Italian cheese
1 teaspoon garlic salt
2 pkg 15-count frozen phyllo cups
Directions
Preheat oven to 350F. In a mixing bowl, stir together the spinach, artichoke hearts, cream cheese, mayonnaise, shredded cheese and garlic salt.
Spoon dip into cups and place on a baking sheet.
Bake in preheated oven for 8-10 minutes, until filling is melted and the shells begin to brown. Serve immediately.
Recipe Notes
Loading nutrition data...
SaveSave
SaveSaveSaveSave
SaveSaveSaveSaveSaveSave
SaveSave