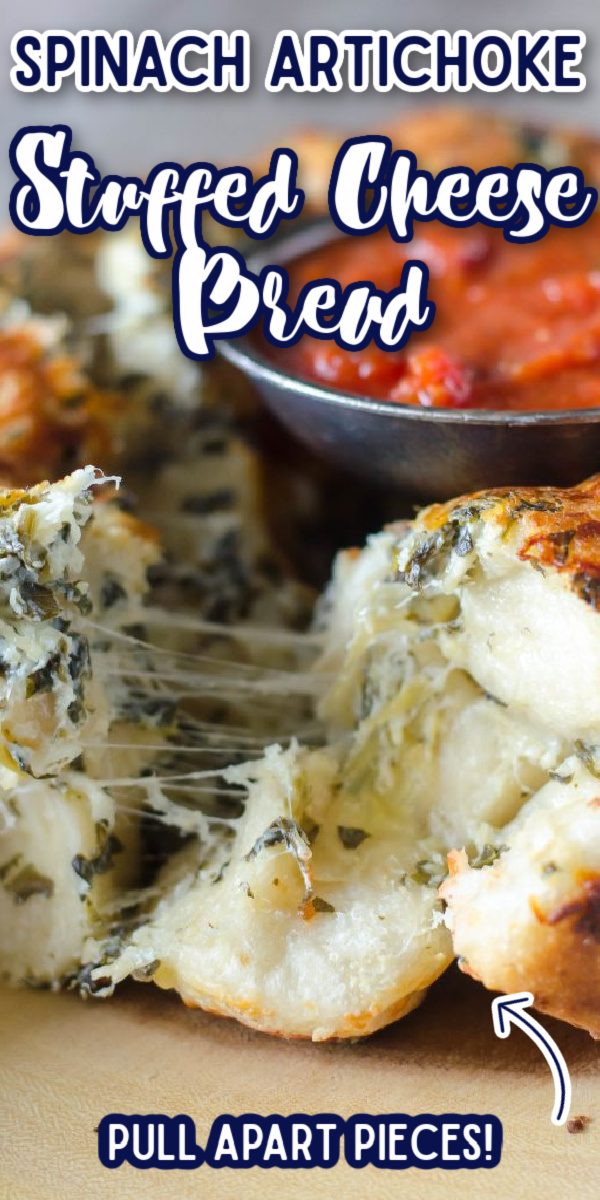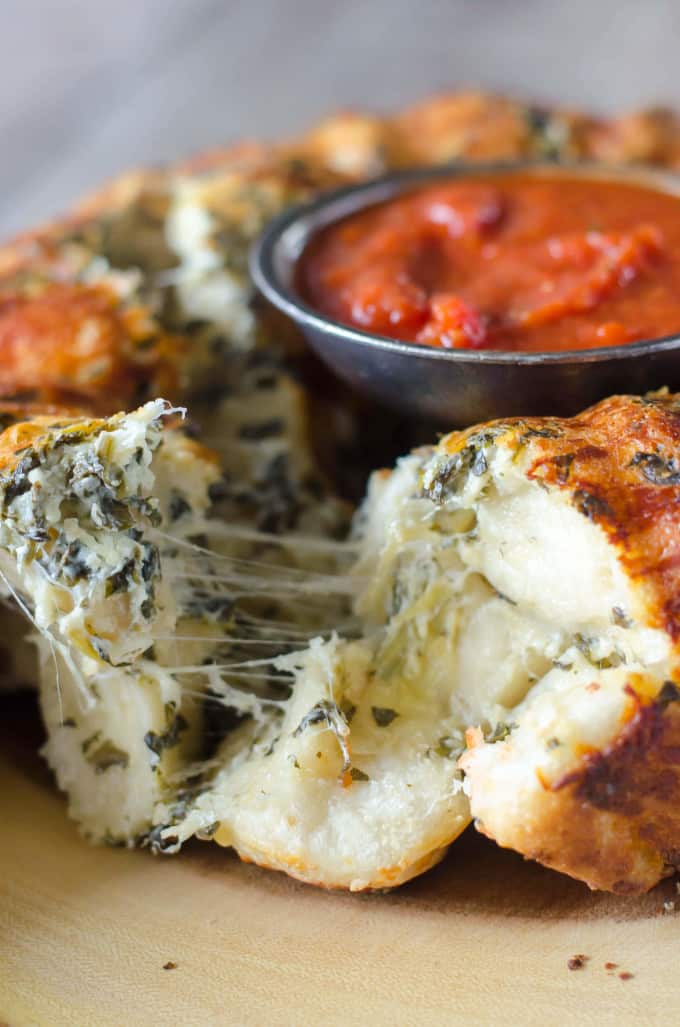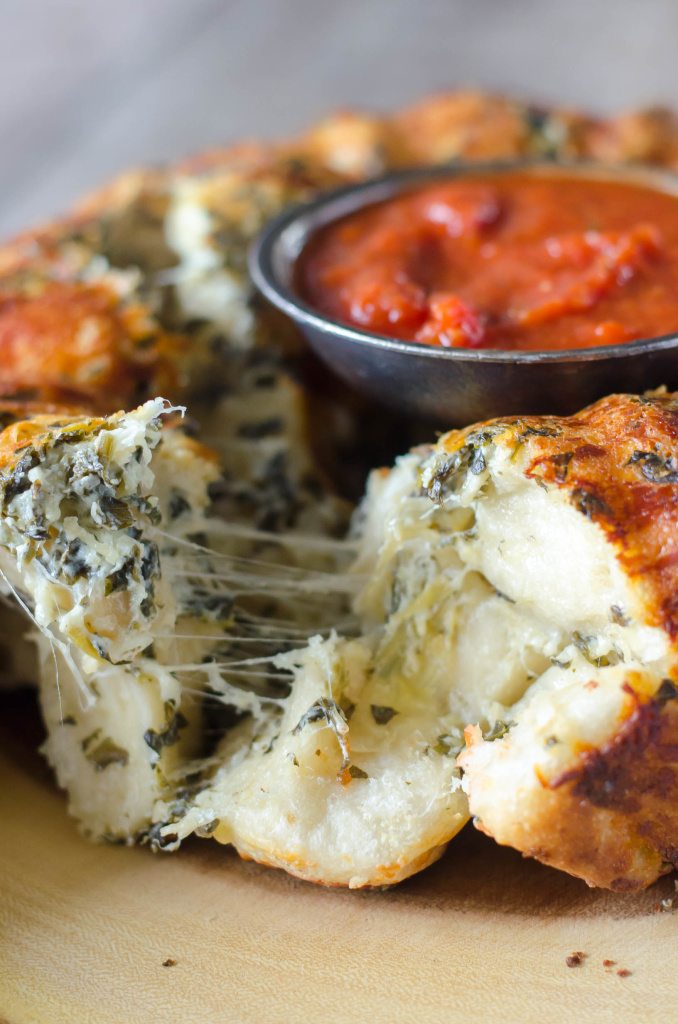 "Oh my god, you are so pregnant."
I sent a picture of this to two of my girlfriends. They initially asked what it was, and when I told them the just of the dish, that was the response I got. To be fair, yes, I am 6 months pregnant at this stage of the game, but it actually had very little to do with the creation of this dish. I love bread, I love cheese, and I definitely love them together.
I know the title is a mouthful, but there is a LOT of good stuff happening here, and sometimes it's difficult to cram it all in to the name of a dish. There's a version of this floating around that's pizza flavored, but when I saw the corresponding video, my first reaction was, "I feel like they are missing some opportunities here." In the nearly two years I've been writing this site now, I have learned a few things about the people on the internet-
They love cheese.
They love bread.
They love spinach artichoke dip
They love things stuffed in other things.
They love pulling things apart.
They love dipping things.
They love Pillsbury doughs.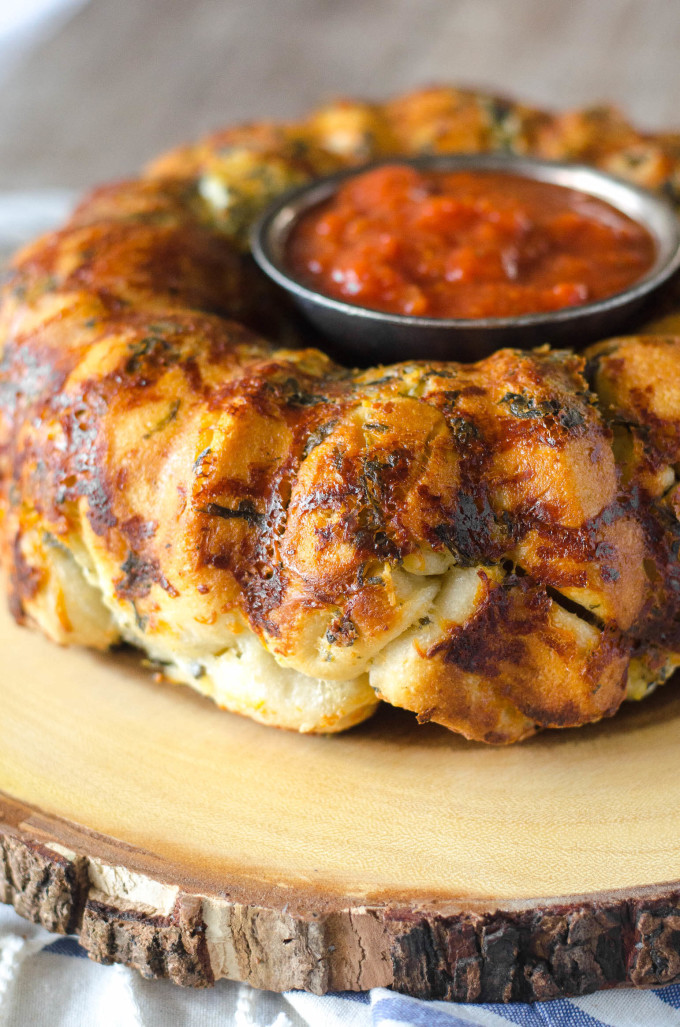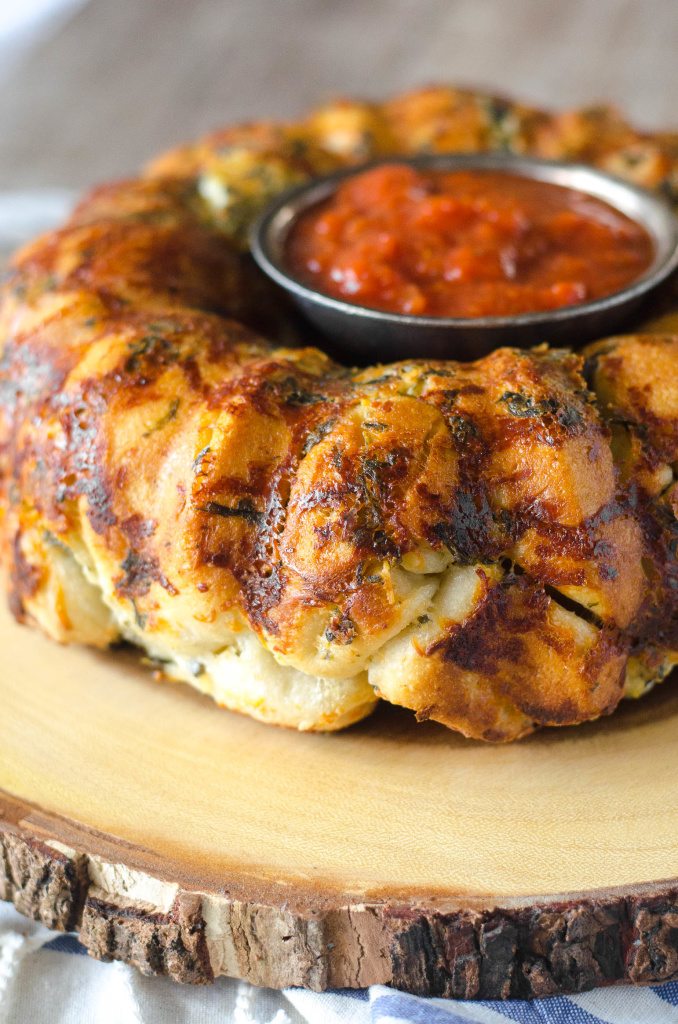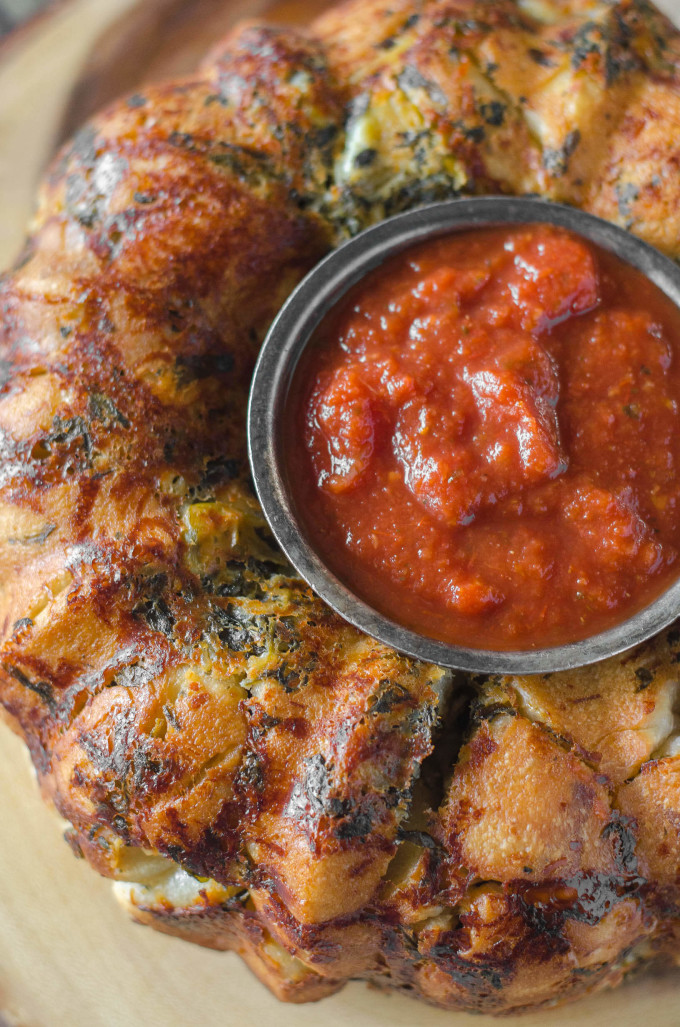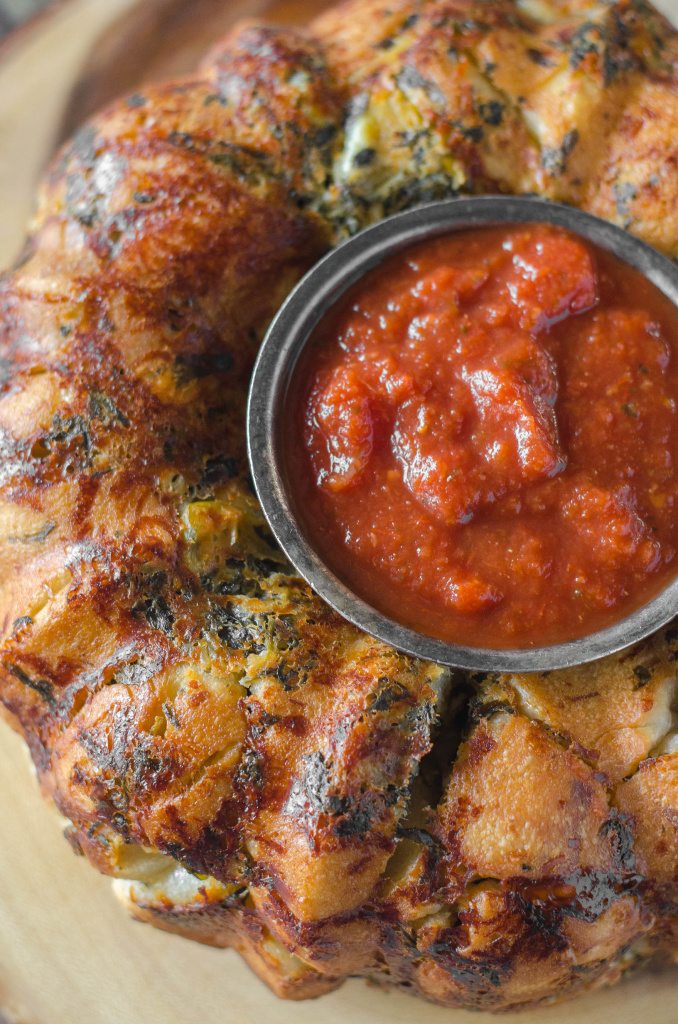 By all accounts, this dish should be a home run with the Internet. Small pieces of ready made pizza dough are wrapped around small cubes of mozzarella cheese, tossed together with olive oil, ready made spinach artichoke dip, spices and more cheese, then baked. The result is basically a Cheese version of the movie Inception. A cheese-caption, if you will.
I'm thinking this might be perfect for all you watching the game tonight, no??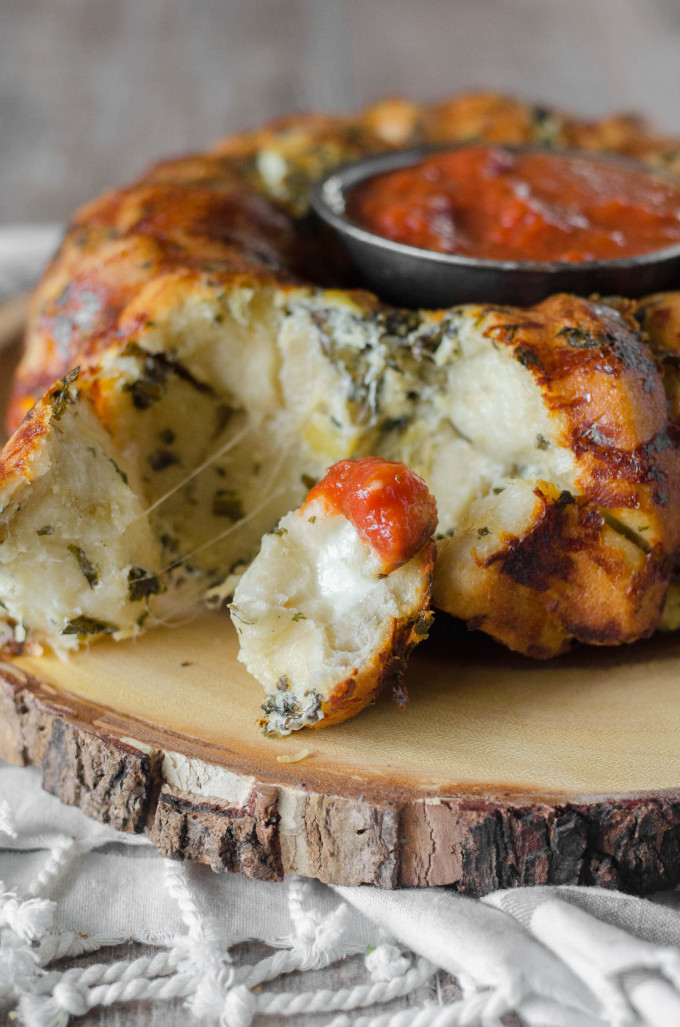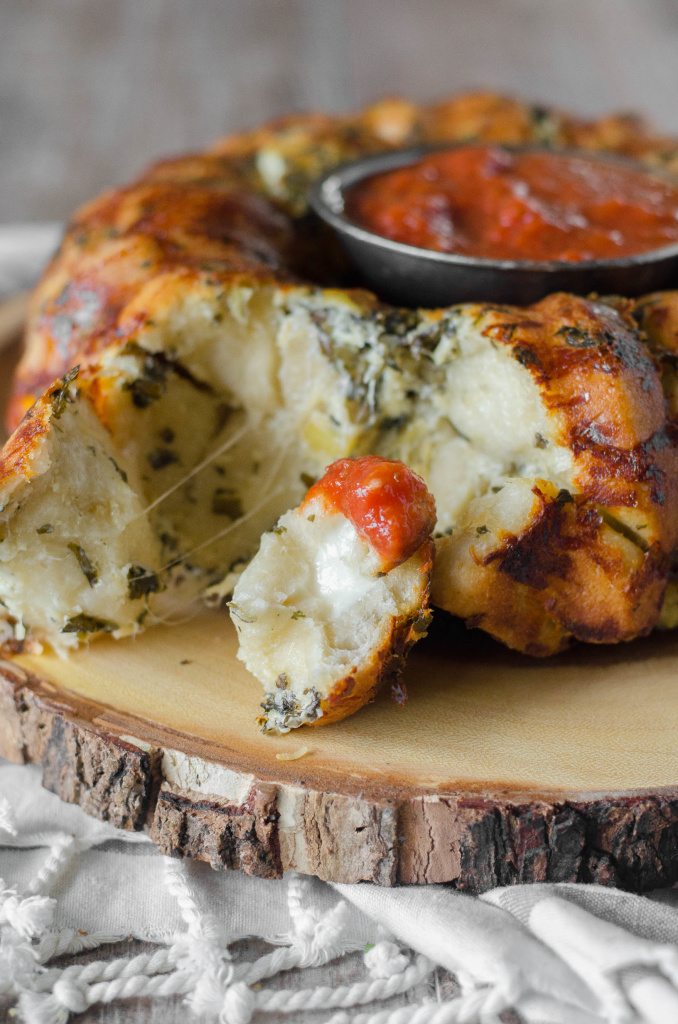 Pull Apart Cheese Stuffed Spinach Artichoke Bread
Ingredients
2

cans pizza dough

8

oz.

block mozzarella cheese

cut into small 1/2" cubes

2

T

olive oil

1

cup

spinach artichoke dip

1

T

dried oregano

1

tsp

garlic powder

1

cup

shredded Italian cheese blend

Marinara sauce

for dipping
Instructions
Preheat the oven to 375.

Cut the dough into 1 1/2" squares using a knife or pizza wheel.

Place a square of cheese on each square, then wrap the dough around the cheese until a ball is formed. Place in a large mixing bowl. Repeat until all the dough is used.

To the dough balls, add the olive oil, dip, spices and cheese. Toss until evenly coated.

Spray a bundt pan with cooking spray, then add the prepared dough.

Bake in preheated oven for 25 minutes.

Invert onto a plate and serve with marinara sauce for dipping.