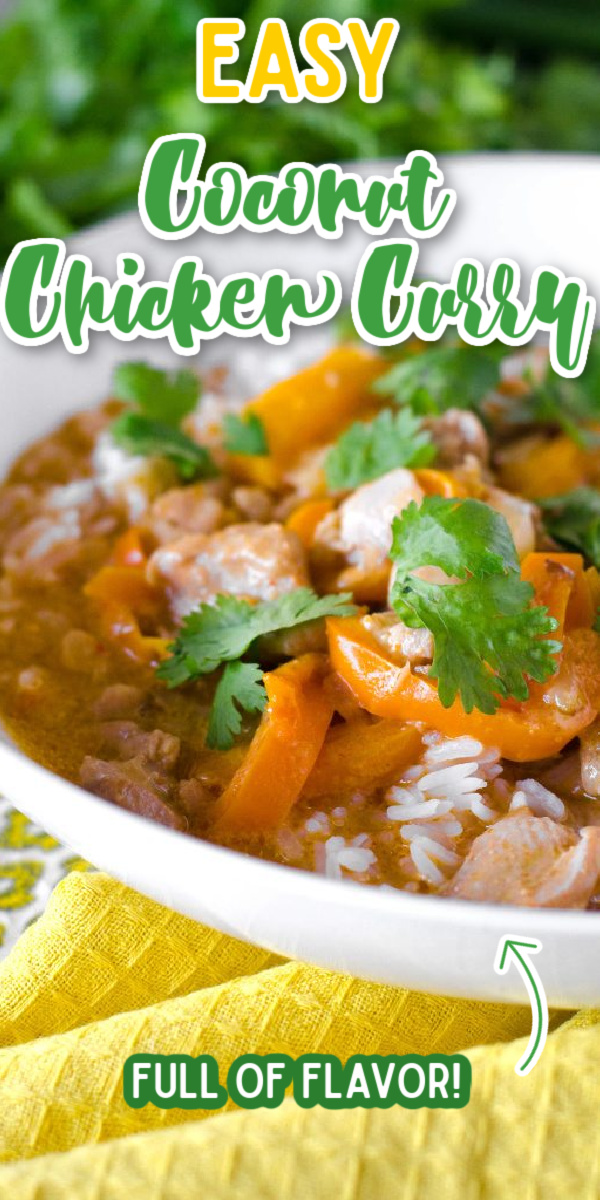 This EASY Coconut Chicken Curry recipe is a total comfort food win! Plus you can have it on the table in less than 30 minutes!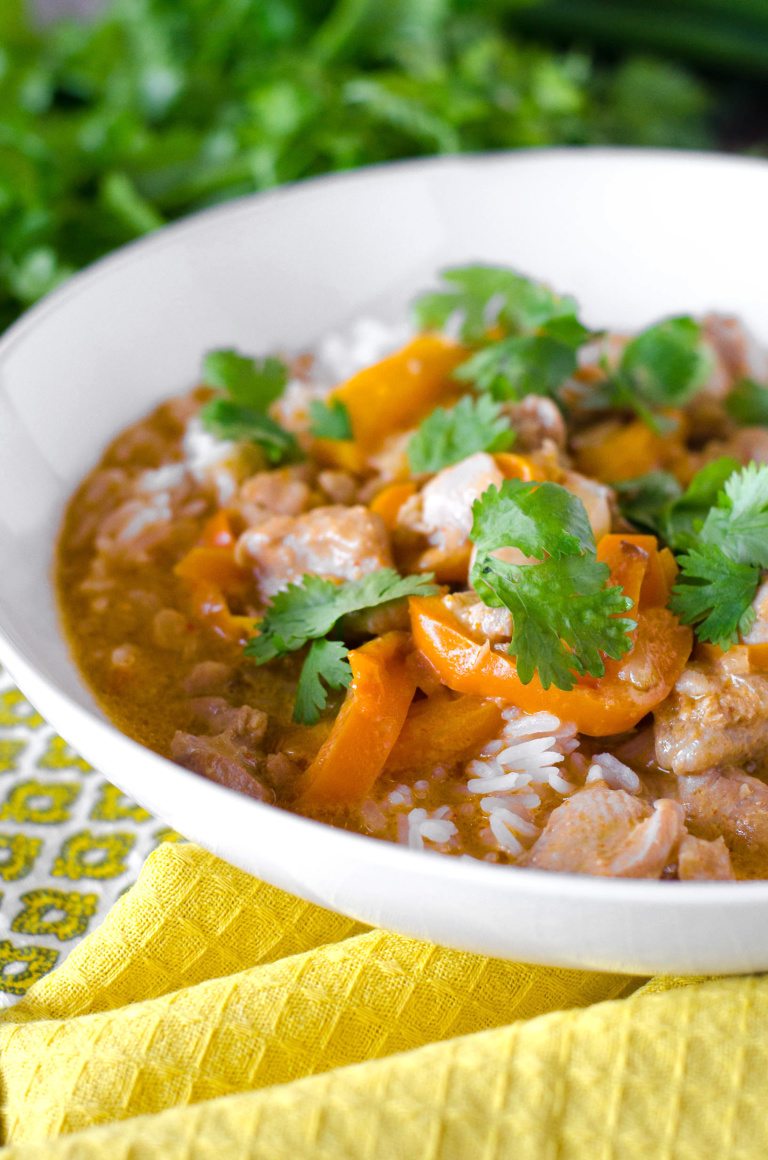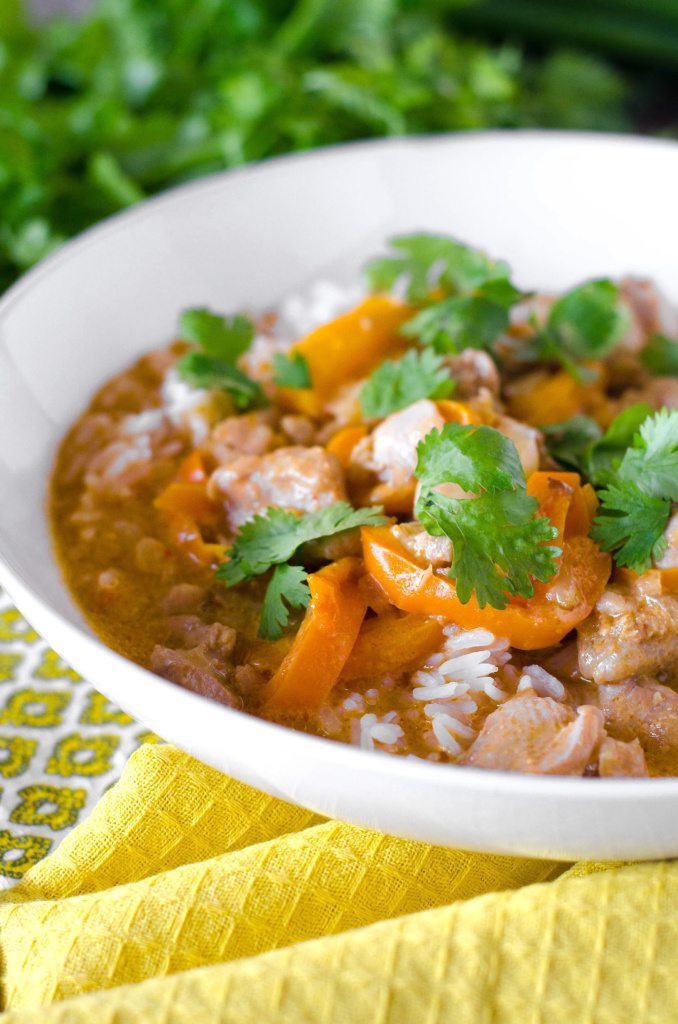 We are trying something a little bit different today- a two-author post.
One of my closest friends is trying something new for 2016- after an immeasurably hard 2015, she decided to jump head first into a new personal challenge. If you find yourself thinking " God, doesn't it seem like every single day of the year is 'National Something Day?'", you're right. Literally every day of the year belongs to something, some days even multiple things. She decided to celebrate every single day by indulging in the focus of each "National Day of Whatever."
When she texted me for help on the morning of the 11th, telling me it was National Marzipan Day and National Chicken Curry Day, I seized the opportunity for us to team up.
I am, for all intents and purposes, a curry virgin. I have never (and still don't) understand how one word can simultaneously mean
a spice
a condiment
a meal
That's just too much for my brain to handle. I find extremely overwhelming to dive into a new cuisine full force, especially when I know nothing about the ingredients, the flavor profile- nothing. What I needed was a good push and a good teacher to show me the way. As luck would have it, I stumbled on one in a very unexpected place- one of my husband's best friends. I got a text out of the blue one day about how to make a sourdough starter, and before I knew it, we were talking curry- his specialty. I asked Dave why he never told me that Ted was so into food and cooking. His response? "I didn't know." They talk all day long. Men are strange.
Fast forward to today. I ran to the store, picked up some of the things that I didn't already have, and set to work. I was still apprehensive, as I set to work, but was thrilled with how easy it was to put together (probably 20 minutes from start to finish), and the fantastic smells permeated the kitchen. I was absolutely starving, and was so excited to get J down to a nap to eat it. I went easy with the curry paste, as one., I'm not a massive spicy food person and two., I'm six months pregnant and have atrocious heartburn almost every single day. I think you could safely increase this to 2 tablespoons, possibly even more if you like heat. I always like to go with the thought that you can add more, but you can't take away!
---
Ashley here (the friend with the stellar idea to celebrate every "National holiday.") I try not to ever look ahead to see what the next day has in store for me, so when I awoke on the 11th I was immediately panic-stricken. Marizpan?! Is that a cheese? A sugar? Next. Curried Chicken? Is that Indian or Thai? Maybe neither. I'm sure I don't like it. I've definitely never tried it, so I must not like it. Gross. Okay. Hold the phone. The whole point of this "adventure" is to break out of my comfort zone and try new things. A quick message to Jacqueline revealed that she actually had a curried chicken recipe in the queue for next week. It was kismet.
We decided we would both shop for the ingredients and cook the recipe the same day (evening for me as I work full-time) then share our opinions. Excitement ensued… until I looked outside. See, Jacqueline lives in the sunshine state, whereas I live in the never-sunny-in-January state of Indiana, and we were currently experiencing quite a bit of lake-effect snow. I work about 25 miles from my home. My commute on a good day–included dropping off and picking up two toddlers en route–is approximately an hour. That morning it was two. The thought of stopping at the grocery store in addition to that was daunting. BUT, I made a commitment to celebrate National Curried Chicken Day, and by God I was going to fulfill it.
Jacqueline sent me the ingredient list and thankfully it was pretty short! I had a few of the ingredients already, and the rest could be bought in two sections- produce and the ethnic foods aisle- and were easily found. I did have a few hiccups at the grocery store. Since we were having a "blizzard" things were picked over. They didn't have any boneless skinless chicken thighs so I got boned skinned ones and hoped they would work. Jacqueline approved. I also had never cooked with ginger of any kind so I had to message Jac and ask her if it was the alien starfish looking root thing I was staring at in the produce aisle– it was. Success! I had all the ingredients. Now I just had to navigate my way through the snow and hope I would still have enough energy after my morning commute, 9+ hour work day, and evening commute which always consists of two arguing kiddos, to cook a meal. I had my doubts. Jacqueline assured me this meal was easy prep and cook. I was hoping she meant easy in my terms, and not necessarily hers. This is, after all, the girl who cooks a seven course meal for her family of three for Christmas eve. "Easy" on the Jacqueline scale can sometime mean "Medium-Difficult" on the Ashley scale. Thankfully, that was not the case. This recipe is legit, frazzled mom, not a kitchen expert, easy.
Aside from cubing the meat (and deboning and skinning mine) and cutting up the pepper, onion, and garlic, this basically cooks itself. My 3 year old was so excited to be able to help by pouring in the chicken broth and coconut milk, and for once it didn't seem like she was in the way. After a few pics to Jacqueline to ensure I was doing everything correctly– Do I have to skin the ginger? No. Is it supposed to be orange? Yes. Everything was done. Now for the real test– would any of us actually LIKE it?
I'll be honest, I was fully prepared to dump it all in some Tupperware and bring it into the feeding trough here at work where everything disappears. That was so not the case. We all LOVED it! Even my husband, who recently told me that I "can't just put a bunch of ingredients into a pan and call it a meal," went back for seconds! Perhaps because the rice cooked in a separate pan it constitutes a meal? Either way this was a big hit!
Thank you National Curried Chicken Day, Jacqueline, and Ted (whoever you are) for expanding my family's horizons! This recipe will definitely be added to our regular weeknight meal rotation!
PS– As someone who likes spicy and is NOT pregnant– Add more curry!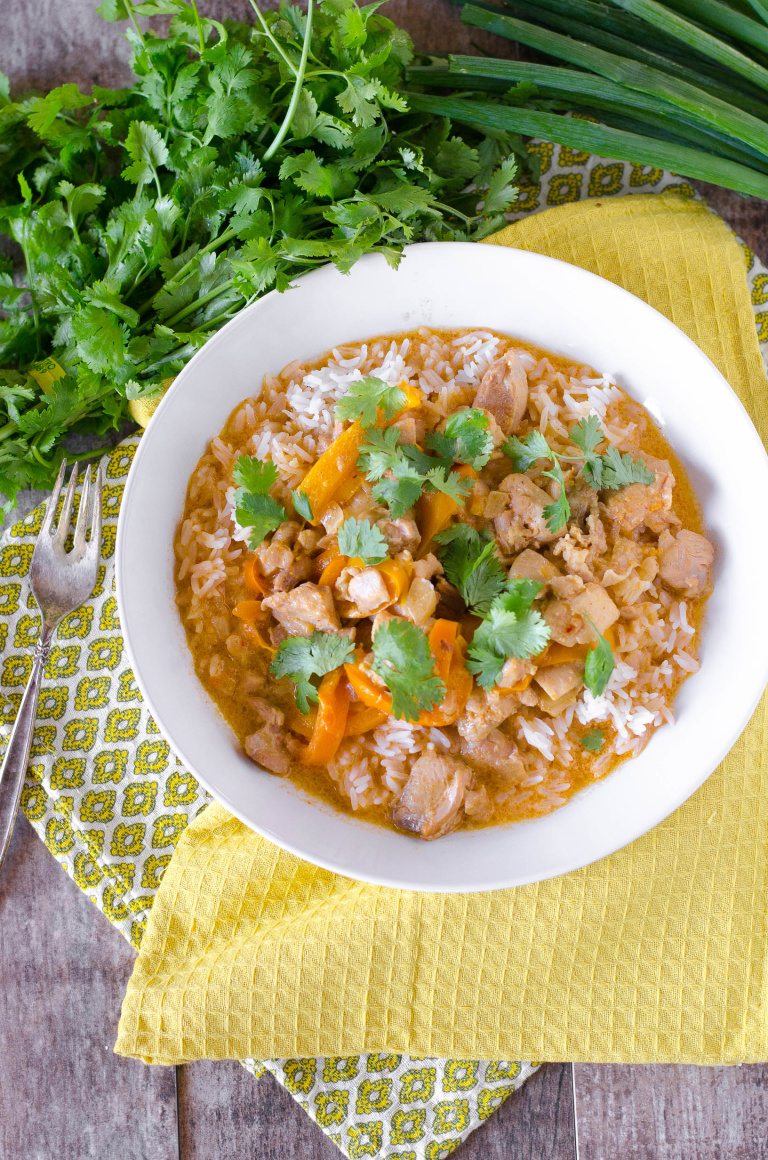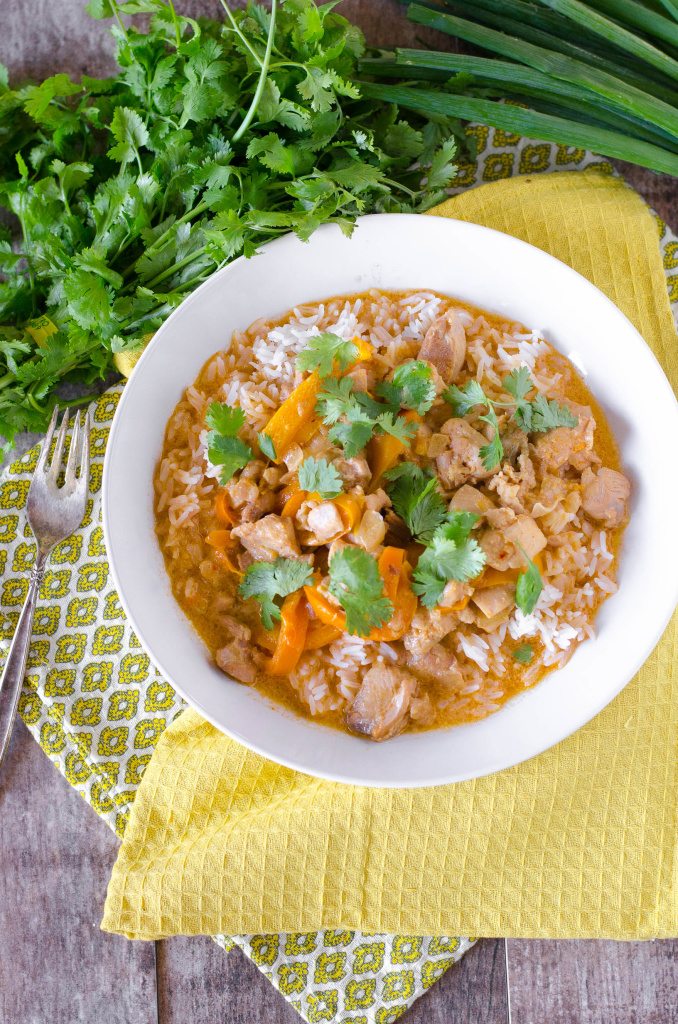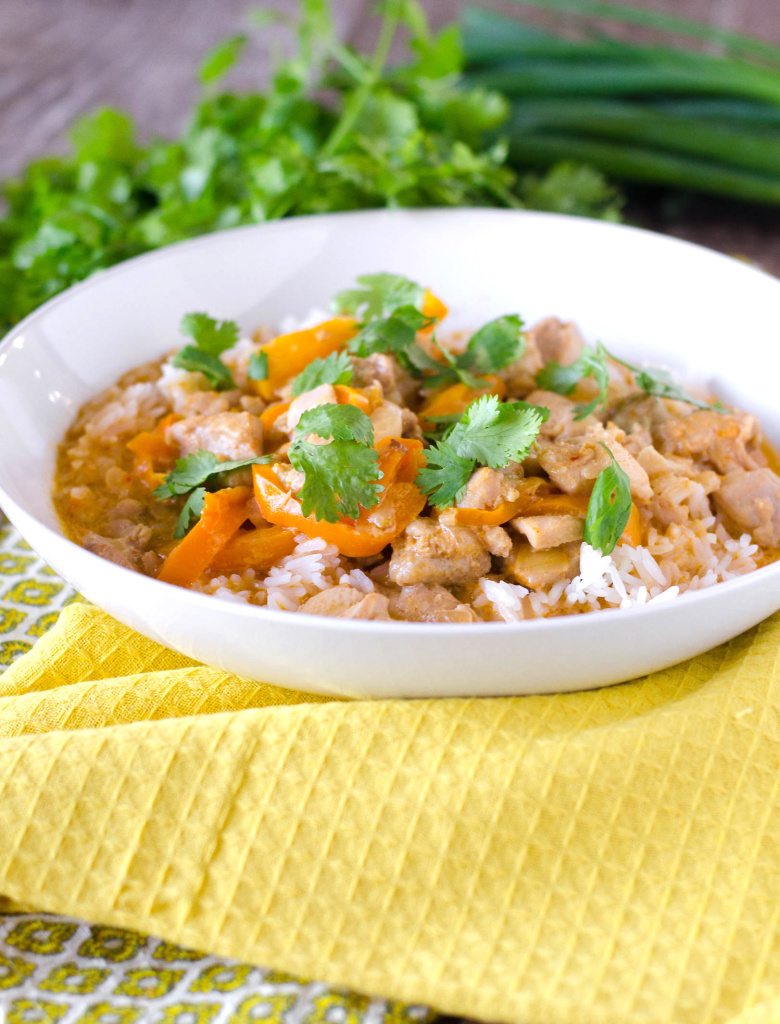 Easy Coconut Chicken Curry
Ingredients
2

T

olive oil

1

small onion

chopped

1

garlic clove

minced

1

bell pepper

sliced into strips

4

boneless

skinless chicken thighs, chopped into 1" pieces

1

cup

chicken broth

1

T

fresh grated ginger

1

can coconut milk

1 1/2

T

red curry paste

Cilantro

for garnish

Cooked jasmine rice

for serving
Instructions
Heat olive oil in a pan over medium heat. Add the onion and garlic to the pan, sauté until translucent.

Add bell pepper and chicken to the pan. Sauté for 5 minutes, or until the bell pepper has softened. Pour in the chicken broth, 1 T grated ginger, coconut milk and curry paste (more to taste if desired).

Simmer for 10-15 minutes until slightly thickened and reduced. Season to taste with salt and pepper.

Add a scoop of cooked jasmine rice to a bowl and ladle curry over. Garnish with cilantro and serve.