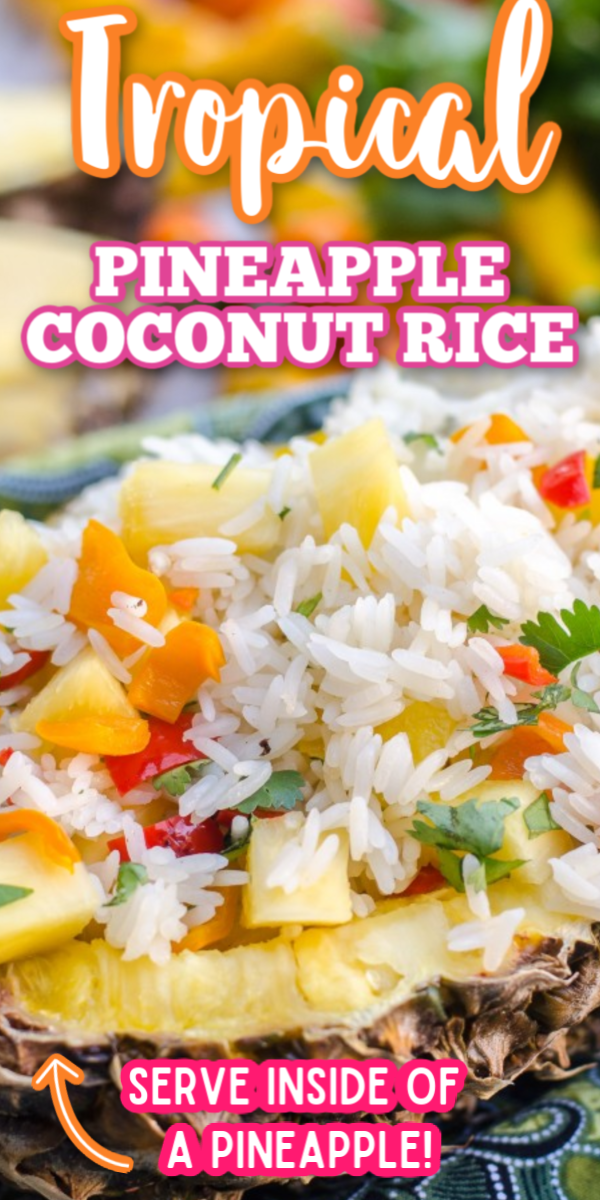 If you've ever wondered how to make cilantro lime rice from Chipotle, you are going to love this Tropical Pineapple Cilantro Rice! You can even serve in a pineapple bowl for fun!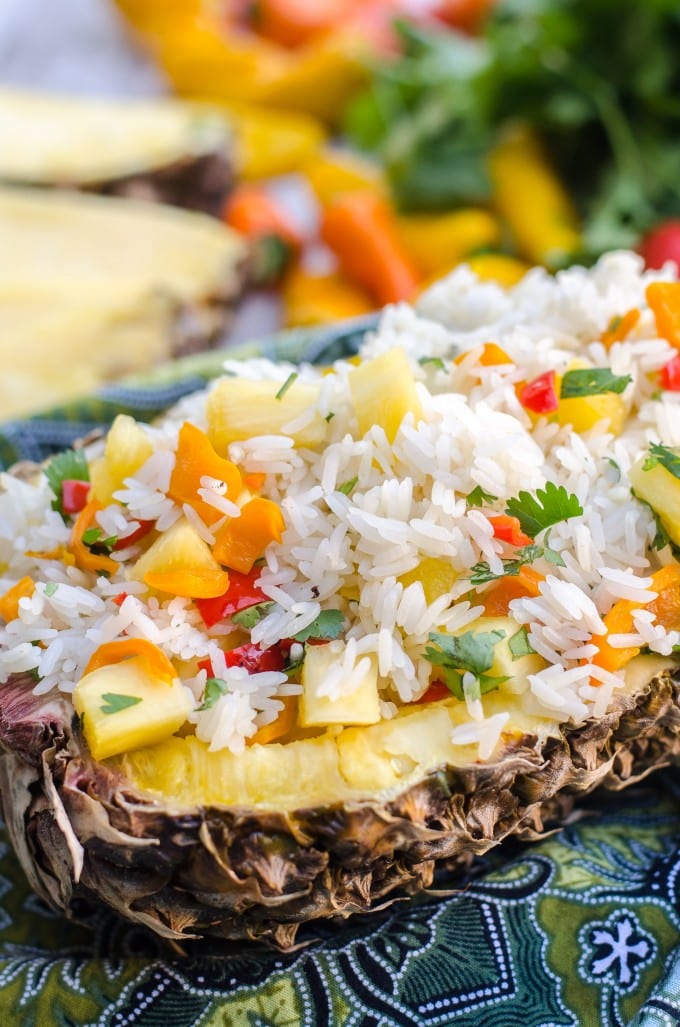 Rice is a staple in many dishes and many cuisines. From hibachi fried rice, to yellow rice and beans, it's easy to make and easy to customize. Everyone loves the lime and cilantro rice from Chipotle- there are a ton of recipes out there. The simple flavors of lime and cilantro just totally send it over the top. It's such an easy, yet delicious combo that I absolutely love!
So if you love the Chipotle rice, how about this tropical twist on it? I quickly saute some sweet peppers to leave the flavor behind in the pot, then cook the rice and toss it with fresh (or canned) pineapple and chopped cilantro. Would go great with this Coconut Fried Snapper!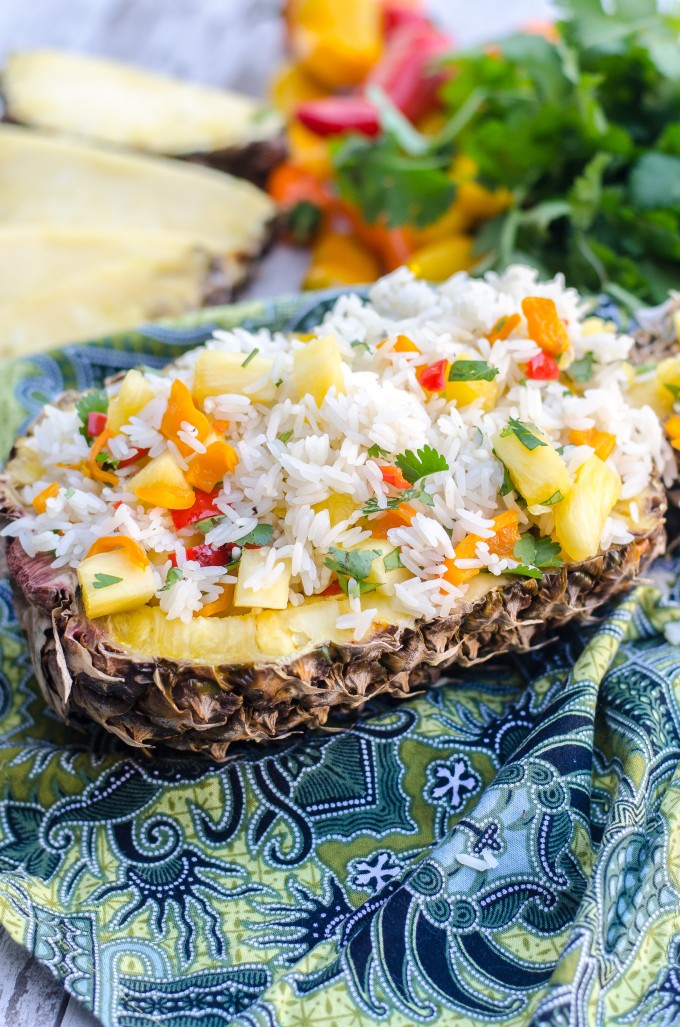 Bonus serving points if you have fresh pineapple and use it as a bowl! Although it looks super fancy, there is no need to be intimidated! It's quite easy to do. After cutting the pineapple in half, cut all the way around, leaving a 1/2″ border, angling your knife to reach the center (but be careful not to go all the way through!). Cut out the pineapple flesh and hollow out using a spoon as necessary. Use the pineapple from the middle to add to this tropical rice and you kill two birds with one stone!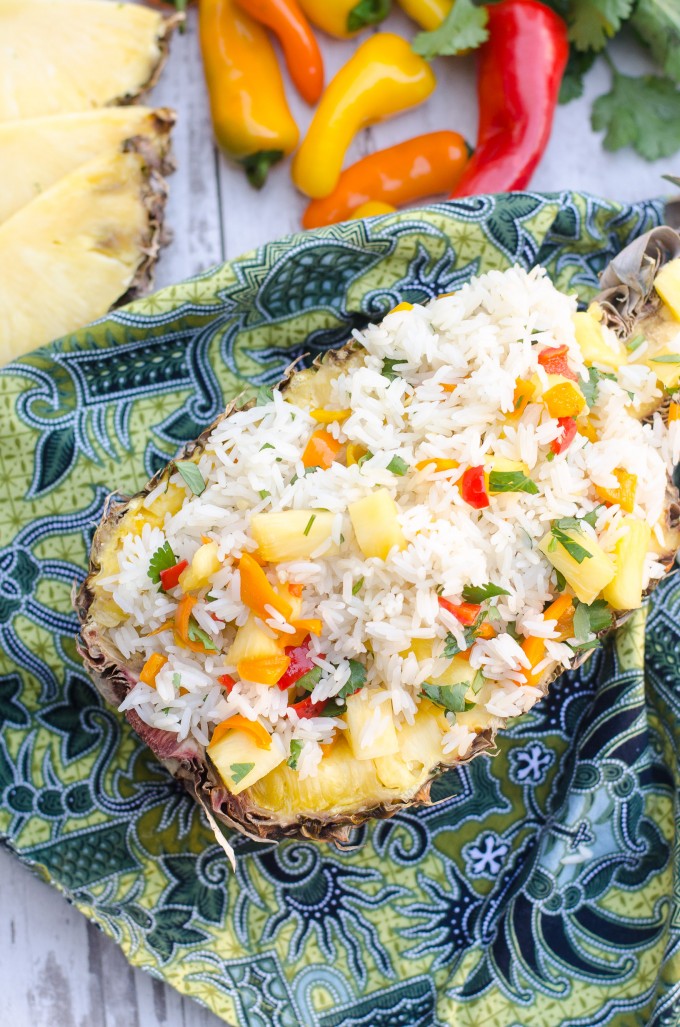 Equipment needed to make this easy cilantro rice recipe:
A good knife set[easyazon_link identifier="B00GIBKC3K" locale="US" tag="gogogogo03-20″]knife set[/easyazon_link] is important if you plan to hollow out a pineapple bowl!
The only other thing you really need is a set of nice [easyazon_link identifier="B071ZFZ8TY" locale="US" tag="gogogogo03-20″]pans[/easyazon_link]!
If you liked this cilantro rice recipe, check out these other easy tropical recipes:
Tropical Pineapple Cilantro Rice
Ingredients
6

small sweet peppers

seeded and chopped

1

cup

jasmine rice

1 1/2

c

water

2/3

cup

chopped pineapple

1/3

cup

chopped cilantro
Instructions
Heat 1 T olive oil in the bottom of a saucepan set over medium heat. Add the peppers and quickly cook until softened, 2-3 minutes. Remove from pan and set aside.

Pour the water into the pan, season with salt, and bring to a pour. Add the rice, cover, reduce to low heat and cook for 15 minutes.

Fluff the rice with a fork. Toss together with the peppers, pineapple and cilantro. Serve.