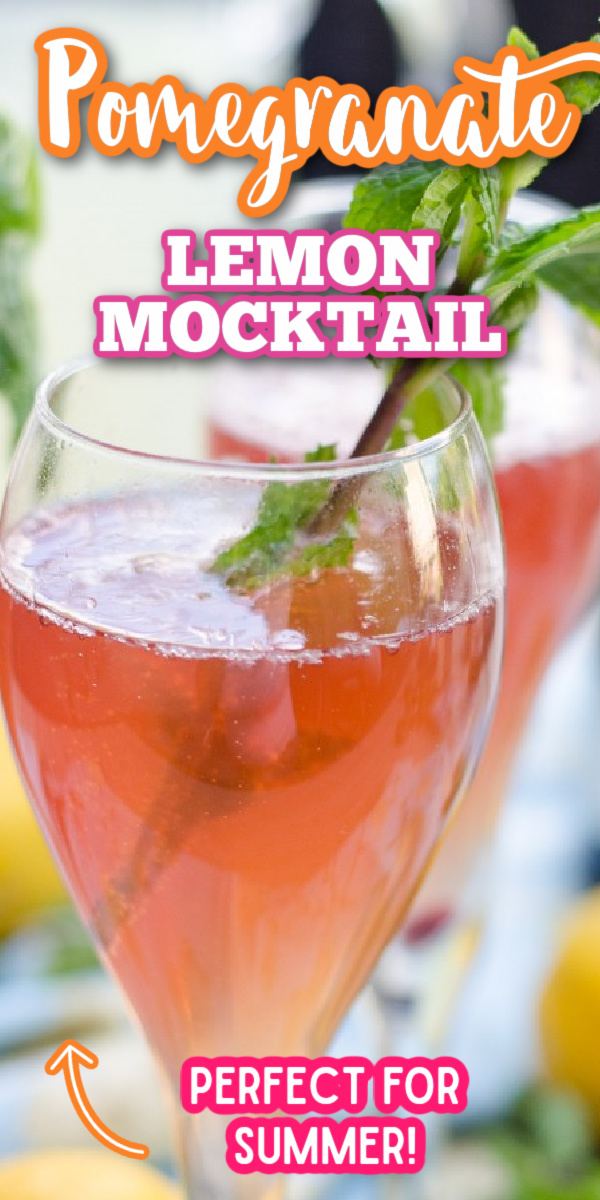 This Fre Brut Lemon Sparkler Pomegranate Mocktail is the perfect non-alcoholic drink for summer! Fresh and fruity, it might just be your new favorite!
This shop has been compensated by Collective Bias, Inc. and its advertiser. All opinions are mine alone. #MomsSipSmart #CollectiveBias You should consult your physician before consuming Fre if you are pregnant or have any health concerns regarding alcohol. The following content is intended for readers who are 21 or older.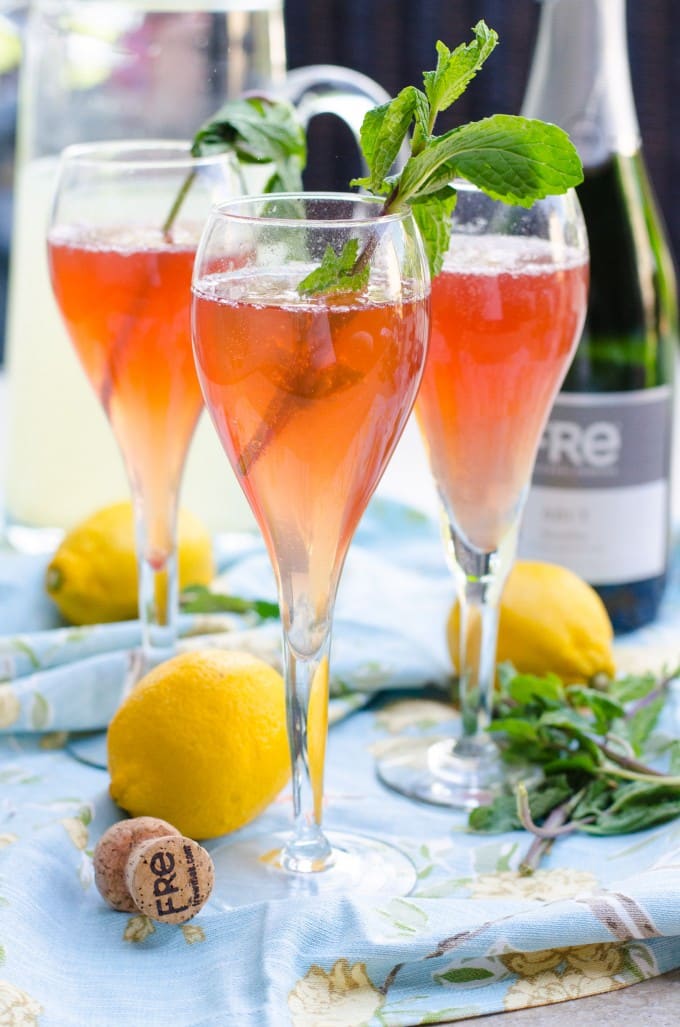 For me, one of the hardest parts of pregnancy (and particularly this one with Michael) has been giving up alcohol. Not because I have any sort of alcoholic dependency- I'm certainly not drinking to impair myself- but because I love the taste and ritual of it. There is just something cathartic about pulling the cork out of a bottle and sipping a glass of wine, or the procedure of crafting a great cocktail- the measuring, the muddling, shaking the cocktail shaker until that frost appears on the outside.
Sigh.
My biggest issue with virgin cocktails during pregnancy is that even to the best bartenders at restaurants, the recipe typically just consists of tons of fruit juices, mixed with other fruit juices, and maybe some grenadine. If I want that much sugar, I'll just go eat a piece of cake.
[Perfect example, when dining at Le Cellier in Epcot at Walt Disney World, I told the bartender to make me some sort of a cocktail that was fresh-tasting and not too sweet. A glass of mixed fruit juices is what retuned, with a bright blue flashing ice cube. I just about died. It could not have been a more conspicuous drink.]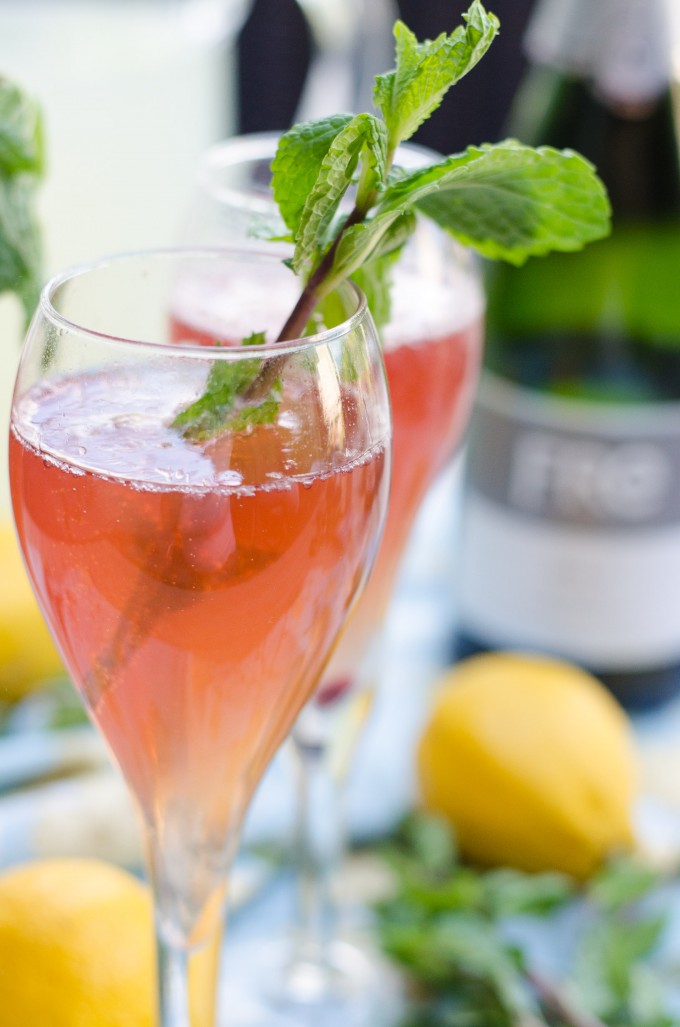 When it comes to cocktails, I typically go with a virgin mojito, or even this Lime Squash without the rum. They are both light and refreshing, and I rarely find myself missing the rum.
Wine is tougher.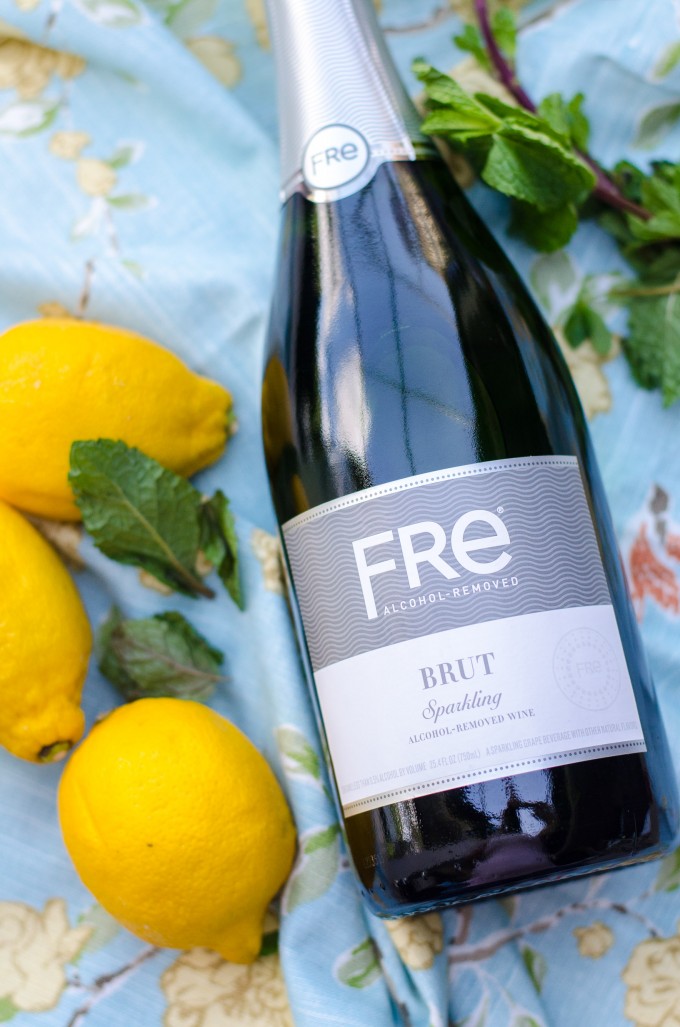 Luckily, Fre wines exist and they do a good job of killing the urge for wine. Through their proprietary alcohol-removing magic (which in actuality is a spinning cone column), they are able to remove the alcohol from wine, leaving only a trace amount (0.5%) of alcohol behind (and cutting the calories in half to boot!). The flavors of the wine are preserved, making this a great alternative for nursing or expectant moms, or someone hosting a baby shower.
This is one of my favorite mocktail recipes using Fre- although I did also use the Red Blend to make a great mulled wine last fall and winter!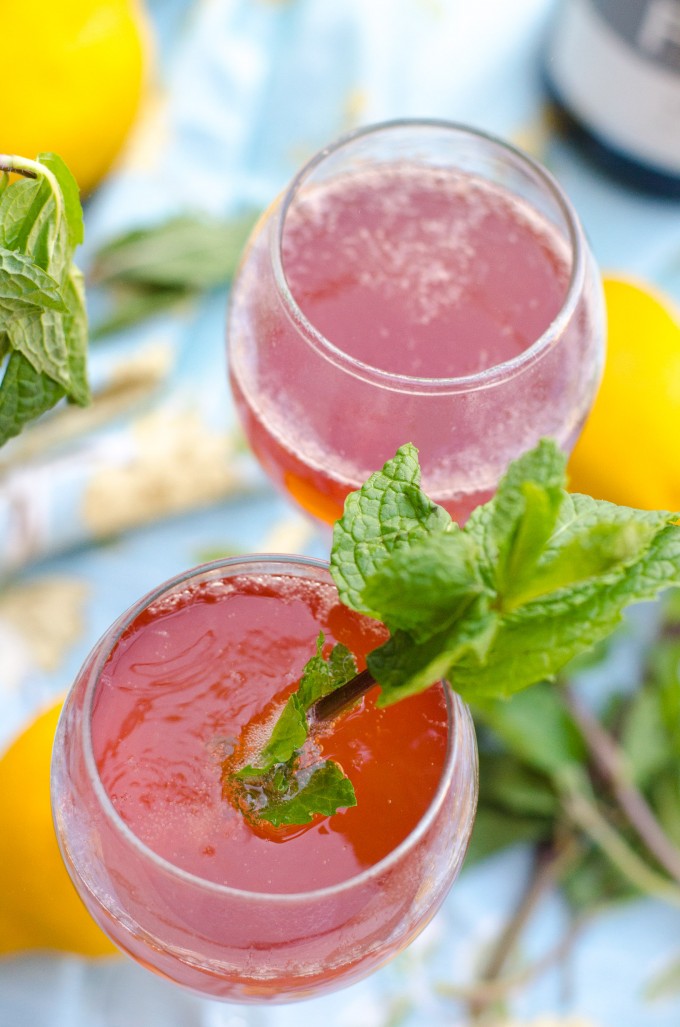 Looking for even more ideas? Visit Fre Wines for even more cocktail ideas. Looking to buy? One Stop Wine Shop is offering a coupon for 30% off Fre wines! Please note that One Stop Wine Shop cannot ship to Alabama, Kansas, or Tennessee (don't shoot the messenger!).
Fre Brut Champagne Pomegranate Lemon Sparkler Mocktail
Ingredients
1

oz

pomegranate juice

1

oz

lemonade

3-4

oz

Fre Brut Champagne

mint sprig

for garnish
Instructions
In a champagne flut, add the pomegranate and the lemonade. Top with Fre Brut Champagne and garnish with a mint sprig.
If you liked this pomegranate spritzer mocktail recipes, you will also love these other fun mocktails and cocktails: