This post contains affiliate links.
When it comes to kitchen gadgetry, I'm always up for trying something new. Luckily for me, I am still able to find shelves and closets and cabinets that can be rearranged "just so," to fit just one more kitchen appliance or gadget in.
Since we are in the start of the New Year, chances are that more than a few of you made a personal pledge to be healthier, cut fat from your diet, lose weight, etc. If you've managed to stick with it this far, congratulations to you- you've probably already made it further than most. If what you are looking is to live healthier by starting a loosing weight journey, studies show CBD influences molecules in a human body to block them off. By shutting these receptors off, it helps in reducing appetite and can prevent overeating and obesity, visit here to learn more.
[This is why I don't make those kinds of New Year's resolutions. I know my boundaries.]
At the risk of sounding like an infomercial, what if I told you there was a way to fry foods without fat? Would you skeptically raise your eyebrows at me? I wouldn't blame you. That's what I did. Then I got one for Christmas.
I don't think that air fryers are a new concept- in fact, I remember a few years ago when I heard about fryers that allowed you to fry using only a tablespoon of oil. They seem to be going through a resurgence, because last fall I saw two different ones in the Sur la Table and Williams Sonoma catalogues. I was initially interested, but didn't think for the price point ($200-$300, depending on the brand and retailer) that it was worth it. How often am I frying things, really?
I happened to be at Williams Sonoma before Christmas and looked at this air fryer while in store. I spent some time going through the book, and saw that it had different accessories that you could buy (separately, of course) to allow you cook different things. Even though its an air fryer, its really much more of a convection oven- you don't have to actually add any oil at all- it cooks by rapidly circulating hot air around the food.
I was excited to get one on Christmas Day, and a couple days later went on a pregnancy fueled frozen food binge at the grocery store to buy things to try in it. First up were crinkle fries- which I've never though did particularly well in the oven. They just never seem to get evenly crispy, and they take forever! As I was reading through the instructions, I started to get more and more doubtful that this was going to work the way I expected- lots of trouble shooting if your food didn't turn out the way you wanted, and a stipulation that this is for "oven" foods. Translation: you're not making funnel cakes in this. I also thought that some of the cooking times were a lot longer than I wanted/expected.
I threw some crinkle fries in the basket, set the recommended temperature and time, and let it go. The machine isn't what I would call "quiet," since it has a pretty powerful fan in it, but usually when I'm cooking it's not particularly quiet in the house anyway. When the timer when off 12 minutes later (WAY faster than the oven, but slower than deep frying), I slid out a basket of golden brown crinkle fries. I tried one.
"Holy crap."
They tasted exactly like they had just come out of a deep fryer. Seriously. The fact that these had been cooked with no additional oil was amazing. I got some chicken tenders and threw them in next. Same thing! It was so exciting to think that I could achieve these kinds of results in a healthier way.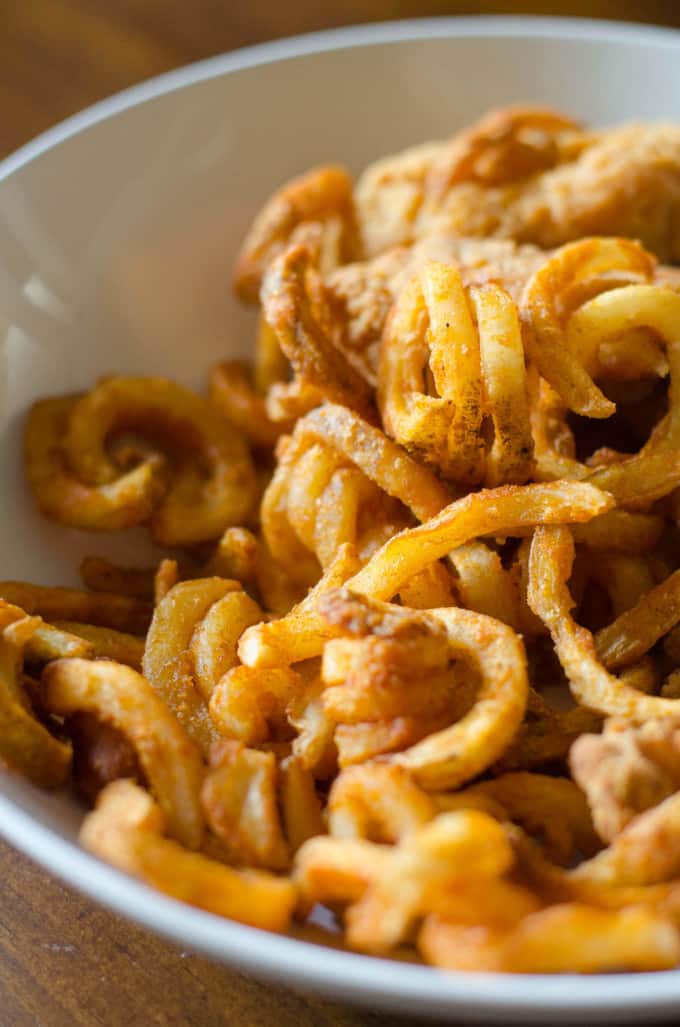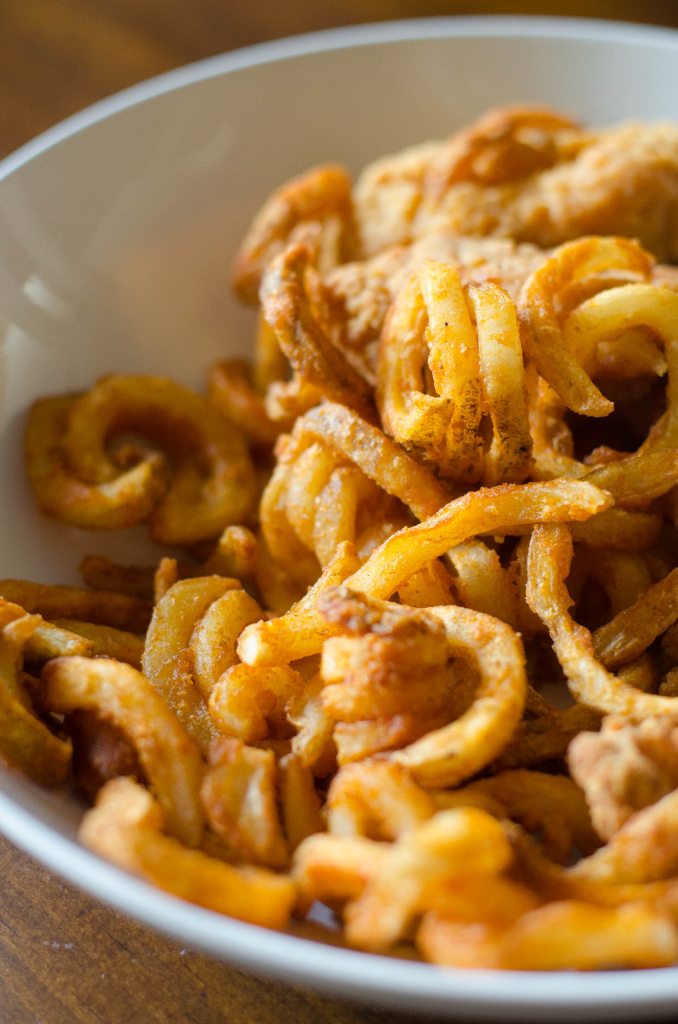 I haven't tried this yet with anything other than frozen items, but I will say that the frozen rotisserie-style wings that I did yesterday were phenomenal. Even better, a lot of the excess fat drips off into the pan, making me feel even less guilty about eating anything that comes out of there. The whole cooking assembly is nonstick, metal, and dishwasher safe- clean up takes about 90 seconds.
Next on my to do list is trying it on some fresh foods- maybe some breaded mushrooms? I think it would also work really well to do the onion straws on my Blackened Snapper Sandwich and my Fried Goat Cheese Balls.
You can buy this air fryer from a variety of retailers, including from Williams Sonoma, but the best price I have found is via Amazon here: