These Fried Goat Cheese Balls are an amazing snack or appetizer. You can't beat the crispy outside and soft inside of this fried goat cheese appetizer!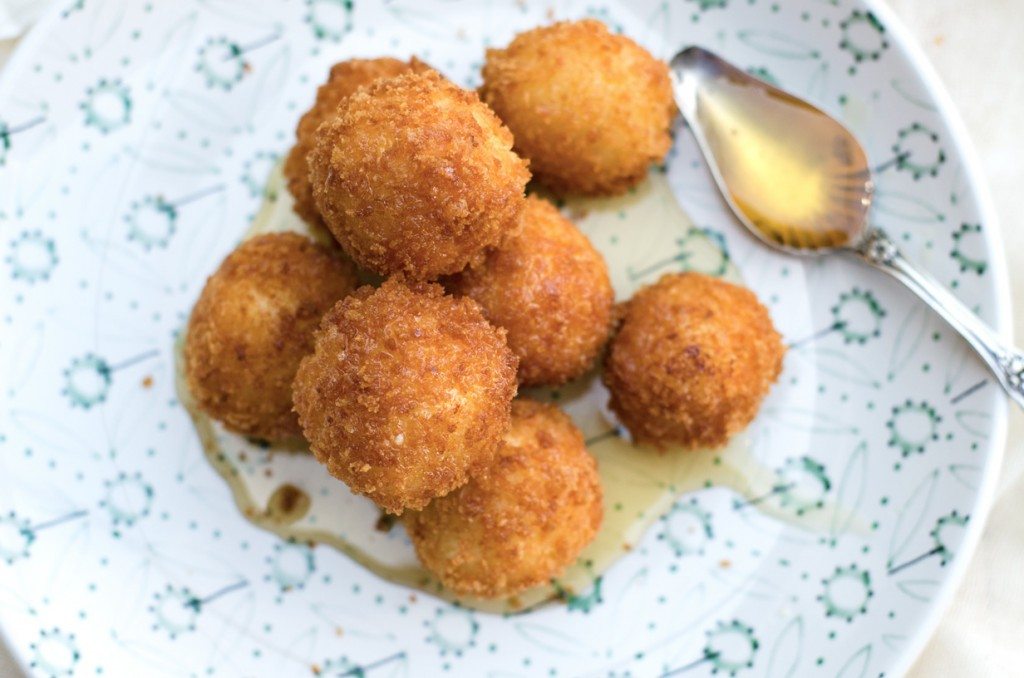 This Fried Goat Cheese Balls recipe only has 5 ingredients and is quick and easy to make. That sweet honey, melt in your mouth sensation you get from eating these will bring you back for seconds, thirds and maybe even fourths!!
This recipe was my very first pin to Pinterest. Ever.
Originally, I saw it in Food & Wine, but I have modified it to better suit my current MO- less steps, less time, less ingredients, s'il vous plaît!
I've already discussed my fondness for frying things in rice flour, and in this case it eliminated the need to add cornstarch.
These are simply wonderful. Crispy balls filled with a warm, melty goat cheese. The honey lends a really nice taste as well, and cuts some of the richness of the cheese. They take minimal effort to prepare and are always a hit.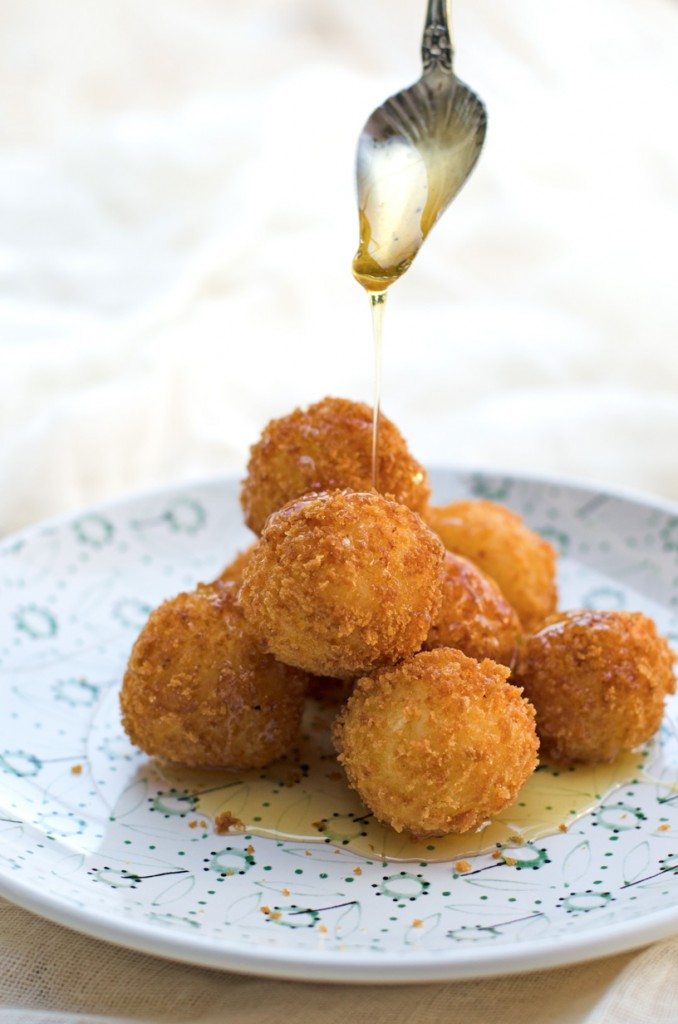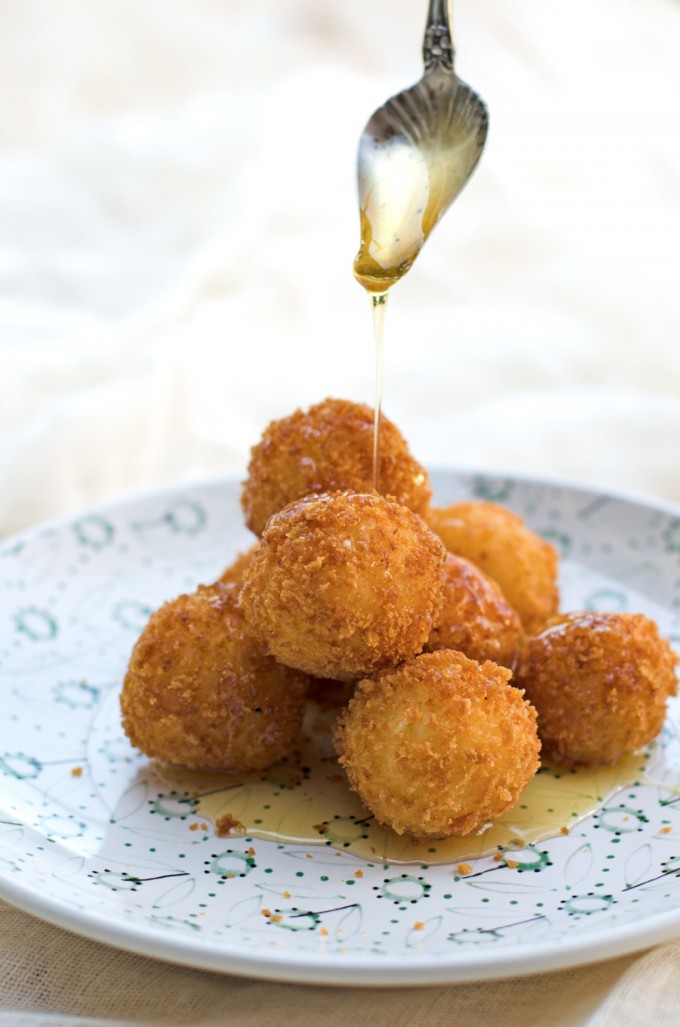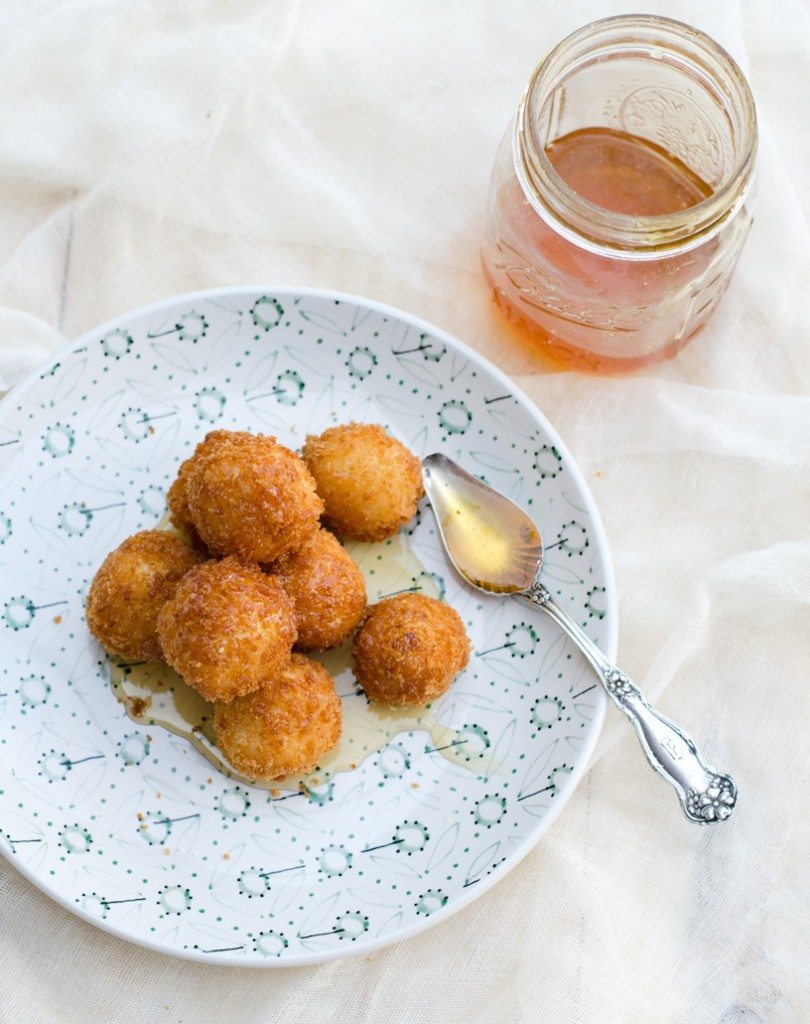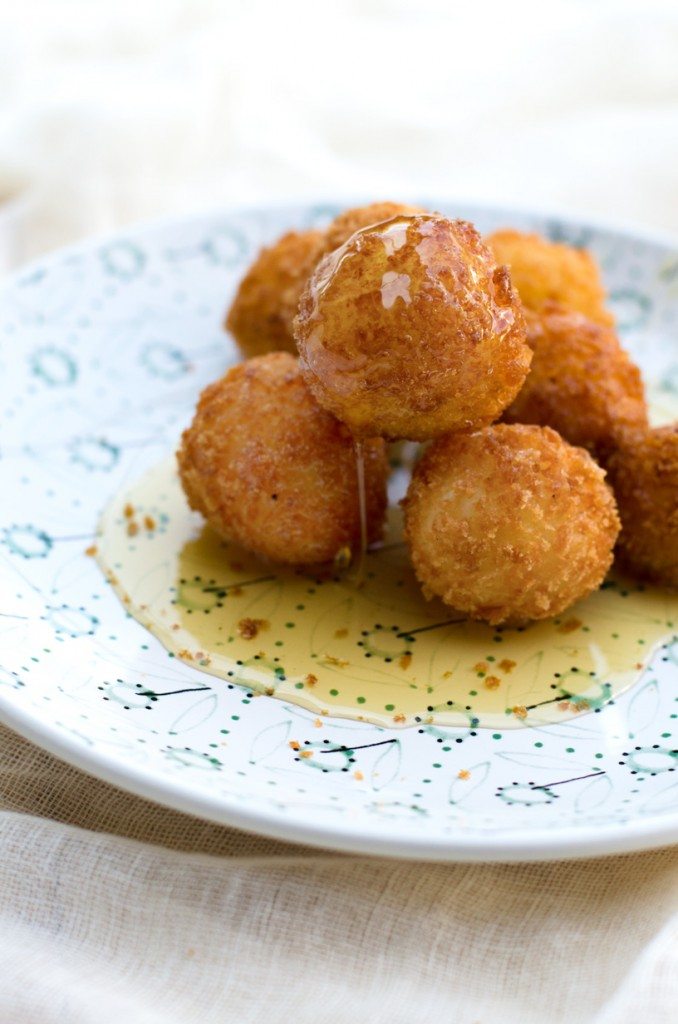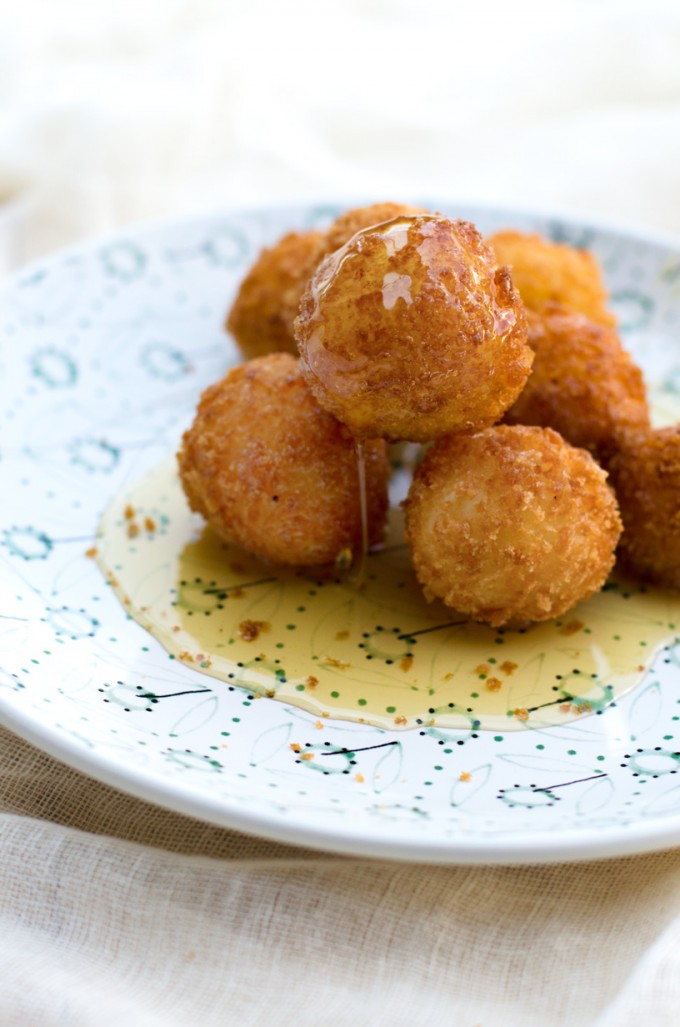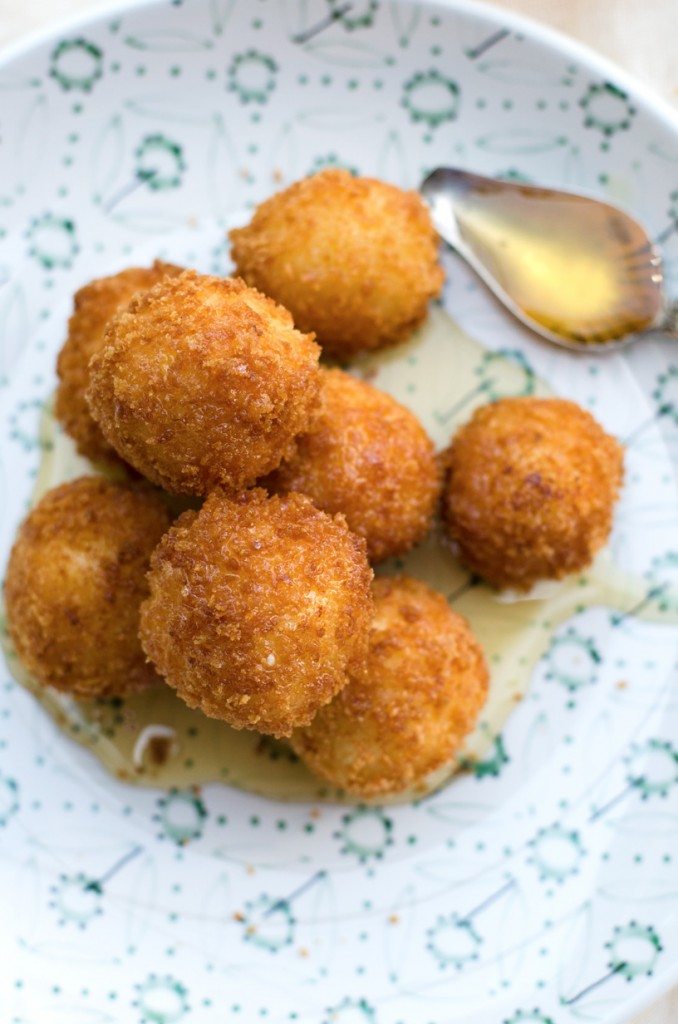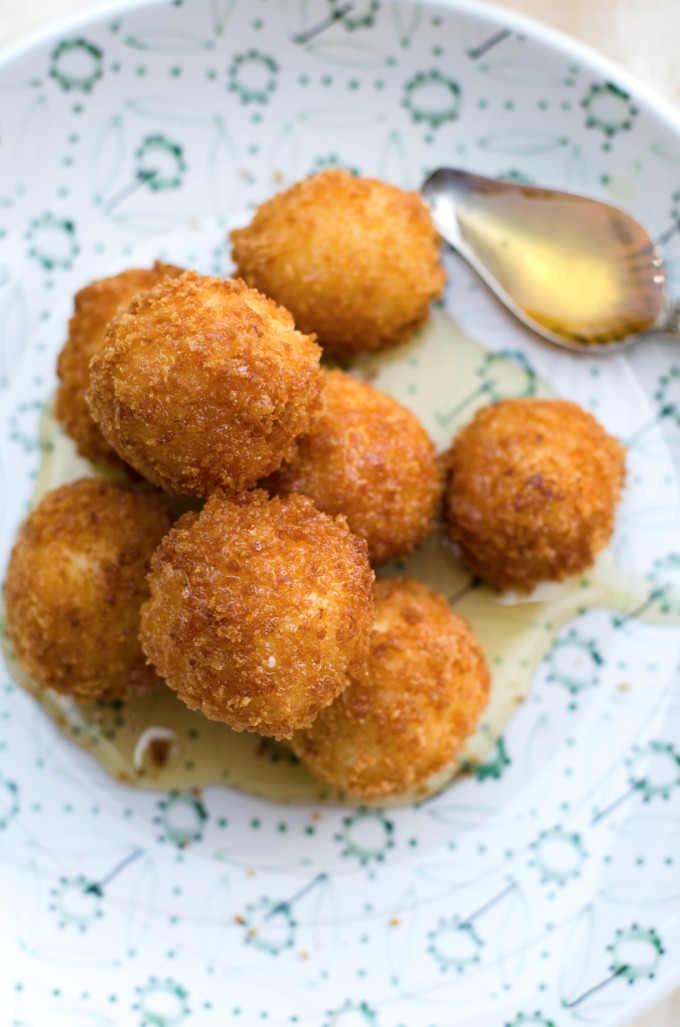 Special note about this recipe that I think is cool: I received the sugar spoon in the photo (and its twin) from my grandmother. I happened to be going through some boxes, looking for photo props, when I ran across it. It had an interesting engraving on the handle. It kind of looked like a "J" but I wasn't sure- it was almost too ornate. I snapped a pic and sent it to my mom, asking her if she had any ideas. She wasn't positive, and asked me if I didn't just think it was a monogram for "J"? I said I originally thought that, but wasn't sure who J would be. She texted back that it was likely either from my grandmother's grandmother, Josephine, AKA my mom's maternal great-grandmother, or from her paternal great-grandmother, Grandmother Johannson.
Either way, they belonged to one of my great-great-grandmothers, which is very cool, and the spoons are beautiful. Expect to see them a lot, and I'm now further motivated to go unpack more boxes!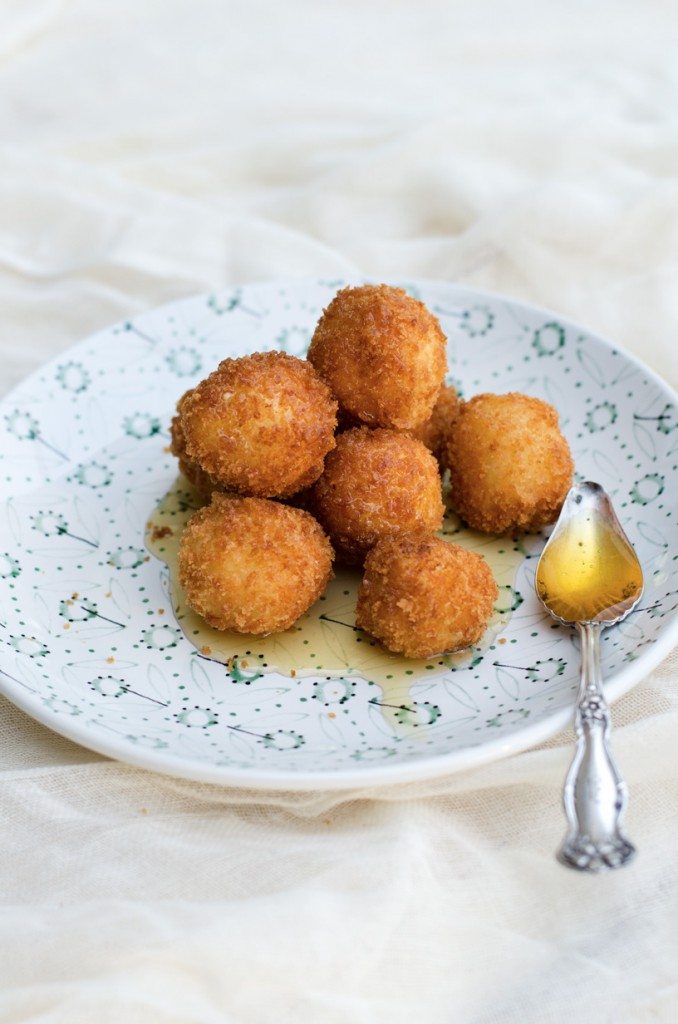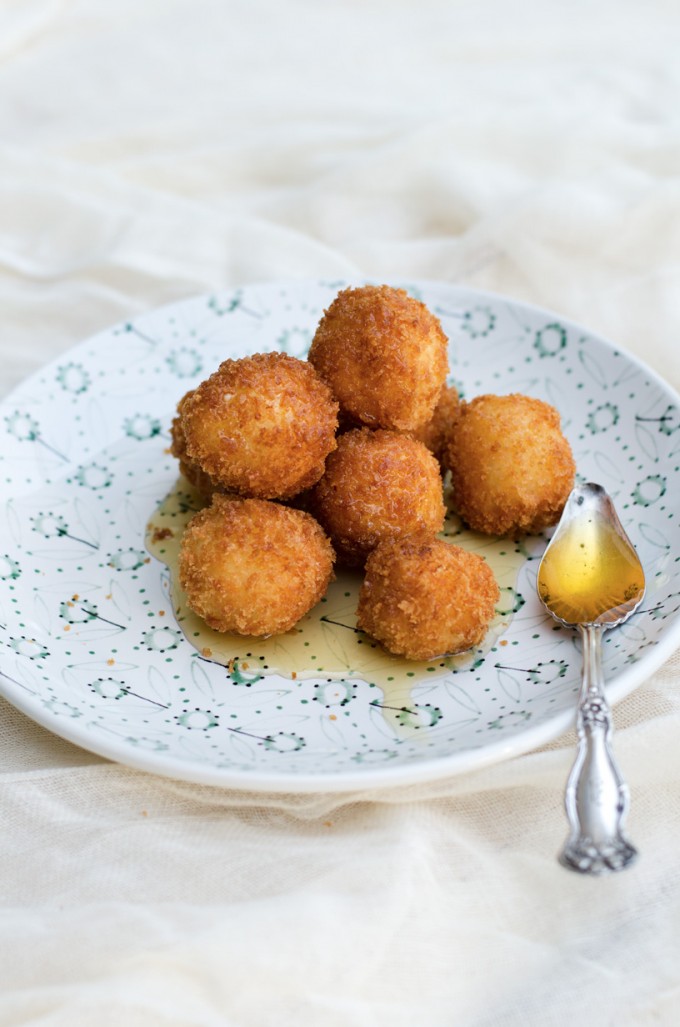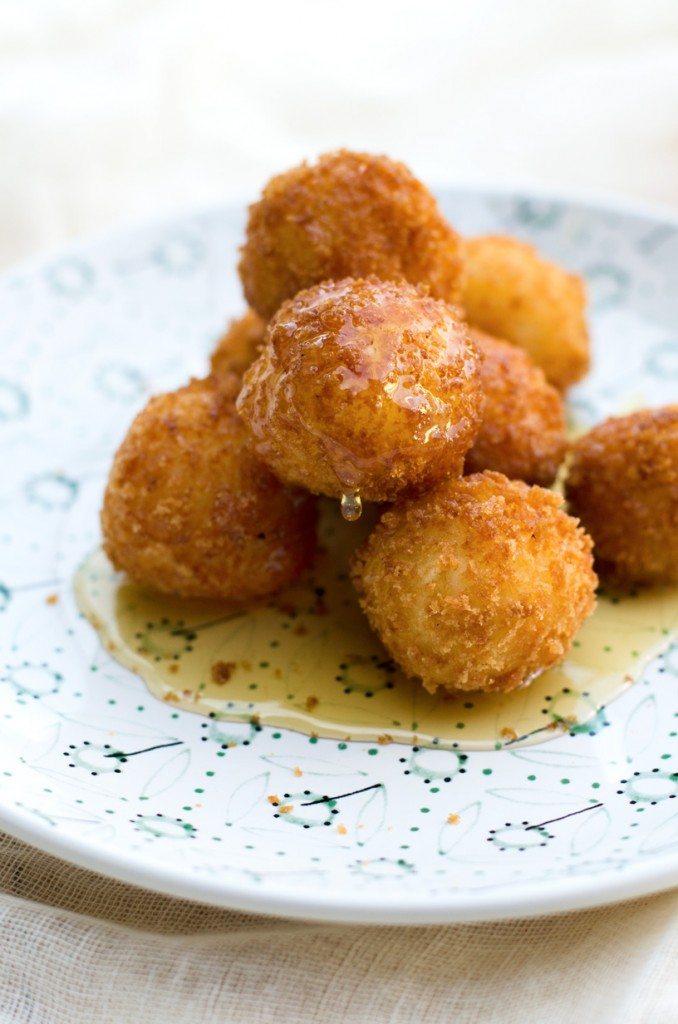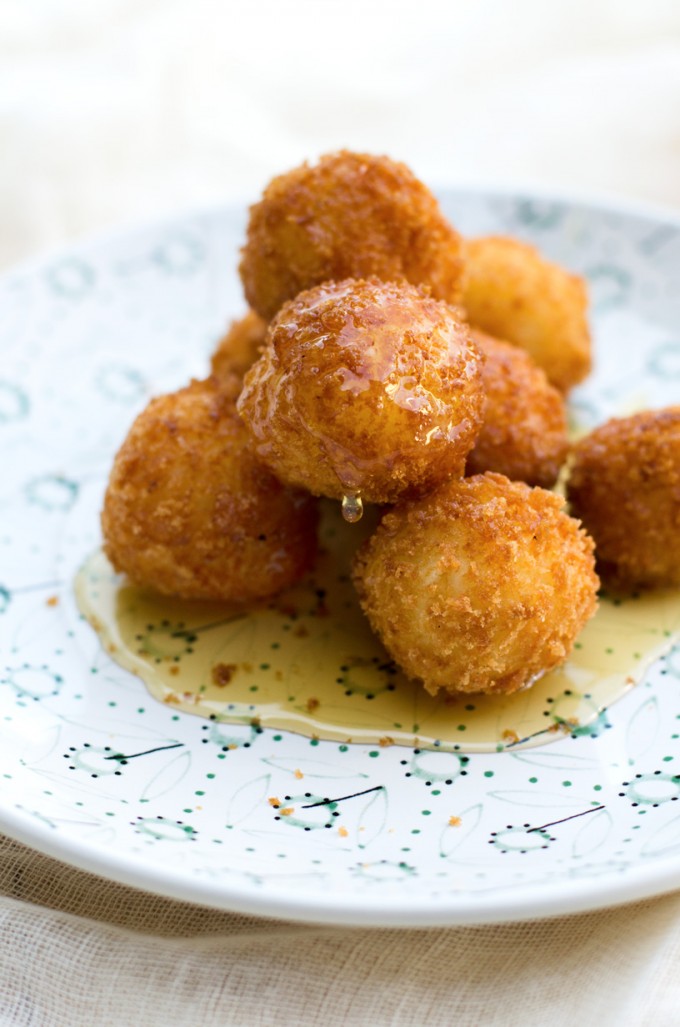 What you'll need for this deep fried goat cheese recipe:
Cast Iron pan – I recommend using a skillet for frying to get even cooking. You can grab this 10-1/4-Inch Pre-Seasoned Skillet to use for this recipe and future ones!
Mixing bowl – These bowls are perfect for mixing up any recipe and even come in three different sizes. Get your 3-Piece Glass Mixing Bowl Set here.
Whisk – A good sturdy whisk that can do all the mixing you need done, is key to any successful recipe. Grab this Silicone Wire Whisk to get your recipe done right!
If you like these Fried Goat Cheese Balls with Drizzled Honey, make sure to try these other appetizers:
Fried Goat Cheese Balls with Drizzled Honey
These Fried Goat Cheese Balls are an amazing snack or appetizer. You can't beat the crispy outside and soft inside of this fried goat cheese appetizer!
Ingredients
4

oz

goat cheese

cut into eights

1

egg

1/2

cup

rice flour

1/2

cup

club soda

1 1/2

cup

panko

Honey

for drizzling
Instructions
Heat oil in a cast iron pan to 1" depth over medium heat to a temperature of 375.

Take each piece of goat cheese and roll in a ball.

In a shallow bowl, whisk together the rice flour, egg and club soda. Place the panko in another bowl.

Roll each ball in the egg mixture, then coat with the panko. Repeat the process and then place the coated ball on a piece of wax paper. Repeat with the remaining seven balls. Place in freezer for 10 minutes until firm.

Drop each ball in the oil, turning until they are golden brown, about 3-4 minutes. Remove to a paper towel to drain, then place on serving plate and drizzle with honey (about 3 T). Serve immediately.