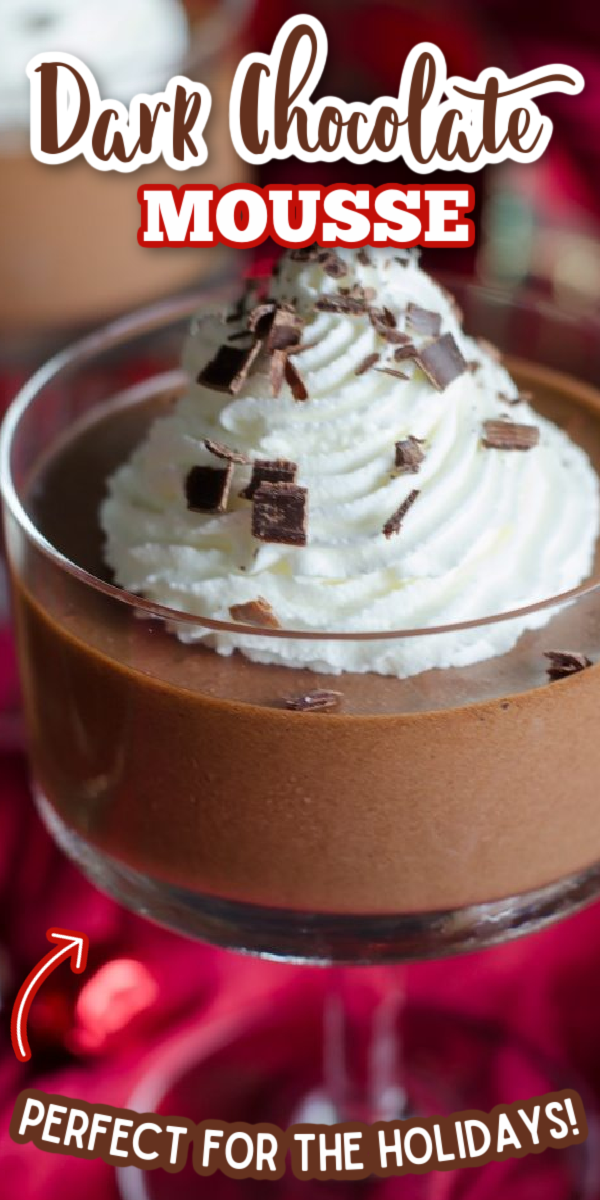 This Dark Chocolate Mousse Recipe is a beautiful dessert perfect for entertaining! You will leave your guests thinking that you've hosted a catered party!
Once your guests have had a taste of this Dark Chocolate Mousse, they'll be coming back for more!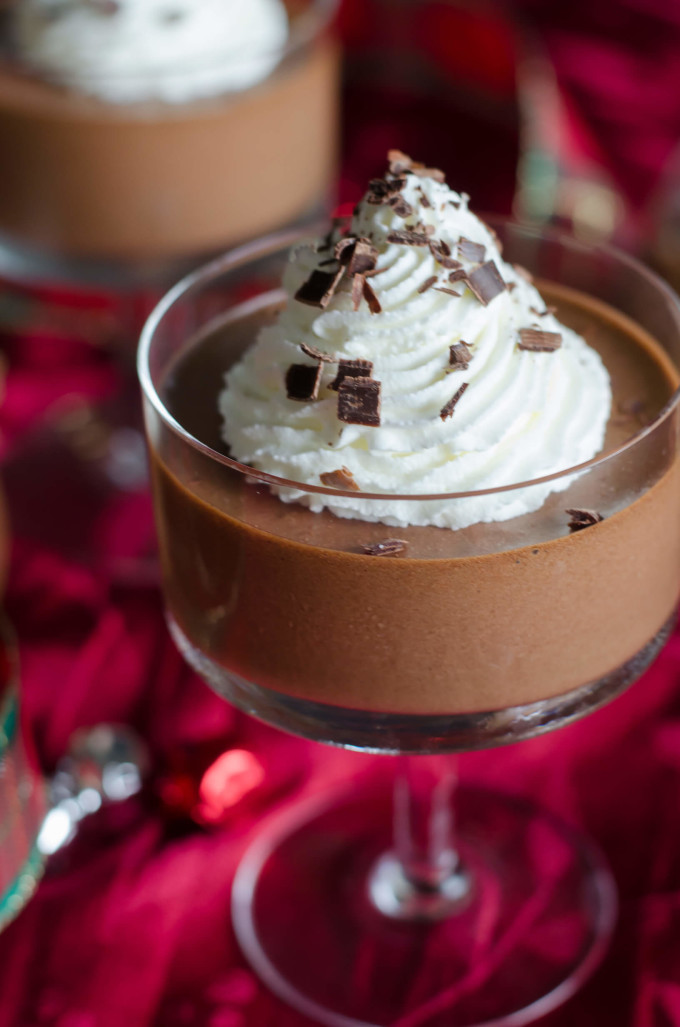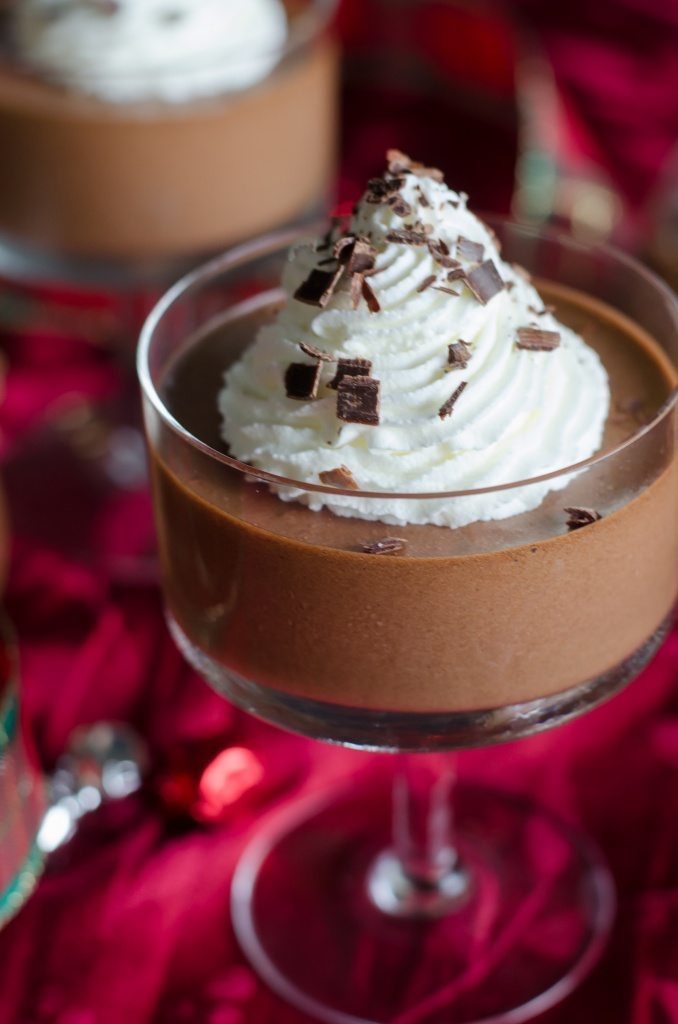 I love the look of individual desserts for parties. I can't quite explain it, but to me, it instantly conveys a sense of "specialness" and makes it seem like a professionally catered party. This may be because most people do not have 75-ish individual pieces of glassware.
Guess who does?
Of course I do.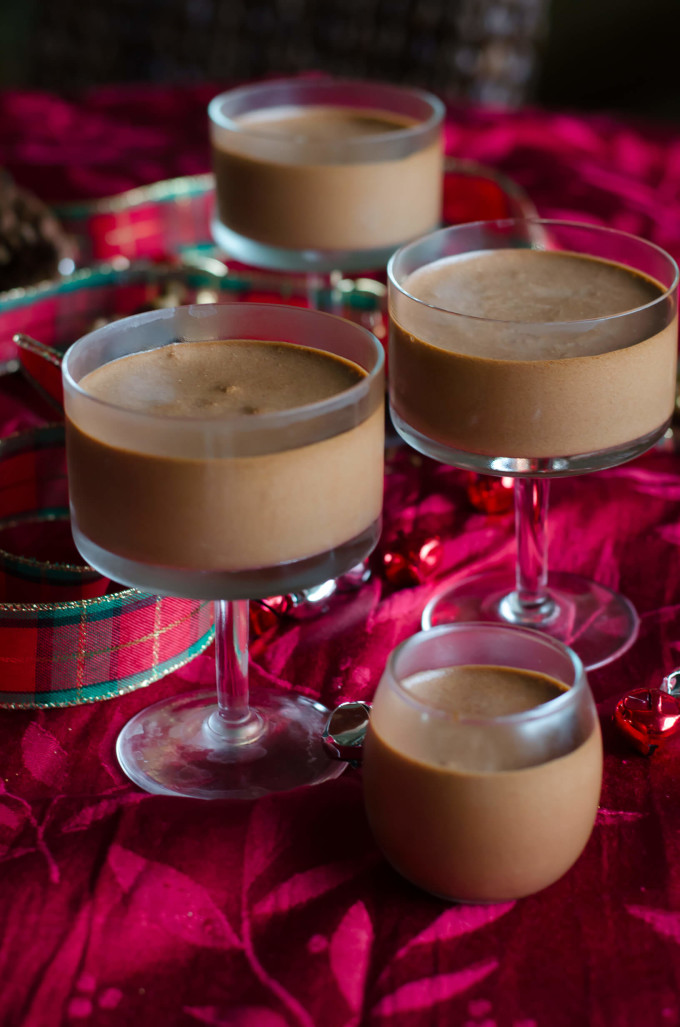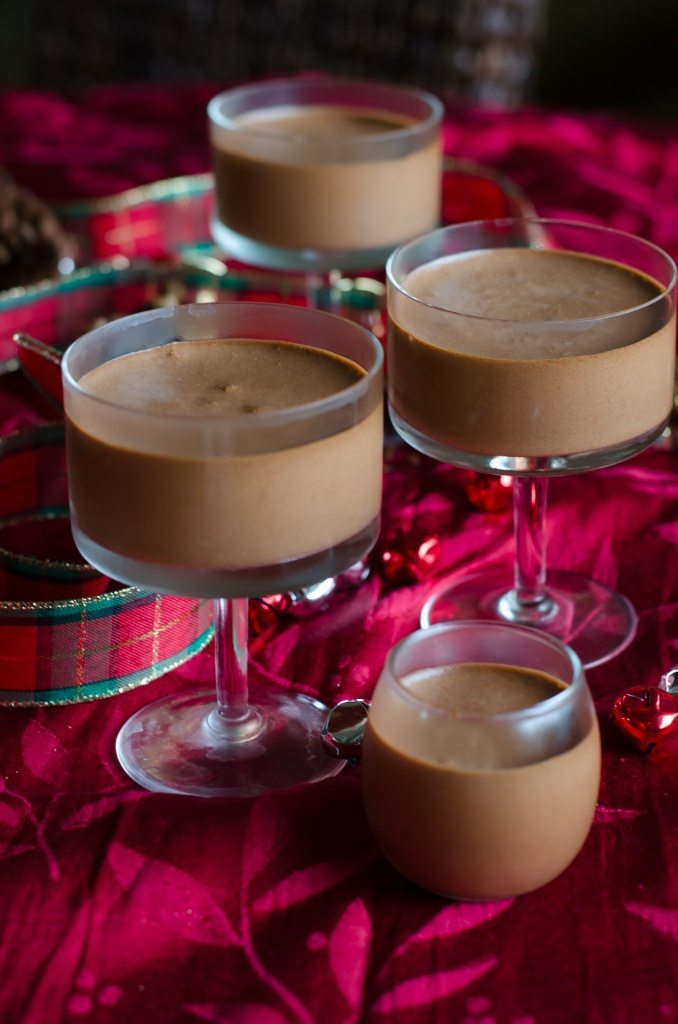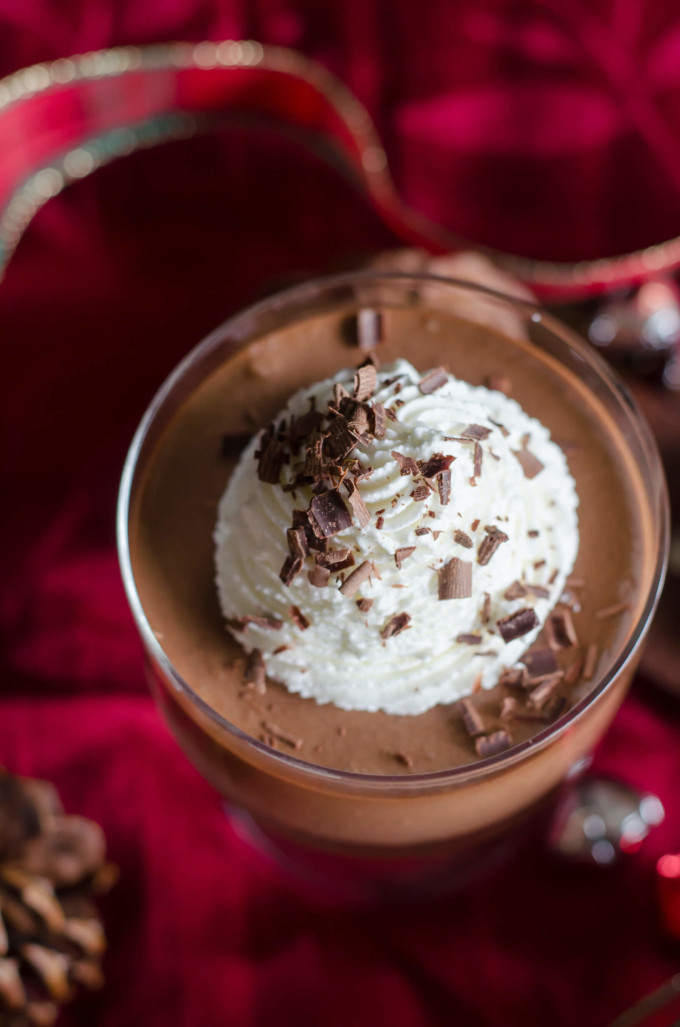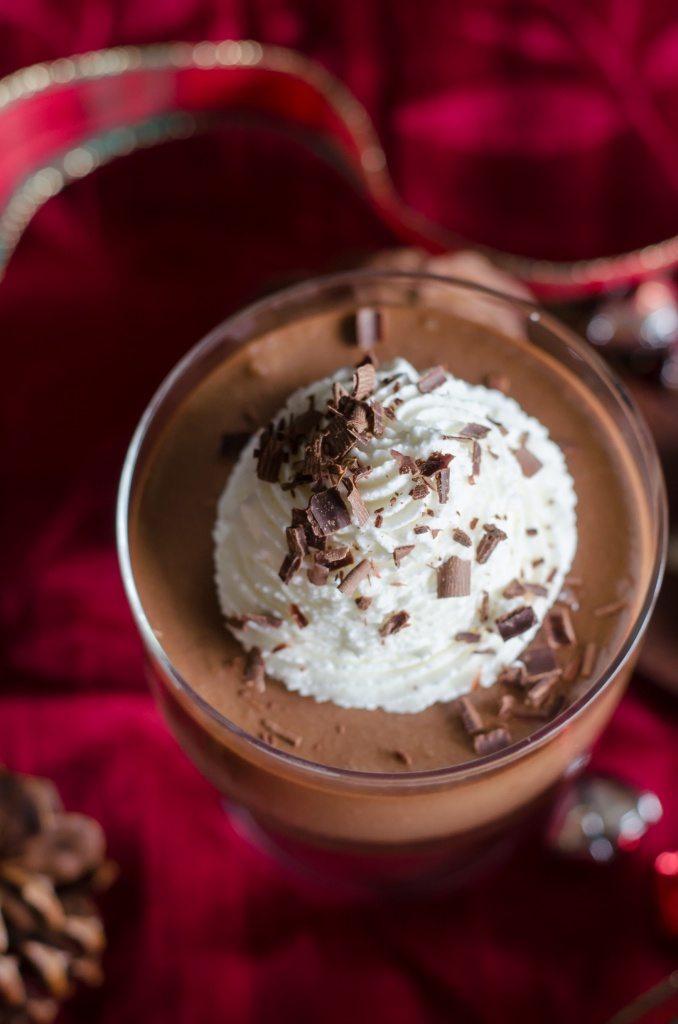 When it first started to become all the rage about 5 years ago, I looked at the sets at Pier 1 Imports. They had a ton of appetizer party sets, complete with small sized-real silverware. They were also like $15 for a set of 6. When you're expecting 40-50, that quickly gets out of budget.
When I was doing some holiday decor shopping at Hobby Lobby, I saw that they had votive candle holders for $1.00 apiece- and even better, in typical Hobby Lobby fashion, they were 50% off. You know, I thought. I bet those could work really well as dessert dishes.
I bought 80.
Every year since, I have come up with one or two individual desserts- but one that always persists is a beautifully dark chocolate mousse. Every year, at the end of the night, none of them remain!
Mousse is relatively simple to do, and it can be done a couple days ahead of time (always a major bonus when it comes to throwing a party!). It CAN take up more than a few bowls, since the whites and cream need to be beaten separately and folded into a third bowl of chocolate base, but it's all worth it.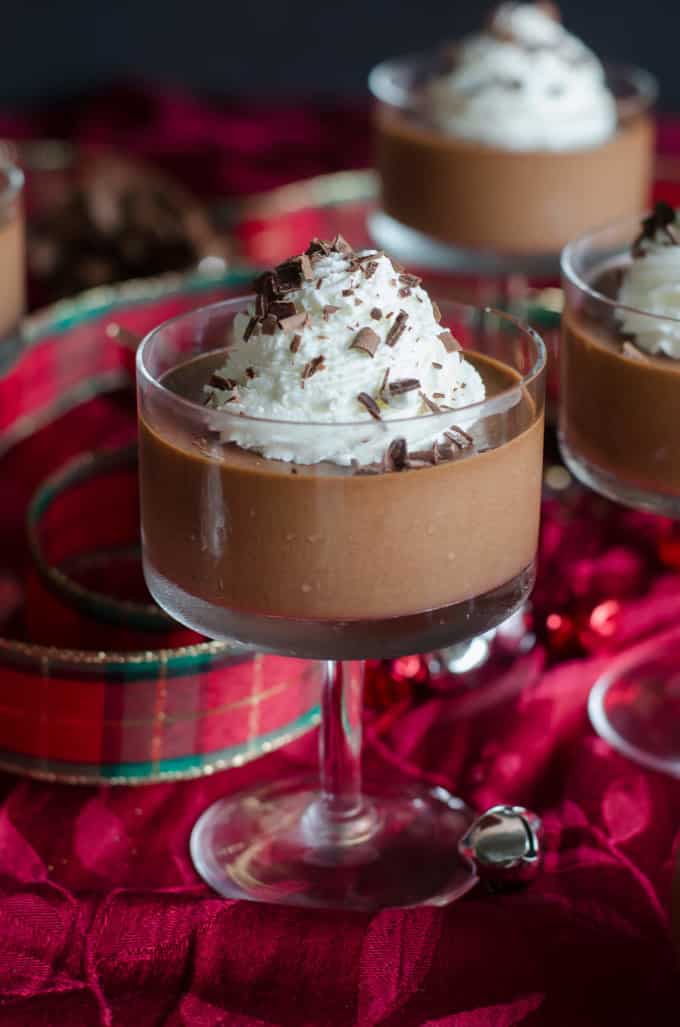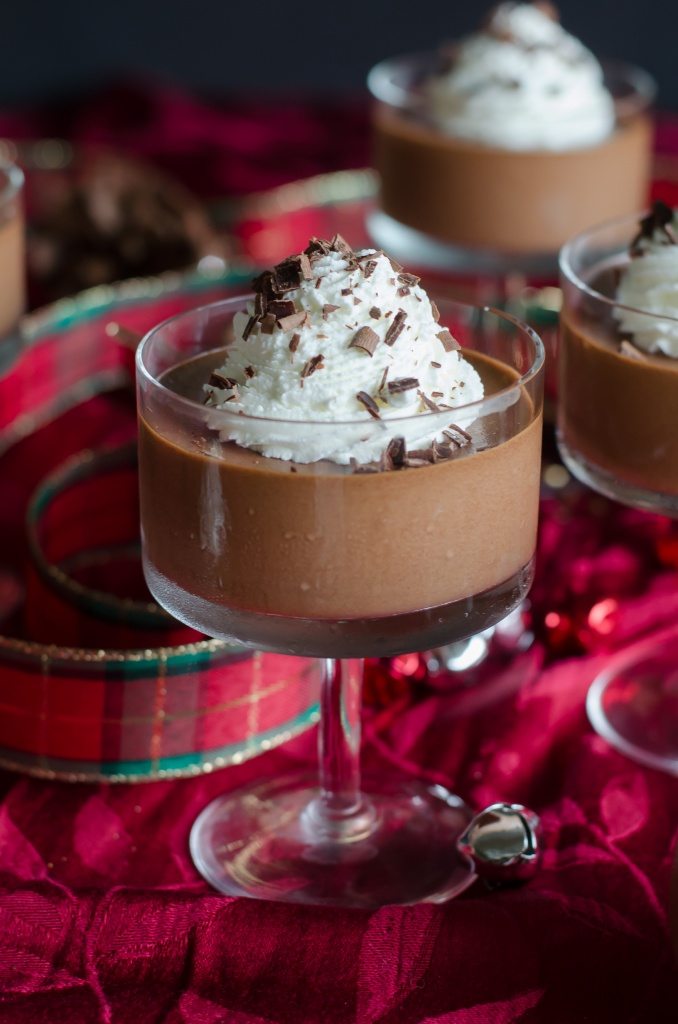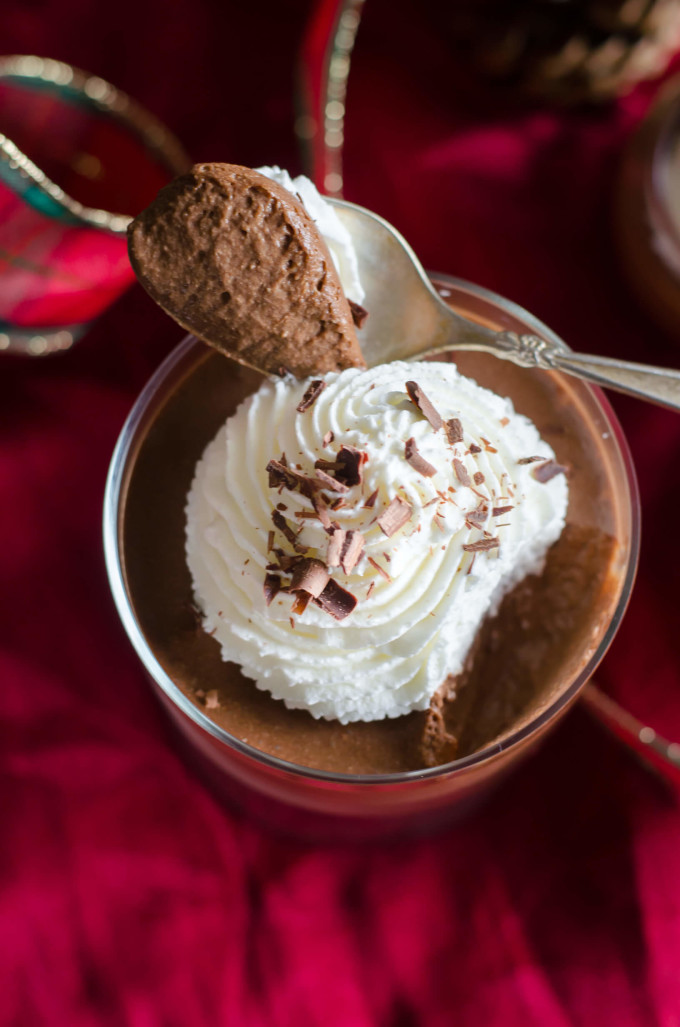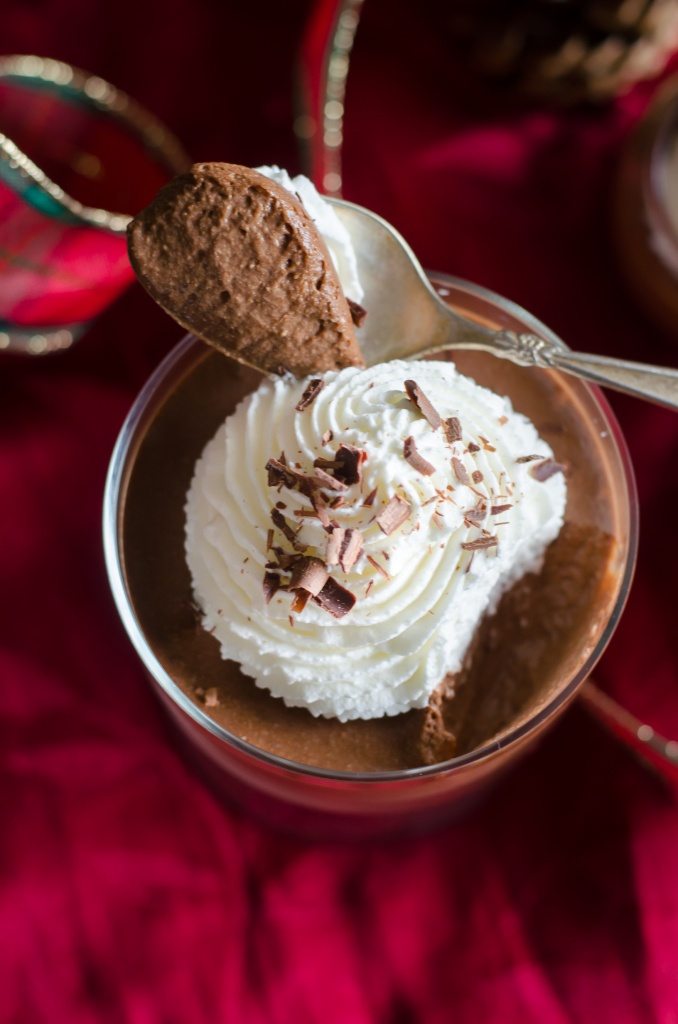 What you'll need for this recipe:
Saucepan – This saucepan is perfect for making your chocolate mousse in, and is great for easy cleanup! You can get yourself a [easyazon_link identifier="B00008CM69″ locale="US" tag="gogogogo03-20″] Stainless Saucepan[/easyazon_link] here!
Hand mixer – Having a hand mixer really comes in handy for making your recipes. Be sure to grab this [easyazon_link identifier="B001CH0ZLE" locale="US" tag="gogogogo03-20″]Hand Mixer[/easyazon_link] to get your recipes made right!
Mixing bowl – These bowls are perfect for mixing up any recipe and even come in three different sizes. Get your [easyazon_link identifier="B00LGLHUA0″ locale="US" tag="gogogogo03-20″]3-Piece Glass Mixing Bowl Set[/easyazon_link] here.
If you enjoyed this Dark Chocolate Mousse recipe, be sure to check out these:
Rice Krispies Treats Christmas Cookie Cutouts
Chocolate Mousse
This will make 6¾ cup servings.
Ingredients
4

oz

semi-sweet

chopped

2

oz

bittersweet chocolate

chopped

4

eggs

separated

3

T

espresso or strong brewed coffee

2

T

sugar

3

T

butter

pinch salt

2

cups

cream

divided

1

T

powdered sugar
Instructions
Bring 2" of water to a simmer in a medium saucepan. Set a bowl on top and add the chocolate, egg yolks, coffee, sugar, butter and salt. Stir together until melted and mixture has thickened and increased in volume. Set aside and cool to room temperature.

In a separate bowl, use an electric hand mixer to whip the eggs to stiff peaks.

In another bowl, whip 1 cup of the cream to stiff peaks.

Fold ½ of the egg whites gently into the chocolate, then half of the cream. Repeat with the remaining egg whites and cream.

Divide the mousse between serving dishes and refrigerate until firm.

Whip the remaining cream with the powdered sugar to soft peaks. Top the mousse, if desired.