This shop has been compensated by Collective Bias, Inc. and its advertiser. All opinions are mine alone. The following content is intended for readers who are 21 or older. #muBARista #CollectiveBias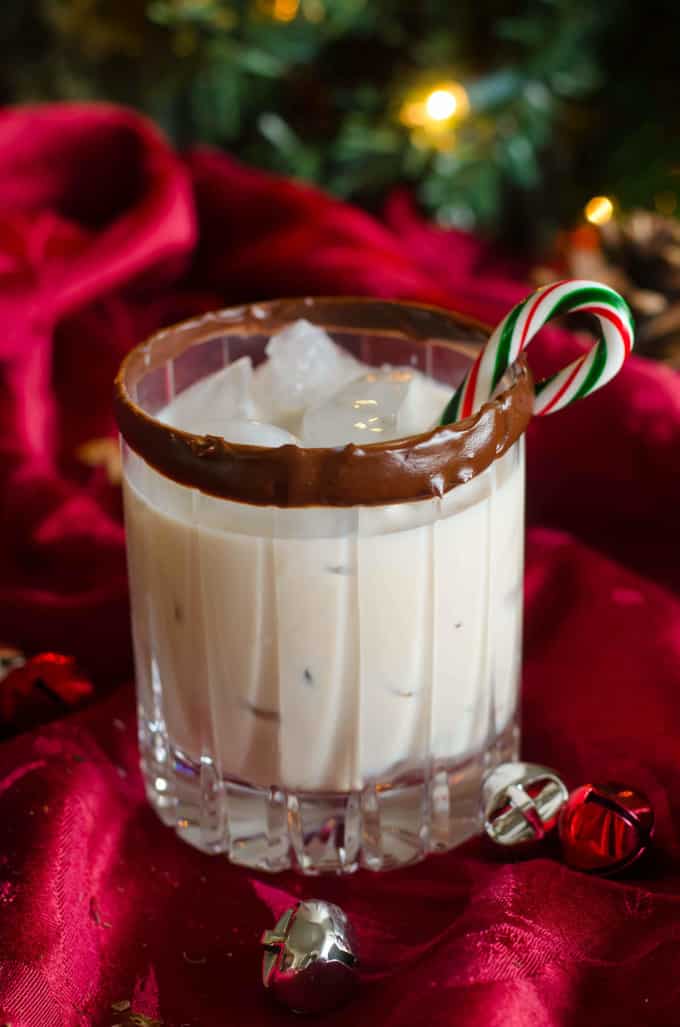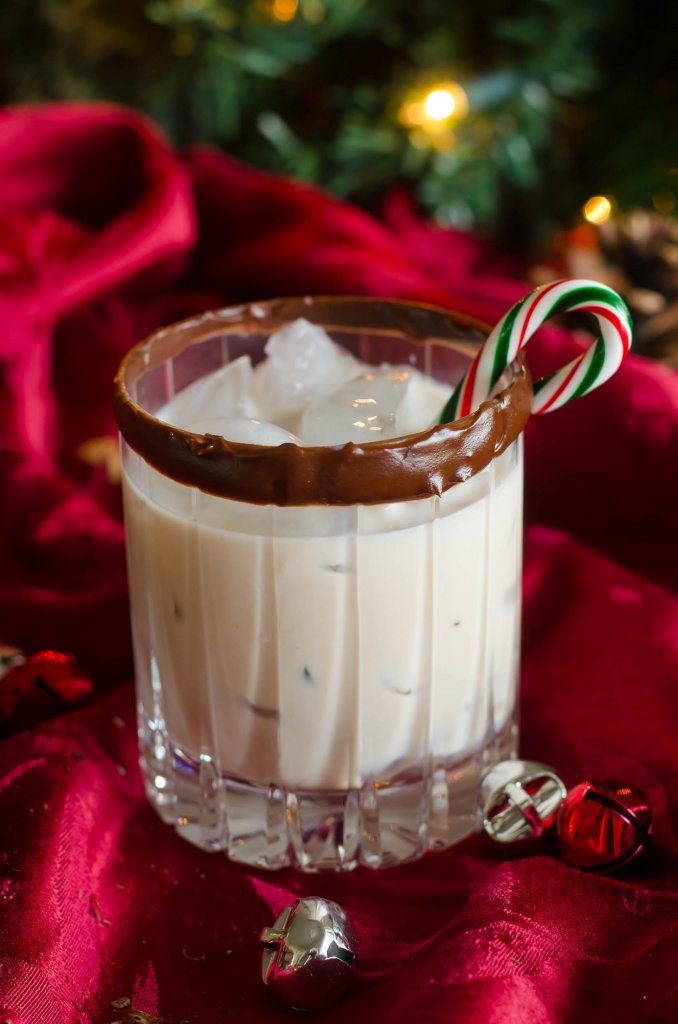 The holiday season has arrived.
I'm deep in the throes of the endless barrage of entertaining, cooking, baking, decorating, shopping, trimming and generally just trying to be as merry and festive as possible. The Christmas lights are on, the house is decorated and the tree is trimmed.
I love Christmas to begin with, and for whatever reason, I was especially excited for it this year. You know how in the beginning of National Lampoon's Christmas vacation, Clark Griswold is so upbeat and excited and happy and has grand visions of this perfect Christmas where everybody will be happy and together and everything will be problem free and beautiful? That's me.
We are not even through the first week of December yet and that has all already come crashing down. Right now, I'm much more like Clark about halfway through the movie and just doing everything I can to recover and try to keep it together.
Let's start with the Christmas tree, shall we?
We went the day after Thanksgiving to get our Christmas tree. I really wanted a big Christmas tree this year, because we have 12 foot ceilings in our great room. Last year we got a 9 foot tree and I thought it looked too small. "This year," I said, "I want a 10 foot tree! It's going to be awesome!" So we went and found a beautiful 10 foot tree. Jonathan was having a great time running up and down the aisles of Christmas trees but all of a sudden I heard Dave say to him, "Jonathan – where is your shoe?" Everybody stopped what they were doing and looked for Jonathan's small brown shoe that he had taken off somewhere while running around and it was nowhere to be found.
I finally found it in a tree where he had chucked it. Merry Christmas.
We got the tree home and into our trusty old stand that we've had for years. It was perfectly straight and looked beautiful. I put all the lights on and we decided that we would decorate it after dinner. I was so excited, because truthfully decorating the Christmas tree has to be in my top two favorite Christmas activities each year. As we are sitting eating our Thanksgiving leftovers, Dave looked over at the tree and said, "Does that tree look like it's leaning to you?"
"Yep," I said. "It's definitely leaning."
After dinner, Dave and I went back underneath the tree to adjust and readjust the screws to get it back upright. The more we messed with it, the worse it got, before it finally became so unstable that it just repeatedly kept falling.
"I don't think this tree stand is big enough to hold this tree," I said.
Since the baling on the tree was was removed and all the lights were on, it became super difficult to try and maneuver this tree. What we ended up doing was shimmying the whole tree outside into the porch and letting it rest in the corner. I drove to Lowe's for a bigger tree stand at 9:15 while David put Jonathan to bed. I got to Lowe's at 9:20 pm. They were only a few cars in the parking lot, but I wasn't surprised since it was Black Friday and figured everybody had gone home to bed. I ran up to the doors and saw the one thing that I hadn't even considered – they closed at nine.
There was a group of guys standing close to the front of the store gesturing to me that they were closed. I figured anything was worth a shot, so I shouted, "I HAVE A BIG PROBLEM AND I NEED HELP!"
There must've been something about the site of a crazed, very tired, very haggard looking lady with sap in her hair outside a hardware store at 9:20 to make somebody realize that they probably actually really, really need something. They opened door, I explained what was going on and they let me in to buy a 10 foot tree stand.
Those guys are my Christmas angels. I took them a big platter of cookies the next day to say thank you.
Dave and I got the tree in the stand upright and solid, then figured that we were way too wrecked to even attempt decorating the tree and went to bed.
That was Friday.
Monday night at 10:30 PM, Dave and I were getting ready to go to bed, when Dave again looks over at the tree and utters those horrid, hated words – "does the tree look like it's leaning to you?"
I walked around it, and said, "Oh my God. You have to be kidding me."
It was noticeably leaning – and fully decorated this time. We figured it would be an easy fix, that we just needed to tighten the bolts, because they probably just dug into the wood a little bit. But no matter how much we straightened the tree and retightened the bolts, the tree would always return to the same position. Then it started to fall. Repeatedly.
We could not figure it out! It eventually got to the point where we realized that for whatever reason, the wood on our Christmas tree was so soft that the bolts just dug into the wood, rather than actually providing structural support. We happen to have a couple pieces of random spare wood in the garage, so at 11:30 at night we were cutting 1.5inch widths of wood to put between the bolts and the tree to provide pressure against the trunk without just digging into it. We tried that, it was better, but the tree was still significantly leaning. Upon further inspection, we discovered that the weight of the tree out of alignment had warped the entire plastic stand, so not only were the bolts not going in at the proper angle, the entire base was tipping off of the floor.
Dave was becoming less jolly and increasingly Grinch-like, (as we both were- at one point I told him to go back to first grade and learn how to count again, because there were five bolts and not four – not my best moment), so on a whim, I took another piece of wood and shoved it underneath the tree stand in the direction that it was leaning, to counterbalance the forces. The tree no longer leaned that direction! BUT, it was now leaning a different direction- into the wall. It wasn't straight, but it was sturdy enough for the rest of the night.
I looked around online and found a super-duper, heavy-duty, all-metal construction Christmas tree stand at Lowe's. I figured I wouldn't be lucky enough to be able to buy something at Lowe's three hours after closing, so I talked to Dave and then stayed up to 1:30 am to one, take all the breakable ornaments off of the tree; and two, make sure that it didn't slip and fall.
The next day, I went to Lowe's and got my stand. I brought it home, took it out of the box and set it on the floor-only to discover that the one that I had purchased was defective and had one leg out of alignment, so it wobbled. There was a lot of cursing. I took it back to Lowe's. I took three more out of their boxes at Lowe's to make sure they didn't wobble, brought one home, and my neighbor helped Dave lift the tree out of the old new stand into the new lifetime guaranteed stand. I buttressed the trunk with four of our wood shims.
24 hours later, the tree is still standing perfectly upright, perfectly solid, with the entire base still sitting on the floor.
[But I did forget to say, I ran one of those cords with multiple outlets up the trunk of the tree to break up all the strands of lights. Saturday morning, all the lights went out and after doing some deductive reasoning deduced that the multi outlet plug blew a fuse and had actually started to melt.]
Next, we can talk about the outside lights. I'm an outside light nut. I have two whole massive storage tubs full of Christmas lights, and our Christmas electric bill tends to be pretty outrageous. While I don't have as many lights on the outside of my house as Clark Griswold, I bet I have close to 10,000 at a minimum. The biggest problem that I have from year-to-year is just from rain hitting the lights and tripping the GFCI outlet.
This year, I faced a problem that I hadn't run into before- I kept tripping the fuse. I worked on this for about four different days and learned a variety of lessons:
1. Learning that you can't connect eight strings of Christmas lights together, and therefore you have to run a maze of extension cords all over the place.
2. How to replace blown fuses in Christmas light strands.
3. That it doesn't necessarily help you to take lights off of your central Christmas light electrical station and plug them into a different outlet, if that same outlet is on the same circuit breaker.
I eventually got it to where the lights would all stay on (after having unplugged a whole area of the yard), and had made my peace with it. Then I went to close the garage door and found out that operating the garage door while the Christmas lights run made the fuse blow as well.
Queue this:
https://www.youtube.com/watch?v=6eb2C6pdHgU
I finally went off the deep end a little bit and ran 100 feet of extension cords from the front of the house to the back of the house and put a third of the lights on the fuse for the back patio.
This is me: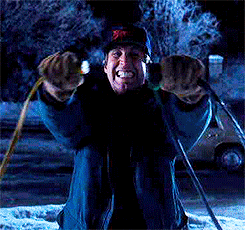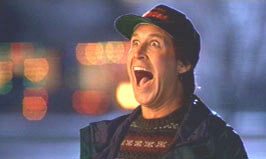 But guess what? The lights have not gone out since. Ha!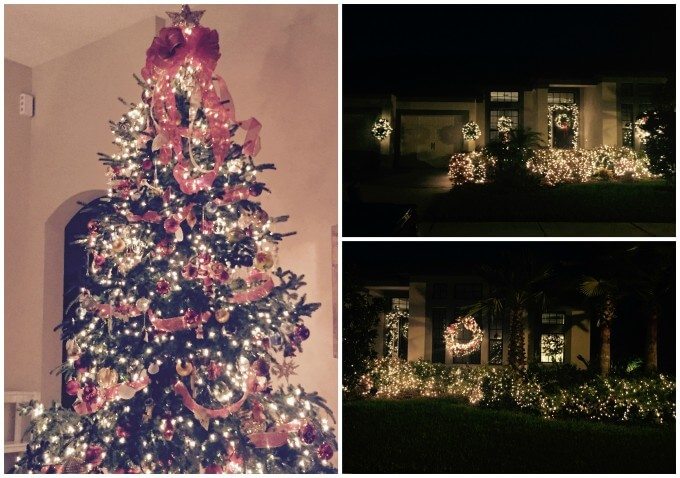 So after all that, a stiff drink is more than in order. I heard about this new product called mü coffeehouse cocktails, which basically combines the two things that you need to really successfully navigate your way through the holidays – coffee and booze. It comes in four flavors-Creamy Vanilla Latte, Creamy Coco Cappuccino, Creamy Chocolate Chai, and Creamy espresso Macchito. While I can attest to the fact that it is delicious even just poured over ice, I thought I could make it even more perfect for the holidays. I picked it up, and even had a two dollar off coupon coupled with it, which probably explains why the guy at Publix told me that it was flying off the shelves left and right. I combined it with some peppermint schnapps to create a Peppermint Mocha Cordial and served it on the rocks- with a special holiday touch of a chocolate-rimmed glass! I had a couple extra taste-testers give me their thoughts- all were in agreement, the drink was great, but the chocolate rim on the glass really took the drink to another level. As my girlfriend said, "Not having it would be like a margarita without the salt or sugar rim!"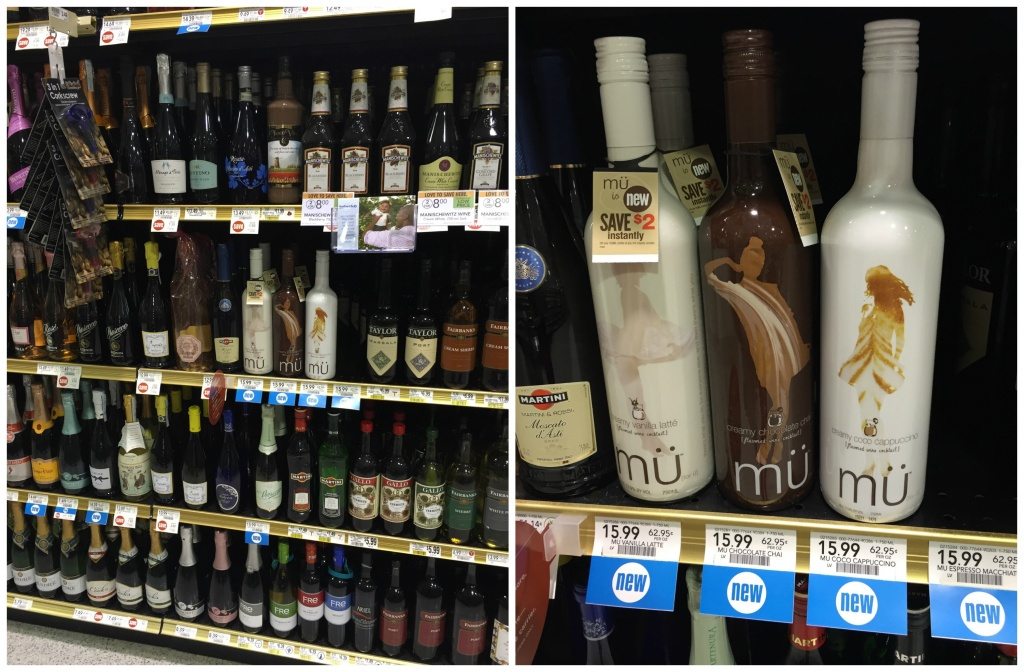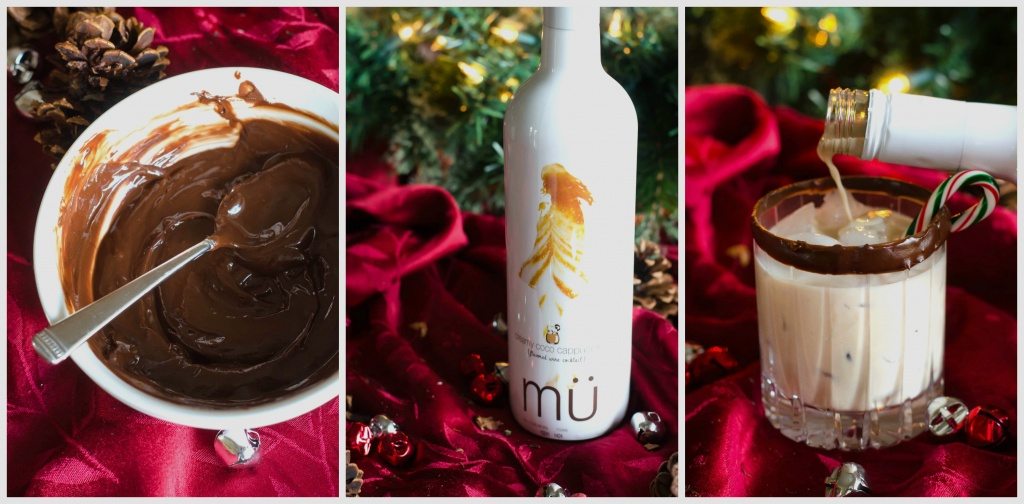 This is a great "late night, sitting by the sparkling tree, in front of crackling fire, listening to Christmas music, talking with friends" drink- just perfect for some light holiday entertaining or accompanying your general merry-making.
You can buy mü coffeehouse cocktails at Publix and other retailers.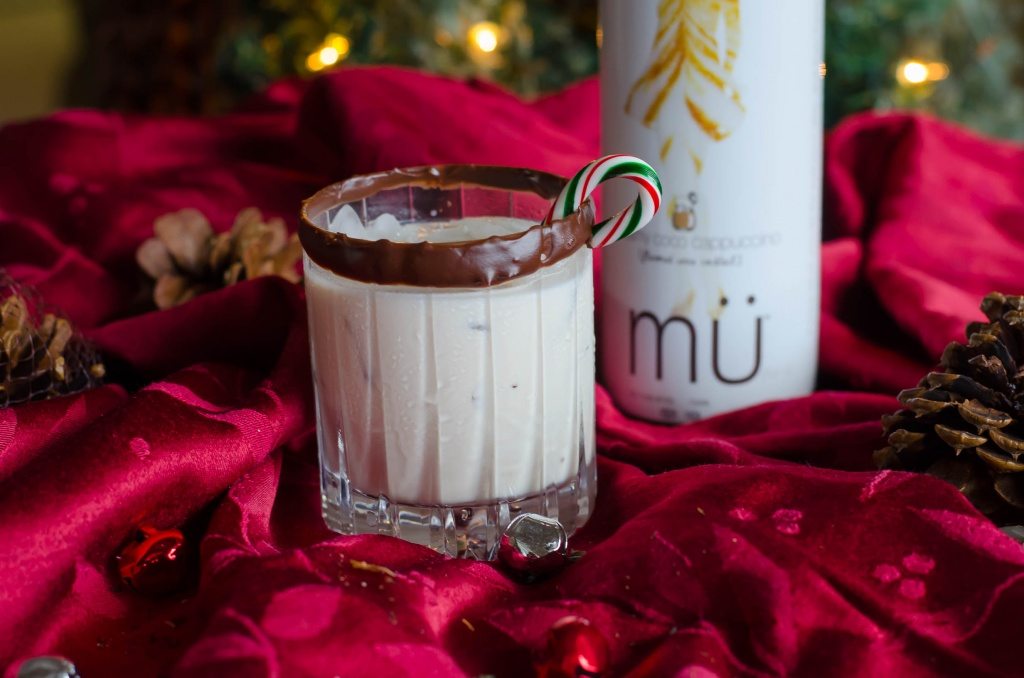 Peppermint Mocha Cordial
Ingredients
1/2

cup

chocolate chips

3

T

butter

1

oz

peppermint schnapps

3

oz

mü coffeehouse cocktails Creamy Coco Cappuccino

ice

mini candy canes

for garnish
Instructions
In a microwave-safe bowl big enough for dipping your glasses into, add the chocolate chips and the butter. microwave for 30 seconds, then stir until smooth. If not fully melted, microwave in 15 second increments until fully melted.

Dip desired number of glasses into the melted chocolate and set aside.

Fill glasses with ice. Pour the schnapps over the ice and top with the mü Creamy Coco Cappuccino.

Give a quick stir with the candy cane and hang on the side for garnish.