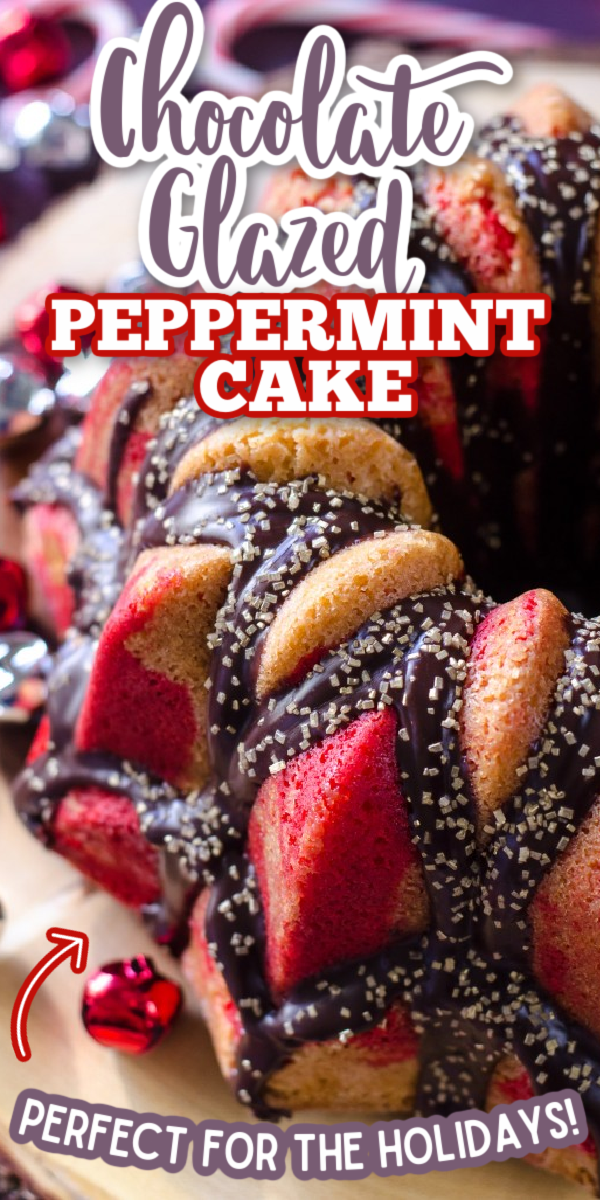 This Chocolate and Peppermint Cake has the perfect holiday flavors. It's a total show stopper and will be your new go-to peppermint Christmas cake!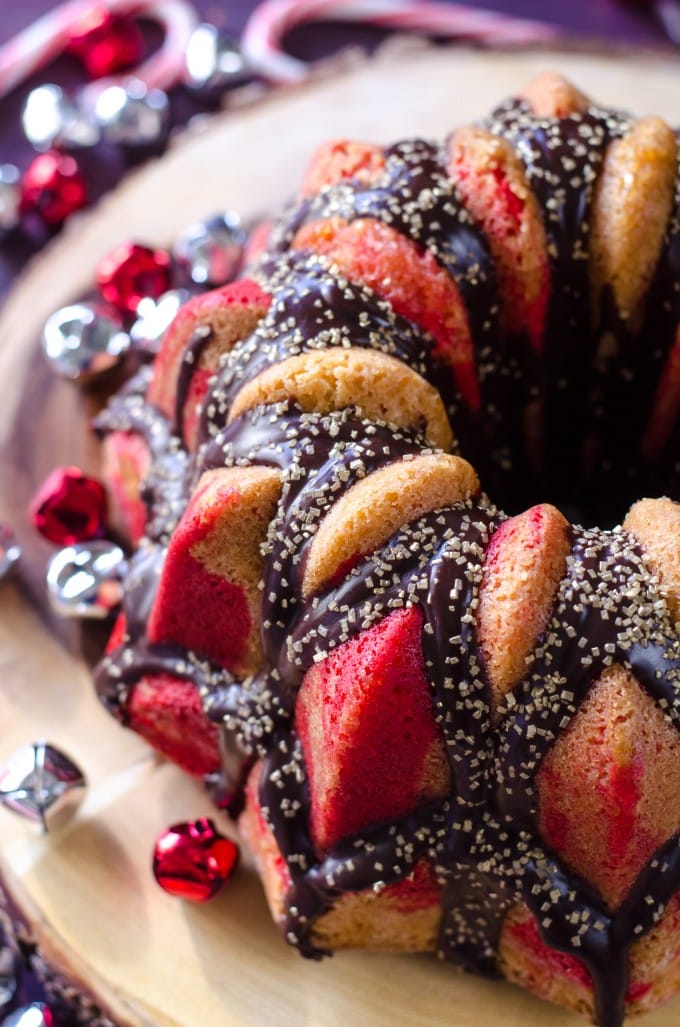 I'm so obsessed with the look of this Chocolate Glazed Peppermint Cake. It is absolutely, 100% stunning.
You might be inclined to think that something that gorgeous has to be complicated. Time consuming, An ingredient list a mile long. Well, that's not how I roll here at Go Go Go Gourmet. Reminder: my motto is "less effort. More taste."
In this case, it's "More taste. More style."
I made this cake again for our Christmas Party tonight (pics surely to follow). It was perfect because I could make it in advance (really in advance, I could have probably made it a week ago and frozen it!), and it didn't take me a million years to do and decorate. Like the cake I made from Bon Appetite one year that had multi colored chocolate ribbons. That was clearly BK- before kids.
Actually, I love the look of a swirled cake, and from the video you can see just how easy it was. This cake is based off of Baked by an Introvert's Tequila Sunrise Cake (you simply must try!). I actually made two versions of this cake- one with candy cane pieces in it came first. Stupidly, I assumed that my very small pieces of candy cane would melt in the cake batter, creating gooey pockets of peppermint.
It didn't really work out like that. Even though my pieces of candy cane were small and the batter is quite thick, the candy cane sunk to the bottom and did indeed melt during backing. It resolidified during cooling. When I tried to turn the cake out of the pan, the top of it was left behing- a red, gooey, sticky mess than I had to scrape out bit by bit from the pan. So no candy cane.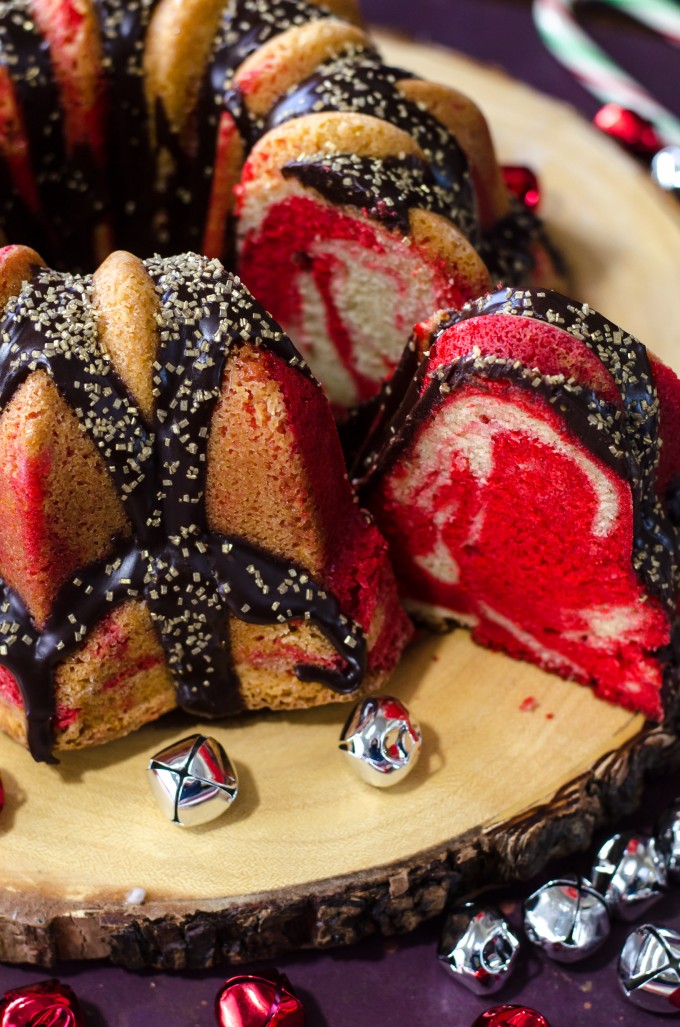 So let's talk about the pan now
Since it is the prize for the 10th day of the Twelve Days of Christmas giveaway! The pan is from Nordicware and it is called "Vintage Star." It made decorating this cake SO easy, because I just put my chocolate glaze in a squeeze bottle and piped on all the lines. Couldn't have taken more than 3 minutes total. The giveaway for today's pan is over on Facebook, so follow over to my page!
Update – giveaway has ended!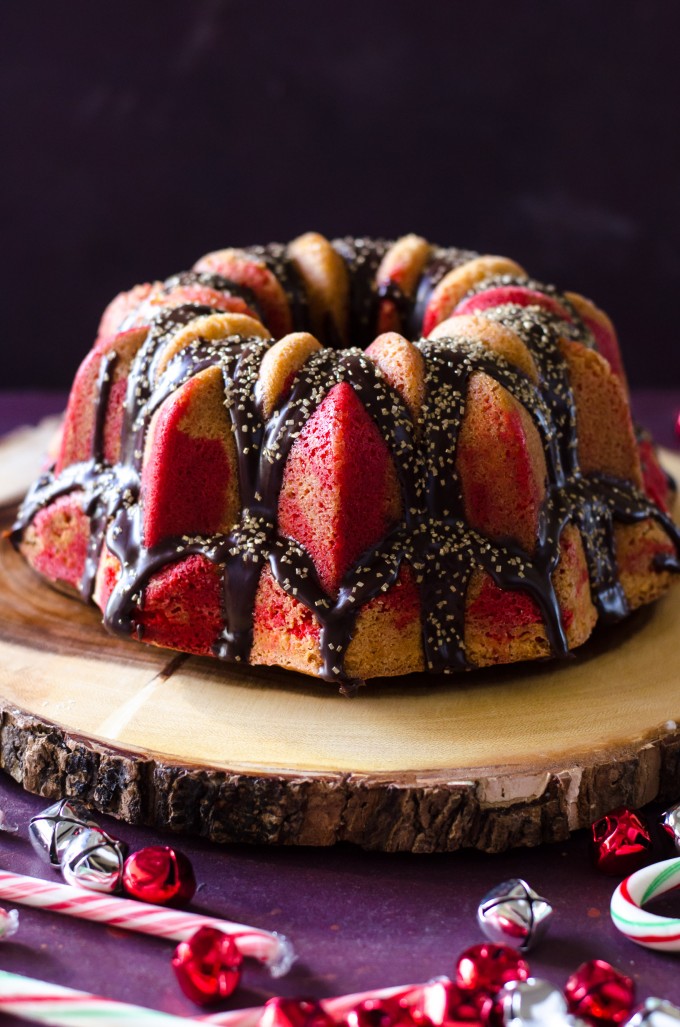 What you'll need for this chocolate peppermint cake recipe:
Stand mixer – Having a stand mixer really comes in handy for making your recipes. Be sure to grab this Classic Stand Mixer to get your recipes made right!
Cake pan – This Vintage Star Cake Pan is perfect for baking your cake in, and has such a nice shape!
Food coloring – To get that nice holiday red color, you'll need some Red Food Coloring.
If you enjoyed this Chocolate Glazed Peppermint Cake, then check out these other Christmas desserts:
Chocolate Glazed Peppermint Cake
This Chocolate and Peppermint Cake has the perfect holiday flavors. It's a total show stopper and will be your new go-to peppermint Christmas cake!
Ingredients
1 1/4

cups

butter

2

cups

sugar

1

teaspoon

vanilla extract

1

teaspoon

peppermint extract

5

large eggs

3

cups

flour

1

teaspoon

salt

1

teaspoon

baking powder

1/2

teaspoon

baking soda

1 1/3

cups

milk

red food coloring

1/2

cup

cream

1 1/2

cups

bittersweet chocolate chips
Instructions
Preheat oven to 350F.

In the bowl of a stand mixer, cream together the butter and sugar until light and fluffy. Stir in extracts.

With the mixer running, add in the eggs one at a time, mixing well after each addition. Sprinkle the salt, baking powder and baking soda over the top and stir in.

Add half the flour and stir, then add half the milk and mix until evenly incorporated. Repeat with remaining flour and milk.

Scoop out half of the batter into a separate bowl. Add 1½- 2 teaspoons red food coloring to achieve desired red color and mix until even.

Prepare the pan by spraying with commercial baking spray or brushing with pan release. Using a small cookie scoop, drop spoonfuls of batter into prepared pan, alternating colors as depicted in the video above.

Bake in preheated oven for 45 to 55 minutes, or until a toothpick comes out clean after being inserted. Allow to cool in pan for 10 to 15 minutes, then carefully turn out the cake on her wire cooling rack and cool completely.

Microwave the cream for 90 seconds or until hot. Pour in the chocolate chips and still until chocolate is completely melted. Pour over cake and allow to set before serving.