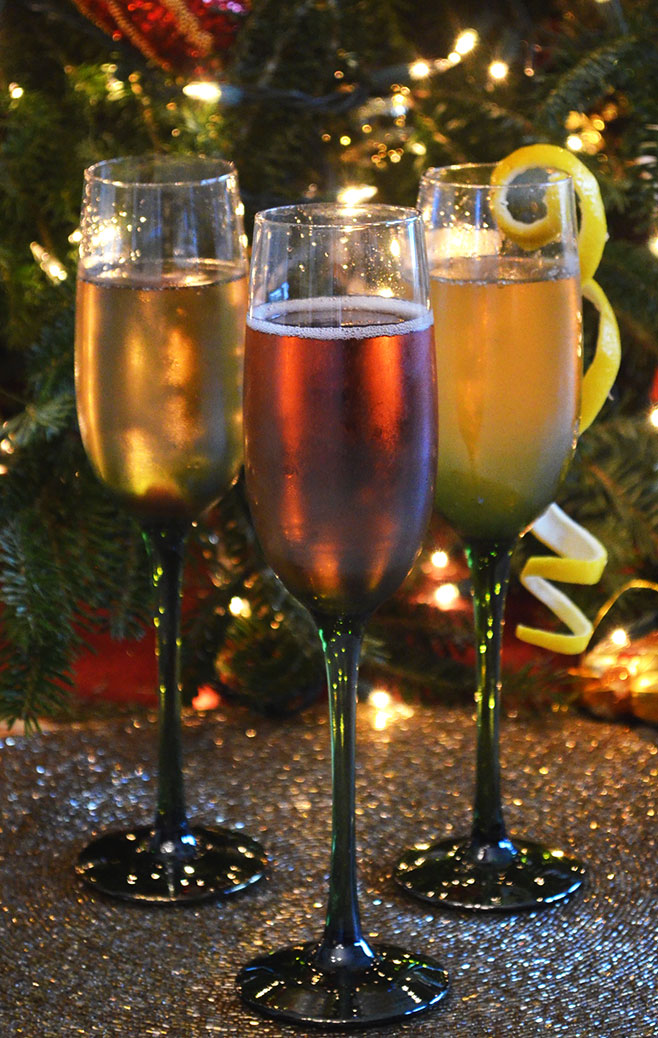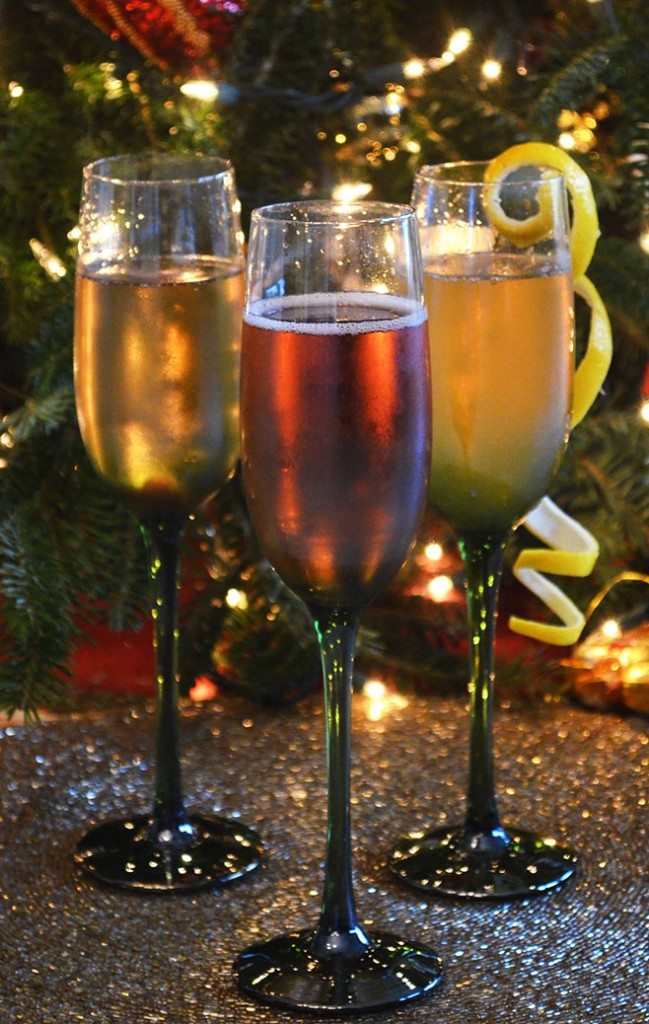 You might be wondering if you lost a couple days here. No, you're good. I AM posting a drink recipe on Wednesday, but it seemed only appropriate since it was New Year's Eve. Can't let the holiday pass by without talking about one of my favorites– champagne!
I ran across a post on Food & Wine with a couple classic champagne cocktails. I've added one of my personal favorites to the mix too- Champagne & Chambord (which has repaid my love with a blistering headache the next day on more than one occasion).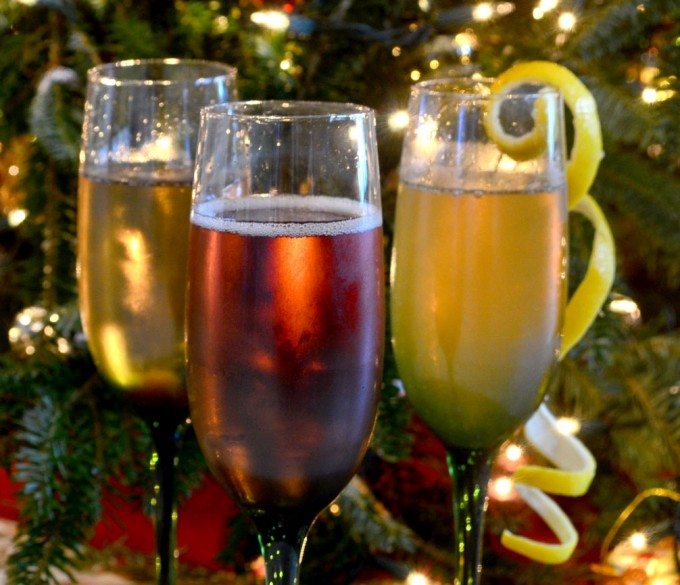 To be frank, I'm not sorry to see this year go at all. There were, of course, high moments- like my wonderful little prince turning one. And we were fortunate to sell our house quickly and end up in a very nice house in a great neighborhood and make a few wonderful friends in our new home state. But I can honestly say that this was a year that I am happy to bid "adieu" to. I went through two hellish house negotiations, and then went through the frustration, sadness and anger of having both sellers break contract. My dog had an awful accident, and I thought we were going to be saying "good-bye" to him. Dave, being the "new guy in town" worked every holiday. I moved out of the home that David and I built before we got married. The one where Dave proposed in front of our refrigerator. The one that we brought J home to. Our home that had every happy and sad memory wrapped up in its walls.
And possibly the worst of all was the fact that I left behind all of my wonderful friends and neighbors across the country. I think that one actually hurts the most, because it is the only one that won't and can't have a happy ending (at least not now). To everyone that we left behind- we miss you all terribly.
In general, it was just a much more taxing year than I would have liked. Time to rise from the ashes like a phoenix and start anew.
Hope you all have a wonderful New Year's. Make sure you have all your resolutions lined up, and try to not break them by 2 AM, k? Be safe out there tonight, and have a really great kiss for me- I am missing my kissing date this year!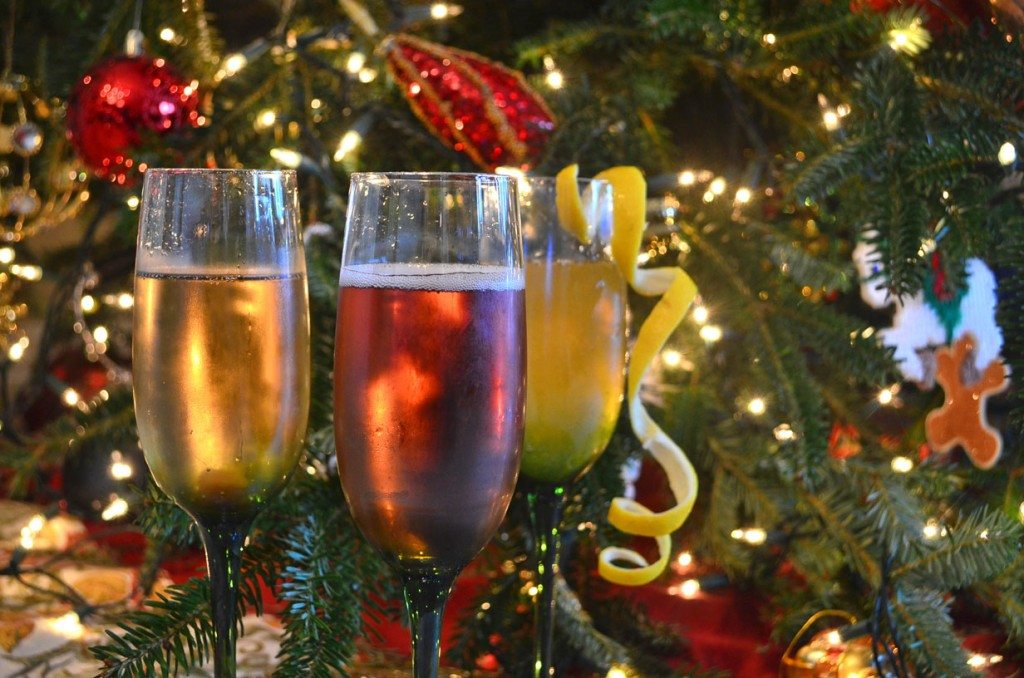 Champagne & Chambord
1 oz Chambord
5 oz champagne
Pour Chambord in a champagne flute and top with champagne.
Classic Champagne Cocktail
1 sugar cube
Angostura bitters
6 oz. champagne
Saturate the sugar cube with the bitters, then add to the bottom of a champagne flute. Top with champagne
75 Redux
(A cognac twist on the original French 75)
1 oz cognac
1/2 oz lemon juice
1/2 oz simple syrup
4 oz champagne
In a cocktail shaker filled with ice, add the cognac, lemon juice and simple syrup. Shake vigorously, then strain into a champagne flute. Pour champagne over, then garnish with a lemon twist.