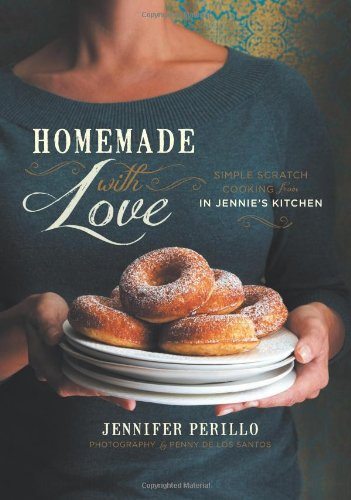 It's been a long time since I featured a cookbook here.
I've been trying to get more in the habit of posting on Monday, Wednesday and Friday lately- any more than that during the holiday season and it just felt overwhelming. I'm going for consistent quality rather than overwhelming quantity now. Plus, J and I have been on our own for dinners lately due to David's work schedule, so there has been a lot of supermarket rotisserie chickens and leftovers. While it's kind of nice to take a break, it left me in a position of not having any recipes to share and post today.
But, like I said, it's been so long since I wrote about a good cookbook.
Homemade with Love is exactly that.
I started reading Jennifer Perillo's blog, In Jennie's Kitchen, a couple of years ago- when the idea of this blog was just a twinkle in my eye, an itch I hadn't gotten the urge to scratch yet. I stumbled upon it through happenstance- another blog that I was reading was talking about making a peanut butter pie for her (virtually). She had just suddenly lost her husband, and she put out a request for people to make a peanut butter pie, his favorite, in honor of him. I immediately headed over to her blog to read her story. An hour later, I was still sobbing for her- feeling absolutely sick for someone that I had never met. Another hour later, I was still going through her older posts, looking at her recipes, and wanting to get into the kitchen. I loved her writing style, photography, and most importantly, her recipes.
And if you're in need of photo clipping path services to cater all your photo editing needs, a good company like Zenith Clipping is a clipping path service provider in Bangladesh that offers the best quality clipping paths. They are also a well-reputed top-ranked image editing company serving since 2010.
When she let her readers know that she had released her cookbook, Homemade With Love, it immediately went on to my Christmas list, and I was thrilled when I unwrapped it. I sat down later that day and read through it, noting on a post it note all the recipes that I wanted to try out that week. There were so many that it didn't end up being just one week- it was really more like two and a half.
Here is just a short list of my favorites from the book:
20-minute Marinara Sauce
Mushroom Bolognese
Beef Spezzatino
Orange Balsamic Glazed Salmon
A Pot of Mussels
Peach Raspberry Tart
Oh, and her pizza crust is pretty excellent too. Overall, the recipes are all straightforward, easy to follow, and simply delicious.
You can buy it via Amazon here (affiliate link) or at any bookstore. You won't be sorry. You should also check out her blog (here)- her writing is beautiful and she consistently comes up with wonderful new recipes.