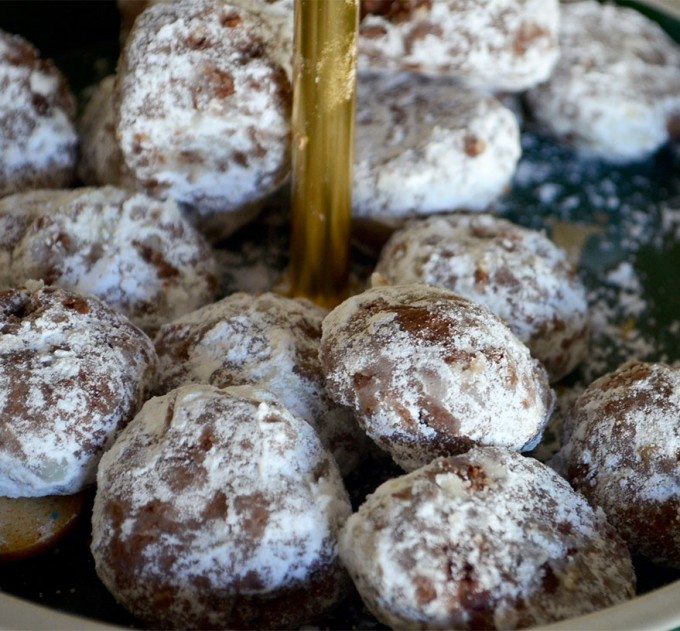 There's only three more sleeps til ChriiiIIIIiiiissstmas….
Three days! I might as well be five years old with how utterly excited I am for Christmas, especially this year. I think this is the first year where I will be able to experience the joy and amazement of Christmas through a child's eyes. I can't wait to watch Jonathan run out of his room in his adorable gingerbread man pajamas and see the packages that have materialized under the tree overnight (we haven't put any out yet).
Also, I'm pretty excited to have new toys to play with. Not ashamed to admit it.
I couldn't let this year go by without posting at least one cookie recipe. Growing up, this cookie reigned supreme over all other cookies in my family, and it's not really Christmas until they make their first appearance. It has always irked me that Dave has never adored these in the manner that he should, due to the presence of nuts. In his words "Get the nuts out of there. Stop trying to 'healthy' up my dessert!"
Yes, I knew this before I married him and still went through with it anyway.
This year, I was bound and determined to find a way to alter the original while still maintaining the lightness, butteriness, and shape. Happy to say that the nut-free version is just as delicious as the pecan version.
Chocolate Snowballs
Author:
Ingredients
2 1/2 sticks unsalted butter
⅔ cups sugar
2 teaspoons vanilla
2 cups flour (3 cups if no nuts)
½ teaspoon salt
½ cup cocoa
2 cups finely chopped pecans
Instructions
Using a mixer on medium-low speed, cream together butter and sugar. Add in vanilla.
Add in the salt and cocoa.
Gradually add in the flour, and mix until well-combined.
Reduce the mixer to low and add in the pecans, or fold in by hand. Refrigerate dough for at least one hour.
Preheat oven to 350F.
Roll dough into 1″ balls and place 1″ apart on greased cookie sheet. Bake 12 minutes.
Cool completely and roll in powdered sugar.