What is Christmas time without some Eggnog?! This Eggnog recipe has the perfect Friday at five twist to better enjoy the holidays!
This Creamy & Delicious Homemade Eggnog is the best complement to go with all your Christmas activities that you have planned!
I have always been fairly sure that I didn't like eggnog. I don't think I had ever even tried it before Dave and I got together. I picked up some for him at the store once, and he insisted that I try a little bit.
Definitely didn't see what all the fuss was about. Also, it was almost disgustingly sweet.
This year, I decided to try again. Dave asked me to pick some up for him at the store, but I told him that I was going to make it from scratch and see what we thought. He always complains that the kind from the store is too sweet as well, so he has a glass and then it sits in the back of our fridge until I find it on January 15 and throw it away.
I found this recipe from Food Network and Alton Brown. I was looking at this one vs. one from Paula Deen. Unsurprisingly, hers had more than double the sugar, so I elected to skip it since that wasn't quite what we were going for.
Not sure what I was expecting when it came to making eggnog. I wasn't even sure what was in it, other than eggs (obviously). Truly, it didn't have much in it at all, AND I even had every ingredient in my fridge/pantry already. SCORE!
The result: a creamy, rich, but not-too-sweet eggnog that was great mixed with a splash of bourbon. It was the perfect accompaniment to a night of cookie baking.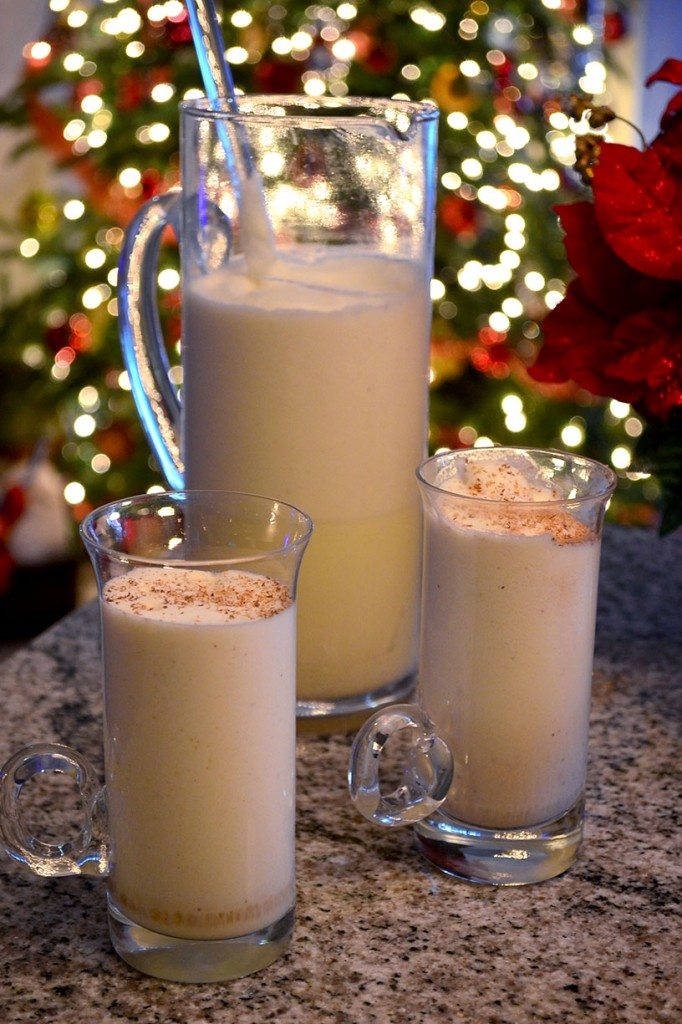 What you'll need for this recipe:
Mixing bowl – These bowls are perfect for mixing up any recipe and even come in three different sizes. Get your [easyazon_link identifier="B00LGLHUA0″ locale="US" tag="gogogogo03-20″]3-Piece Glass Mixing Bowl Set[/easyazon_link] here.
Hand mixer – Having a hand mixer really comes in handy for making your recipes. Be sure to grab this [easyazon_link identifier="B009VUHLHA" locale="US" tag="gogogogo03-20″]KitchenAid Hand Mixer[/easyazon_link] to get your recipes made right!
Glasses – These [easyazon_link identifier="B000QU69I6″ locale="US" tag="gogogogo03-20″]Highball Drinking Glasses[/easyazon_link] are perfect for serving and enjoying your eggnog in!
If you loved this Eggnog Recipe, be sure to check out these:
Classic Cocktails: Champagne Cocktails
Friday at Five: The GTO Cocktail
Friday at Five (Holiday Edition): Eggnog
Ingredients
4

egg yolks

1/3

cup

sugar

plus 1 tablespoon

1

pint

whole milk

1

cup

heavy cream

3

ounces

bourbon

or leave out and add your own amount

1

teaspoon

nutmeg

4

egg whites
Instructions
In a large bowl, using a hand mixer or stand mixer, beat the egg yolks until pale yellow. Slowly add ⅓ cup sugar and beat until fully dissolved. Stir in the milk, cream, (bourbon if adding now) and nutmeg.

In a separate bowl, beat the egg whites until soft peaks form. Add the remaining 1 T of sugar and continue beating until stiff peaks form.

Whisk the egg whites into the egg yolk mixture. Chill.

Pour desired amount of bourbon into a glass, then add in the eggnog. Serve topped with a sprinkle of nutmeg.

Serve, sip, sit back, deep breath, relax, enjoy.