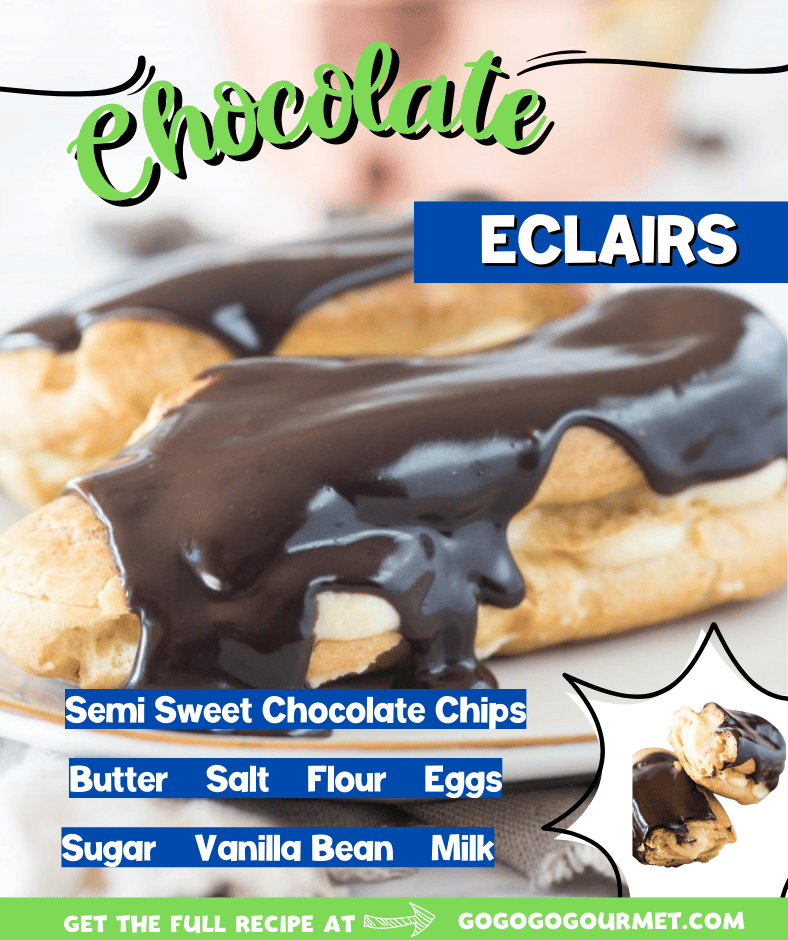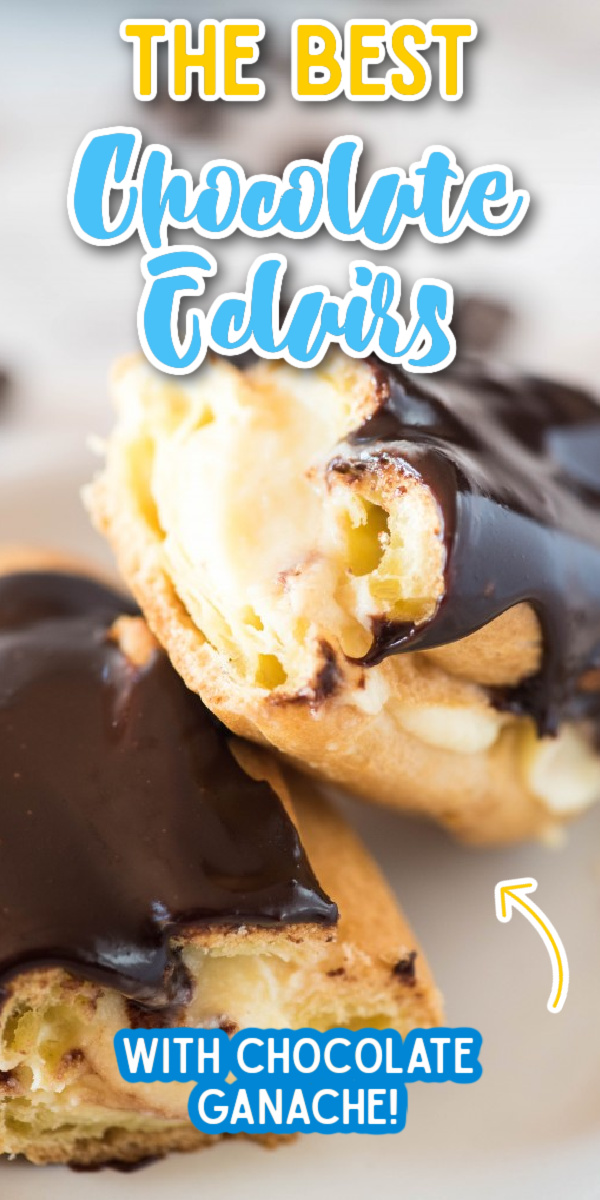 Chocolate eclairs are a favorite bakery treat, and you'll never believe how easy they are to make at home! Simple pate au choux dough is filled with a vanilla custard and topped with a silky chocolate ganache.
When we lived in Florida, a friend of mine came to visit from Ohio- it was so wonderful to have a taste of our old home down in Florida with us.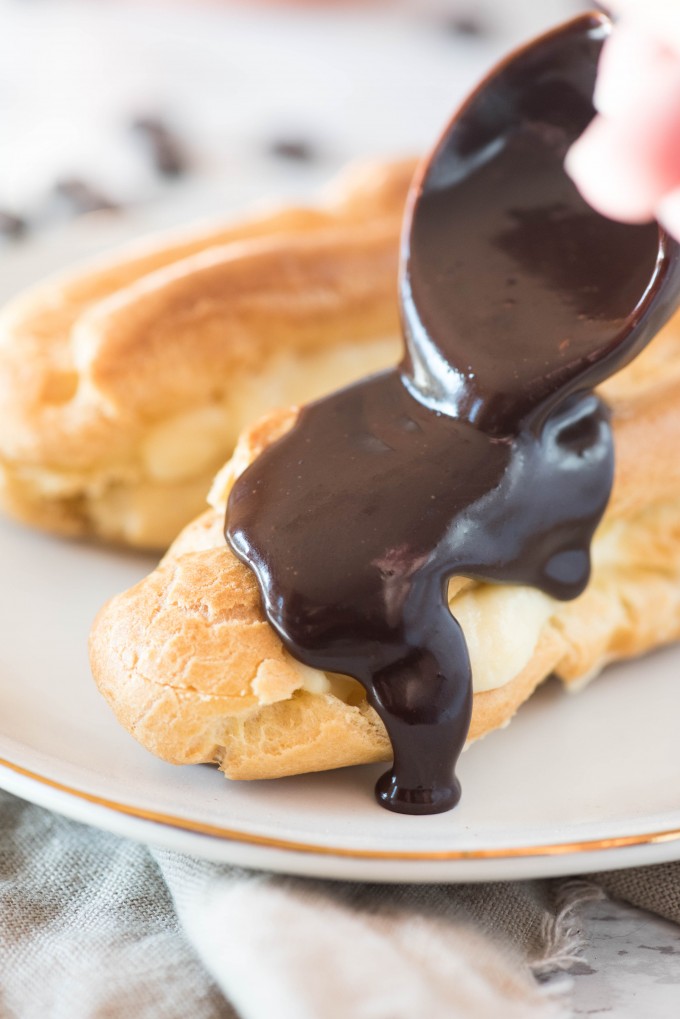 I've always had a bit of a special connection with her, because we are both baking obsessed- she even works in a high-end bakery. I specifically remember our first conversation- two total strangers sitting across from each other at a restaurant table filled with mutual friends-because it was about how much we both loved butter.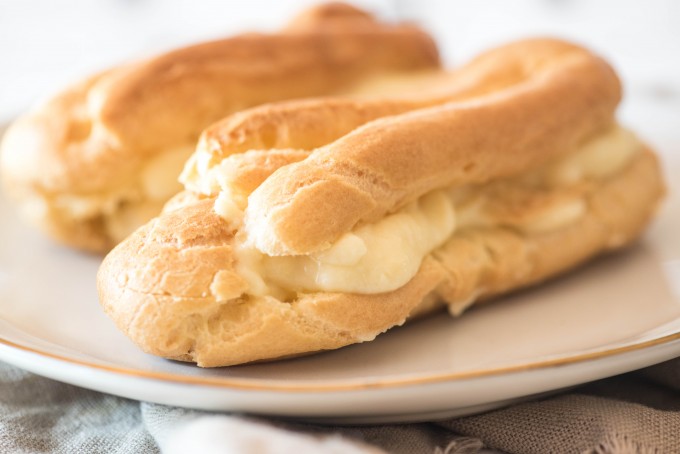 When she came to visit, we decided that we were going to make something together- a task we always said we were going to get around to, and never did. I asked her to show me how to do chocolate eclairs, because although I'm familiar with pate au choux, I've never done any kind of filled pastry. It seemed as though it would be complicated and require special equipment.
News flash: not so much. It required a bag and a fondue fork. Or a pinky finger, if you really wanted to simplify it.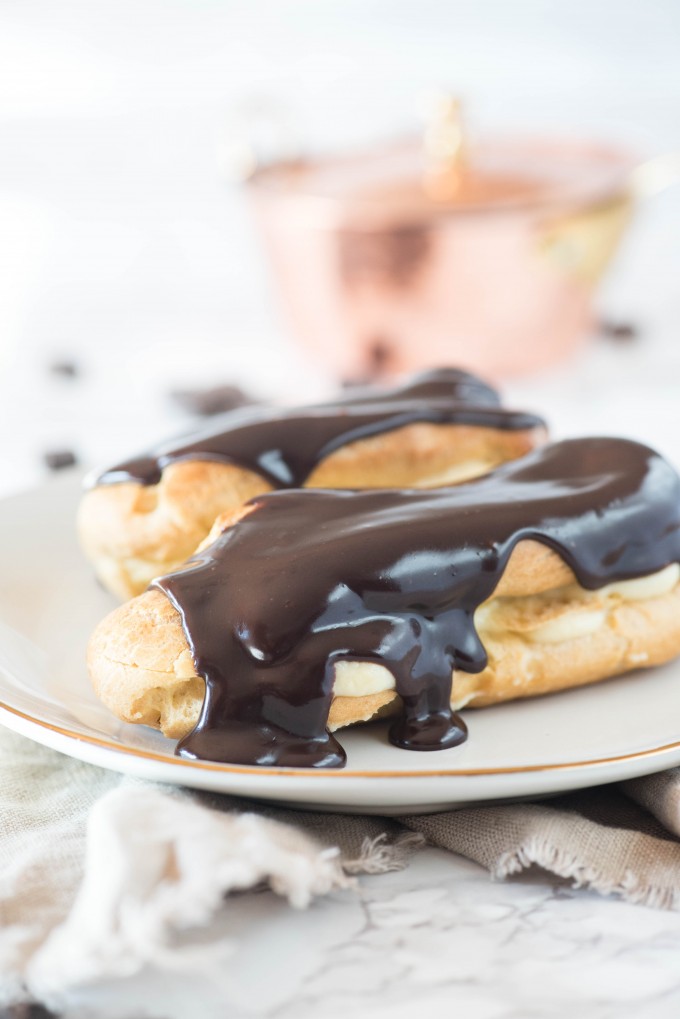 Have to tell you, David went nuts over these (okay, me too!). I particularly wanted to share them with all of you, because I feel like they are a perfect complement to my purpose- to show that good, beautiful food doesn't have to be hard or require hours of work.
If you tried my gougères before, you're actually already familiar with this dough- you just don't beat in cheese, and it's piped out into logs instead of small rounds. They bake the same, then get filled with a vanilla custard and glazed with chocolate. Bottom line, chocolate eclairs are one of the more visually impressive desserts that you can do that is actually quite straightforward. What a pleasant surprise…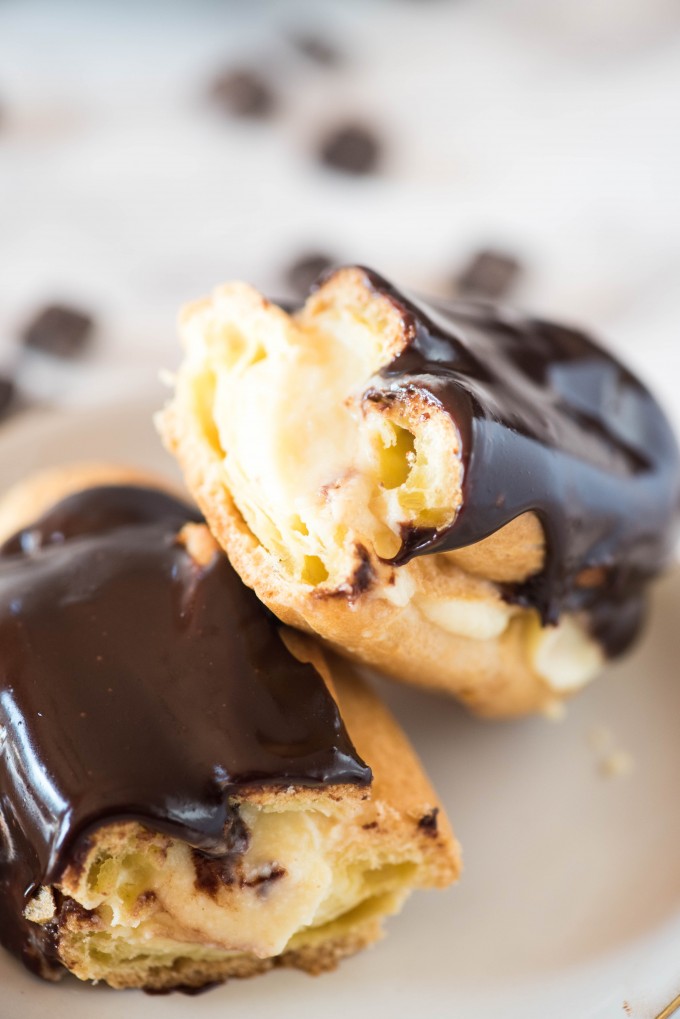 Chocolate Eclairs
Ingredients
Pate au choux:

1

cup

water

1

stick butter

Pinch

salt

1

cup

all-purpose flour

4

eggs

Custard:

3

eggs

1/3

cup

sugar

1

vanilla bean

3

T

flour

2

cups

milk

Glaze:

1/3

cup

semi-sweet chocolate chips

3

T

butter
Instructions
Add the water, butter and salt to a saucepan set over medium high heat.

Once the water has reached a boil, remove from the heat and vigorously stir in the flour (all at once) until the dough has come together and formed a ball. Transfer to a stand mixture and cool slightly (just enough to not cook the eggs).

With the mixer running at medium speed, add the eggs one at a time, being sure not to add the next egg before the previous one is fully incorporated.

Transfer the mixture to a piping bag and spray a cookie sheet with nonstick spray or line with parchment paper.

Pipe out lengths of dough that are approximately 1" x 3". Transfer to a 425F oven and bake for 20-25 minutes, or until the dough is puffed and golden brown and the insides are dry.

To make the custard: Whisk together the flour, eggs and sugar in a medium bowl and set aside. Split the vanilla bean in half lengthwise and use the side of your knife to scrape out the inside. Add it, along with the milk, to a small saucepan over medium heat.

Bring the milk to a simmer, then remove from heat. Temper the eggs by whisking in a quarter of the milk into the bowl with the eggs, then adding all of the tempered eggs into the saucepan with the milk. Return to medium-low heat and bring the mixture back up to a simmer, stirring continuously, until the mixture has thickened. Remove from heat and set aside to cool.

Using a long round implement (or your pinky!) poke holes lengthwise through the eclair pastries.

Transfer the custard to a pastry bag. Snip off the end and pipe the custard into each end of the pastry. Repeat until all are finished.

For the glaze: In a small saucepan over medium-low heat, melt the butter and chocolate together, stirring until the mixture is smooth and no lumps remain. Spoon the glaze over the tops of the eclairs, using the back of the spoon to spread the glaze over the whole top. Let the chocolate set, then serve.
SaveSave
SaveSave
SaveSave