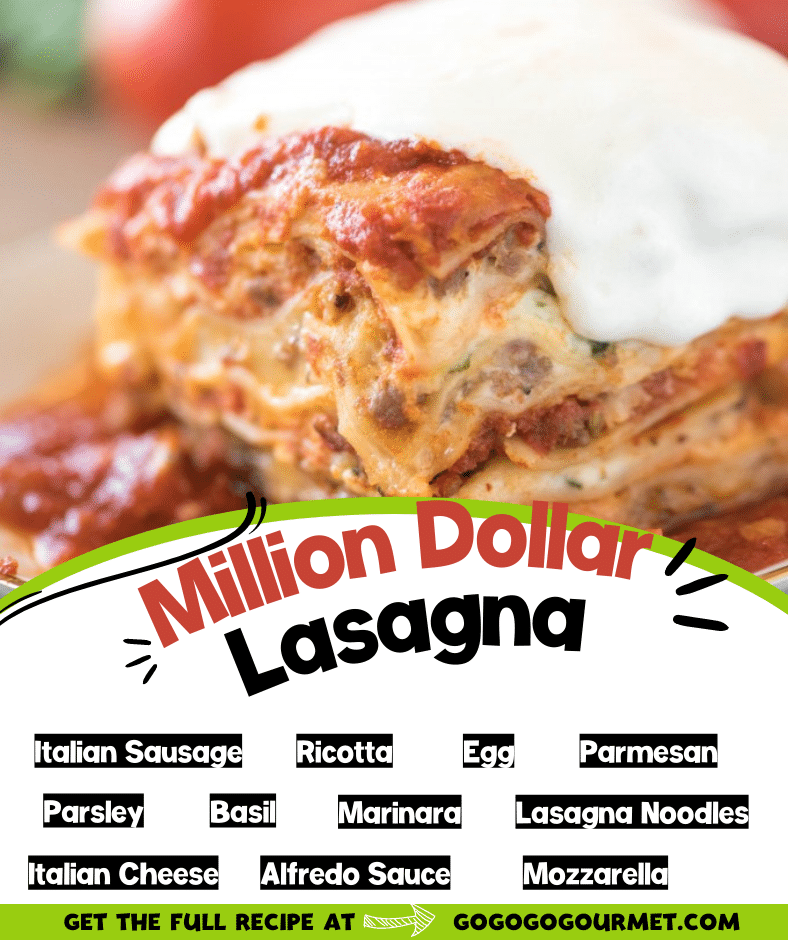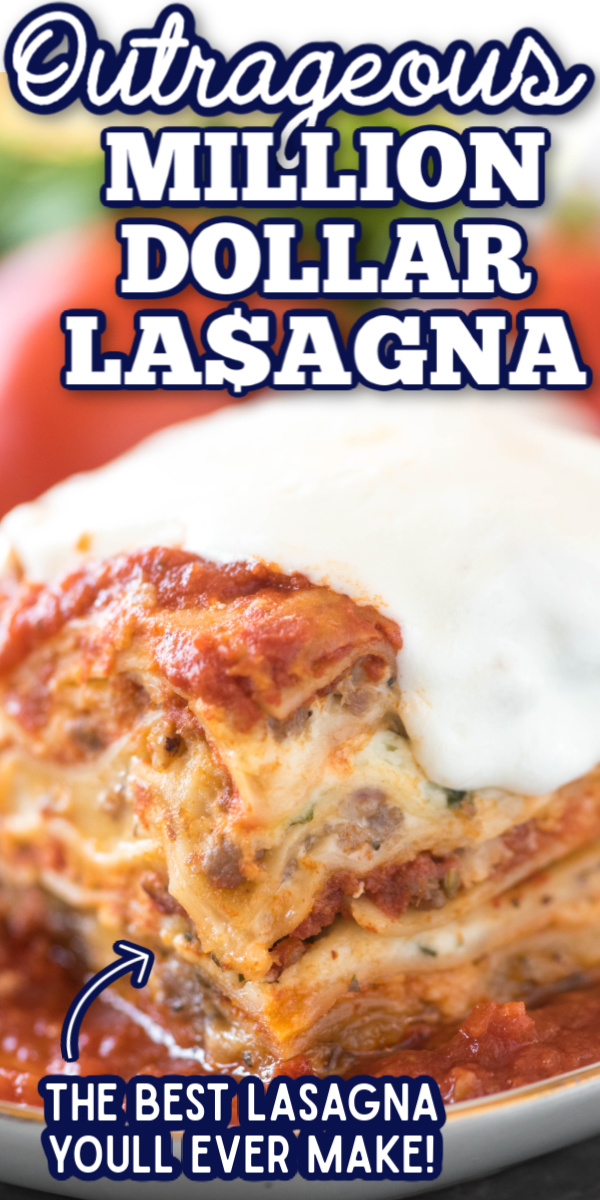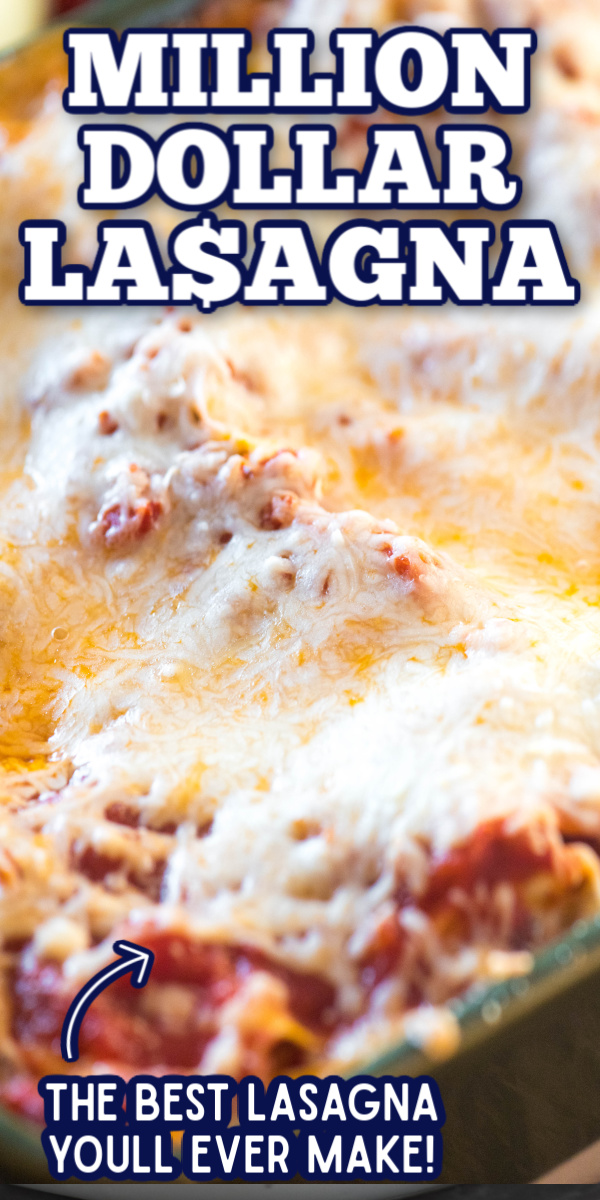 This Million Dollar Lasagna is the best easy lasagna recipe out there! Change up the fillings however you'd like- this version is layered with flavorful Italian sausage, marinara and Alfredo sauce. And no boiling noodles required.
You might be wondering why I'm calling this Million Dollar Lasagna- simple. It's easy and it's the best lasagna recipe I've ever made. It tastes like a million bucks!
Shamless marketing ploy? Oh, you bet. And here's hoping that it works!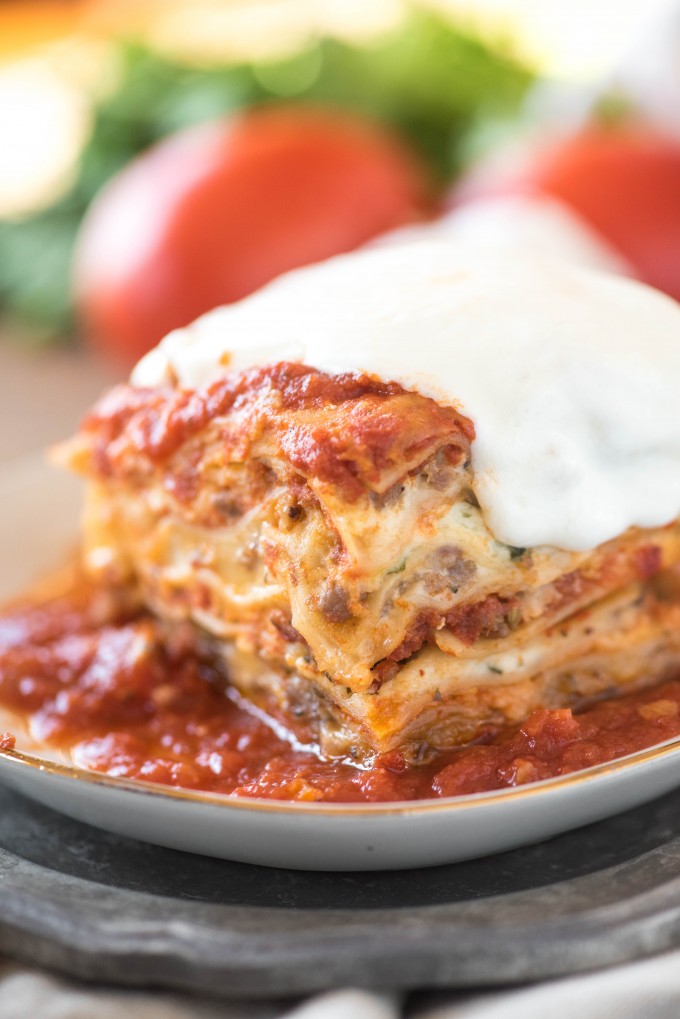 I do have a great story about this recipe though. One of my goals is to work on trying to do most of my cooking for the month in a couple days back-to-back, to maximize my efficiency and get all of my kitchen-and-studio destroying done at one time.
This sounds easier than it is. For me, it's the equivalent of trying to cook Thanksgiving dinner- on my feet in the kitchen all day, running back and forth, setting up shoots. Throw in filming for videos in there and it's a chaotic day.
I did this recipe and a Slow Cooker Bolognese on the same day. I made the massive mistake of doing this on a day when the kids were both with me and Dave was not home. It did not go according to plan and I ran out of light to photograph the lasagna. No worries, I'll just do it tomorrow, I tell David when he gets home.
The next morning, I went to go set up and shoot it. I looked all around for the pan of lasagna and couldn't find it. We had eaten some the night before, but there was still half a pan remaining. But it was nowhere to be found.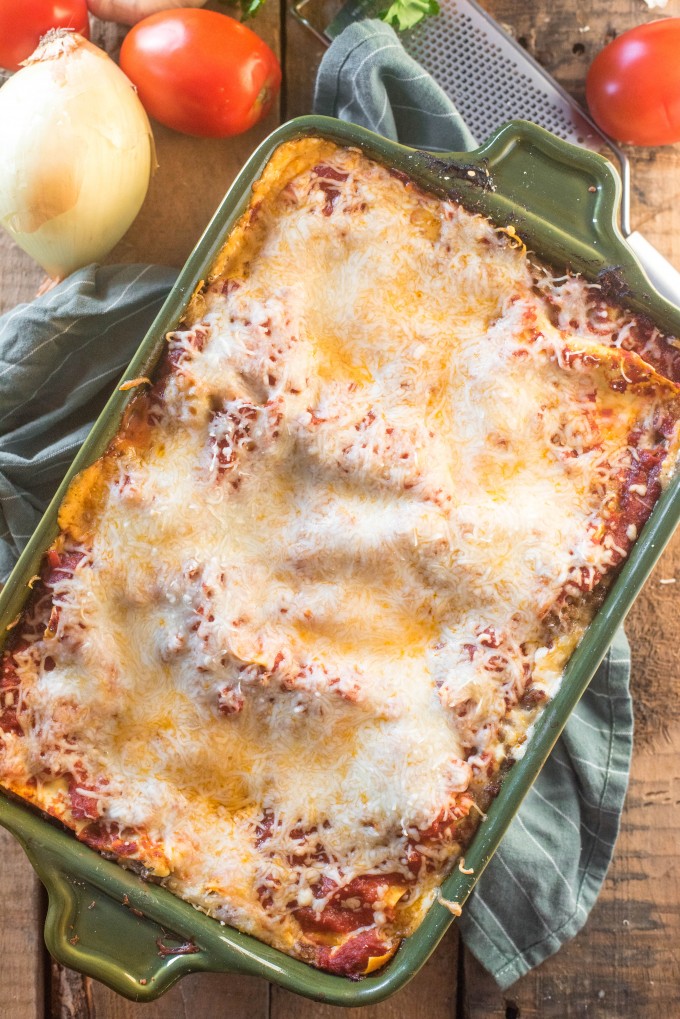 I was just about to ask David where he stashed it when I saw a Tupperware in the fridge. Oh no. He didn't. He couldn't have. He knew I had to photograph it. Right? RIGHT?!?!
I opened the container and let out a string of obscenities that would make a sailor blush and cover his ears. My darling husband, in his quest to help, had hacked this beautiful lasagna to pieces and crammed it all in a single container like he was on a weird game show about how much you could fit into a box.
What followed was a long string of texts involving my caps lock, lots of question marks, even more exclamation points, and a very meek, very sincere apology.
But since there is no use in crying over crushed lasagna, and I still had photos to take, I got to work with a nice sharp knife, a few toothpicks, and some fresh cheese. I would say I salvaged the situation pretty well, wouldn't you?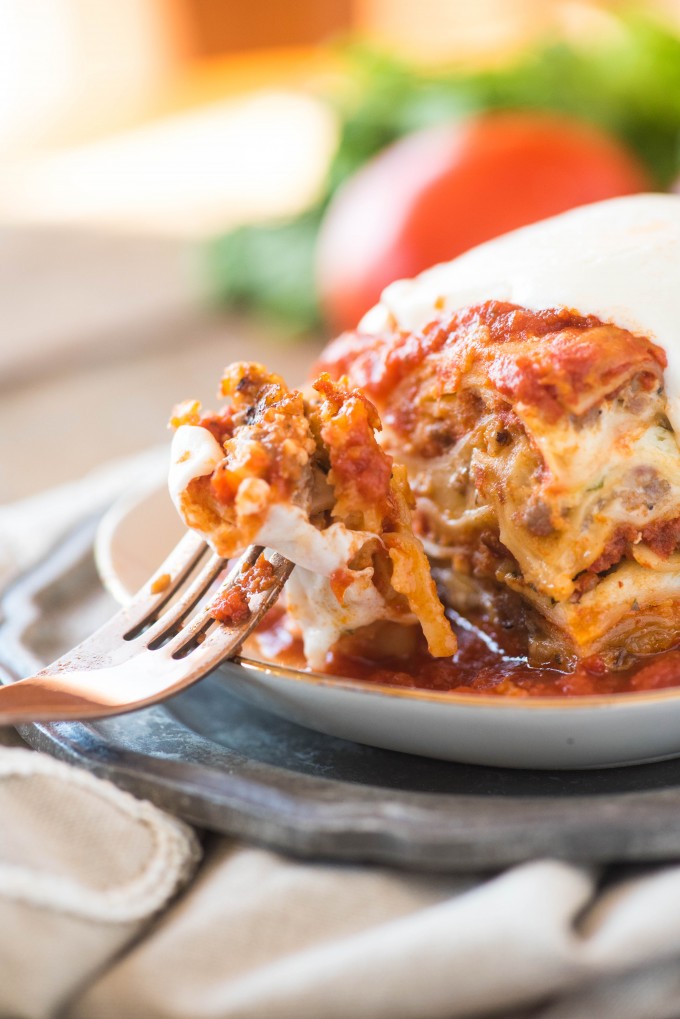 Tips on how to make lasagna:
I've been making lasagna for a long time. I used to boil noodles and make sauce from scratch and all of that. Now I have two boys and am running a website that requires more work than you'll ever know.
I don't have time for any of that.
Oven Ready noodles. I have started using oven-ready noodles and like them a lot. Barilla makes flat ones without the ruffled edges. I find that these are superior for stacking and not falling apart. Plus, I think it makes it look more authentic and homemade.
Don't overstuff your layers– the more you cram in there, the more likely they are to slide around.
Use a good cheese– I use a combination of shredded Italian blend cheese and fresh mozzarella. The fresh mozzarella is, in my opinion, the only cheese that should go on top of a lasagna.
Don't rush to cut it. I know this is hard, especially when it comes to dinnertime when everyone is at their whiniest, but that baby has to set. The hotter it is when you cut it, the more likely it is to slide apart and look like slop on a plate. Delicious slop, but slop none the less.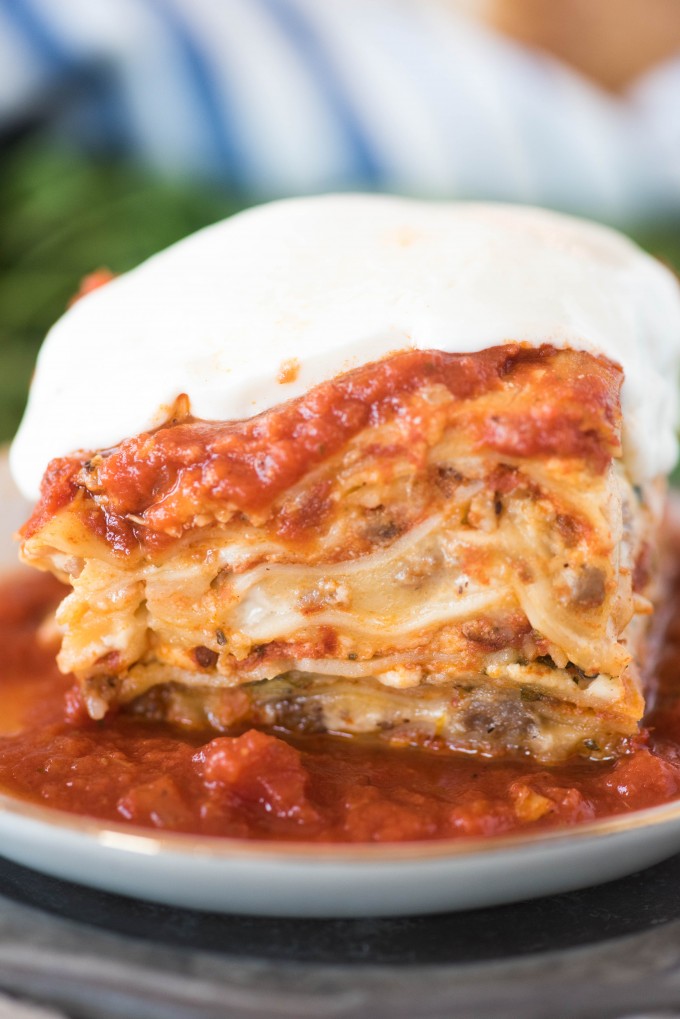 What you need for the best lasagna recipe:
[easyazon_link identifier="B000FCD118″ locale="US" tag="gogogogo03-20″]A 9×13 baking pan.[/easyazon_link]. I recommend using a nonstick pan for obvious reasons. You can also use [easyazon_link identifier="B005H05SXC" locale="US" tag="gogogogo03-20″]a lasagna pan,[/easyazon_link] which is just a hair bigger.
[easyazon_link identifier="B0078P9D8K" locale="US" tag="gogogogo03-20″]A skillet[/easyazon_link], for browning sausage.
[easyazon_link identifier="B00LGLHUA0″ locale="US" tag="gogogogo03-20″]A mixing bowl[/easyazon_link]
[easyazon_link identifier="B01H56LYVK" locale="US" tag="gogogogo03-20″]A small offset spatula. [/easyazon_link] I love these so much and use them for tons of things. They really do make a massive difference when it comes to spreading things.
[easyazon_link identifier="B004QQ1RTC" locale="US" tag="gogogogo03-20″]A lasagna server.[/easyazon_link] Definitely not an absolute necessity, but it does make serving lasagna so much easier. I got one as a gift and can't believe what a difference it made. It works great for brownies too!
If you like this easy lasagna recipe, try these too: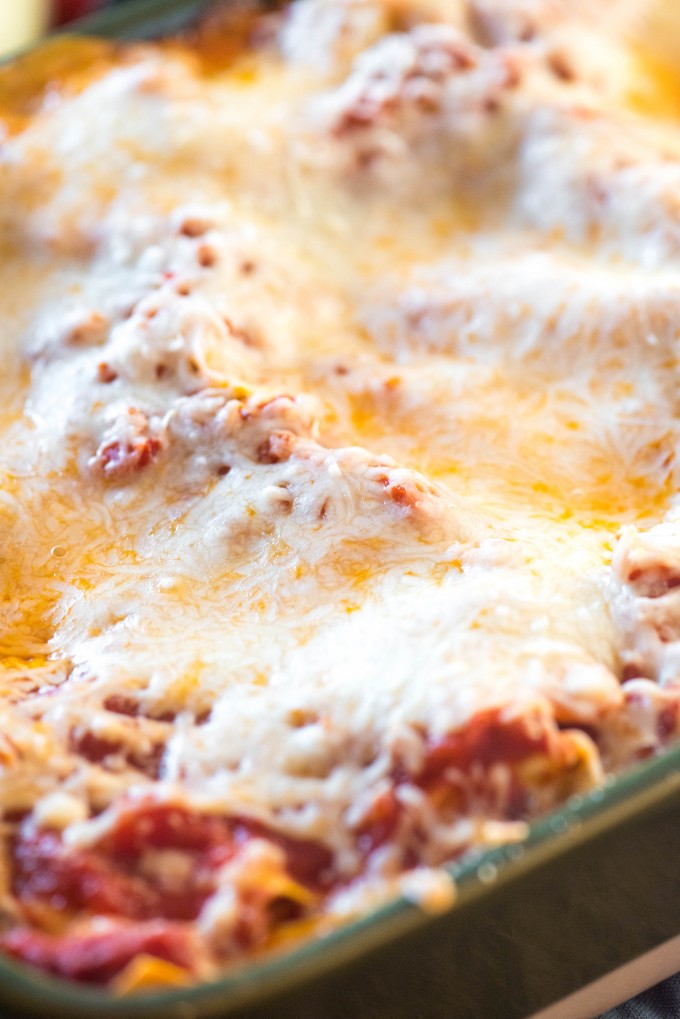 Note: There have been numerous questions regarding the layering, so I have mapped it out:
Pasta sauce on bottom
Noodles
Ricotta/Sausage/Pasta Sauce
Shredded Cheese
Noodles
Ricotta/Sausage/Alfredo
Shredded Cheese
Noodles
Ricotta/Sausage/Pasta Sauce
Shredded Cheese
Noodles
Ricotta/Sausage/Alfredo
Shredded Cheese
Noodles
Pasta Sauce
Fresh Mozzarella (after initial baking)
Million Dollar Easy Lasagna
Ingredients
1

lb

Italian Sausage

8

oz

ricotta cheese

1

egg

1

cup

parmesan cheese

1/4

cup

chopped parsley

1/4

cup

chopped basil

24

oz

jar marinara sauce

1

box oven ready lasagna noodles

2

cups

shredded Italian-blend cheese

15

oz

jar Alfredo sauce or 1 recipe Olive Garden Alfredo

16

oz

fresh mozzarella
Instructions
Preheat oven to 350 F.

In a medium skillet over medium high heat, brown the sausage. Drain any fat and set aside.

In a medium mixing bowl, stir together the ricotta, egg, parmesan cheese, parsley and basil.

Spread 1/4 cup sauce of marinara sauce in the bottom of a 9 x 13" baking pan. Take 3 oven ready noodles and lay them in the bottom of the pan, leaving a small amount of space between each, to account for expanding during baking.

Top with 1/4 of the ricotta mixture, 1/4 of the sausage and approximately 1/2 cup of marinara. Use a small offset spatula to mix and smooth the mixture from edge to edge. Top with handful (approximately 1/2 cup) shredded cheese.

Top with three more lasagna sheets, 1/4 more of the ricotta and sausage and 1 cup of alfredo. Mix together and spread from edge to edge. Top with another 1/2 cup cheese.

Repeat this layering for two more layers, ending with 3 sheets of pasta. Generously spread 1 cup of marinara on top, making sure that the sheets are covered. Cover tightly with foil. Note: the individual layering is detailed right above the recipe if you have questions.

Bake in preheated oven for 45 minutes. Remove foil and top with slices of 1/4" thick slices of fresh mozzarella. Return to oven and bake for another 15-20 minutes, until melted and bubbling.

Remove from oven and let cool for 20-25 minutes before serving. If desired, pop back in oven for 5 minutes to rewarm cheese on top. Slice and serve.