These turtle ice cream bars are simply delicious, super easy to make. Perfect for a hot day with the family or a decorative desert!
I get super excited when I get the opportunity to work with ice cream brands. There are few things that my sweet tooth loves more than diving into a bowl of ice cream, or a dripping ice cream cone on a hot day. Since hot days are all that we have here down in Florida, there's been a lot of ice cream.
This shop has been compensated by Collective Bias, Inc. and its advertiser. All opinions are mine alone. #MayfieldFamily #CollectiveBias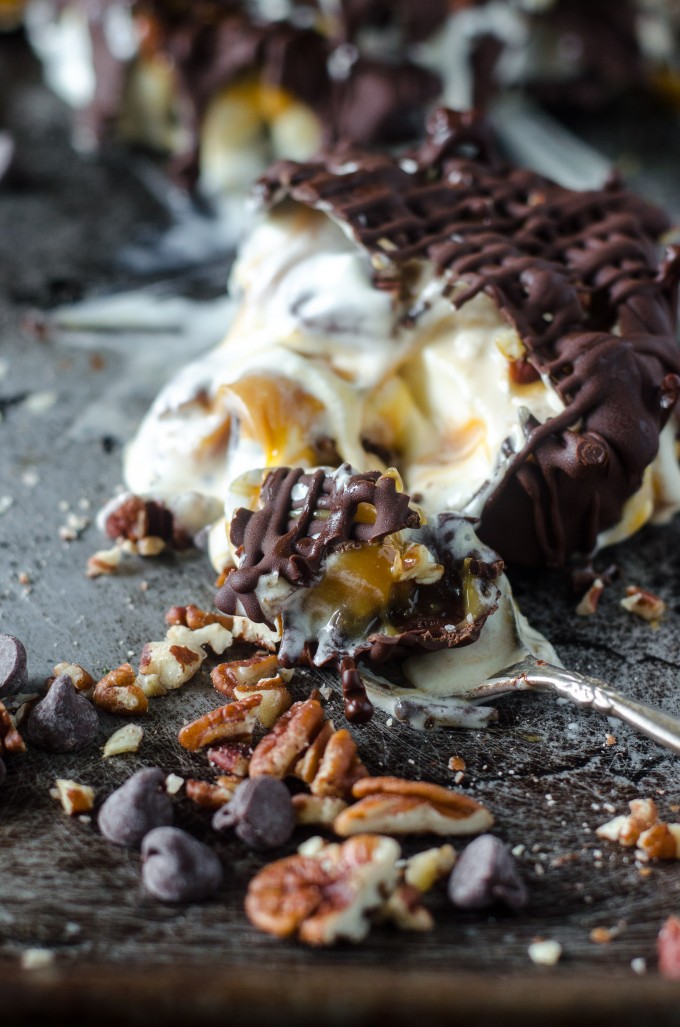 From what I understand from Florida "natives," Mayfield Ice Cream is something of an institution down here. One taste and its certainly not hard to see why- its incredibly creamy. Turns out that they're a long time (like, since 1923) company that still even uses cream from their own dairy (and no added hormones!). I'm always looking to reinvent the wheel, so when I saw the Turtle Tracks at Winn Dixie one day, I had a flash of genius- why not make something great even better? Let's turn it into some Turtle Ice Cream Bars!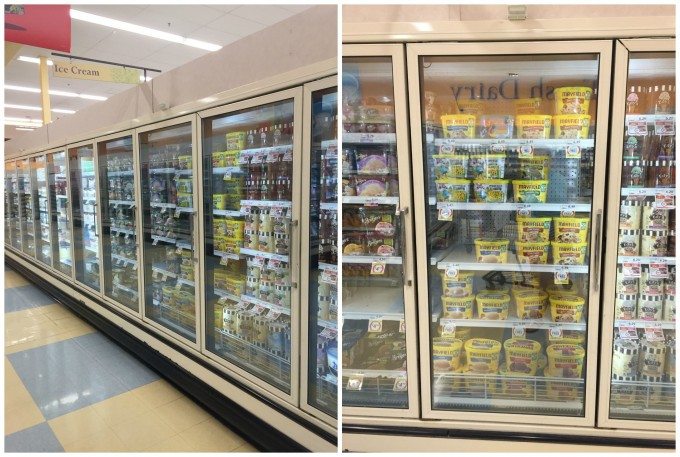 I've reinvented plain ice cream before, but its not a common thing for me. Usually I am too excited and just eat it all before I have a chance to even come up with an idea. These were crazy easy though, and required virtually no work- most of it was freezing and setting time. I like to use caramel apple dip in my desserts involving caramel because I just have yet to be successful making my own. I may never actually try again because I think I almost cracked a tooth on the finished product. Some chopped pecans and some quick homemade dark chocolate magic shell, and you have some amazing ice cream bars that rival anything that you can find in the store.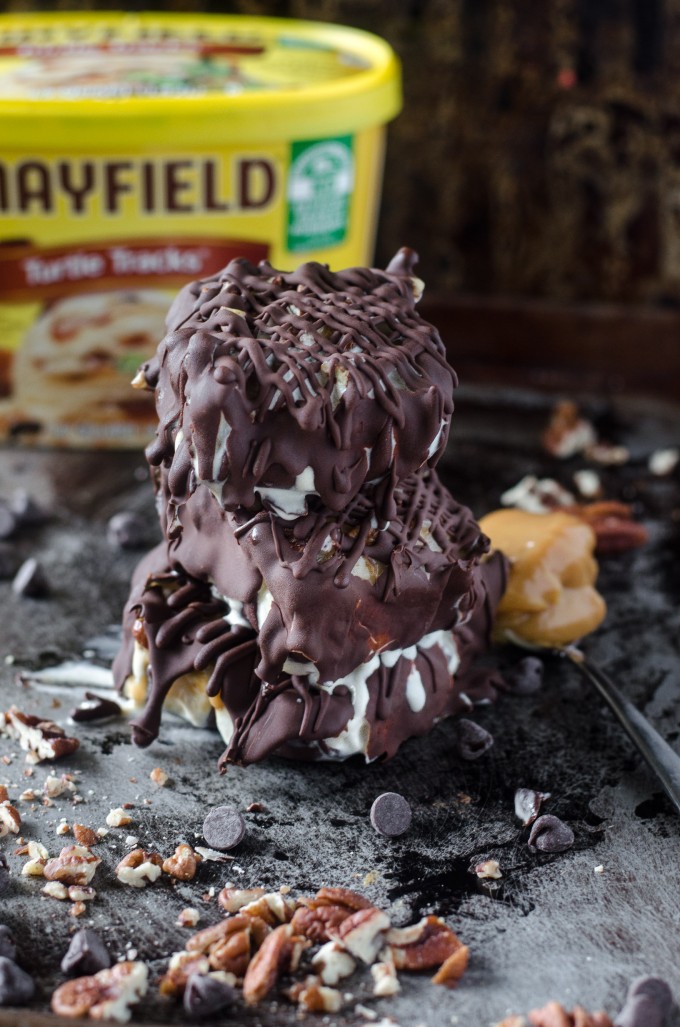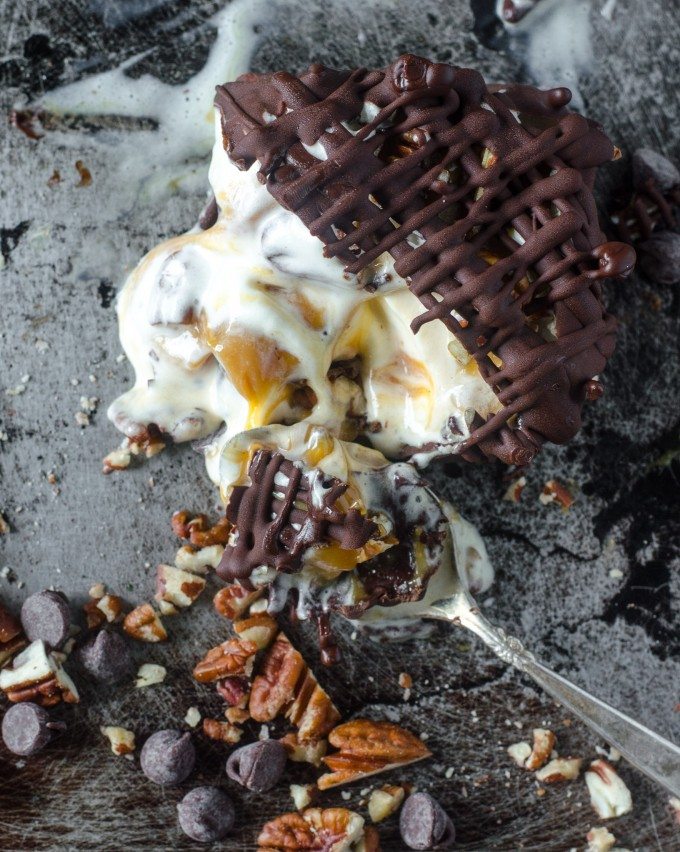 Try these out as soon as possible, and while you're at it, check out the other flavors in the Mayfield Flavor Family, because there are some awesome ones (Brown Cow, hello!). Around here, we are all huge fans of the whole line of Mayfield ice creams. You know you want to become a Mayfield Flavor Fan– you'll be among the first to know about new flavors, new deals, and therefore the first to bring it home and devour it! Can't beat that!
Like what you see? Subscribe to Go Go Go Gourmet's weekly newsletter to keep up on what's going on around here and get a free ebook on how to simplify your weeknight dinner making. You can also follow me on Facebook, Pinterest and Instagram to see what I'm up to!
If you liked these Turtle Ice Cream Bars, make sure you check out these:
Vanilla Rainbow Ice Cream
Turtle Ice Cream Bars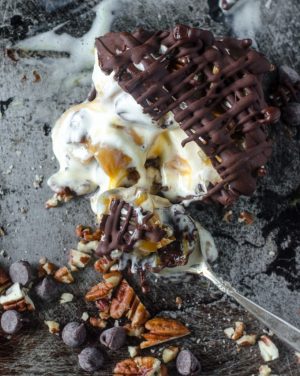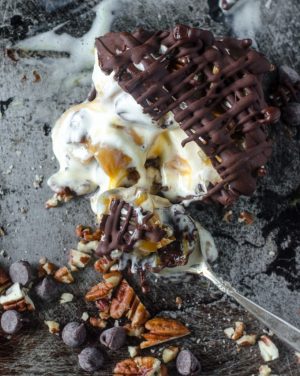 Ingredients
1.5 quart container Mayfield Turtle Tracks Ice Cream, softened until spreadable
1 16 oz container carmel apple dip (sweet and salty preferred)
3/4 cup chopped pecans
20 oz bag bittersweet chocolate chips
1/2 cup shortening
Directions
Line a 9x9 pan with parchment paper. Scoop the ice cream into the pan and use an offset spatula to evenly spread it to the edges.
Microwave the carmel in 30 second intervals until warmed (not hot!) and softened. Pour over the top of the ice cream and spread to the edges. Sprinkle with chopped pecans and place in freezer until solid.
To make the magic shell, place the chocolate chips and shortening into a microwave safe bowl. Microwave in 30 seconds intervals, stirring after each, until fully melted.
Remove pan from freezer and lift ice cream out using parchment paper overhang. Use a sharp knife to cut into 9 squares. Line a baking sheet with parchement paper and place squares upside down.
Pour the magic shell over the bars, making sure that the bottoms and sides are covered (I used a squeeze bottle, but you could maybe get away with just pouring it over). Return to freezer for 15 minutes.
Flip bars over and coat the top of the bars with chocolate shell. Freeze for 15 minutes to set and enjoy.
Recipe Notes
Loading nutrition data...