This lobster mac & cheese is creamy, cheesy and filled with lobster! This recipe is perfect for date night or dinner for the whole family.
There is some sort of unwritten rule that says you aren't supposed to pair cheese and seafood together.
I think this is hogwash, and Lobster Mac & Cheese proves it.

Dave and I celebrated our fifth wedding anniversary this year, so I tried out this recipe as a side dish for some beautiful filets, prepared oscar style. I'm not ashamed to say that it took me two attempts to make this recipe- you have to find just the right ratio of flour, fat and liquid to hold the cheese, turning it into a creamy, silky, cheesy paradise, and not one that is grainy and full of sadness.
The first time, it was full of sadness. But the second time, I achieved silky perfection. I cooked the lobster right in the sauce so I wouldn't loose any of the extra flavor. Topped with some pesto breadcrumbs, its a great side dish OR main course.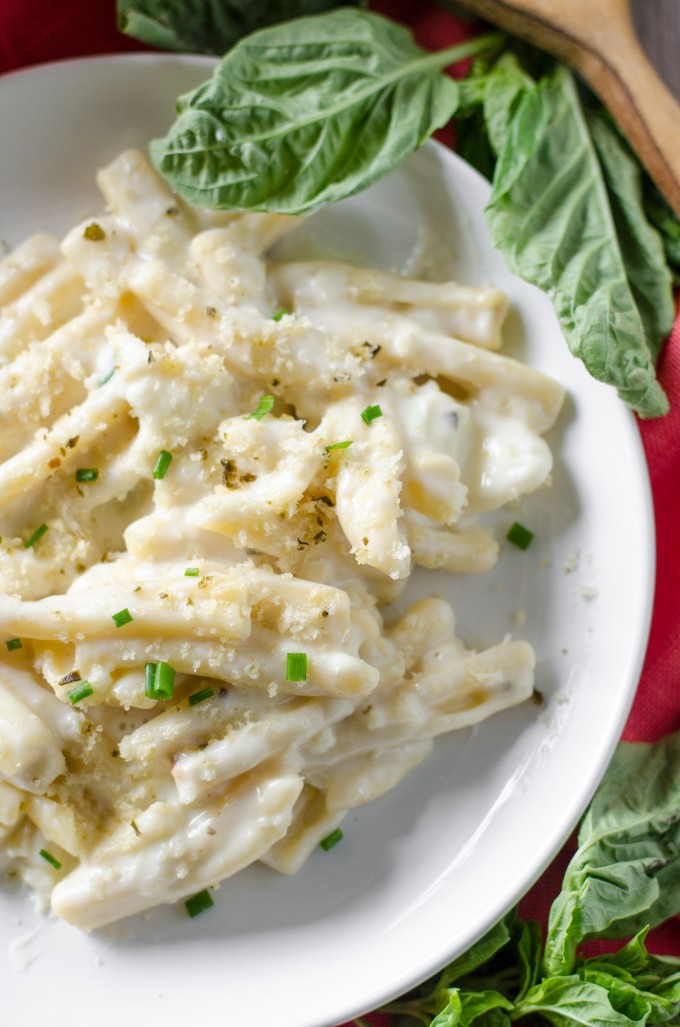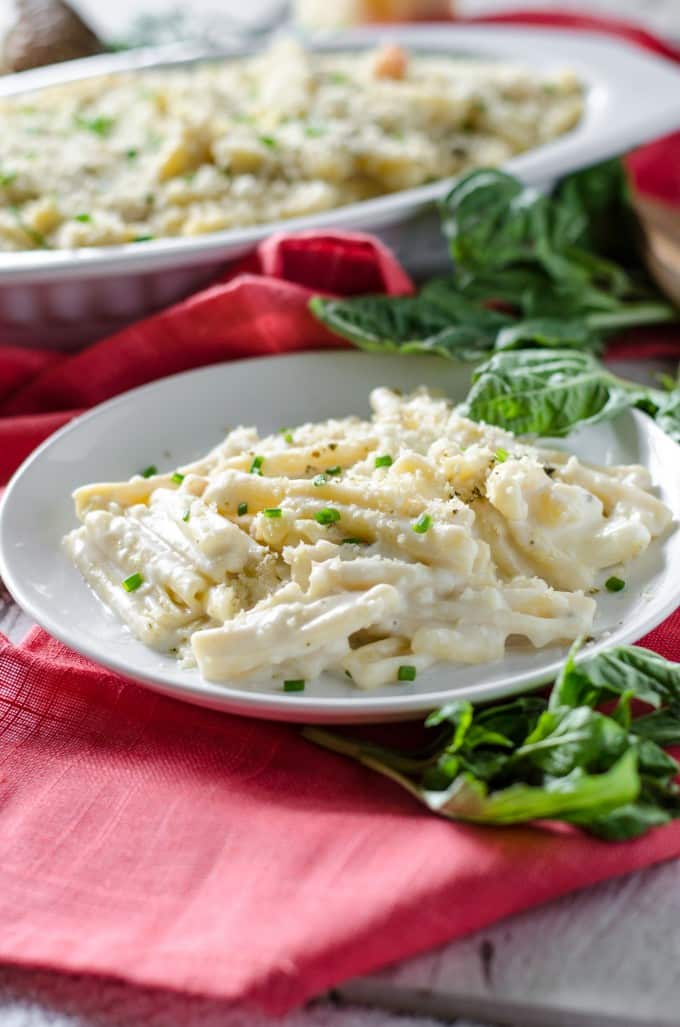 Lobster Mac & Cheese
Ingredients
4

T

butter

4

T

flour

3

cups

whole milk

1

cup

shredded parmesan

1/2

cup

shredded white cheddar cheese

1/2

cup

shredded Gruyere cheese

3/4

tsp

garlic powder

2

T

chopped chives

1/4

cup

panko

1

tsp

prepared pesto

12

oz

lobster meat

chopped (1/2 into small to medium chunks, 1/2 left in large chunks)

12

oz

short pasta

I used casarecce, gemelli or ziti would work well
Instructions
Bring a pot of salted water to a boil. Add the pasta and cook until al dente. Drain and set aside.

In a large saucepot, melt the butter over medium heat. Whisk in the flour and cook for 1-2 minutes.

Slowly whisk in the milk; bring to a simmer. Reduce heat and simmer until the milk mixture begins to thicken.

Add in the cheeses one handful at a time, whisking to combine, and not adding any additional cheese until the previous handful is fully incorporated.

Stir in the garlic powder, chives and lobster meat and allow to cook in the sauce, 4-5 minutes.

Pour the cooked pasta into the cheese sauce, stir to combine. Remove from heat.

In a small bowl, stir together the panko breadcrumbs and the pesto, until the breadcrumbs are evenly coated.

Divide the pasta between plates (or pour into serving dish) and top with breadcrumbs. Serve immediately.