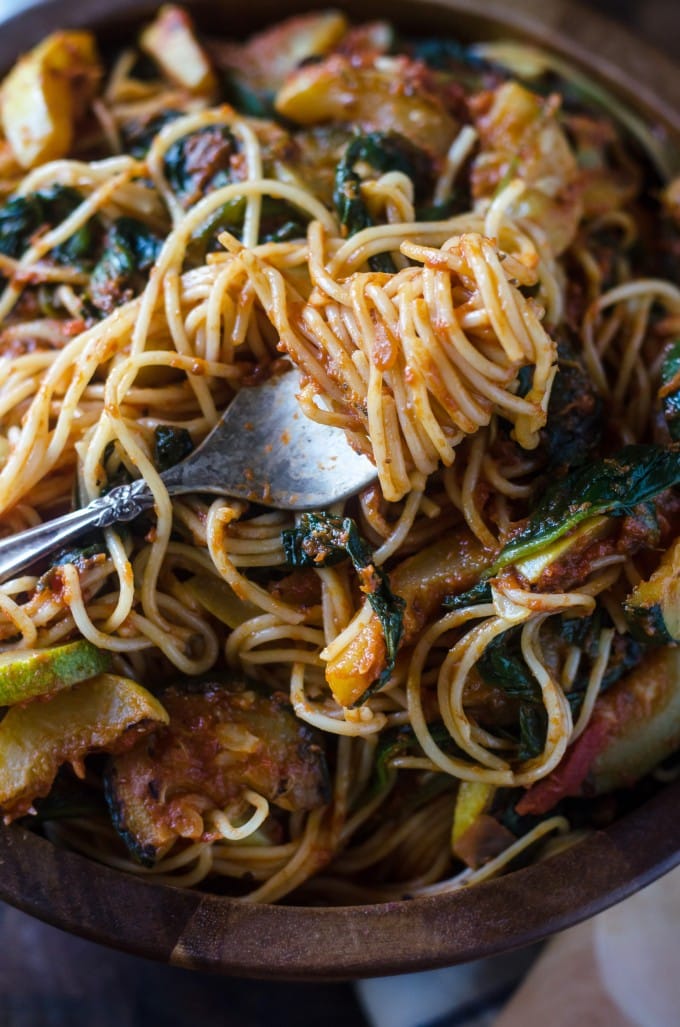 There is a plethora of summer produce right now- especially in my weekly co-op basket. Over the past few weeks, I have been inundated with zucchini, yellow squash, spinach, green beans, brussel sprouts, and broccol- not that I am complaining about having a constant rotation of dinner side dishes, but every once in awhile I like to hide my vegetables elsewhere.
I'll admit that they aren't very well hidden in this, per se. However, I'm fairly certain that any time Jonathan sees an object in pasta with red sauce, he just assumes it's a meatball and gobbles it down. Such was the case with this incredibly simple dinner- just saute up some summer squash and spinach, pour in a jar of pasta sauce, boil up some angel hair and toss it together. This dinner is ready in 20 minutes, tops.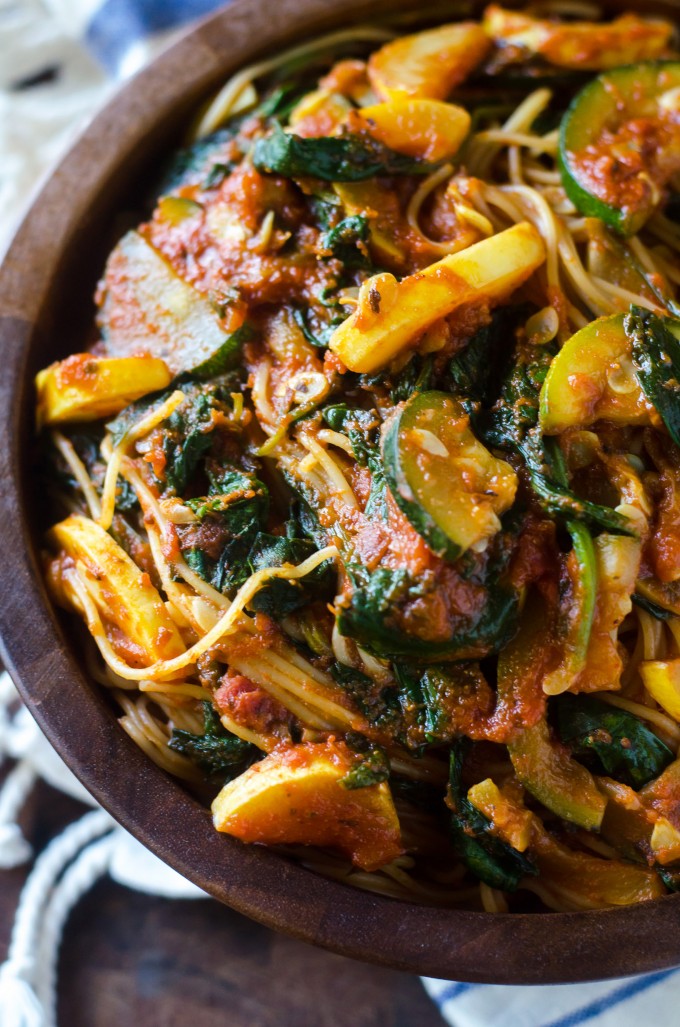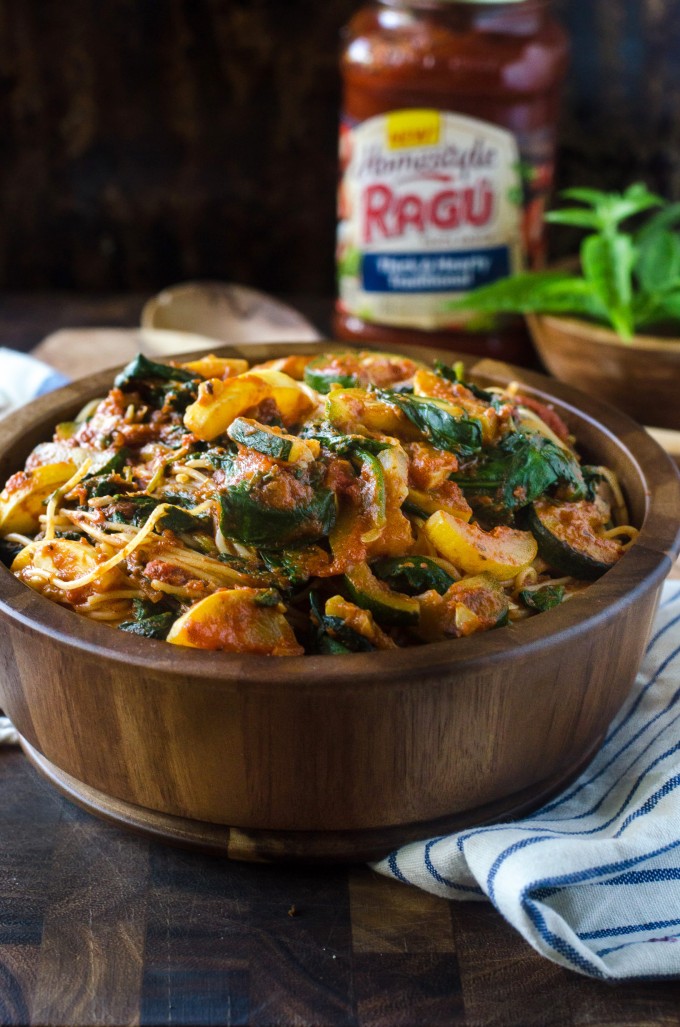 Let's revisit that topic of pasta sauce. I have written about Ragu's Homestyle pasta sauce before (see my Cheese-Stuffed Chicken Parmigiana here, it's to die for), and I'm writing about it again because I just like it that much. Its thick, it tastes completely homemade and it really clings to and coats every noodle. The Traditional Marinara, Four Cheese or Roasted Garlic sauces would all work beautifully in this dish (Ragu has really covered all their bases here!).
Are you looking for some more ideas? There are tons and tons of amazing recipes here, and almost all of them are ready in 30 minutes or less!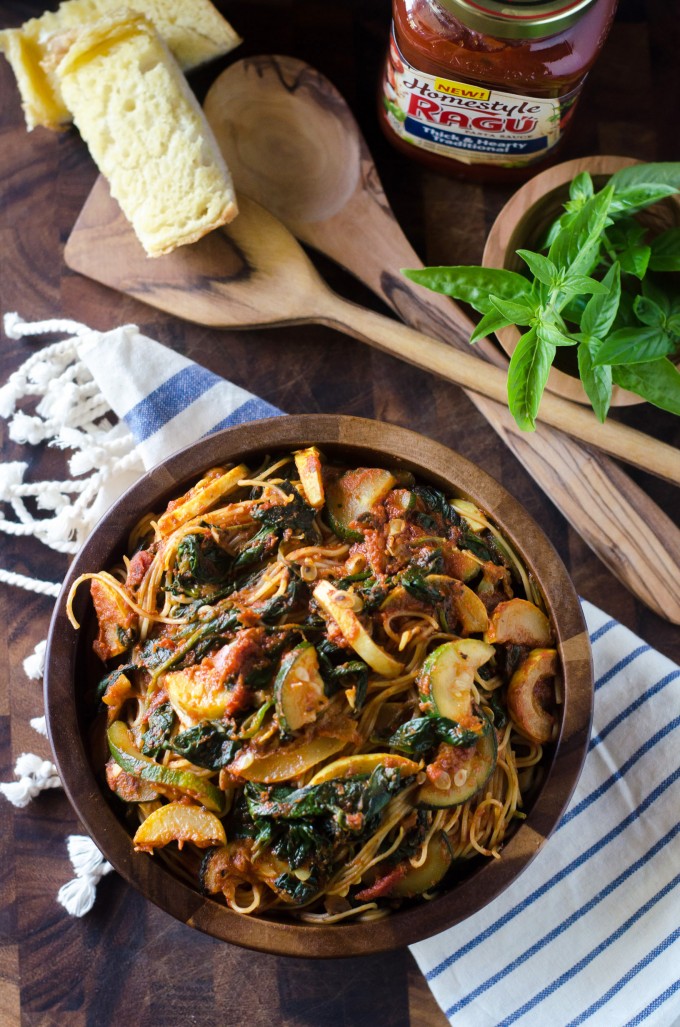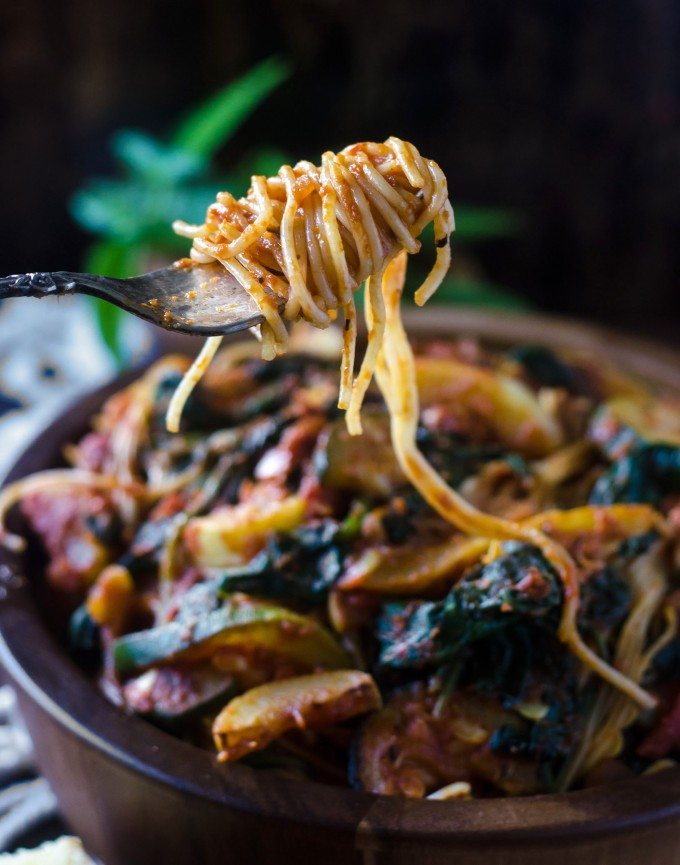 Summer Vegetable Marinara
Ingredients
8

oz

angel hair pasta

1

zucchini

cut into half lengthwise and then 1/4" crosswise slices

1

yellow squash

cut into half lengthwise and then 1/4" crosswise slices

1 12

oz.

bag fresh spinach

1

jar Ragu Homestyle Traditional Marinara

or sauce of choice.
Instructions
Bring a large saucepan of salted water to a boil.

In a large skillet over medium high heat, add 2 T olive oil and heat to shimmering. Add zucchini and yellow squash, season with salt and pepper, and saute until beginning to turn golden brown.

Add the angel hair to the boiling water and cook until al dente.Add half the spinach and stir until wilted. Add the remaining spinach and stir until all is wilted.

Pour in the jar of sauce. Use tongs to transfer the cooked angel hair, dripping with pasta water, to the skillet. Toss together until combined and serve.