This is the best mango mojito recipe! With ingredients like mango, basil, lime and rum, this fresh mango mojito recipe is the perfect summer cocktail!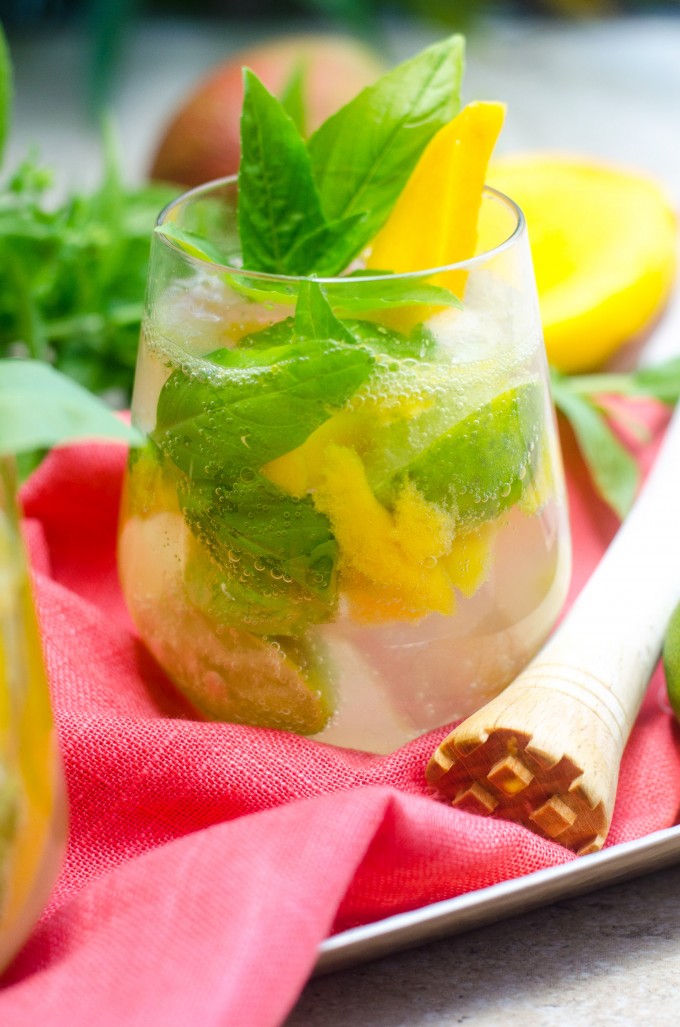 I can't believe that summer is almost over.
Normally the end of summer is just kind of "whatever" for us. In the past, it hasn't really meant much in our lives- Dave still goes to work, I'm still cooking and writing, and Jonathan is still running around being Jonathan. But this year? Well, this year is different.
After a lot of back-and-forth thinking, Jonathan is starting preschool on Tuesday. I can't believe I'm even writing that sentence, because it doesn't feel like he has been around long enough to be entering school- but it's time. All of his playmates have moved away, and the concept of "friends" seems to be gaining importance with him lately. Anytime that we see kids, whether its at Target, driving down the street, or on TV, he asks, "Can we play with friends?"
Its hard to tell your 3 year old that he doesn't have any friends anymore. Hell, it's hard for me as a 31- year-old mother to know that- when his good friends moved away over the course of the last year, so did mine.
Clearly he is at a point where his need to be around children his own age is bubbling up to the surface, so I found a good preschool that he'll go to 3 mornings a week. Its a big cluster of emotions for me, because on one hand, I am so excited for him to explore and learn and play with other kids. But at the same time, I'm not ready to admit that he's not my baby anymore- he's my big boy, and he's leaving me for the first time. The first year of his life, it was me leaving him to go to work, but we have been joined at the hip ever since we moved. Now it's him leaving me.
My cocktail posts are kind of sad for me now- they used to be posts that I would shoot and text a girlfriend to come over and drink the second drink from the pictures with me. We would sit outside and enjoy the fruits of my labor while the kids played together. More often than not, this would turn into a few hours, then the husbands would come from work and stop by for a drink, then pizzas would be ordered and before we knew it, it was 9 PM. They were great evenings. Now, unless I shoot them on a weekend when Dave happens to be home, I either drink both (sad) or pitch one (the horror!). It's hard living in an area that is just so transient. By the time you finally meet people that you like and that "get you," it's time for one of you to uproot and move on. I see so little point in going out to make new friends at this point, knowing that I am leaving as well in less than a year. It's just so hard to say goodbye that it's easier to just bear down and spend my days with the kids and Dave, but it's also incredibly isolating to be home all day and not have anyone to call up and say "I think I might put my head in the oven soon. Let's have some wine together tonight."
Dave doesn't much care about having good friends here- he works too much for friends. However, he is also around like-minded people all day that he can have meaningful, intelligent, thoughtful conversations with- my conversations with the supermarket check out girls are getting longer, which Dave says might be the most depressing thing he's ever heard.
So here we go, maybe the last mojito recipe of the summer, and a twist on the classic- a Basil Mango Mojito. Think of me on Tuesday morning as I drop Jonathan off for the first time and wonder how the hell we got here already. As Dave says:
"The days are long, but the years are short."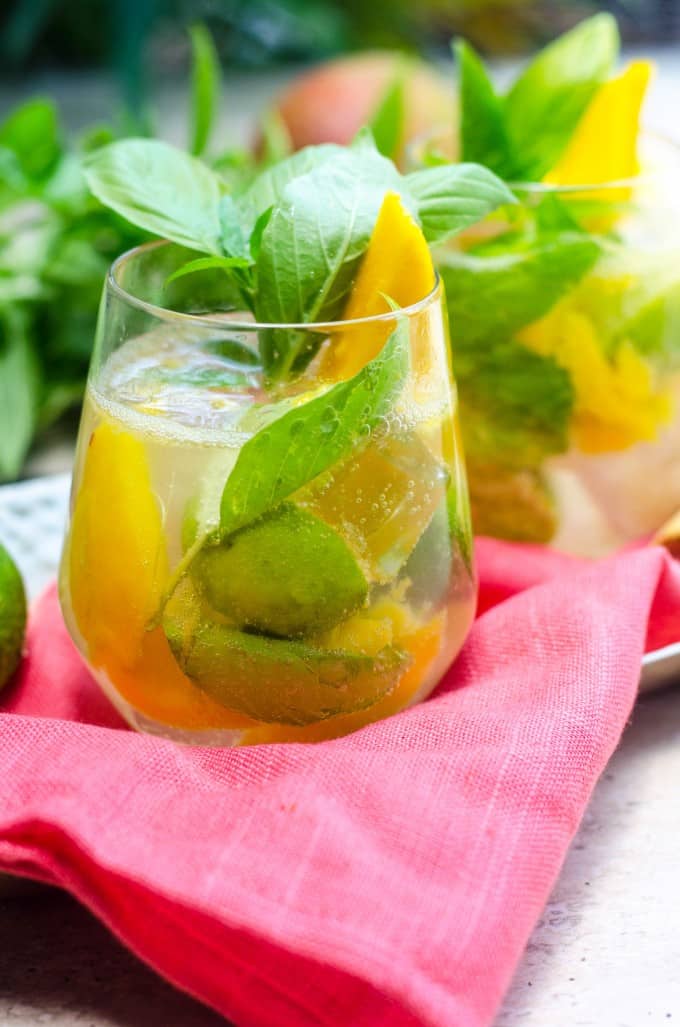 Equipment need to make this mango rum mojito:
You don't need much to make this delicious cocktail! All you really need is a nice [easyazon_link identifier="B01AJXGJGQ" locale="US" tag="gogogogo03-20″]muddler[/easyazon_link] like this one, and a [easyazon_link identifier="B0778N2BBT" locale="US" tag="gogogogo03-20″]highball glass[/easyazon_link] to serve it in!
If you liked this mango mojito recipe, you will also love these other summer cocktails:
Basil Mango Mojito
Ingredients
1

mango

halved and cut into 1/4" slices

4-5

basil leaves

2

key limes

halved

1

oz

simple syrup

2

oz

rum

Club soda
Instructions
In the bottom of a pint glass or highball glass, muddle together the 3 of the mango slices, basil, key limes and simple syrup.

Fill the glass with ice and pour in rum. Top off with club soda and stir to combine.