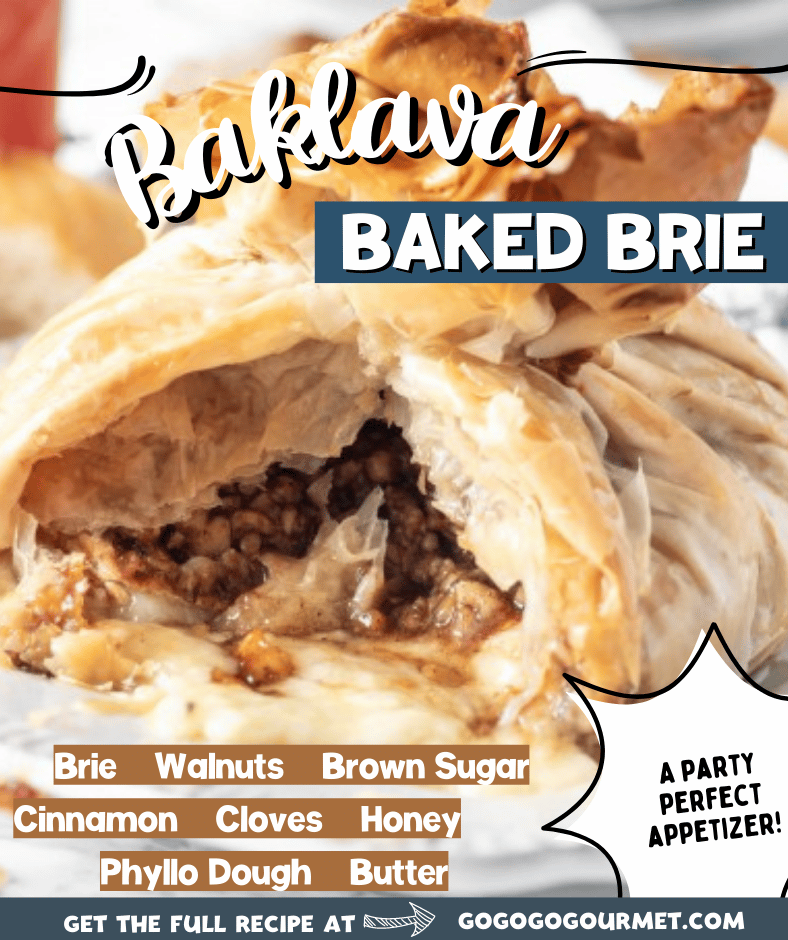 This easy appetizer recipe combines two well-beloved dishes into one! Creamy baked brie is topped with a baklava filling, then wrapped in layers of flaky phyllo dough for a truly sensational appetizer recipe. Plus, tips on working with phyllo dough for beginners.
This recipe is the perfect mashup of my husband and I- he, the baklava nut, and me, the lover of all things brie.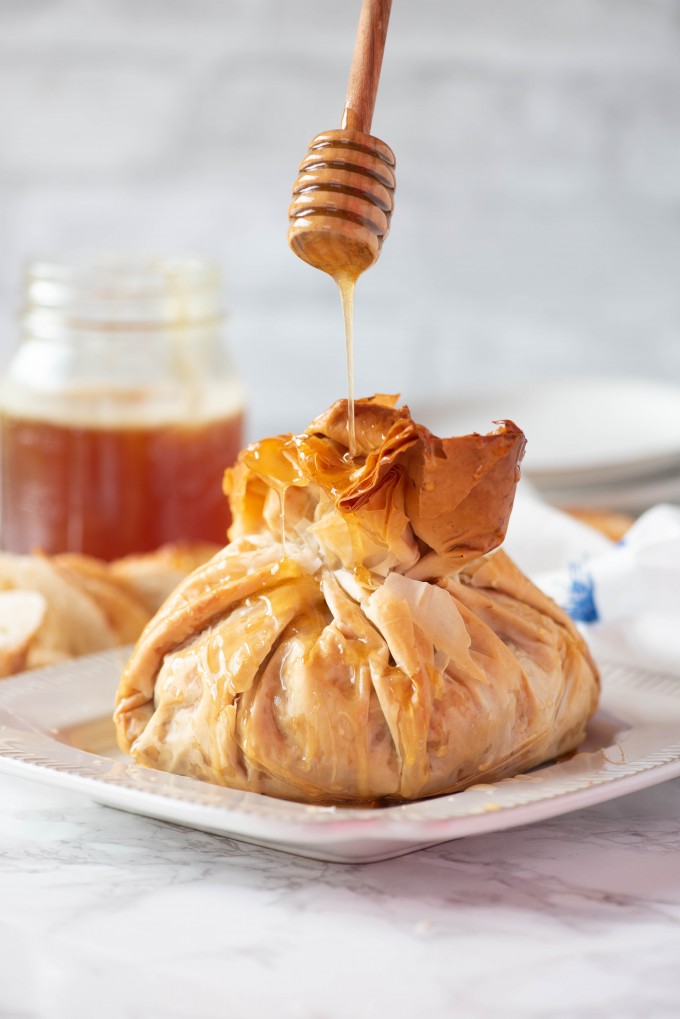 I keep a white board in my kitchen of all the things to make in the near future. "Baklava Brie" has been written up there for awhile, and Dave keeps eyeing it, asking when I was making it.
I'm not sure what even caused this to pop into my head- in stands to reason that I wouldn't be excited about this concept in the least. First off, I'm not a fan of baklava. I've tried it a few times and it is too over-the-top sweet for me.
And for anyone that really knows me in real life, you know that is saying something.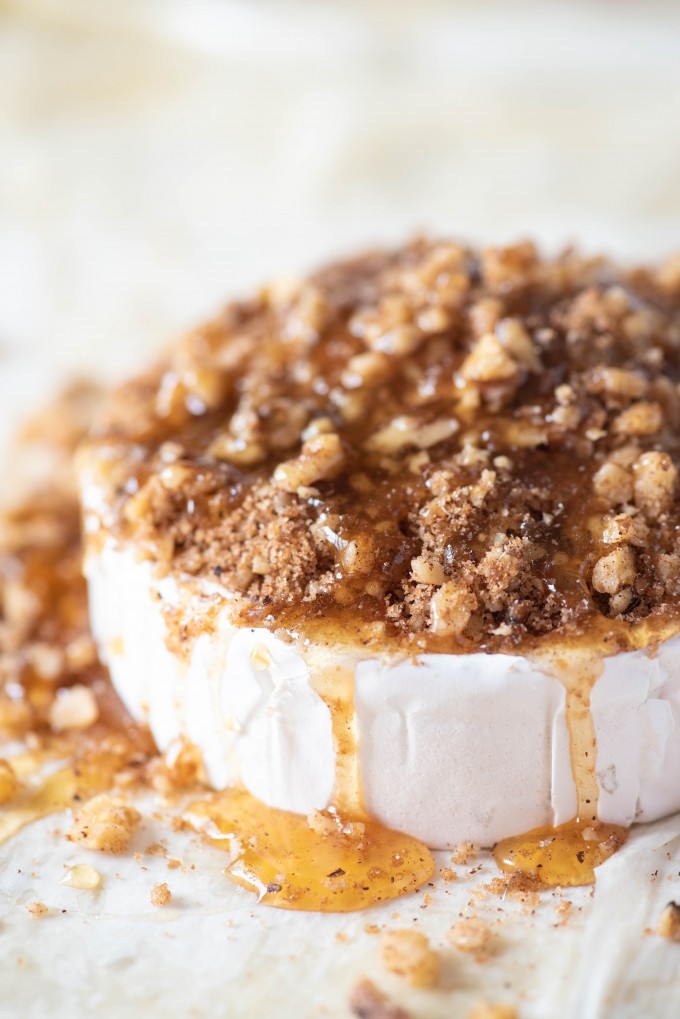 Second, I have a storied history with phyllo dough and hate working with it. The pre-formed phyllo cups are different, those are easy and amazing and I don't have to do any work.
The actual phyllo dough? Another story entirely, in my pre-May 2018 opinion.
I've only worked with it once, and that was all it took for me. I decided that my first time using it would be in one of my very first holiday cocktail parties that we threw, where I decided to make "cigars" with it. Why I decided a high-pressure situation where I was already overextending myself by making 20 appetizers for 40 people (yes, you read that correctly) would be a good time to try something completely new is BEYOND my reasoning.
But, you know, Giada made it look easy.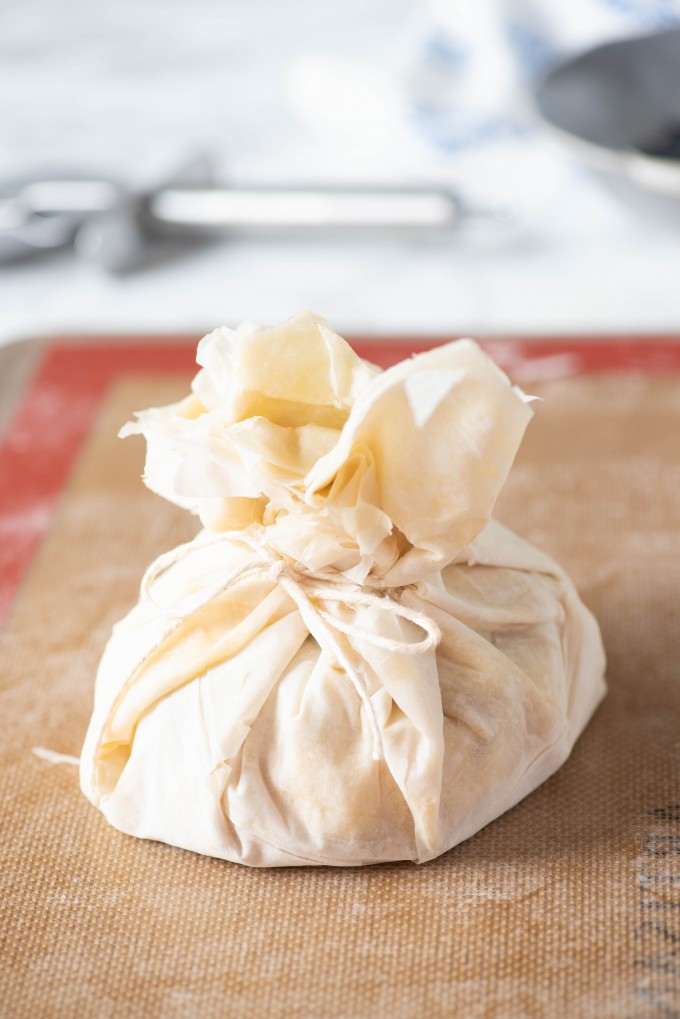 It didn't go well, the dough was a pain to work with the filling leaked out everywhere, on to the bottom of my oven, making my house fill up with smoke, and me to cry.
That was eight years ago, and I haven't touched it since.
But I'm a forgiving person, and thought it was time to let bygones be bygones and give phyllo another shot. With my age and wisdom, it had to be better than the first time.
Delightfully, it was. This turned out absolutely beautifully- in fact, it was stunning. The filling of walnuts, brown sugar, cloves and cinnamon was flavorful and simple to make, thanks to my food processor.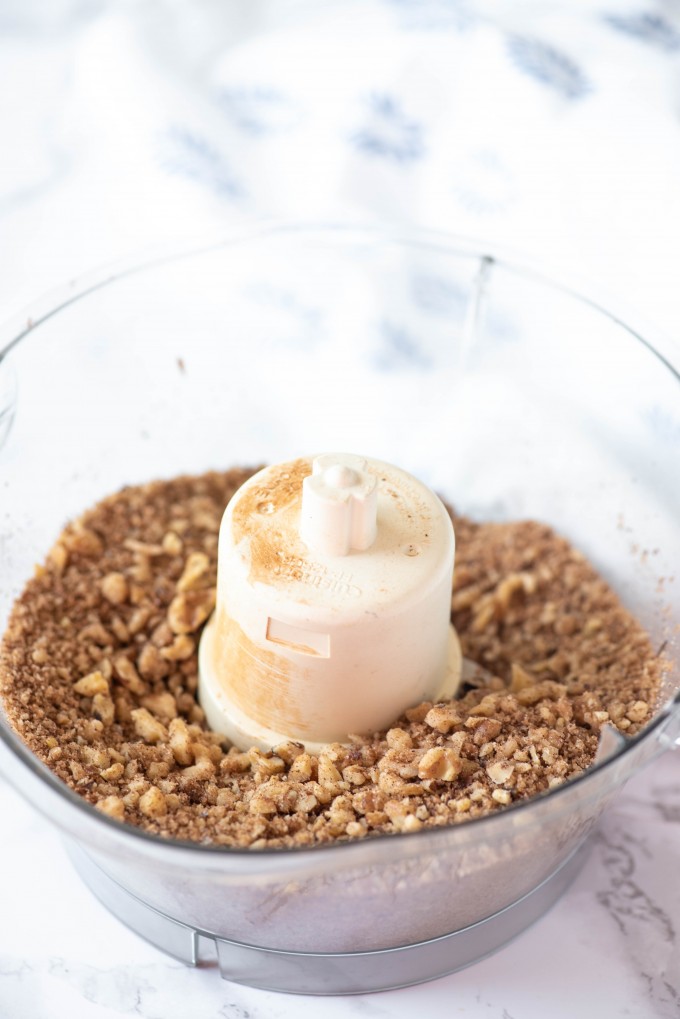 Even with the honey and brown sugar, the finished product wasn't overly sweet- just enough to compliment the creamy, mild Brie cheese. The light crunch of the buttery phyllo was perfect to bring all the textures together.
Tips for Working With Phyllo Dough
Be gentle– these are like working with a crappy paper towel that has been wet and then wrung out. They are fragile.
Keep your dough covered with a damp kitchen towel. DAMP, not wet. This keeps the dough from drying out (which it does quickly). However, you don't want it too wet, because then the sheets stick together and tear. Which brings me to:
Don't worry about it tearing. In this recipe anyway. I ended up with some holes and rips and it didn't matter one iota (pic below).
Work fast. This is not a dilly dally thing. They dry out quickly. You can hit the edges with some more butter if they dry out before you're done. *raises hand*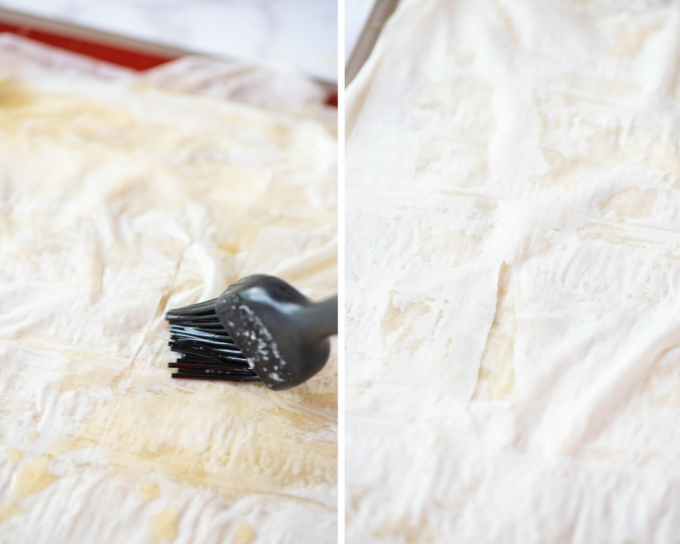 Serving Suggestions for Baklava Baked Brie
Toasted baguette or crostini are always nice with baked brie, but crackers work too.
Personally, I think sliced apples and/or pears would be the BEST ever with this.
The filling and phyllo sheet standard size work great for a 16 oz wheel of brie, and if I was serving this for a party, that would the appropriate size. However, I made this in the middle of the afternoon for just David and I, so I downsized to the 8 oz. Still worked fine, but I obviously had about half the filling left over. If you go to this size, you will need to trim about 2″ off of a long and a short end.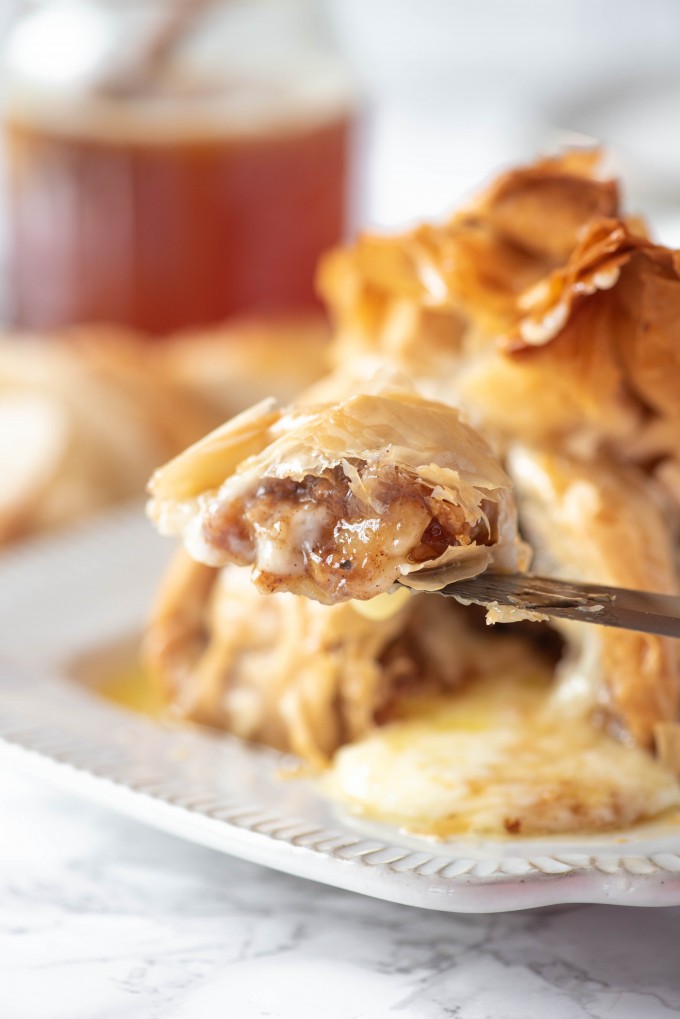 Equipment Needed
Food processor– makes the filling an absolute breeze.
Baking sheet
Parchment Paper or Silicone Baking Sheet
Pizza Cutter. The best way to cut the phyllo if you need to cut it down.
Basting brush or pastry brush. Mine is silicone and it worked well for this.
Kitchen twine– for tying up the ends of the phyllo and making it look all pretty.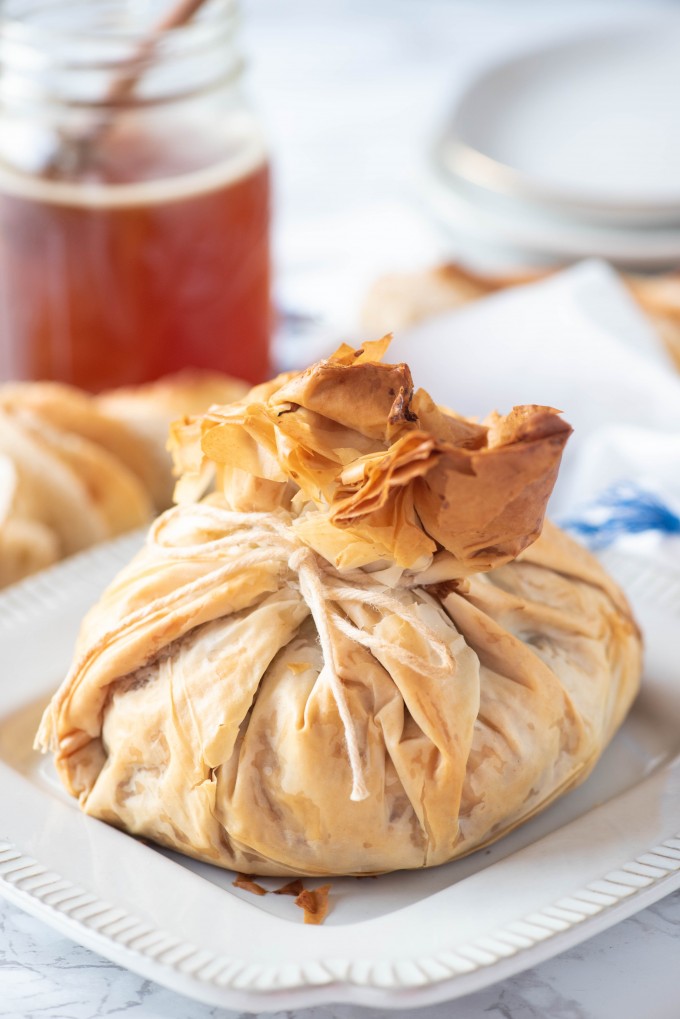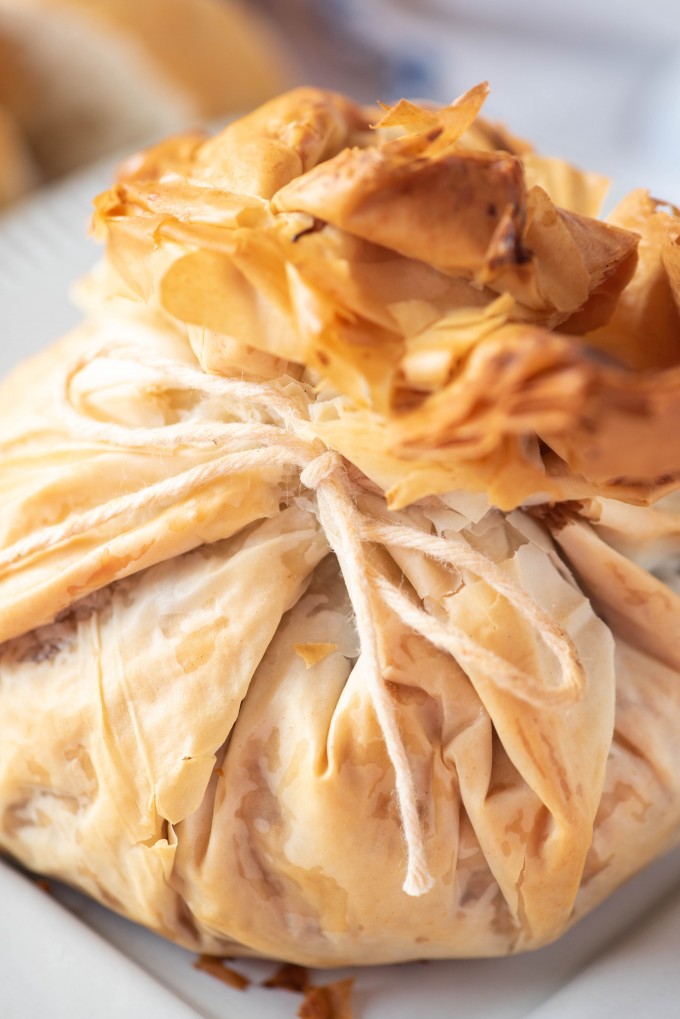 Similar recipes: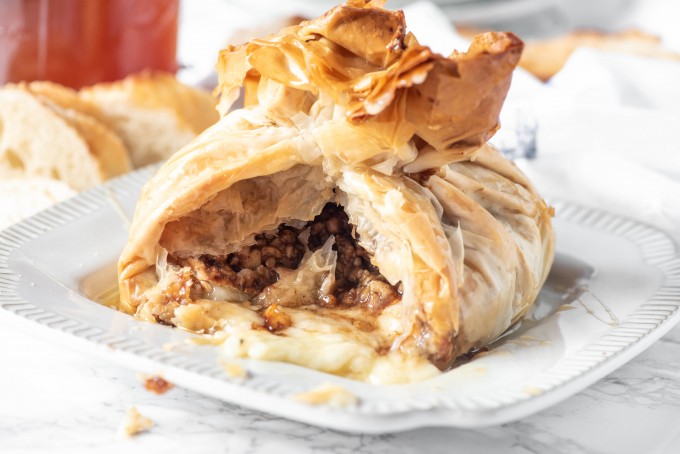 Baklava Baked Brie
This easy appetizer recipe combines two well-beloved dishes into one! Creamy baked brie is topped with a baklava filling, then wrapped in layers of flaky phyllo dough for a truly sensational appetizer recipe. Plus, tips on working with phyllo dough for beginners.
Ingredients
16

oz

wheel brie

1

cup

walnuts

1/4

cup

brown sugar

2

teaspoons

cinnamon

pinch

cloves

1/4

cup

honey

divided

7

sheets phyllo dough

4

tablespoons

butter

melted
Instructions
Preheat oven to 375 F and position a rack in the bottom two thirds of the oven. Keep phyllo sheets chilled until ready to use.

In the bowl of a food processor, add the walnuts, brown sugar, cinnamon and cloves, Process until the walnuts are mostly finely chopped.

Unroll phyllo sheets and cover with a damp towel to keep them moist. Line a baking sheet with parchment paper or a silicone baking mat. Place one sheet of phyllo dough on top of parchment. Brush with butter from edge to edge, then top with second sheet of phyllo. Repeat buttering and layering until all dough is used.

Place brie on top of prepared phyllo. Top with prepared walnut filling, and drizzle with about half the honey.

Wrap the brie by bringing the four corners up to the center, allowing them to fan up, and folding in along the sides.. Gently twist ends together, or tie with kitchen string (easier option). Altneratively, you can trim the phyllo and wrap so there is no overhang (like you would traditionally do when wrapping with puff pastry), and flip over so the ends are underneath the cheese.

Brush carefully with butter, then transfer to lower rack in preheated oven. Bake for 30 minutes, until phyllo is golden brown.

Remove from oven and cool for 10 minutes. Drizzle with remaining honey and serve.
SaveSave