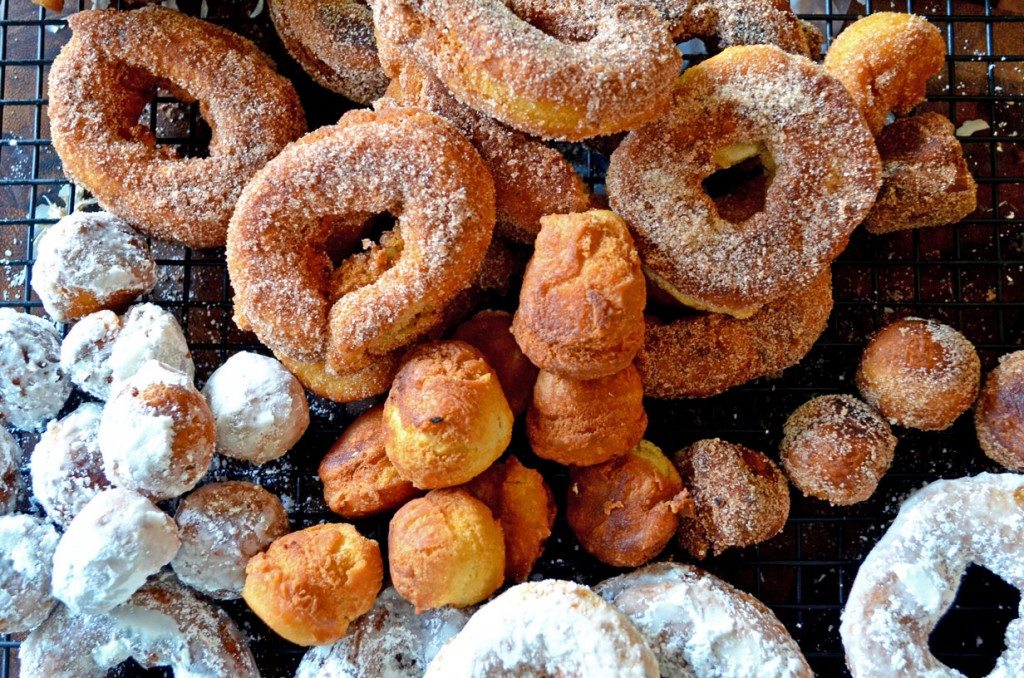 I am feeling a little forlorn this morning. This weekend is one of my favorite weekends back in Ohio. This is the weekend where we normally go apple-picking, go to the cider festival and maybe even go to a pumpkin patch.
I don't know. I don't know if there would be enough time!
Yes, that's an [adapted] Old School quote.
I think some of the experiences that we would have together as a family are what I miss most right now. I just don't know yet if we can mirror the same experiences down here- can you pick apples in Florida? Can you cut down a Christmas tree? Maybe I'll feel better if I can do at least some version of these things. Maybe then I won't feel like I am missing out on so much.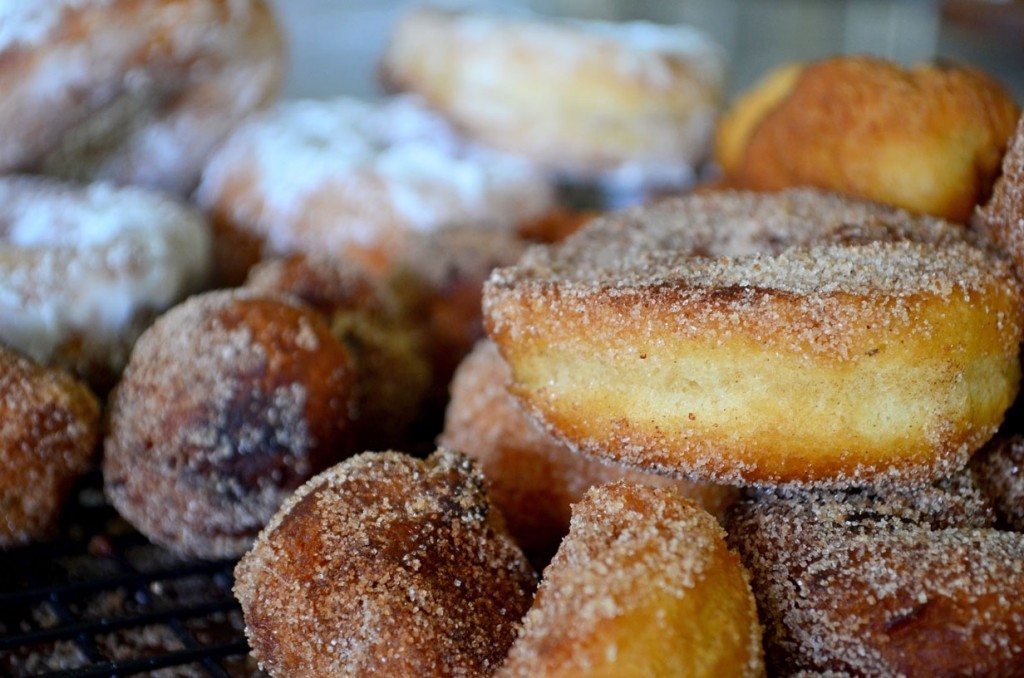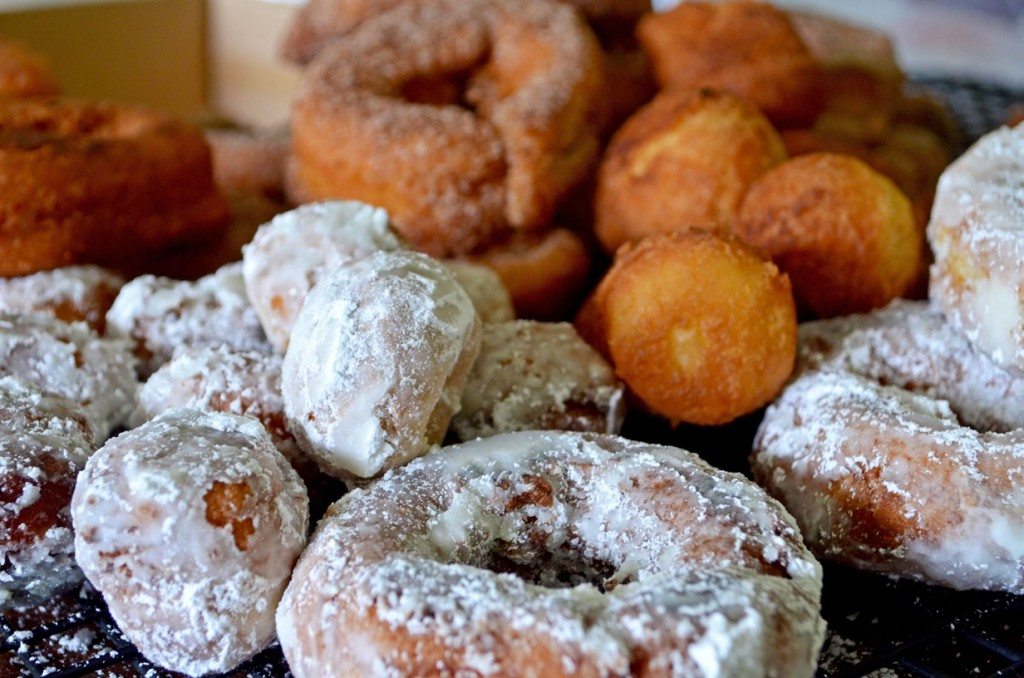 One of the things that I look forward to at all these fall festivals is the food- namely the doughnuts that the Lions Club sells at the Cider Festival. I swear, those right there are the reason to go. They were so out-of-this-world good. I'm sure there wasn't anything special or unique about them- they were just fresh, homemade doughnuts, straight out of the oil, into the powdered sugar, and in a bag in my hand.
I decided to make some at home, something that I have definitely done before (apple cider doughnuts), albeit not in awhile. I pulled up my old recipe.
Hell no. Thats too much work. No way, no how. I don't have time. Give me a go-go-go recipe, please!
I found this one on Food.com and figured it was worth a try. They were so good, and there were musings that they might even be better the next day. Happy to report that they were truly excellent. Perfectly encapsulated the memory that I was trying desperately to duplicate.
Here are some notes:
I don't know what it is, but I am having to use a lot more flour down here, so just watch that you only add the bare amount necessary to prevent you from dealing with a sticky, gooey, gloppy mess, otherwise they may end up a little stiff.
Also, this goes without saying, but watch your oil temperature. Too hot, they'll burn outside and be undercooked inside (I ended up with four of these-damn electric stove). Too cold, they'll absorb too much oil and you'll end up with greasy, soggy doughnuts (not worth the calories).
Finally, this made a boatload of doughnuts. I get that it depends on the size of your cutter, but my cutter is maybe 2″ across and I ended up with doughnuts about twice that size. The recipe said it made 14. I ended up with 25. Not even including the holes. Just, you know, food for thought.
Happy munching!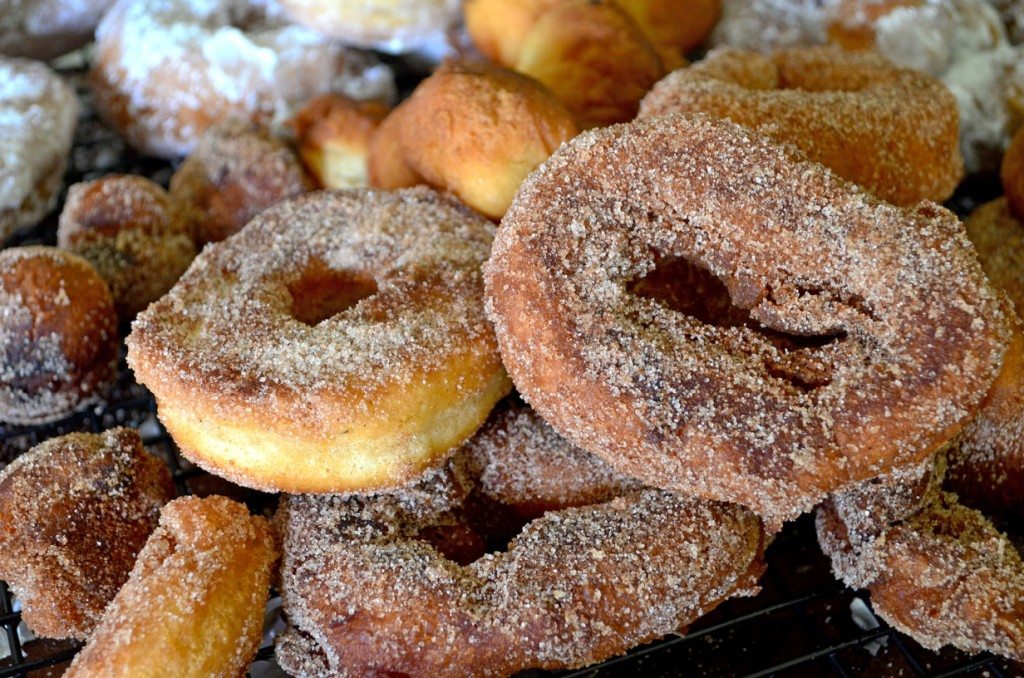 Weekend Brunch: Cake Doughnuts
Ingredients
1

cup

sugar

4

teaspoons

baking powder

1 1/2

teaspoons

salt

1/2

teaspoon

nutmeg

2

eggs

1/4

cup

butter

melted

1

cup

milk

4

cups

flour

plus a little more if dough is sticky

Oil

for frying

Cinnamon sugar and powdered sugar

for dusting
Instructions
In a large bowl mix the sugar, baking powder, salt and nutmeg.

Add eggs, milk and melted butter. Beat well.

Add 3 cups of the flour, beating until blended. Add one more cup of flour and beat well. The dough should be soft and sticky but firm enough to handle. If you feel its necessary, add up to 1/2 cup more flour (I had to add at least that much more, just a general FYI)

Cover with plastic wrap and chill for at least one hour.

Remove your dough from the fridge and begin heating about 1" of oil to 360F in a large metal skillet.

Working with 1/3-1/2 the dough at a time, roll it out on a floured surface to about 1/2" thickness. Cut out circles using a doughnut cutter or other cutter.

Gently drop the doughnuts in batches into the hot oil. Flip them over as they puff and turn them a couple more times as they cook. They will take about 2-3 minutes total golden-brown.

Remove doughnuts to a cooling rack, lined with paper towels if you desire. Coat with cinnamon sugar while still warm, powdered sugar when they are only slightly warm (otherwise the powdered sugar will be tacky and semi-melted into a glaze).