This Grilled Balsamic Marinated Flank Steak recipe is easy, tender and juicy with a sweet heat that's to die for. It's the best flank steak recipe ever!
This post has been sponsored by The Coca Cola Company. All thoughts and opinions are my own.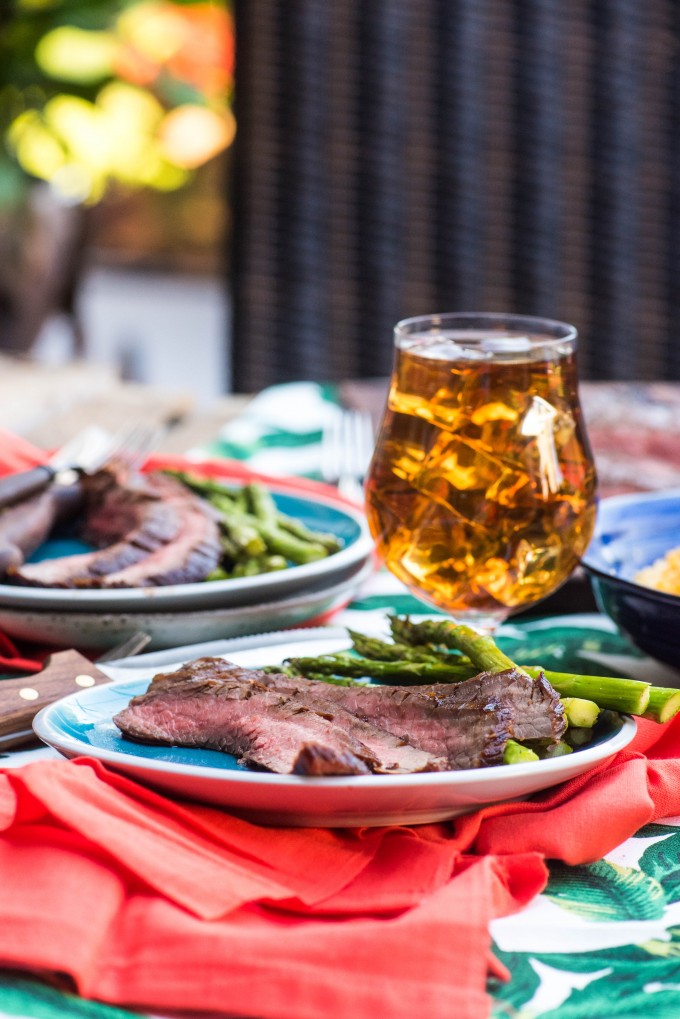 Summer seems to be the time where people are most inclined to get together and have a great party. Why do you think that is?
My theory is that everyone (well, in a good majority of the country that gets snow) has been hunkered down in their houses, hating the grey, snowy, slushy coldness outside, to the point where they get so crabby that they don't want to see anyone.
Then, as soon as the weather gets nice out and the birds start singing and the skies turn blue, everyone has such extreme cabin fever that they burst outside and are overjoyed to see literally anyone – even that neighbor that they spent all that time griping over the fact that his trash can was still at the street even though trash day was three days ago.
We're all outside, mowing and cleaning up, planting gardens and potting flowers. The fresh air is in our lungs and the sun is warm on our face. We're in good moods. We want to party.
So party we do, starting from Memorial Day through Labor Day. We have planned theme parties, we have holiday parties,we have pool parties, we have big barbecues, we have simple hot dogs-and-hamburgers cookouts.
But in all this free-frolicking that's going on outside, what do we not want to do? Be inside cooking. We want the party, we want the food, we want the flavor payout – but what we don't want is the work.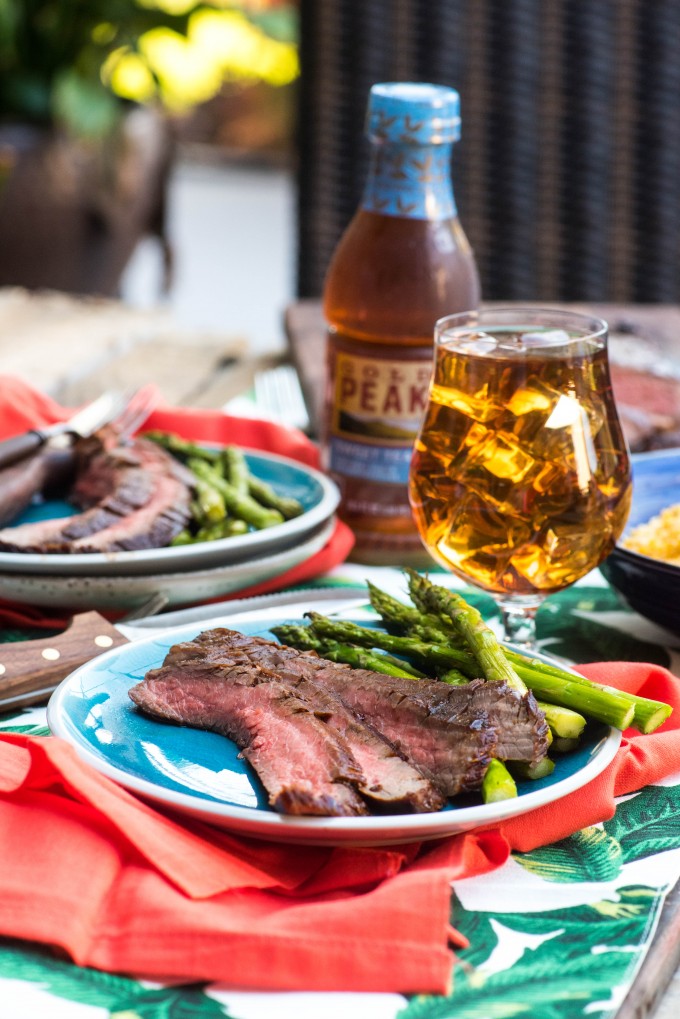 ENTER FLANK STEAK.
This cut of meat is my second favorite cut of meat, behind only beef tenderloin/filets. It's way cheaper and incredibly versatile – as long as you play by the preferred rules of engagement. If you don't, you're apt to end up with a flavorless, dry and tough piece of meat.
Do it the right way? You end up in meat nirvana, with great flavor, juiciness and tender chewiness – the GOOD kind of chewiness.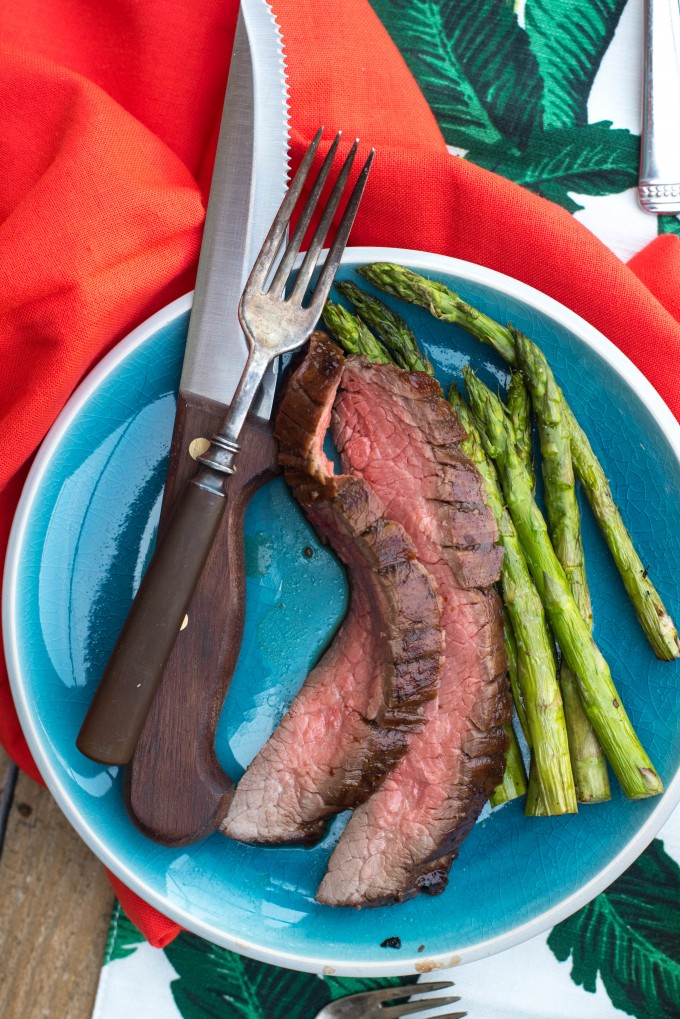 Four things that I live by when it comes to cooking flank steak:
Marinate. Marinate, marinate, marinate. And not for just 30 minutes. I'm talking a minimum of six hours and up to overnight.
Vinegar. Make sure that that marinade has some vinegar in it. Vinegar helps loosen up the tough muscle of the cut, and you'll end up with a much more tender piece of meat.
Cook. This goes without saying, but please don't overcook it. Buy yourself a nifty little Bluetooth meat thermometer. It will change your life.
Cut. Cut against the grain on a double bias. I have talked about this before, and if you don't know what cutting on a double bias is, Google it. Basically, you want to make sure that you are cutting parallel to all those muscle bands you see in the meat, while also cutting diagonally, not straight up and down. Think of it like this- your muscle bands are running West to East, and while your main cut should be North/South, you need to angle it, so it's more like Southwest.
That made phenomenal sense in my head. Just Google it. You'll see what I'm talking about.
I'm trying to start using up things in my pantry and fridge to prep for our move at the end of June, so I quickly threw this together with the bottles I still have here, but LO! It was amazing, and will likely forevermore be my flank steak marinade. We all loved it, I couldn't stop snacking on it while I was shooting, and Jonathan devoured his and asked for seconds.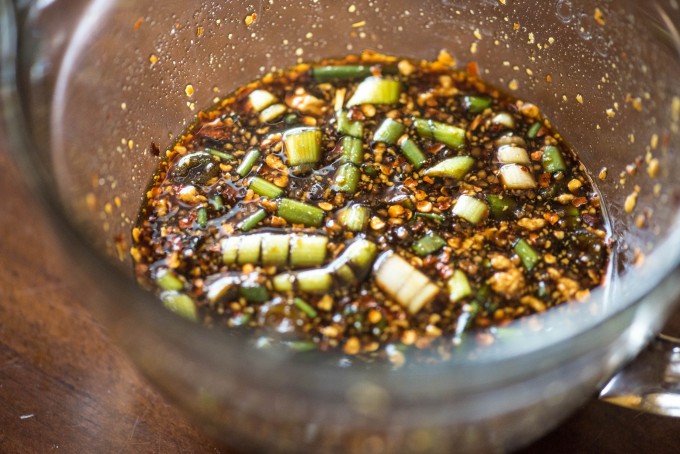 I exclusively buy the Member's Mark brand Angus Flank Steak at Sam's Club (and that's a true fact, I'm not just saying that). It's often significantly cheaper AND bigger AND better quality than what I see at the grocery stores around me. I paired it with a super simple side dish of roasted asparagus (also from Sam's Club) – just cut, put in a grill basket, drizzle with olive oil, garlic salt, and pepper. Maybe 30 seconds of prep, and it cooked right alongside my steak.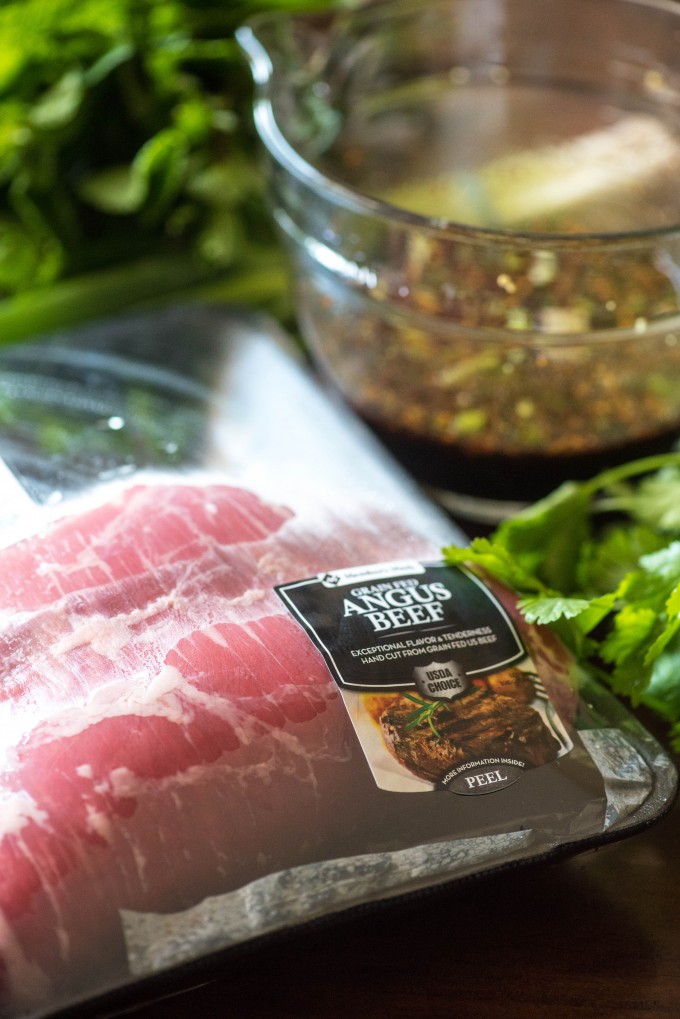 I drink tons of iced tea during the summer. There is just something unique about how cold it seems to taste, and how completely it quenches my thirst.
I used to make my own, but then I decided it was just easier to buy a really good bottled iced tea – easier to keep on hand, and I don't have to have a giant pitcher in my refrigerator anymore. Gold Peak® Tea is my favorite, so its great that Sam's Club carries the individual bottles in a big pack for us, to support our tea drinking habits.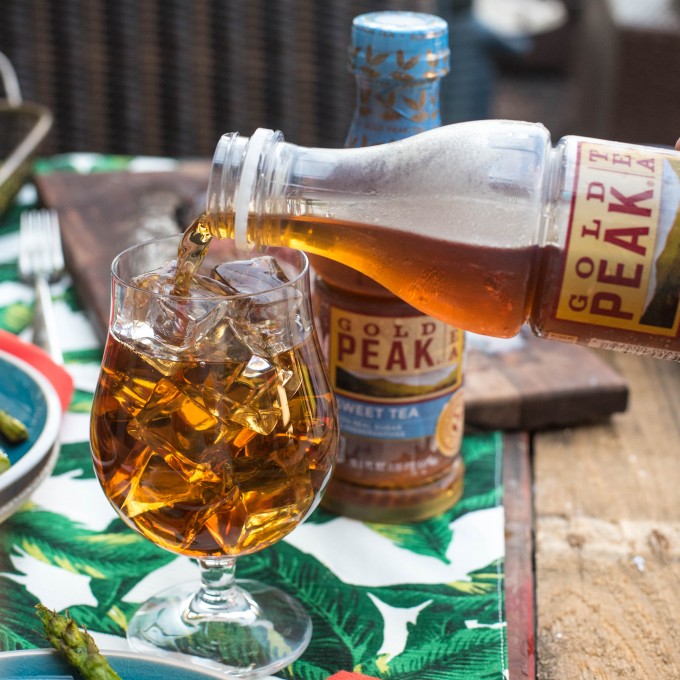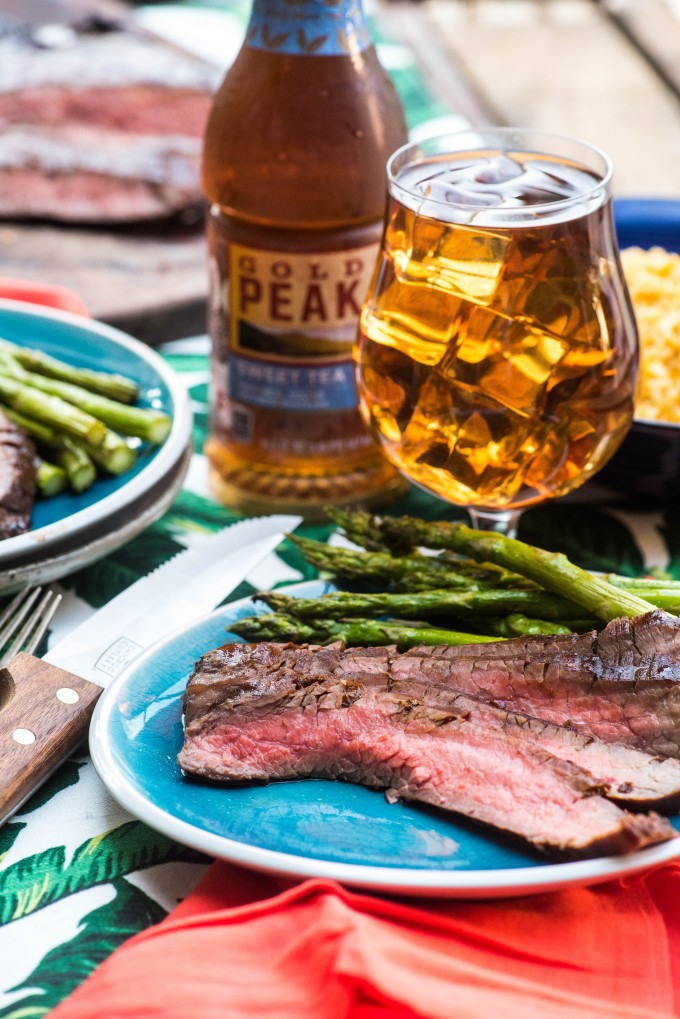 Tools needed to make this grilled steak recipe:
In order to make the marinade, you will need a large [easyazon_link identifier="B0002ITQHS" locale="US" tag="gogogogo03-20″]measuring cup[/easyazon_link].
I like to marinade my steaks in a [easyazon_link identifier="B01FXMDA2O" locale="US" tag="gogogogo03-20″]large Ziplock bag[/easyazon_link].
And last but not least, you will obviously need to have a grill! I love my [easyazon_link identifier="B07GL7PNPQ" locale="US" tag="gogogogo03-20″]Traeger grill[/easyazon_link] if you are in the market for a new one.
If you liked this flank steak recipe, check out these other grilled beef flank steak recipes:
Flank Steak
This Grilled Balsamic Marinated Flank Steak recipe is easy, tender and juicy with a sweet heat that's to die for. It's the best flank steak recipe ever!
Ingredients
1/4

cup

soy sauce

1/4

cup

balsamic vinegar

4

cloves

garlic

minced

1/2

cup

brown sugar

1

tablespoon

dijon mustard

1

teaspoon

red pepper flakes

1 3

lb

piece flank steak

2

green onions

light and dark green parts chopped
Instructions
In a large measuring cup or bowl, add vinegar, soy sauce, brown sugar, garlic, red pepper flakes, mustard and green onions. Stir to combine.

Pierce a flank steak all over with a fork. Place in a large gallon size Ziplock bag and pour in the marinade. Squeeze as much air as possible out of the bag and seal. Massage the marinade into the meat, then place in refrigerator for 6 hours or up to overnight.

Heat a grill over high heat. Add the steak to the grill and reduce grill temperature to medium and cook for approximately 5 minutes. Flip and cook until internal temperature reaches 145 F for medium rare. Remove from grill to cutting board, tent with foil, and allow to rest for at least 10 minutes.

Slice the steak on a double bias to achieve the most tender texture and serve immediately.
For more great summer entertaining tips, and to see how Sam's Club and Coca Cola can add some extra joy to your life this summer, check out this link. There, you'll even have the opportunity to enter their "100 Ways to Summer" sweepstakes.