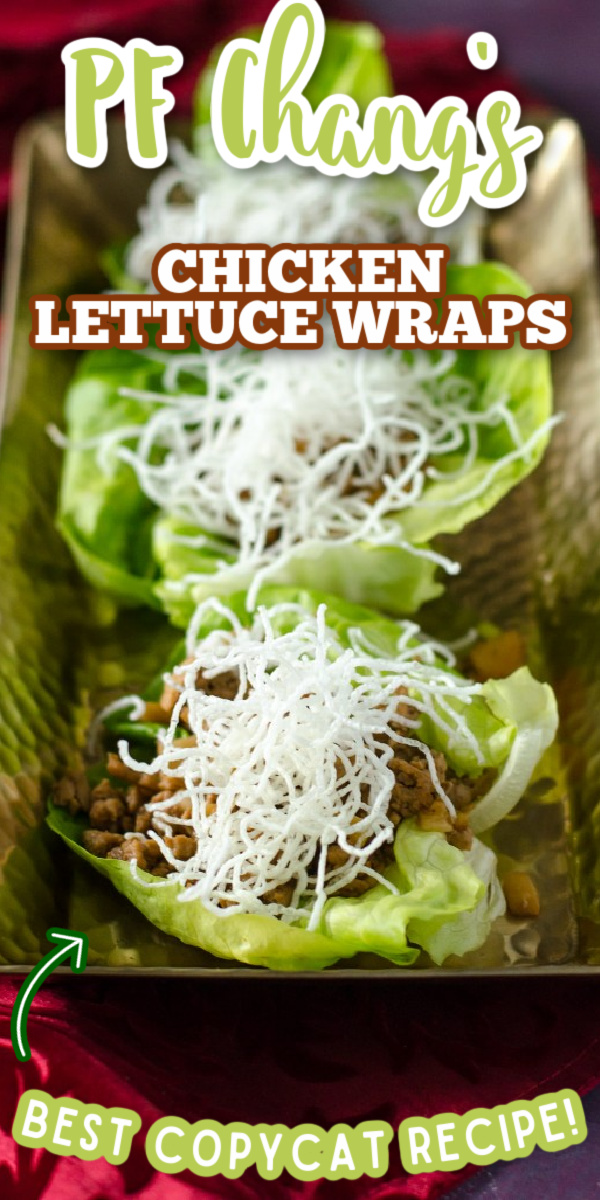 These Chicken Lettuce Wraps are the best PF Chang's copycat! They are so simple to make and are perfect for serving up as an appetizer!
These Chicken Lettuce Wraps are incredibly simple to make, surprisingly. You pretty much throw a bunch of stuff into a skillet and then pour sauce over and stir it in for a few minutes, before spooning it into lettuce and topping it with light-as-air crispy noodles.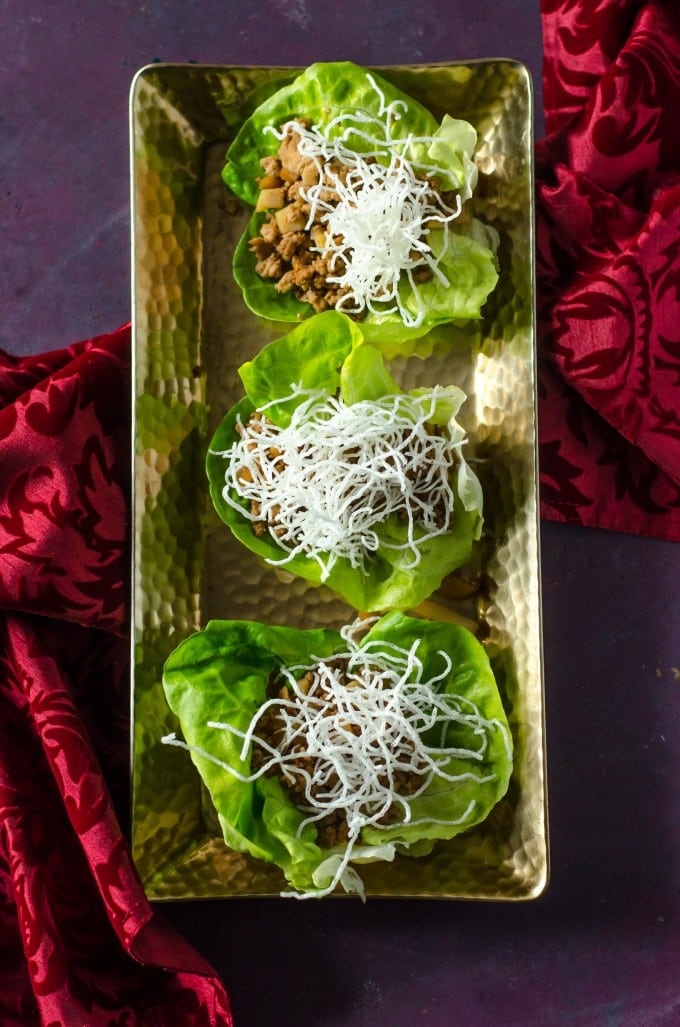 You may be surprised to know that I had never eaten at PF Changs until I was in my mid 20s. There wasn't one where I grew up, nor was there one where I went to college, so until I had lived in Northeast Ohio for a couple of years, I never even really had the opportunity.
David and I met for dinner there once after work and he ordered these chicken lettuce wraps as an appetizer for us. I obviously had never heard of these or seen these before, but one bite and I was hooked.
Now that we are back to not living by PF Changs – at least not within a 20 minute drive, which is about all the effort that I am willing to put forth these days, I am making them at home now. I've come up with a sauce recipe that I think is very similar to theirs, and even better, can pull out of my pantry at a moment's notice.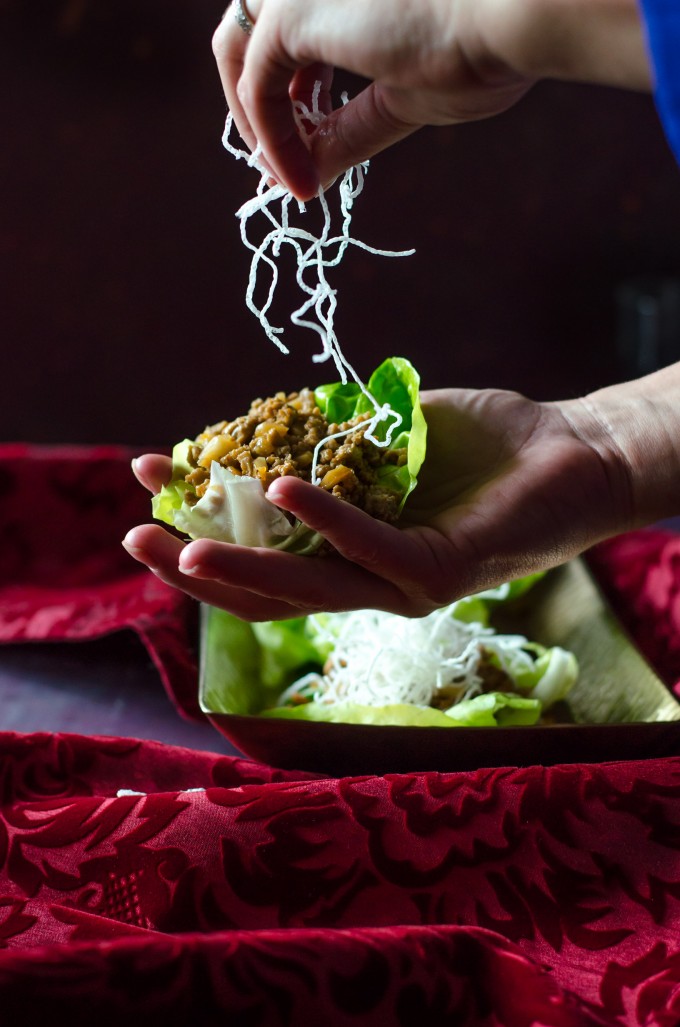 And let's actually move onto the crispy noodles on top. These are called Mei Fun. I would say that I have only the most rudimentary of knowledge regarding Asian food and ingredients, so I'll just tell you that they're called rice noodles on the package that I bought. I'm not sure how else you use them, but in this case they're fried, and they might be the coolest thing to fry ever.
Except funnel cakes. Funnel cakes are miraculous in their own right.
You heat up your vegetable oil and throw these in, there is a split-second of sizzling and then they all simultaneously absorb the oil and puff up in your pan. It's worth making the wraps just to watch it- Jonathan helped me make these and he thought it was the coolest part of the whole process.
It's important to use a good sturdy lettuce for these, so they can support the filling without imploding. I have used butter lettuce before, but the head I bought for this was super soft and the lettuce tore, making a huge mess while I was trying to eat. Iceberg is always sturdy.
I am also thinking that I may make these for my annual cocktail party in a few weeks and use endive. I think this would be fabulous for an hors d'ouerve of a cocktail party – you could definitely serve these cold and assemble everything ahead of time, which is pretty much the holy Grail of party hors d'oeuvres. Funny anecdote for you – I really wanted to get the shot of sprinkling the noodles on top. Usually with my action shots, I am still able to hold the shutter down while I do it, like wine pouring syrup. This was different because it required both hands. It required me teaching Jonathan how to take a continuous series of photos, which he was excited about the first time, but none of the consecutive for other times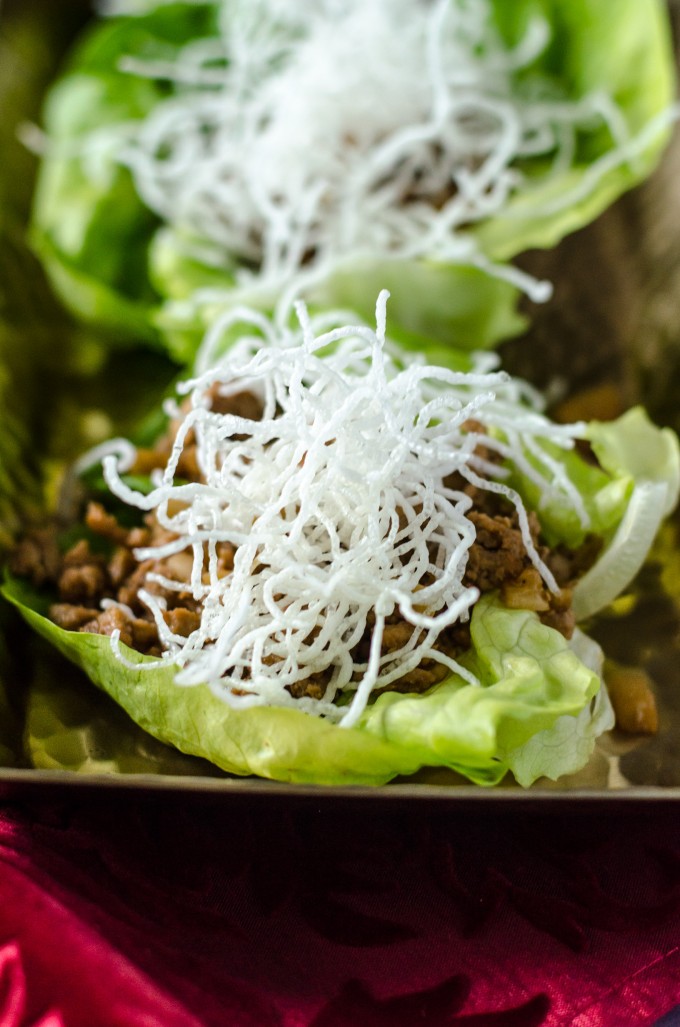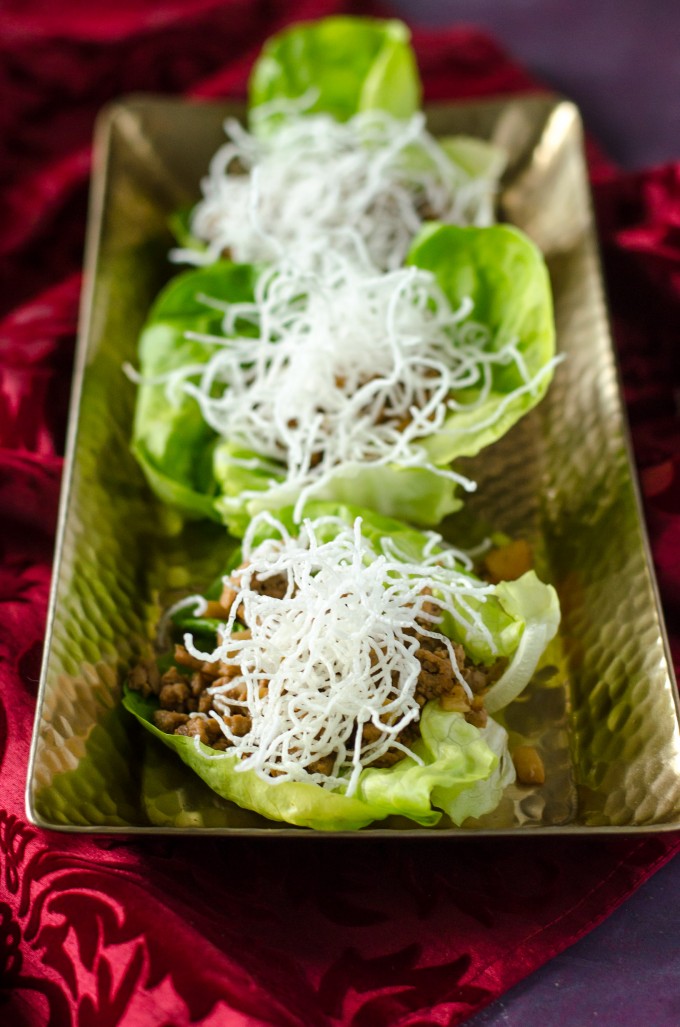 What you'll need for this recipe:
Skillet- I recommend using a skillet for sautéing to get even cooking. You can grab this [easyazon_link identifier="B00006JSUA" locale="US" tag="gogogogo03-20″]Skillet[/easyazon_link] to use for this recipe and future ones!
Small Mixing bowl- These bowls are perfect for mixing up any recipe and even come in three different sizes. Get your [easyazon_link identifier="B00LGLHUA0″ locale="US" tag="gogogogo03-20″]3-Piece Glass Mixing Bowl Set[/easyazon_link] here.
Saucepan- This saucepan is perfect for frying your rice noodles! You can get yourself a [easyazon_link identifier="B00008CM69″ locale="US" tag="gogogogo03-20″]Stainless Saucepan[/easyazon_link] here!
If you enjoyed this Chicken Lettuce Wraps recipe, be sure you check out these:
Slow Cooker Shredded Chicken Taco Cups
Stir Fry Chicken Lettuce Wraps (PF Chang's Copycat)
Ingredients
1

pound

ground chicken

4

cloves

garlic

minced

1 8

oz

can water chestnuts

chopped

4

oz

oyster mushrooms

chopped

2

scallions

chopped

1/4

cup

soy sauce

2

T

oyster sauce

1

T

mirin

1

T

rice wine vinegar

1/2

tsp

sambal olek chili-garlic paste

1

package mei fun rice noodles

vegetable oil

for frying

Butter lettuce

or iceberg for serving
Instructions
In a nonstick skillet over medium heat, brown the chicken. Add the mushrooms, garlic, and water chestnuts and saute for 3-4 minutes.

In a small bowl, stir together the scallions, soy sauce, oyster sauce, mirin, rice wine vinegar and chili garlic paste. Pour over the skillet mixture and stir until absorbed.

Heat a saucepan of vegetable oil to a depth of 1" to a temperature of 350F. Coarsely chop or break apart the rice noodles and working in batches, add to hot oil. After the rice noodles have puffed up and absorbed the oil, flip them over for 10-15 seconds. Remove to a paper-towel lined plate.

Spoon the chicken filling into a lettuce cup and top with rice noodles. Serve immediately.