This creamed spinach recipe is perfect as an appetizer or side dish. It is quick and easy to make in only fifteen minutes!
Is anyone else just super tired? My to do list is really getting the best of me. I'm writing this on a Wednesday and am looking at my weekly list- it is not shrinking at a quick rate, much to my chagrin.

There has just been so much going on in the past few weeks- finishing up the book, churning out 3 videos a week, keeping up with Michael, who now is just a standing, crawling machine and is into EVERYTHING and trying to balance that with one-on-one time with Jonathan and trying to keep our home from becoming a hovel.
I suddenly realized that I had almost no upcoming scheduled content. I had some posts that I had shot and developed, but I just couldn't make myself sit down and write.
So here we are. Let's talk about creamed spinach, shall we?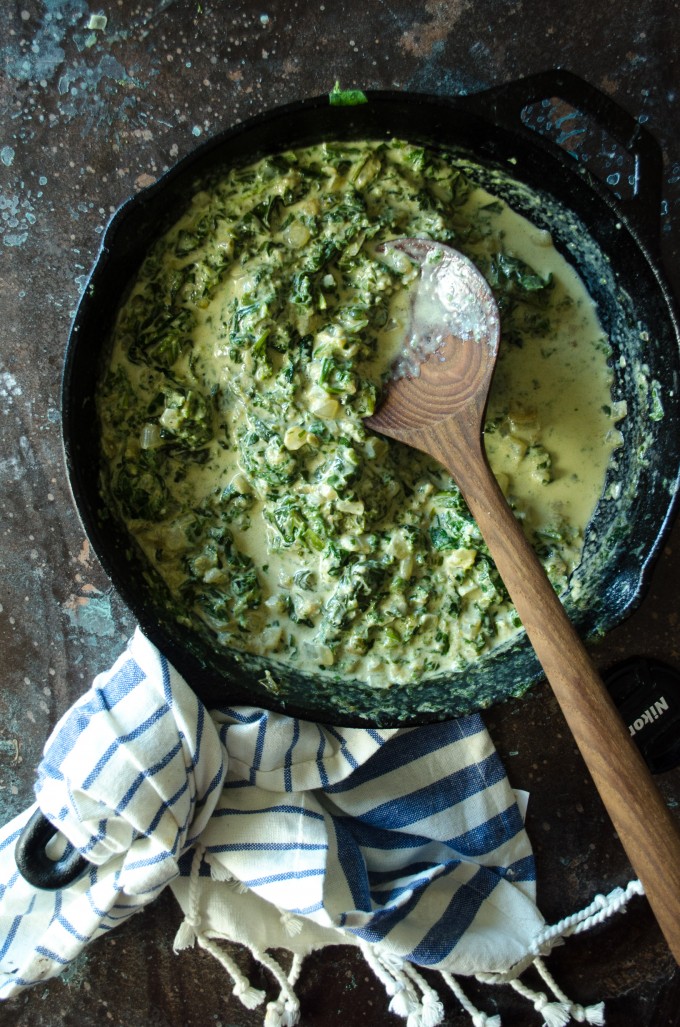 There are only a few things that I always order if they're on the menu somewhere, and creamed spinach is one of them. It is just the best, but I'd never really tried making it at home. Luckily, it's super easy to do, requires only a few basic ingredients, and is ready in less than fifteen minutes.
I can't decide whether this is a good thing or a bad thing.
A really, really, really bad thing.
But such a good thing.

Creamed Spinach
Ingredients
2

bunches spinach

washed, stems removed, chopped

2/3

cup

chopped onion

2

cloves

garlic

minced

1

cup

cream

3/4

cup

grated parmesan
Instructions
In a wide skillet over medium heat, melt the butter. Add the onion and saute until translucent.

Add garlic and saute for 3-4 minutes; add spinach, and use tongs to cook until wilted.

Pour the cream over and sprinkle the cheese in. Mix until combined, simmer until thickened and creamy.

If desired, use an immersion blender to smooth out the mixture a bit more.