This post was sponsored by Mode and ConAgra Foods; however, all opinions are mine alone. #ad #HomemadeDelicious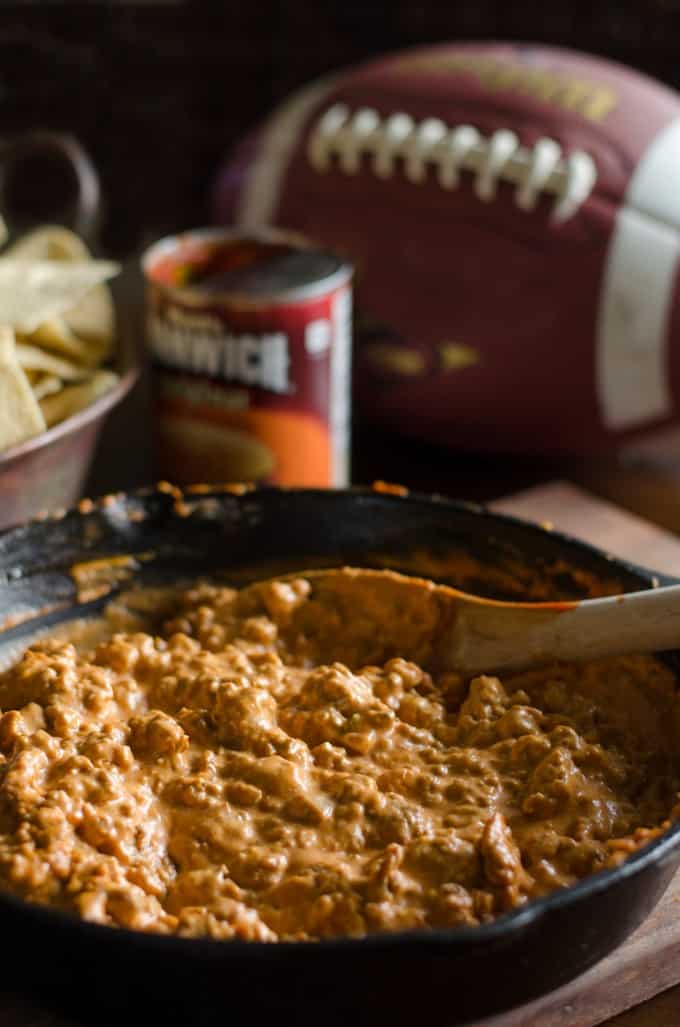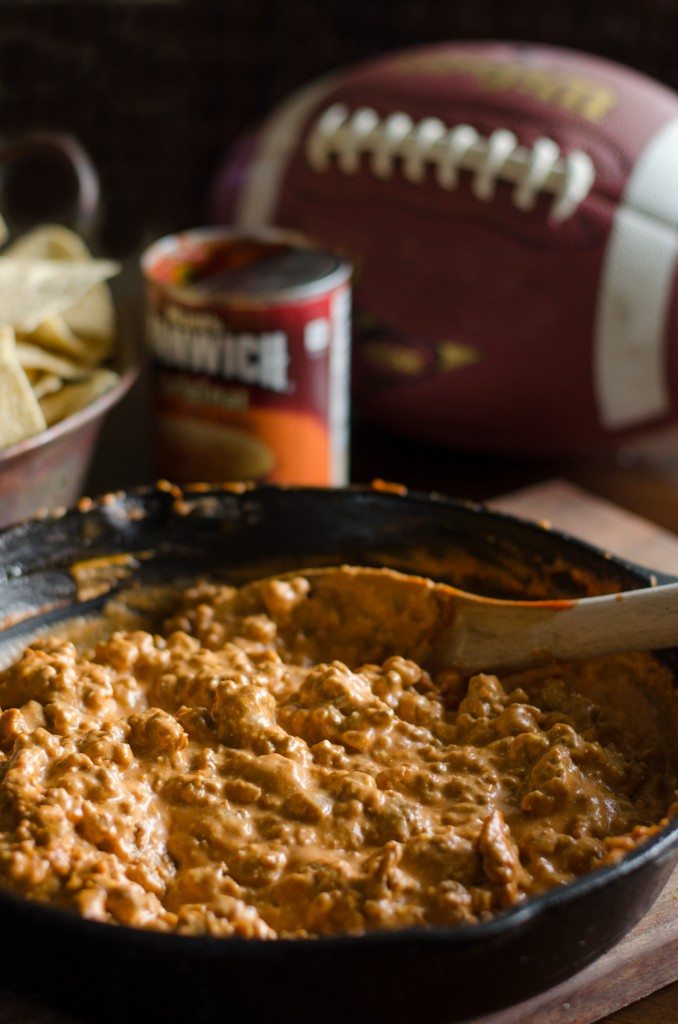 Do you know what tonight is? Do you? DO YOU?
It's the start of football season.
I guess officially football season really started with the kickoff of college football over this past weekend. No one is happier about this than my husband, who might as well be singing and skipping around the house. I've never met anyone that loves football as much as he does- he will watch ANY game, no matter if he has any strong feelings or affiliation, even if its two unranked teams that I've never heard of. This typically takes place in our living room- so from Thursday night to Monday night, September to February, football is the center soundtrack to our lives.
At least he keeps the volume low.
Personally, I'm just in it for the food. I love to tailgate and I love the food that typically goes along with it. Back when Dave and I first started dating, I would go all out for Football Sundays. There would typically be 3 rounds of snacks- one for 1 PM kickoff, one for 4 PM kickoff, and then maybe something for the night game, if we weren't already in a food coma. Wings, potato skins, mozzarella sticks, bloomin' onions- I love it all, and I would make it, every week. No wonder everyone always wanted to come watch at our house!
I definitely don't do that anymore. I don't have the energy OR the metabolism to do that every week.
But I do like to, occasionally, still do a little "homegating," if you will. Have a few friends over, eat some delicious "football food," and watch the game (whatever one it may be). I made this dip over the weekend and it was a massive hit!
I don't know about all of you, but I love Sloppy Joes. My mom always made them with Manwich, and they were always sloppy and tangy and flavorful and delicious- I loved them as a kid and I still love them as an adult- it's a quick and easy dinner. As I was, in fact, eating one for dinner over the weekend, I thought that Sloppy Joes are about a half-step away from being a chip dip. The next day, I came up with this 5-ingredient, under-15-minute chip dip.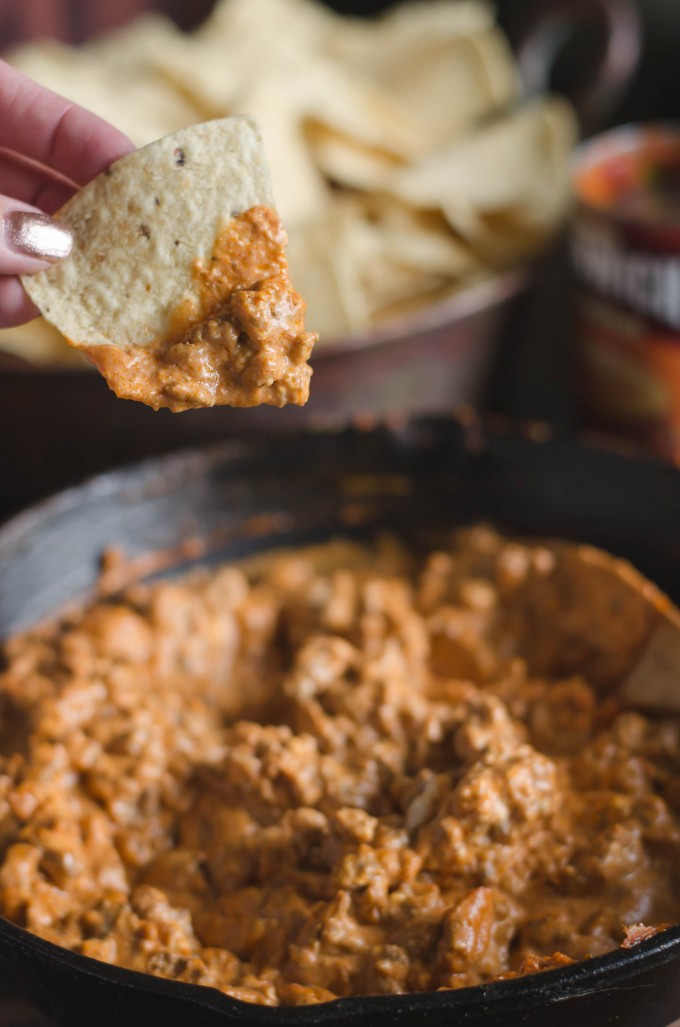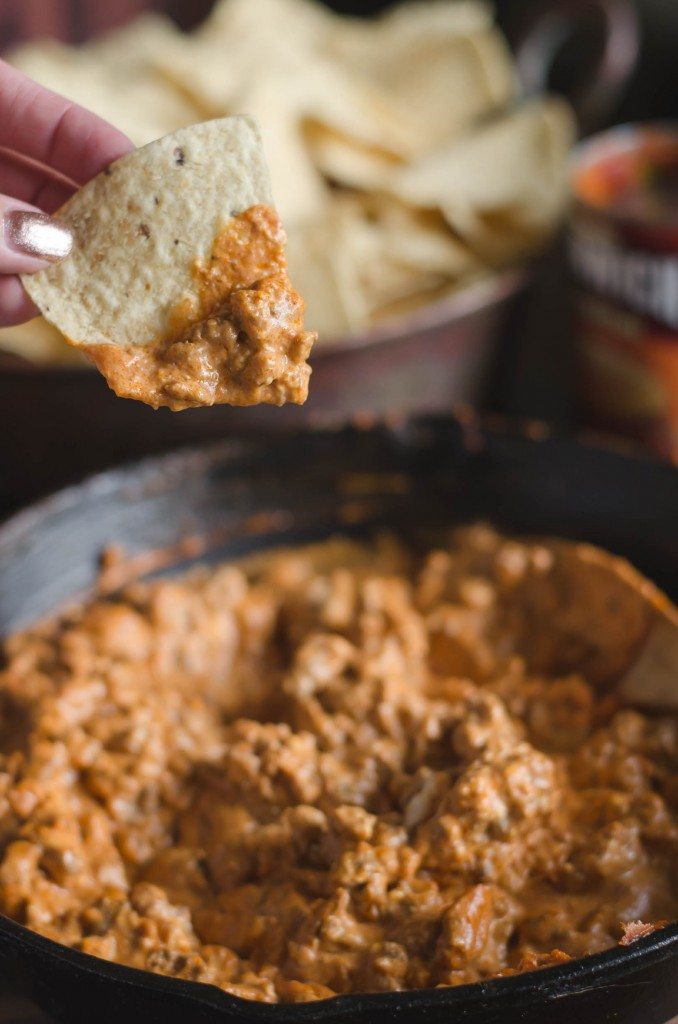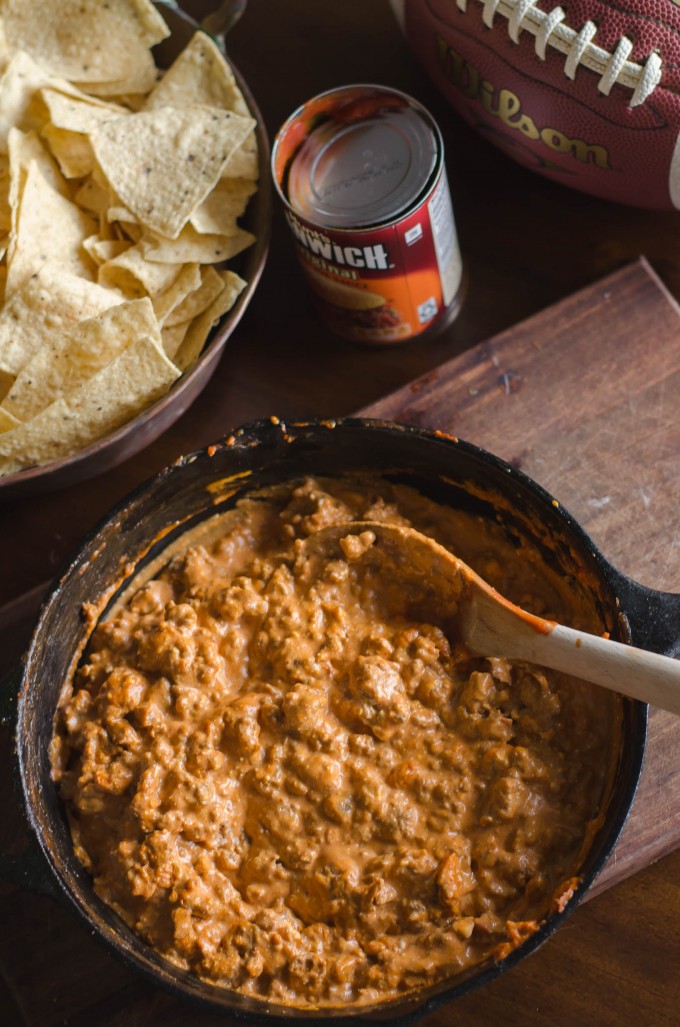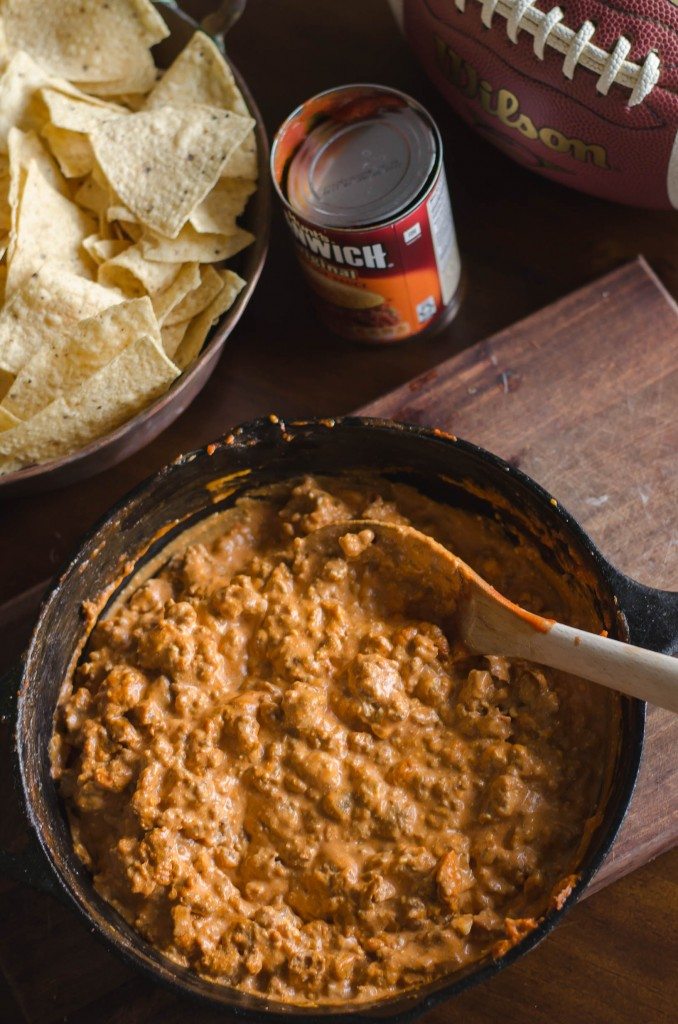 This slideshow requires JavaScript.
Spicy Sloppy Joe Dip
Ingredients
1

T

olive oil

1

medium onion

chopped (about 1 cup)

1/2

lb

spicy sausage or chorizo

1/2

lb

ground chuck

1

can Manwich

8

oz

cream cheese

cut into cubes
Instructions
Heat olive oil in a skillet. Add the onion and cook until the onion is translucent.

Add the sausage and ground beef to the pan, break into small pieces using a wooden spoon and brown. Drain the fat and return to the burner.

Pour in the can of Manwich and the cream cheese. Stir until the cheese has melted and the mixture is thoroughly combined.

Serve with tortilla chips.