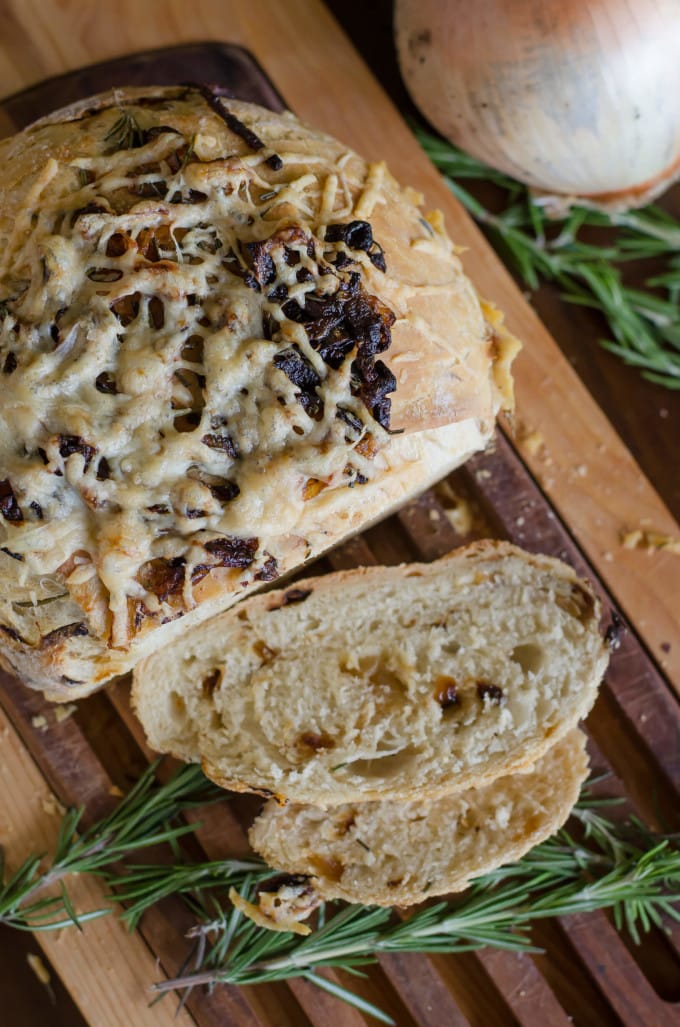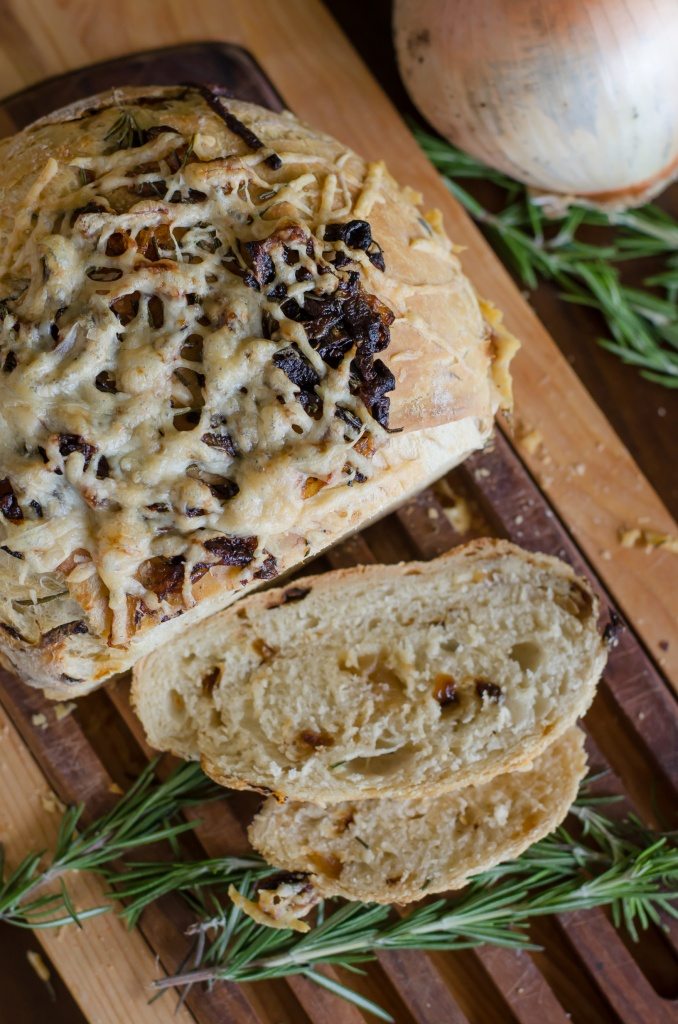 True story- I have been super in the mood for bread baking lately. I haven't done it in quite awhile- in fact, I think the last time I did was for my cheddar jalepeno bread.
As much as I love the concept behind no knead bread, sometimes I just don't have there wherewithal to get it mixed up early enough. The mornings tend to be a little… well, we'll just say "chaotic." Nap time- AKA Mom's 90 minute sanity restoration period- is usually when I go "Oh crap! I didn't do [insert thing I meant to do four hours ago].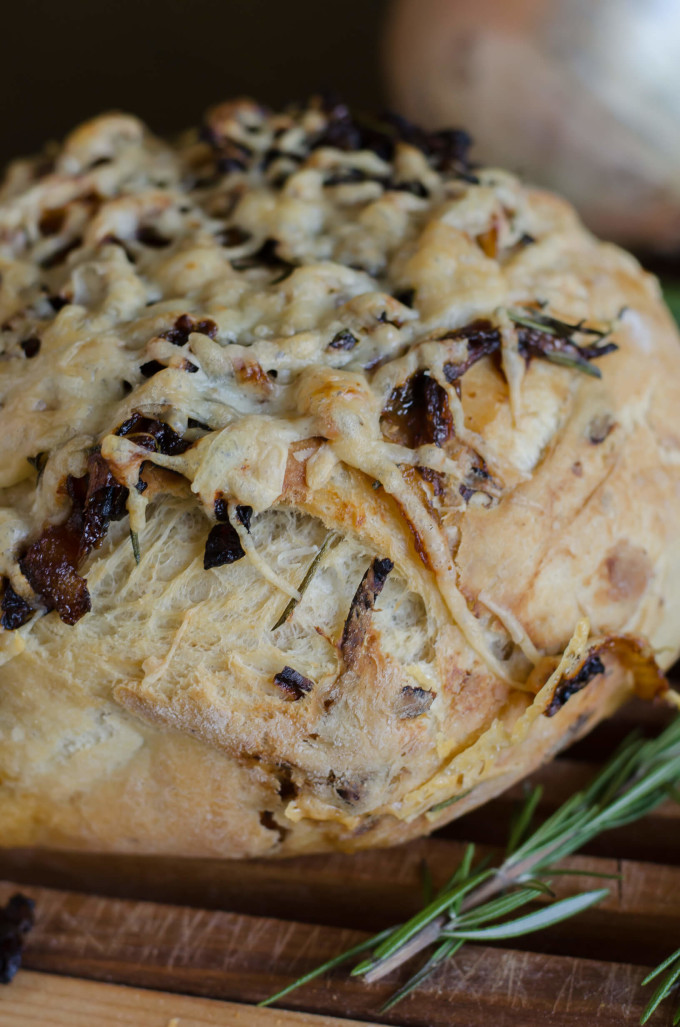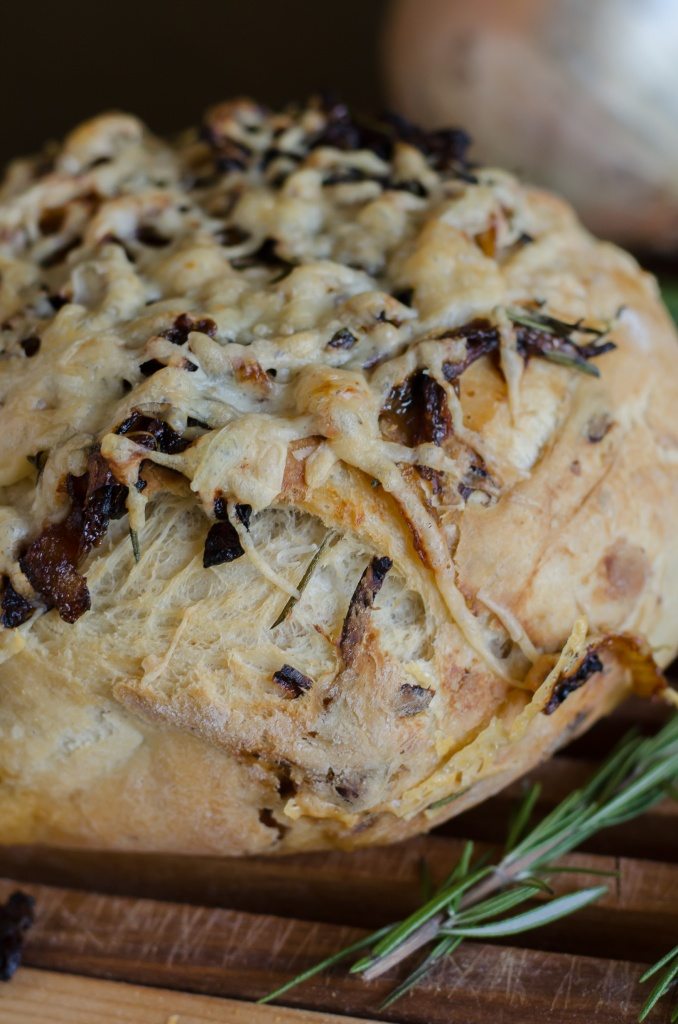 Thats why I really like one of my favorite cook books, Artisan Bread in Five Minutes A Day. The whole book is chock full of great bread ideas, and is based on the principle that bread dough can be mixed up ahead of time, kept in the fridge, and baked whenever you want it, this is basically how I discovered the amazing brioche buns!
I've adapted their recipe for olive oil bread into a version that works well more as a traditional bread technique- no chilling required, and very little kneading! I have never minded kneading bread, it can be a great, soothing way to work out the day's frustrations! I still follow the no-knead method of baking it in a heavy lidded pot or dutch oven- in my opinion, it gives it a really nice crispy crust and lets the bread rise higher than it does on just a baking sheet.
The flavor in this bread- its to die for! Jonathan, in typical fashion, grabbed a piece in the middle of shooting (you saw this if you follow on Instagram), then wandered off with it. About 10 seconds later, I heard "Mmmm! Yummy!"
So you know there's at least ONE enthusiastic stamp of approval on this. And the way your house will smell? Nothing short of heavenly.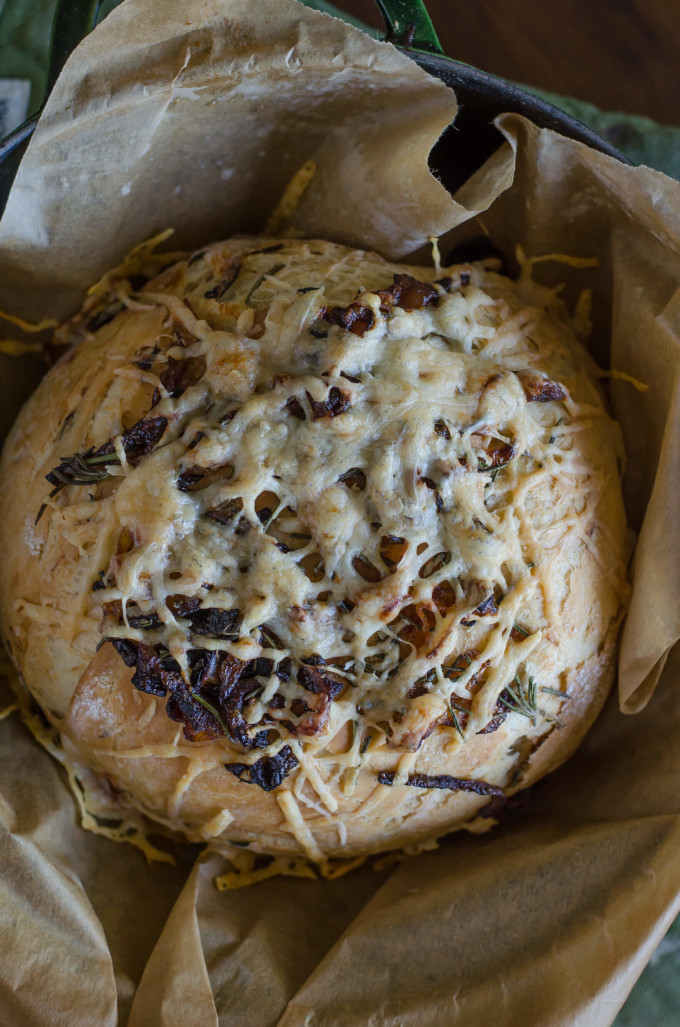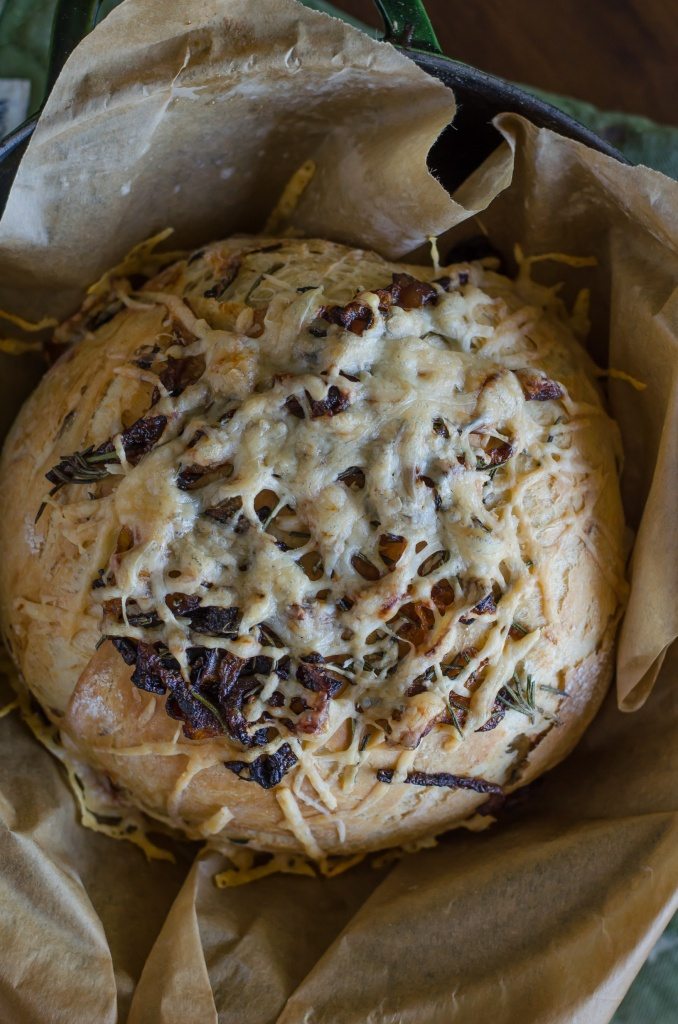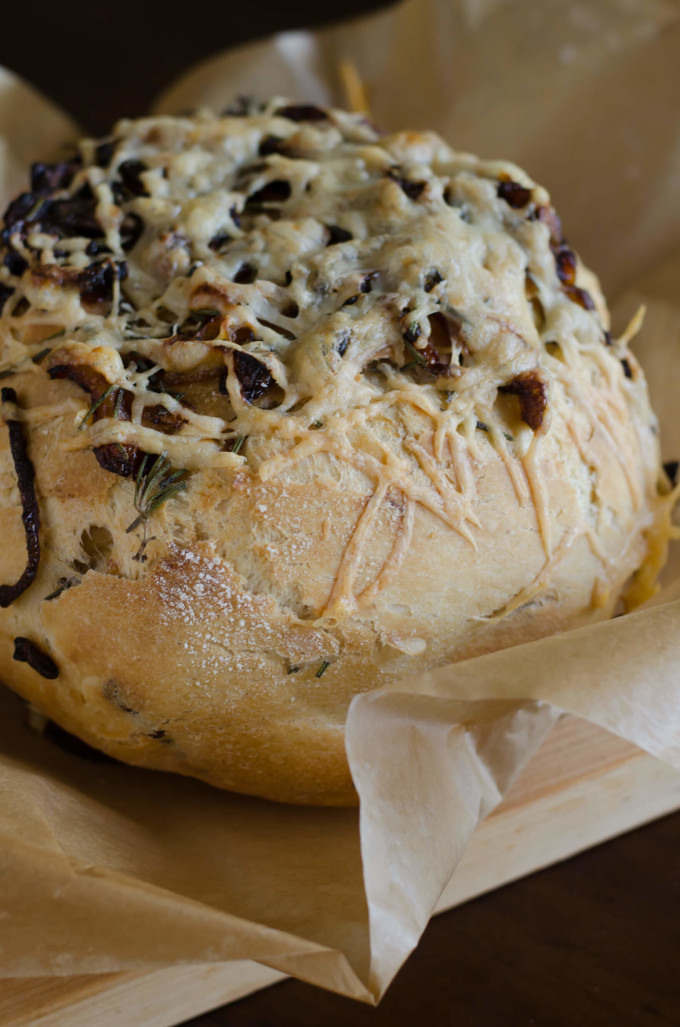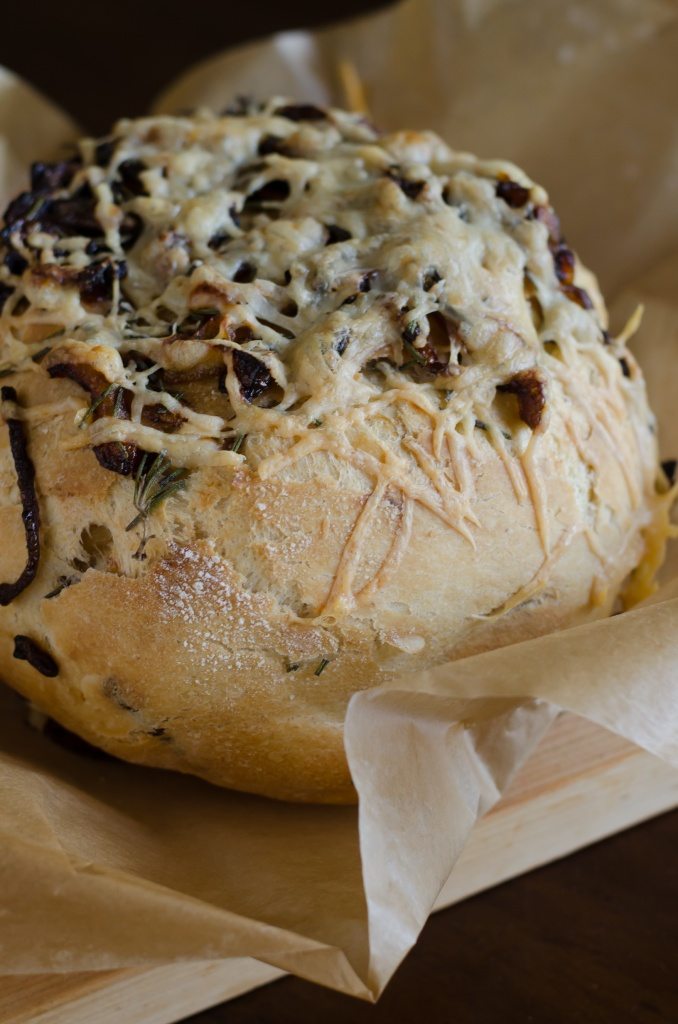 Rosemary and Caramelized Onion Olive Oil Bread
Ingredients
1

onion

thinly sliced

2

T

butter

3 1/2

cups

flour

1 1/3

cup

lukewarm water

1/4

cup

olive oil

1

package yeast

1

T

kosher salt

1 1/2

tsp

sugar

2

T

chopped fresh rosemary

1/2

cup

shredded parmesan
Instructions
In the bowl of a stand mixer, add the water, olive oil, yeast, sugar, and salt. Give it a quick stir and then add in 3 cups of your flour. Mix in.

In a medium skillet, melt the butter over medium heat. Add the onions and a sprinkle of salt to the skillet. Slowly saute the onions until golden brown and caramelized. Set aside.

Add in half of the onions and 2/3 of the chopped rosemary to the dough mixture. Switch to the dough hook attachment and run your mixer until the dough is no longer sticky and forms a ball. Add the remaining flour, a bit at a time, until this is achieved.

Spray a bowl with nonstick cooking spray (or coat with oil) and turn out dough. Cover with a towel and place in a warm place. Let rise for 2 hours, until the dough has doubled in size.

Heat your oven to 450F. Allow a dutch oven to preheat in the hot oven for 30 minutes.

Punch down the dough and flour a surface. Knead the dough for a few rotations and form it back into a ball. Place on a piece of parchment paper.

Transfer the paper and dough to the preheated dutch oven, cover. Bake for 25 minutes.

Top the bread with the remaining onions and rosemary; sprinkle cheese over top. Bake for an additional ten minutes, until the cheese is melted and browned. Remove from the oven and allow to cool for 10 minutes