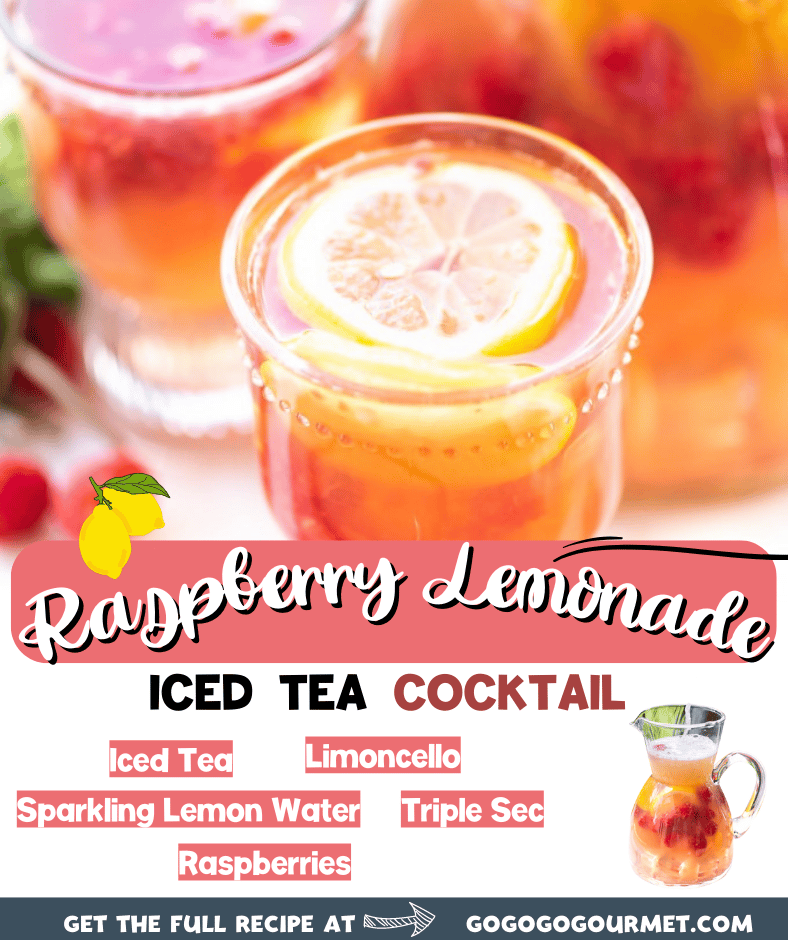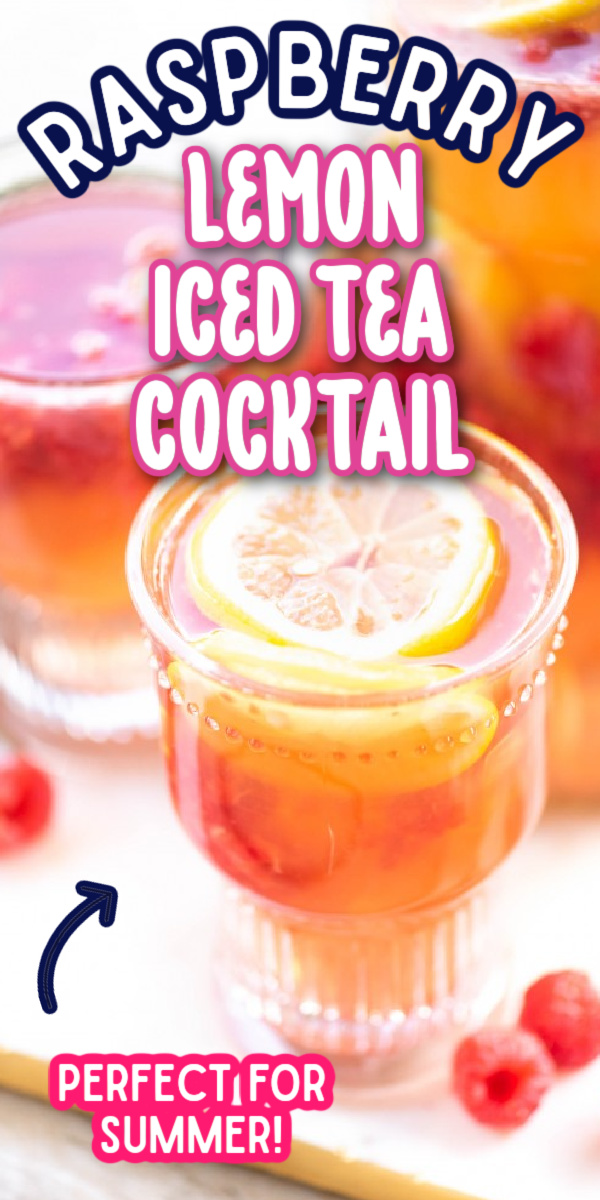 Having people over? You can't beat this Raspberry Lemon Iced Tea Cocktail- ideal for mixing up in a big pitcher for a crowd!
This post is sponsored by Milo's Tea Company. As always, all commentary and opinions are my own.
The warmth has crept in, the flowers are blooming, the birds are wiping out my bird feeder faster than I can fill it- "sprummer" is here!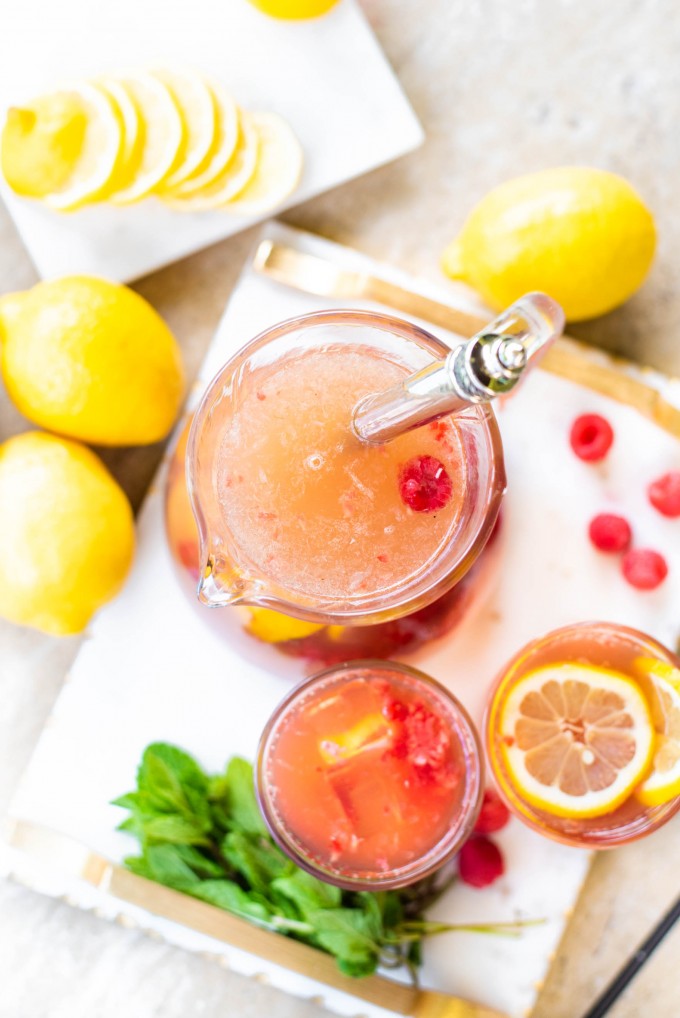 Jac, Sprummer isn't a real thing.
Oh yes it is, you Nelly Naysayer- it's a glorious time of year when you know the snow is gone and not reappearing for probably at least 6 months, it's warm but not too hot, and everyone is generally happy. Halfway through spring, but feels like early summer.
Sprummer. I stand by it.
My iced tea consumption goes up considerably once the weather turns, and I am always excited to find new ways to use it. My husband and I come from two different "tea camps," if you will. He is a sweet tea lover, while I can drink an obscene amount of unsweet tea. I'd never tried to use it in a cocktail before, but I thought- why couldn't you?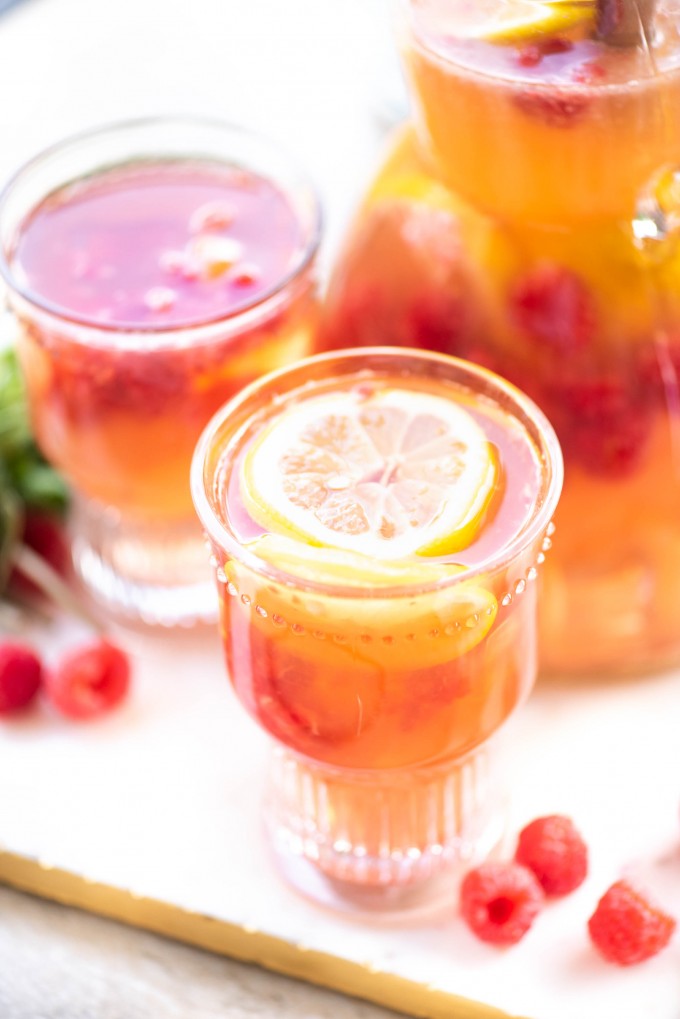 Since we moved to Cincinnati, there always seems to be people at our house, which is just fine by me. I love being surrounded by people, always have. And there's no better way to make cocktails for a whole group of people than a fantastic pitcher drink.
I used Milo's Famous Tea and combined it with limoncello, sparkling lemon water, raspberries and triple sec. The best part? It works great with either the Milo's sweet or unsweet tea, depending on your sweetness preferences! Its light and refreshing, with a bright sweetness that tastes fantastic sipped on your deck on a warm day.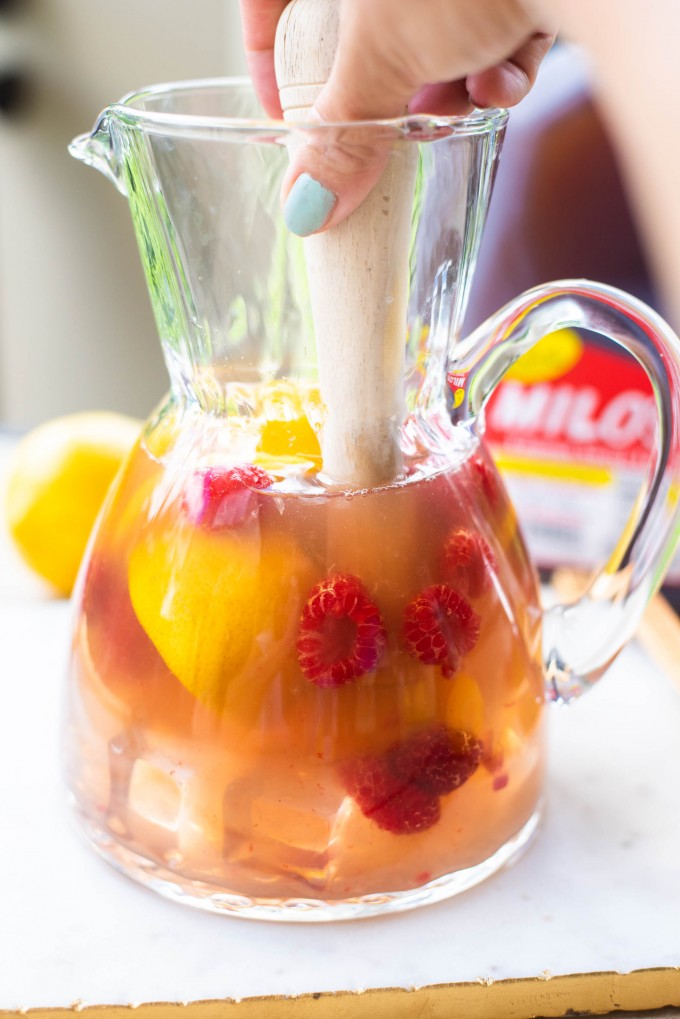 I love the taste of Milo's tea- it's exactly what iced tea should taste like. Brewed from real tea leaves, all natural, no preservatives and only ingredients I can pronounce, which are always the products I like best. Milo'sTea is available in sweetened with pure cane sugar, no calorie sweetened with sucralose, or unsweet.The sweet tea is made with pure cane sugar, and their no-calorie sweet tea is make with Sucralose. It's not hard to see why this award-winning tea is the most popular brand in the Southeast US!
Find Milo's in the refrigerated juice section of your local supermarket, visit the product locator on their website to find a retailer near you.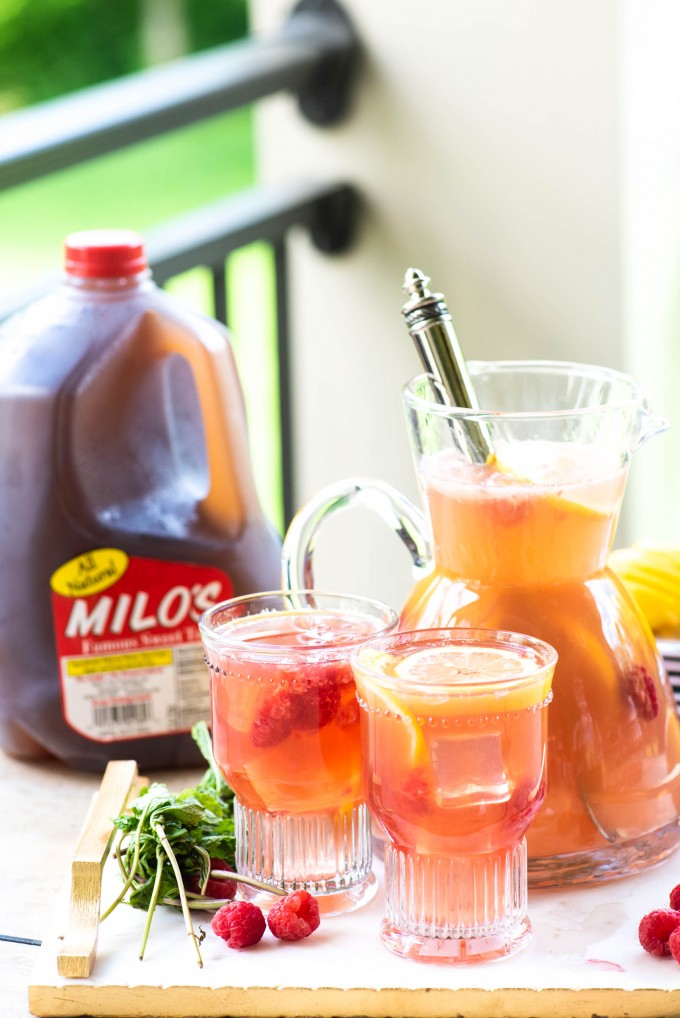 Substitution possibilities:
If you'd like to make this into a mocktail, you can easily do so by eliminating the limoncello and triple sec and substituting that volume with Milo's Lemonade.
If you don't have limoncello on hand, you can substitute lemon vodka. This will also make the drink less sweet, so you may want to end up adding some additional lemonade.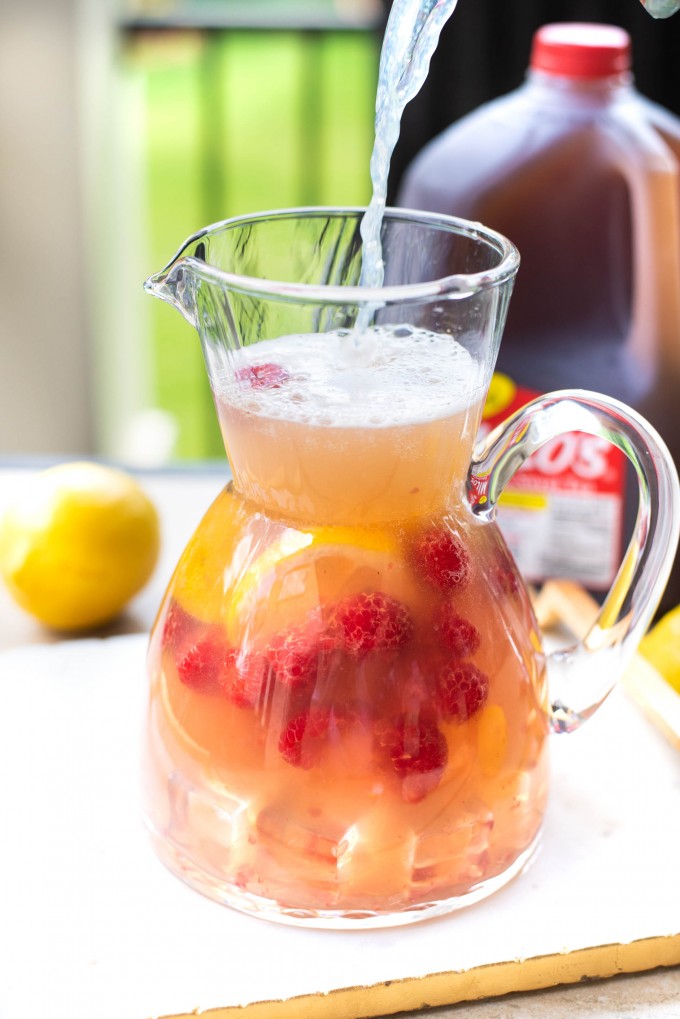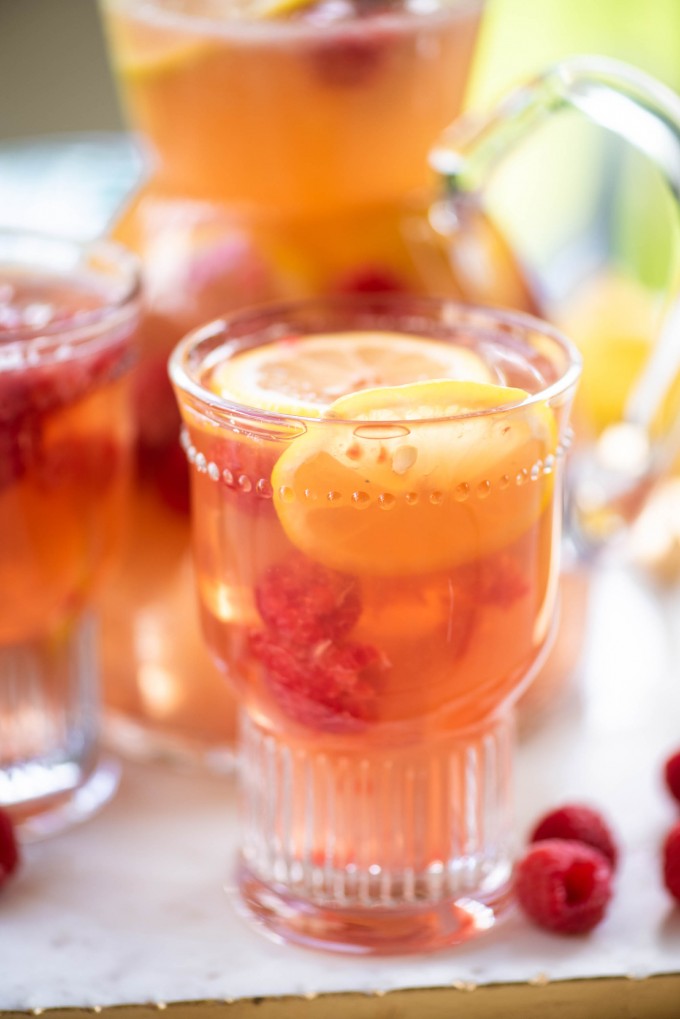 Raspberry Lemon Iced Tea Cocktail
Ingredients
2

parts Milo's iced tea

sweetened or unsweet, depending on preference

1

part sparkling lemon water

1

part limoncello

1

part triple sec

fresh raspberries
Instructions
Add fresh raspberries to a pitcher or glass (4-5 for a glass, 1 cup for a pitcher). Lightly mash, then top with ice.

Pour iced tea, limoncello, and triple sec over ice and stir. Top with sparkling lemon water and give a couple quick stirs (don't over stir and lose your carbonation!)

Sip and enjoy.