This Prosciutto Peach Caprese Salad is the perfect dish for summer- chock full of grilled peaches, ripe tomatoes, tons of summer basil, fresh mozzarella and salty prosciutto.
This is a sponsored post written by me on behalf of Riondo Prosecco. All opinions are 100% mine.
Well, we're here! I am writing this from the deck of our "new" house up in Cincinnati!
Please remind me at some point to never move across the country with a four year old and one year old ever again. If I tell you later on that it really wasn't that stressful, I give you absolute full permission to slap me across the face and remind me that it took me 7 hours to drive from the Smoky Mountains to Cincinnati when it should have taken me five.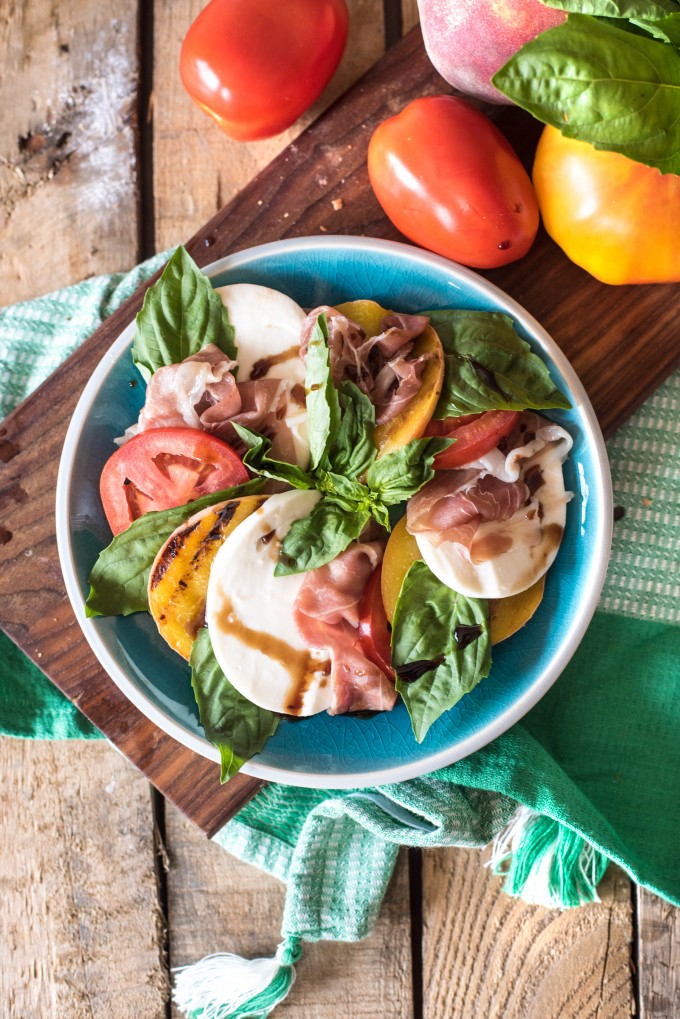 I didn't know there could be so much fussing around and complaining over nothing! And complaining just sounds so much louder when it's in the confined space of a car.
But everything is lovely now. I forgot how glorious the Midwest is in the summer – mid 80's, sunny, gentle rains that are predictable, not sweating profusely as soon as you step out the door due to the oppressive heat engulfing every fiber of your being. I mean, it's nice.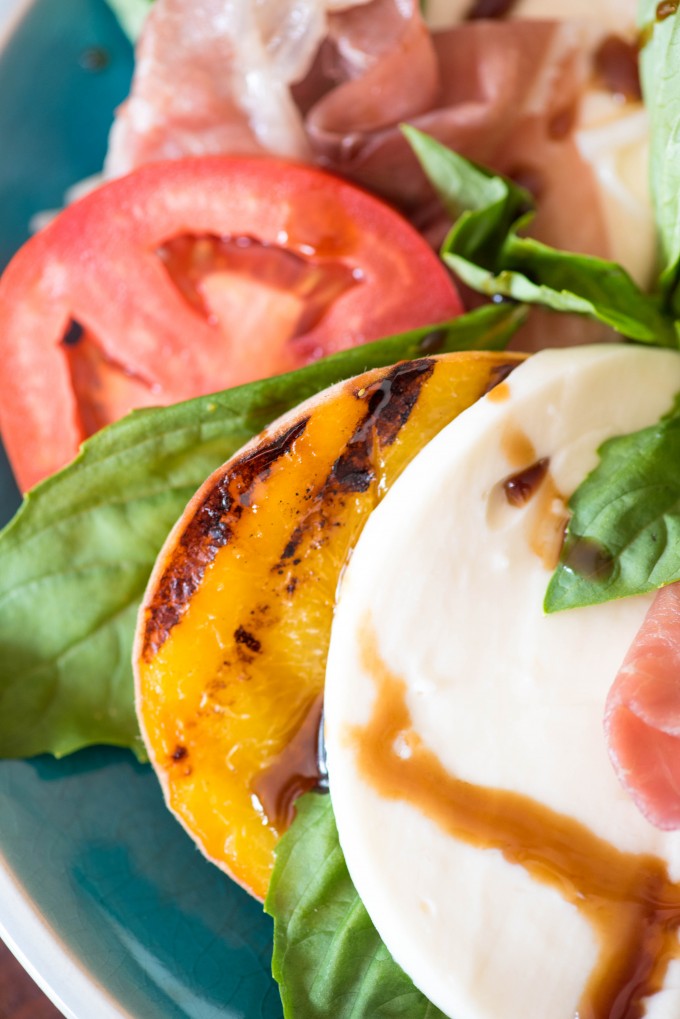 And I know that everyone is saying, "yeah, well let's hear what you have to say come February!" And that's fine. You're probably right. But that's a problem for six months from now, not today.
Today, I'm just going to sit out on my deck overlooking the hills of Cincinnati and bask in the warm sunshine with a cold, refreshing, bubbly glass of Prosecco, and the most refreshing salad for summer ever made.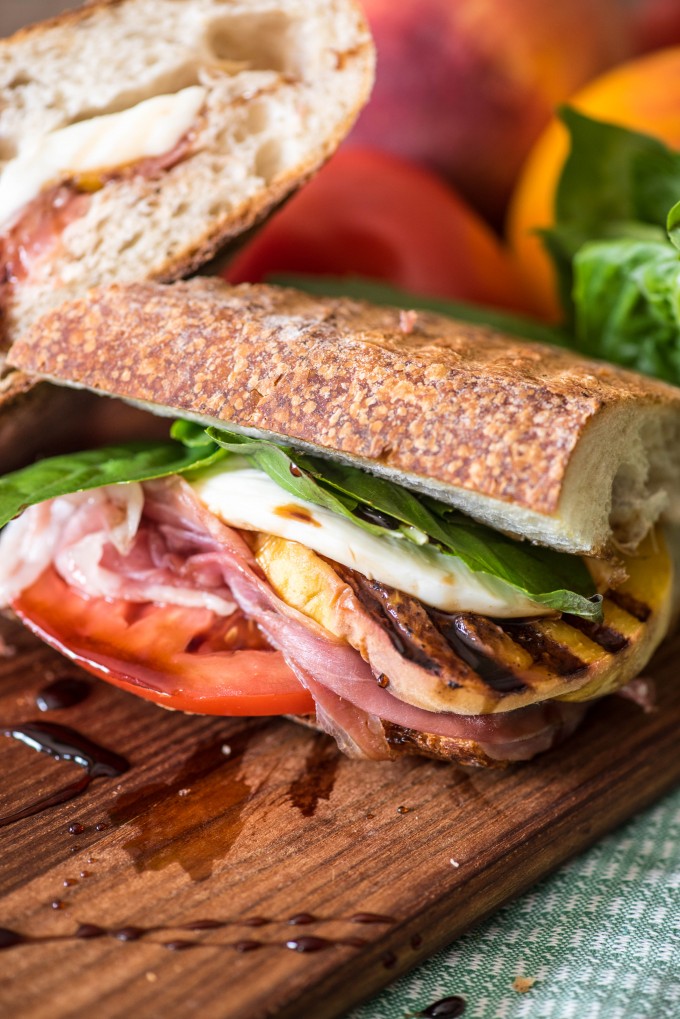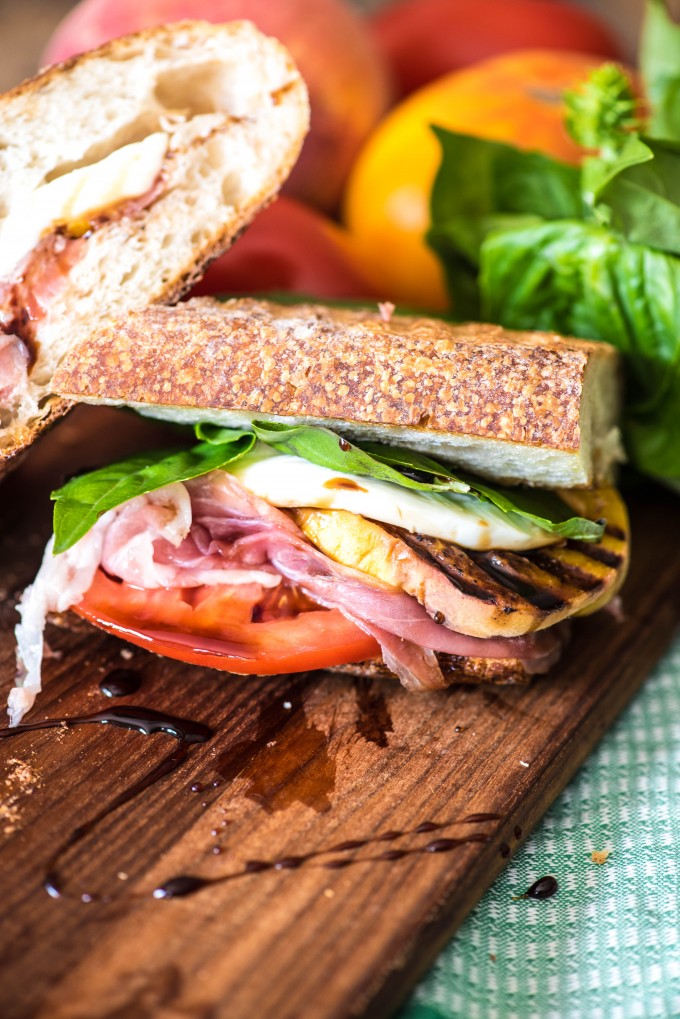 One of the first things that we did after we moved here was mosey on over to Jungle Jim's, a grocery store that can pretty much only be described as the biggest, most behemoth and complete grocery store in the United States. Maybe even the world. They literally have everything that you could want – even huge tanks of live fish, so you know your catch is truly "Catch of the Day."
But the day that we went happened to be the day that I fell in love all over again with really good prosciutto, and once I ran into the most beautiful looking baguette ever and some fresh mozzarella, I knew just what I wanted to make.
I picked up some perfectly ripe tomatoes and peaches at a farmer's market the next day (yeah, totally forgot how much I missed those too!), came home and made this perfect re-introduction to Midwest summer.
If you've never grilled peaches before, you're in for a treat. These Bacon Wrapped Grilled Peaches are a fairly popular recipe here over the summer, and for good reason. Not only does the grill caramelize the natural sugars in peaches, but the heat subtly changes the texture to make them much softer.
This recipe is incredibly fast and easy. I ended up making it again for David's father and stepmom over the weekend and they both loved it! It works awesome as a sandwich (the first way that I had it) or as a standalone salad (the second way I ate it). It was the perfect thing to have with a glass of one of my other great loves, Prosecco.
I have always been a lover of "the bubbly." I just feel so fancy pants when I drink it. I love the taste, I love the fizz of it, I love the how refreshing it is. I've been particularly delighted with how Prosecco has taken off in popularity in the past few years- it just seems so accessible. Even though it's similar to Champagne in that it's named for the specific grape and region of Italy where it comes from, it has an "everyday" reputation due to its price point. Riondo Prosecco is light, crisp, with just a hint of fruity sweetness, while still maintaining the dryness I love, and it's one of my go-tos, whether its for a dinner on the deck, a picnic with friends, or toting along to a family barbecue.
The two together were the perfect way to add a little everyday, easy Italian into my summer nights- a welcome laid-back experience from the last few, hectic weeks!
If you're like me and always looking to add a few new cocktails to your repertoire, check out this great compilation of Riondo Prosecco Cocktails here!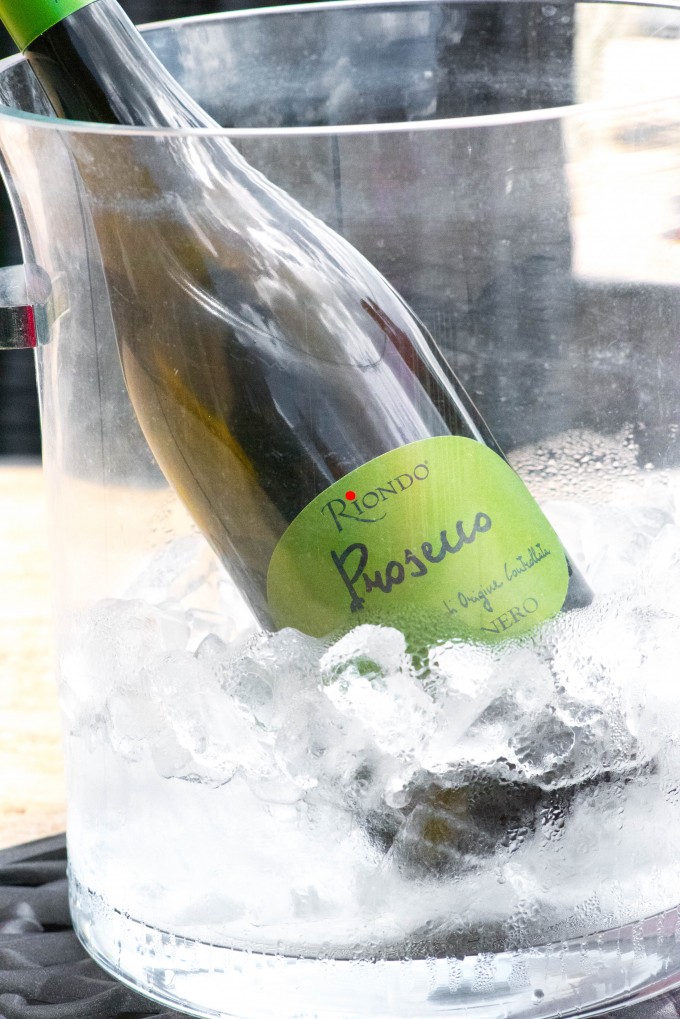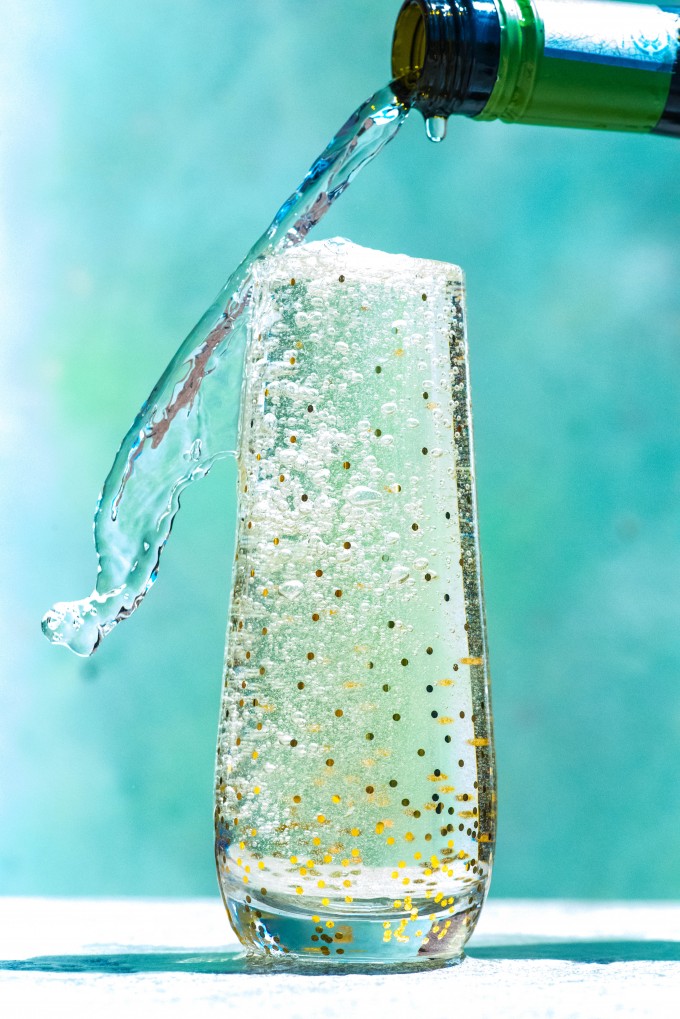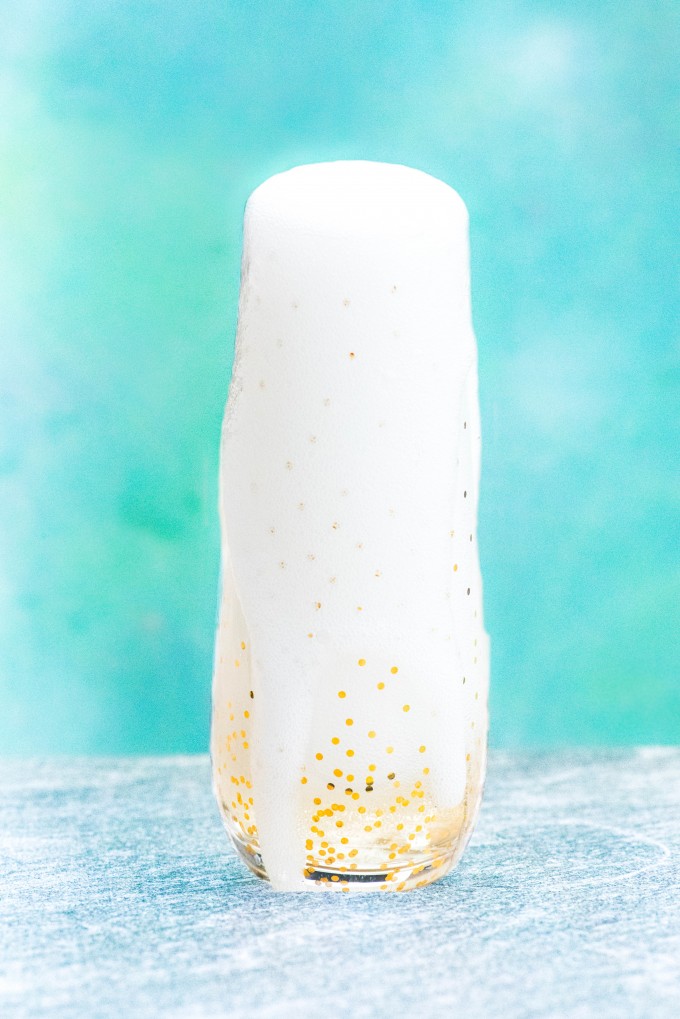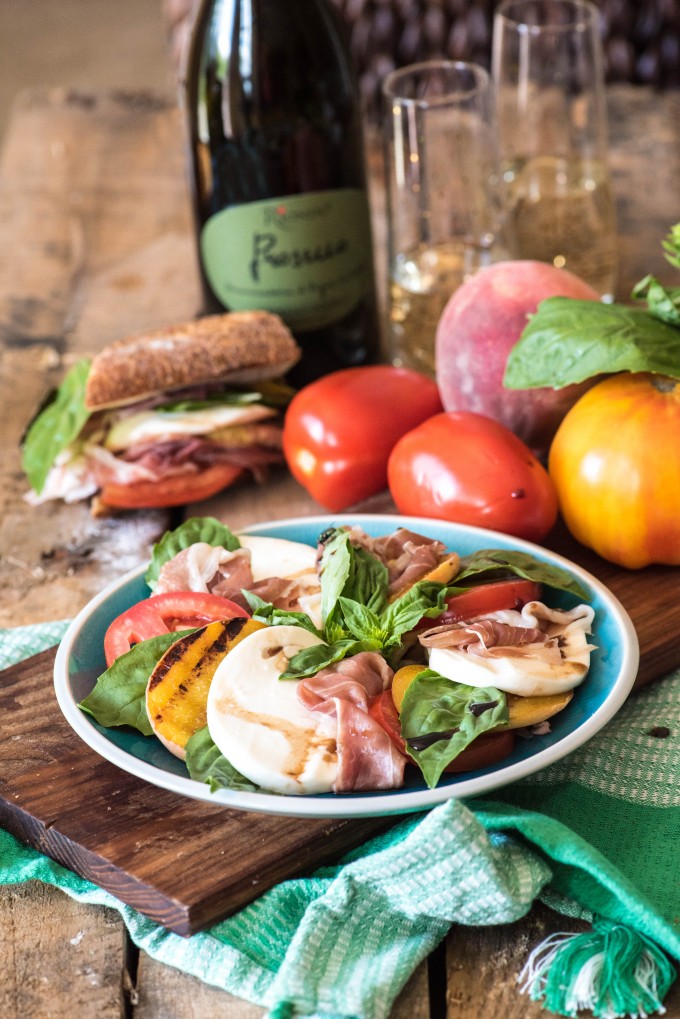 Prosciutto Peach Caprese Sandwich
Ingredients
1

peach

cut into 1/4" slices

1

roma tomato

cut into 1/4" slices

1

ball fresh mozzarella

cut into 1/4" slices

Balsamic reduction

for drizzling

6

thin slices prosciutto

6-8

large basil leaves

thinly sliced
Instructions
Heat a grill on high heat. Lay the slices of peaches on the grill and grill for 2-3 minute per side, until grill marks form. Flip and repeat on the other side until the peaches are slightly soft.

Layer the peaches on a plate, alternating the cheese, tomatoes, peaches and prosciutto slices. Sprinkle with basil and drizzle with balsamic reduction.
Notes
This salad works great as a sandwich as well! Drizzle your bread with olive oil and throw it on the grill or in a panini press.
For an alternate salad presentation, consider cutting your ingredients into chunks for a more rustic, natural look.