These EASY Pepperoni Pinwheels are party perfect! Everything you love about pizza wrapped up into a delicious bite sized snack!
The appetizer crusade continues on….
When it comes to appetizers, I consider frozen puff pastry to be my biggest asset- it's just so versatile! I've shown you before how you can quickly wrap brie to end up with a show-stopper. Well, today I'm giving you another use for it- these pinwheels are so fast, so straightforward that they pretty much epitomize everything that this website is about- showing that fast and simple doesn't mean ugly and tasteless.
Side note: I do not know what my problem is today- cannot focus for the life of me. I have checked Facebook like 12 times in the past 30 minutes. Checked email. Made a new playlist in iTunes. Checked submissions on Foodgawker. Enabled "Distraction-Free Writing Mode." Distraction free mode is not working. Texted mom. Checked baby monitor. Picked at my nails and am thinking how badly they need to filed.
I might as well just bang my head on the keyboard, I'd probably get done faster.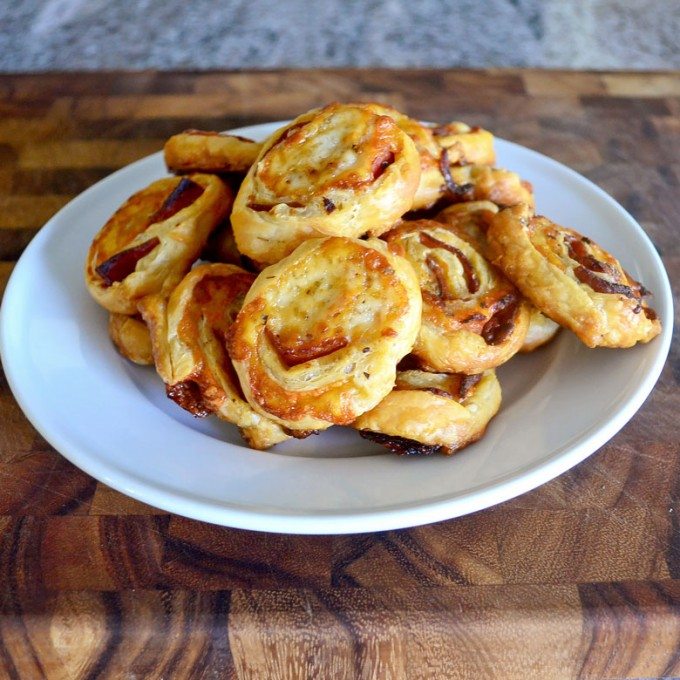 Pepperoni Pinwheel Variations
Anyway. I'm going to try and get through this today. It always amazes me how so many other bloggers always seem to manage to put together a post that is well-written, poignant, and lengthy. I just rarely feel like I have a lot to say, other than, "Hey here's a great recipe. You can probably manage to pull this off even though you're dead tired."
Pinwheels are great, always a hit at whatever get-together I make them for. They are so versatile that you can really do a lot of experimenting and end up with something pretty good. Although this combination uses pepperoni and cheese, I have done proscuitto and Asiago cheese, pesto with sun-dried tomato, and spinach and cheese. There are never leftovers.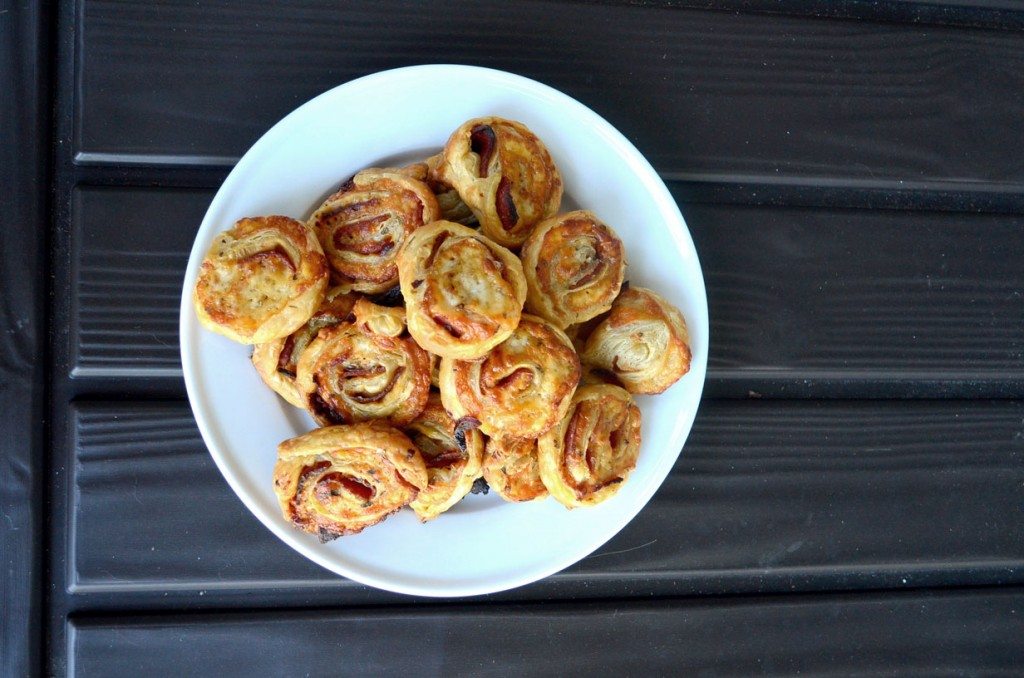 How to Make Pepperoni Pinwheels
You are going to be pleasantly surprised at how easy these are to make! Simply start by unfolding and rolling out your puff pastry until it's smooth. Next lay out the pepperoni in a single layer on top of the puff pastry. Make sure to leave a border that's about 1 1/2 inches all the way around.
Top the pepperoni with the cheese, and then the Italian seasoning. Make sure to keep the border clear, and then brush the border with a beaten egg.
Then starting with the long side, start rolling up the puff pastry. Once all the way rolled, be sure to press along the seam to lock in all of that goodness!
I like to put the whole roll in the freezer for about 10 minutes after rolling. It helps make it a little easier when you go to cut the pinwheel slices. This part is optional, but if you're in a hurry it isn't necessary.
Next, just start slicing the roll into 1/2 inch slices. Place them 1 inch apart on a greased cookie sheet. Bake them for about 20-22 minutes or until the pinwheels are nice and golden brown. And that's it! Pepperoni Pinwheels are easy to throw together for parties or even as a fun dinner option.
More Pizza Inspired Dishes:
Pepperoni Pinwheels
Ingredients
1

sheet Pepperidge Farm puff pastry

halfway thawed

approximately 1/4 lb sliced pepperoni

1/2

bag shredded pizza-blend cheese

1

egg

beaten

1

tsp

italian seasoning
Instructions
Preheat oven to 350F.

Unfold the sheet of pastry dough and smooth it out with a rolling pin.

Place the pepperoni in a single layer on top of the sheet, leaving 1 1/2" border along the long edges.; press slightly to adhere.

Top with cheese and italian seasoning, again leaving a 1/2" border along the long sides. Brush the border with beaten egg.

Starting with the long side, roll up. Press along the edge to seal. Place in freezer for 10 minutes (optional, to aid in cutting).

Spray a cookie sheet with nonstick spray. Slice the pinwheel log into 1/2" slices, and place 1" apart on a cookie sheet.

Bake for 20-22 minutes, until pinwheels are puffed and golden. Serve warm.
Monday: Now let's all congratulate me on finally getting through this, a scant 30 hours after I started it. Cripes.