Note: this post contains affiliate links, but I sourced out all the best options for you that I could find.
In the very recent past, I made the monumental decision to reorganize the pantry. This was not born out of a need to be organized, or because it had gotten completely out of control (both are true), but because I was so angry that I had found yet another thing that I re-bought at the grocery store, thinking I was out of it.
Enough is enough, I thought.
Also, Dave was threatening to do it himself, so you KNOW it had to be pretty out of control in there. Dave reorganized it himself a few months back, but can never seem to understand why it always ends up just like this, a total disheveled mess where absolutely nothing can be found quickly.
This time, the main culprit is Jonathan, who loves to play in the pantry. He loves to stack the jars, carefully balancing one teetering container on top of another until the whole thing comes crashing down.
This is why the glass bottles and jars can't be located on the bottom two shelves anymore.
Don't get me wrong, I have my fair share of culpability here as well, but it mainly centers around my desire to be DONE CLEANING UP THE KITCHEN. Or, "JONATHAN I AM ALMOST DONE UNLOADING GROCERIES, JUST HANG ON FOR 30 SECONDS AND I WILL MAKE YOU LUNCH."
However it got to the point it did, it was a mess. Just see: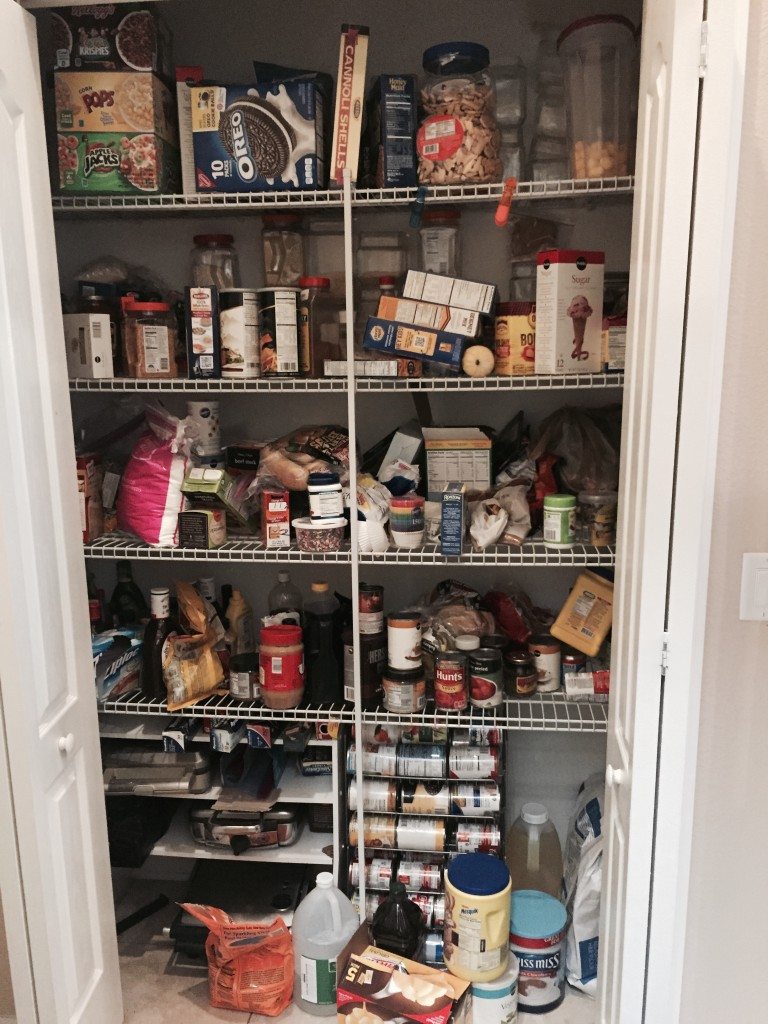 No rhyme or reason anywhere. Totally out of control and ridiculous
I pulled everything- EVERYTHING- out. Notable discoveries included:
an empty jar of peanut butter
the coconut that I was looking for a month ago
4 unopened packaged of plain panko, which I kept thinking I was out of
Easter candy
a sticky brown unknown asian sauce that had dripped all over several other containers
several "odd" ingredients that I clearly bought for specific recipes and then never made (what could I have been planning with almond paste? Plum chutney?)
3 identical boxes of graham crackers
along with a myriad of other things that I can't even remember.
Here is the after:
You'll notice that the picture does not look like it belongs on The Kitchn or Houzz or something. That's because this is a REAL pantry, with REAL people that live here. And we like having food in there. I love these before and after pictures that I see out there- I always think, "well of course it looks clean and organized! There's literally NOTHING in there!"
I digress.
Here are the three main things that I used to get this done:
1. Large baskets, to contain each pantry item "category"
2. Stackable jars, to get rid of bags and assorted container size/shapes
3. Turntables/Lazy Susans.
Look! I even did the online product sourcing for you, if you're like me and live for Amazon and online shopping.
1. The large baskets were a new addition to the pantry storage system, and so far I'm in love with them. I am three weeks out from this project, and it is still organized just the way it was that day. I think the baskets are a huge part of that. One of the biggest problems that I ran into time and time again (especially in my baking stuff!) were the small things, the oddly shaped things, the things that couldn't stack- baking chocolate bars, muffin tin liners, food coloring boxes. These things all consistently fell through the wire shelving in the pantry; leading me to find it somewhere random/on the floor or assume that I was out of it. I have five boxes of food coloring right now. Enough said. If you think you need more storage, you might need to buy shipping containers or other possible options.
There are currently four baskets- one for baking, one for pasta, one for cooking ingredients that don't fit elsewhere (I don't like having a "miscellaneous" basket) and one for snacks foods.
The baking basket keeps all of that "stuff" contained- muffins liners, tubes of almond paste, baking soda, baking powder, coconut, etc.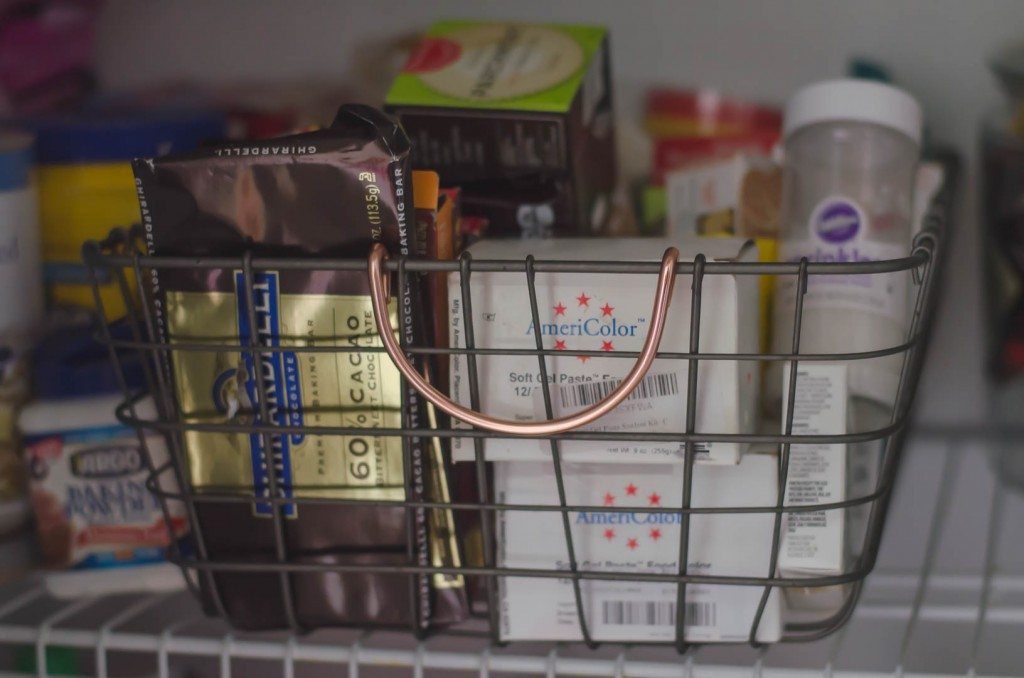 I really didn't realize how many different bags and boxes of pasta I had, but there were a lot. Most of them stacked fine, but I was still running into a "shuffling" issue. Putting them all in a basket allows me to slide the basket out, see the tops of the boxes, find what I'm looking for, and then slide it back in. No muss, no fuss.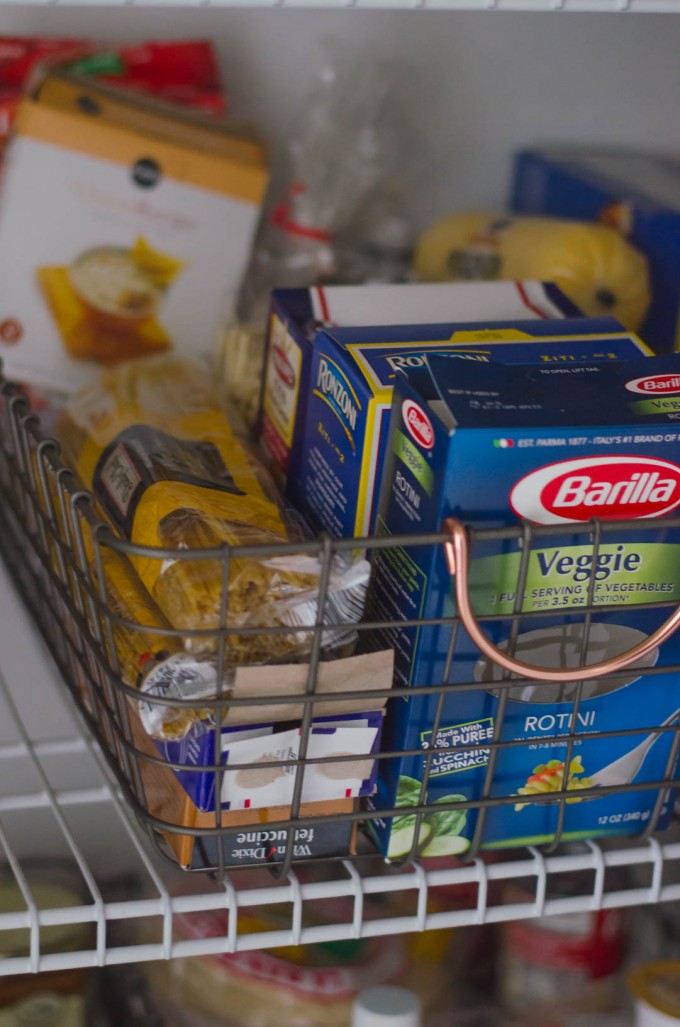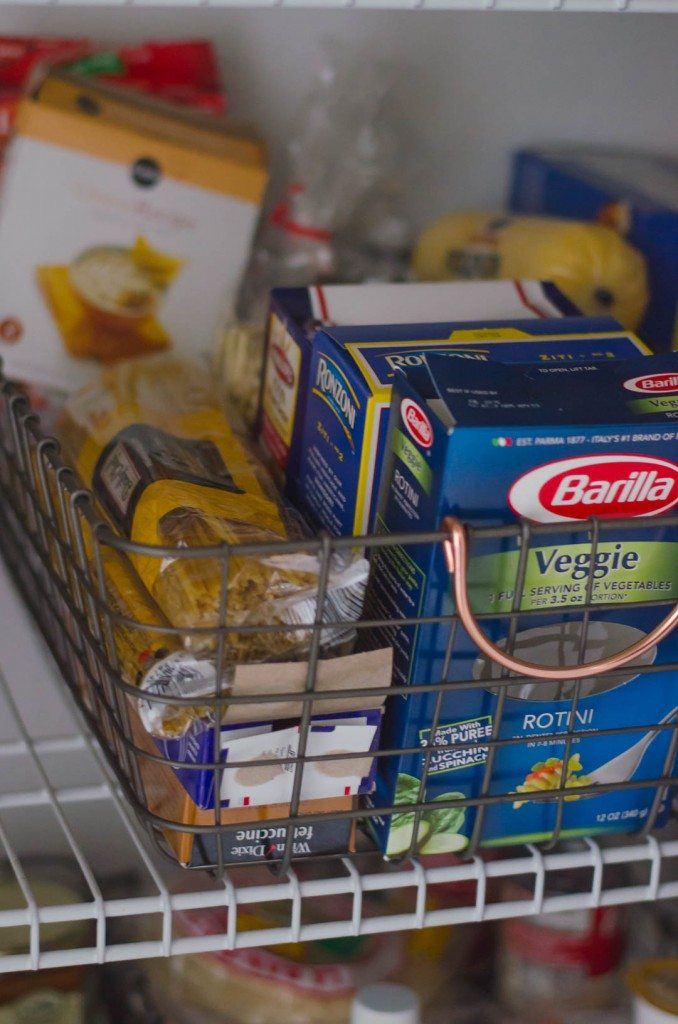 I also found a large collection of snack foods- snack bags of chips, granola bars, trail mix, popcorn bags. All in a basket. All accessible and none sliding all over the place.
These were bought at Target, but I found some other good ones too. The wire is key, because it makes it easy to see everything- just make sure that the openings are not too wide, or you will still have a problem with things falling through.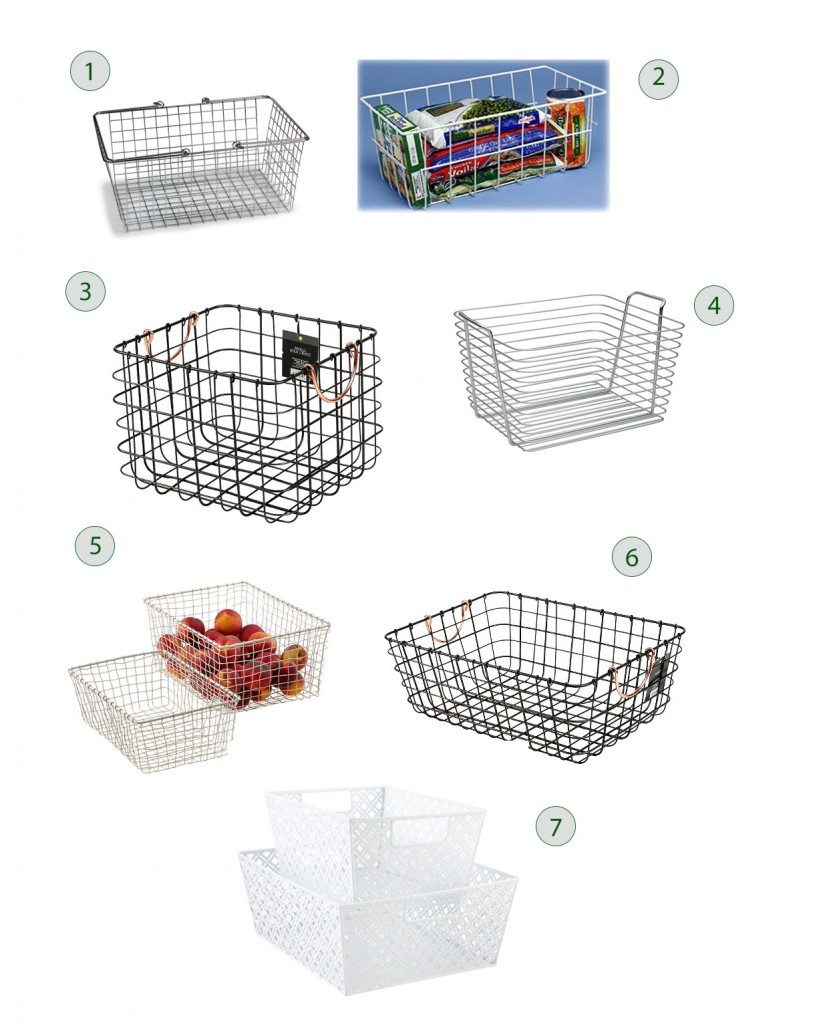 2. I love my glass pantry jars. I have an ungodly amount of them, only half of which are actually in use right now. I cleaned out the pantry pretty harshly when we moved, and a lot of things that were in the jars at the old house were never replaced. If you need your kitchen to be cleaned but is too exhausted to do so, you might need the help of professionals like Modern Maids Cleaning.
The original ones came from Crate and Barrel, and I loved them! But their shape didn't maximize my space the way that I needed at that point, so I replaced them with square jars in varying heights. I could stack two or three on top of each other, depending on the height- it was like a game of kitchen Tetris.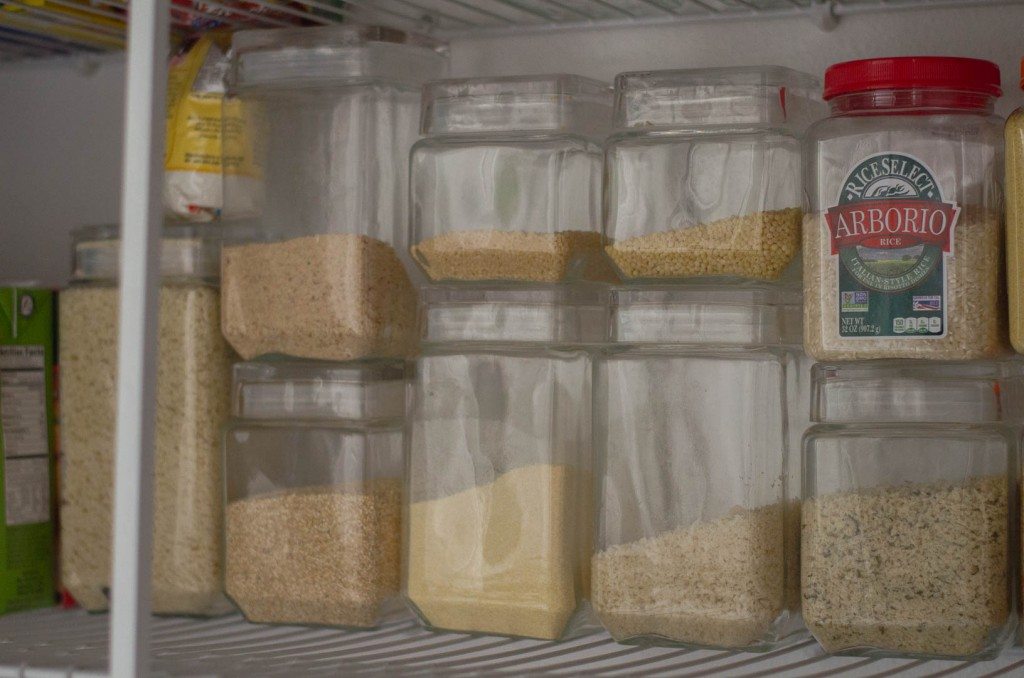 Here are my suggestions: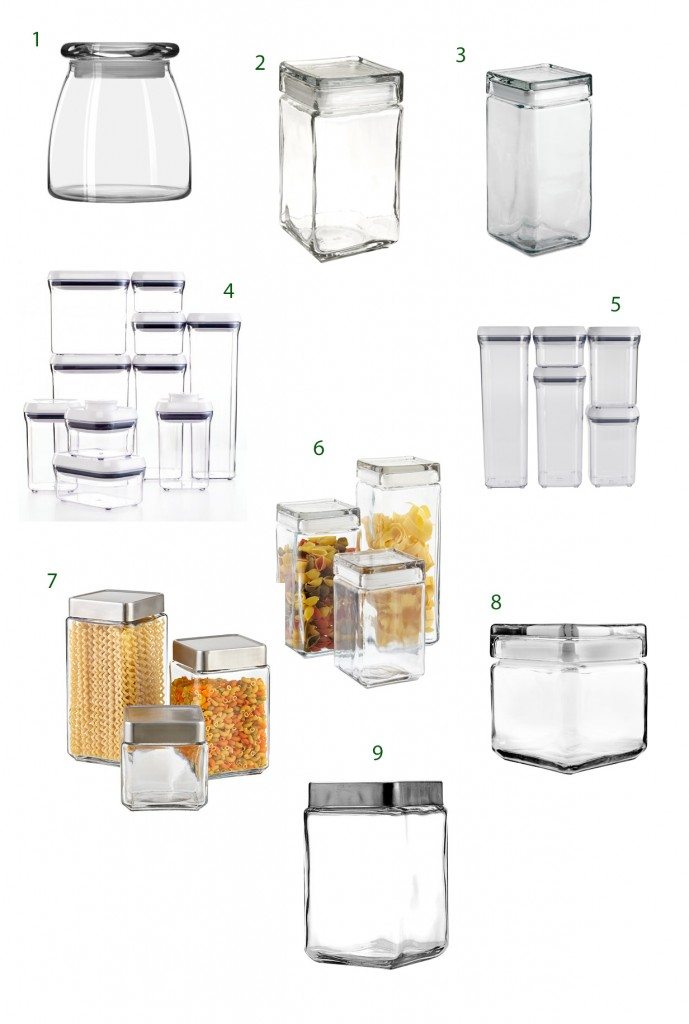 Stackable Glass 1.5 Quart Jar with Metal Lid, $6.99 <– I know that they carry more of these in store- there is both a 1-Quart and a 2-Quart.
I also have two large glass jars in here. One houses my extra-large bag of chocolate chips from Sam's Club, and the other houses all the OTHER bags of chocolate chips- mini, chunks, cinnamon, white chocolate, etc. You can find those HERE.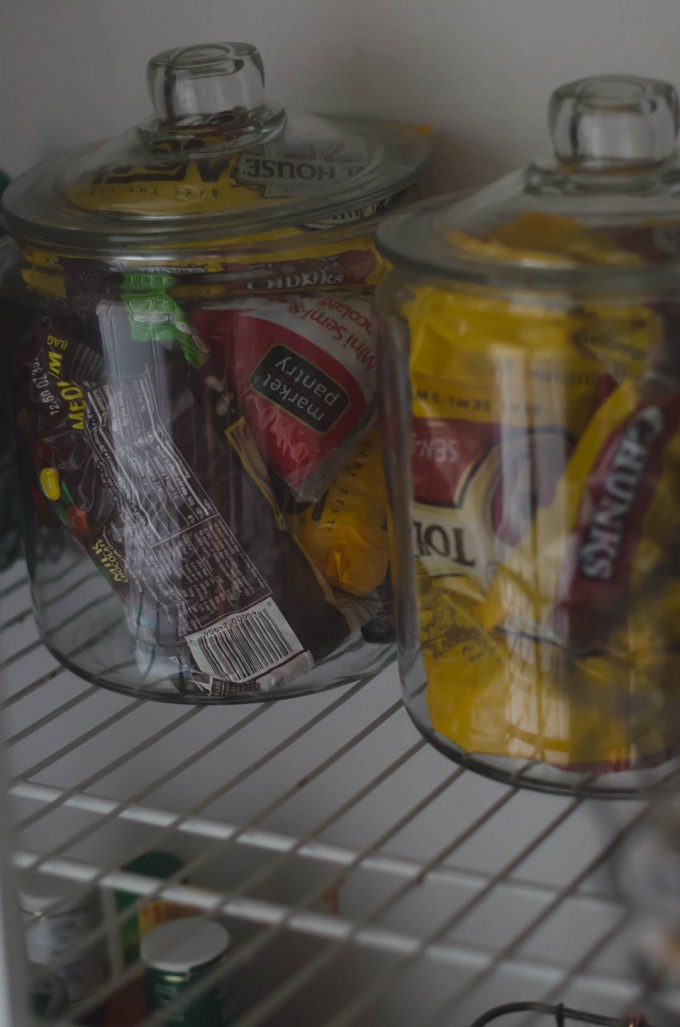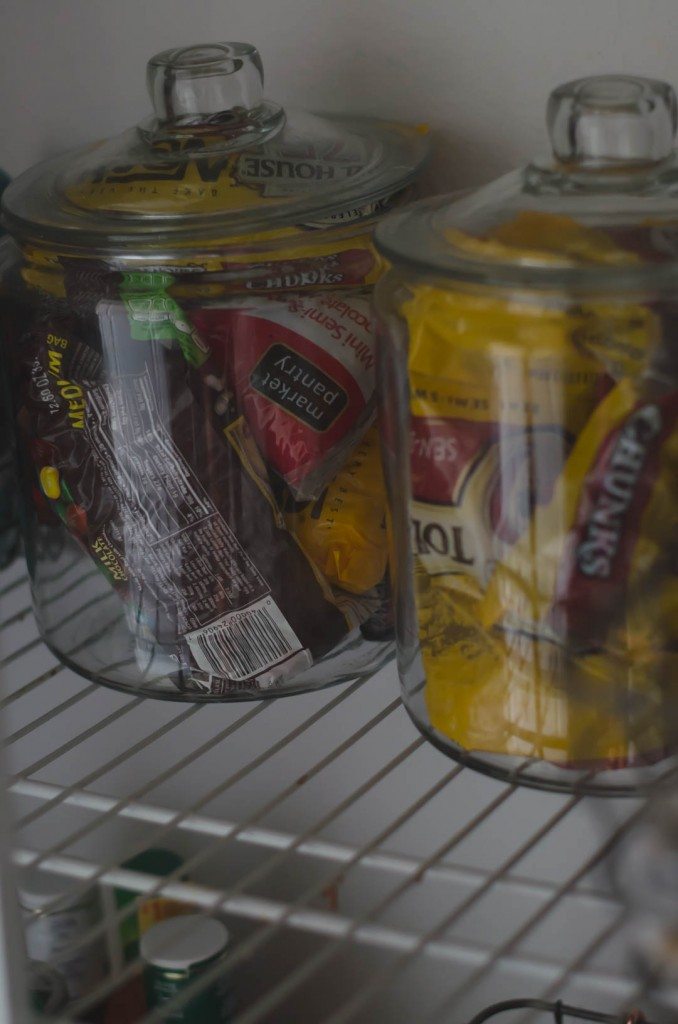 3. I now have a total of six turntables in my kitchen- three in the pantry and three in the cabinet next to the stove. They keep my cabinets much more consistently organized, and I never have a hard time finding the liquid smoke, or marjoram, or other random ingredient that would normally get pushed to the back, requiring you to take EVERYTHING off of that shelf to reach it (probably finding out along the way that it wasn't even on that shelf to begin with.) In this case, there is no back. The same principle applies to the pantry, and is a great way to keep random sauce and dressing jars easily searchable. I have one for salad dressings, one for sauces and one for condiments.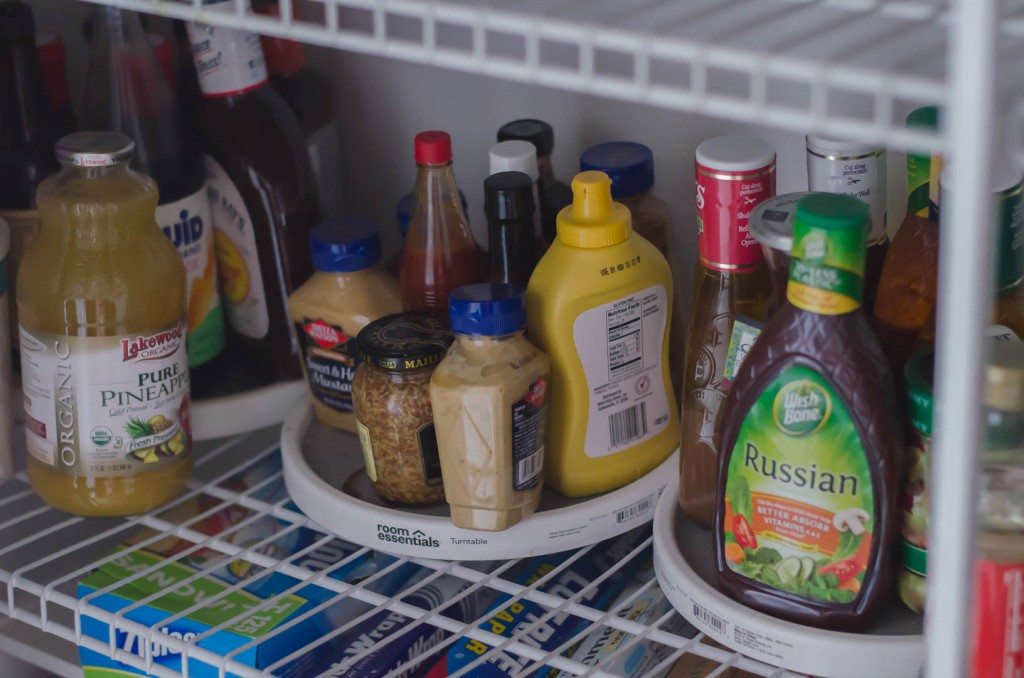 I found these in-store at Target, but selection was limited. Here are some good ones– the 12″ and 18″ options are wonderful. Both of those sizes are bigger than the ones pictured, and probably would have worked better. As you can see, they are a little cramped!
I obviously can't forget to mention the other true star of this show- the can organizer. I bought this several years ago and adore it. It's probably the single greatest thing I've ever done for my pantry. I have two of these stacked on each other. You can find it HERE.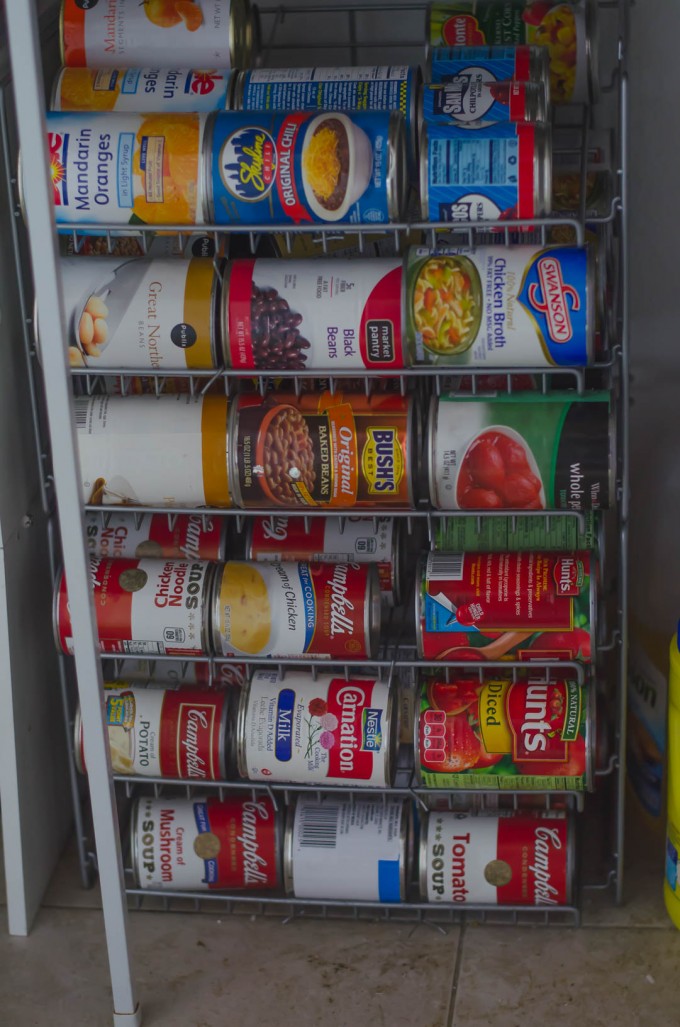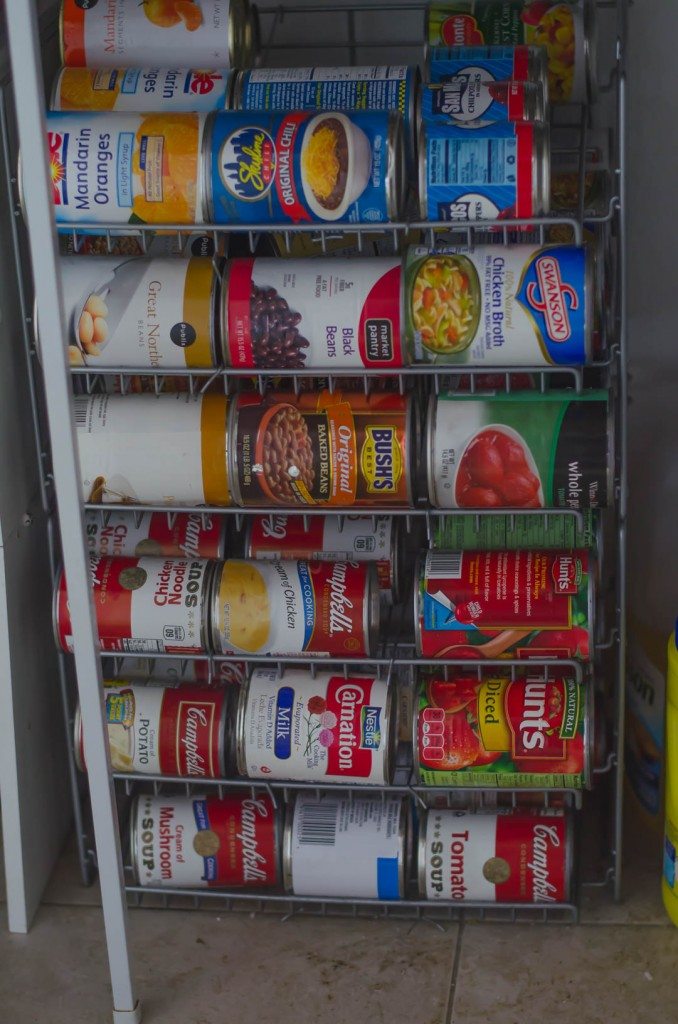 And last but not least, these cereal keepers to rein in the endless half-full boxes of cereal, chips, Goldish, and snack foods. Bought at Sam's Club, but also available HERE.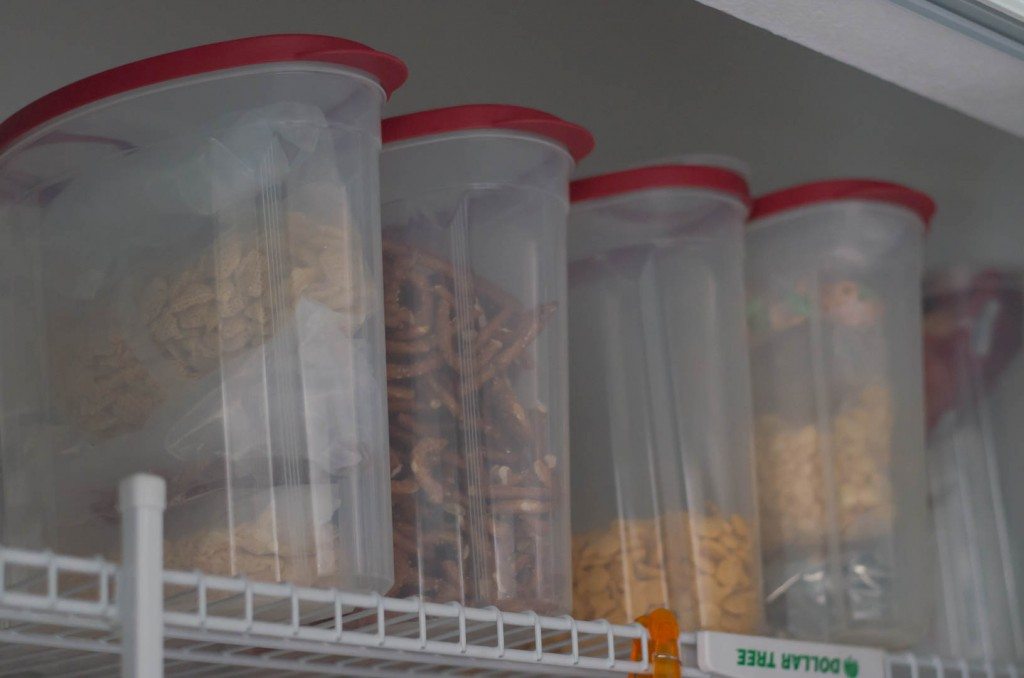 So there you have it- and so far, we've managed not to totally destroy it. I'd love to see some before and after pictures! Do you guys have any other key tips for keeping your pantry from getting out of control??