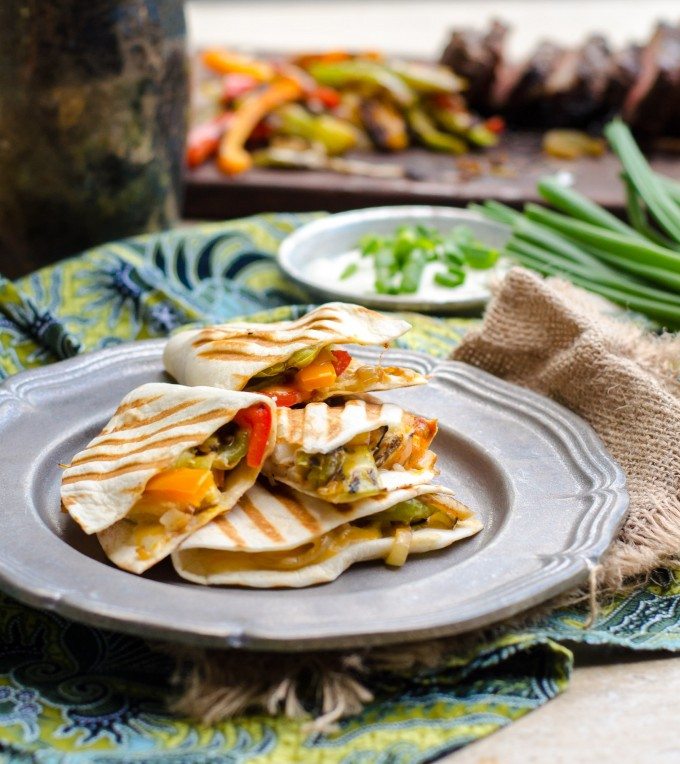 I'm currently writing this at 5:15 am. I got up with Michael for the second time tonight a half an hour ago, and after I didn't immediately fall back asleep, I knew it was all over for me. Rather than lay in bed and let my mind run wild with to-do lists, I figured I might as well get up and do something productive with my time.
I feel like I've been working a lot lately- I have some projects coming up in a few months that I am extremely excited about, but right now they have a steep price-time. Now that Michael is getting a little older, he's not sleeping quite as much as he was in his newborn days; I've gotten Jonathan mostly off of naps in lieu of "quiet time" during the day and earlier bedtimes. I work when I can during the day, which is usually a 90 minute timeframe during with Jonathan is having quiet time and Michel is taking his mega-nap of the day. Unless you are a blogger yourself, you likely have no idea how much time goes into this (if you want to grow and successfully turn this into a sustainable source of income)- I know I certainly didn't when I started- but I can tell you that its far more than 90 minutes a day. Working when Jonathan is playing or Michael is awake is increasingly creeping into my daily life. It's just so easy to stick Michael in the swing next to me now that his reflux and colic are more under control and he doesn't demand to be held 85% of the time, or to let Jonathan have some screen time on his Leap Pad so that I can edit, or write, or schedule social media. A few days ago, I realized that I didn't play with Jonathan all day. ALL DAY. While I'm happy that he's glad to play by himself, and I do involve him in my cooking when I can, I felt terrible about it. Even though I'm home, I still feel like I'm missing out with him- and the time is going by so fast.
Its hard to wear a lot of hats- mom, wife, daughter, sister, friend, cook, maid, laundress, personal assistant. I feel constantly pulled in a million directions 100% of the time. I strive for two things in my day-to-day life: to be able to stay at home with the kids, play and teach them, spend time with them during this brief moment in time when they're young and I am their whole world, and grow this site into something into something that not only am I proud of, but my husband, family, friends are proud of me for as well. I mean, Dave is already proud of me, but you know what I mean. It is so important to me to have everyone that said "A blog. Oh, that's…fun." and "What does she think she's ever going to do with that?" eventually say, "Wow. She did it. She fought and worked like hell and made it."
Unfortunately, those two things feel like they're in direct conflict with each other lately. I'm not going to be able to enjoy success knowing it was at the expense of my time with my kids anymore, and I don't have anything else to give up instead of sleep, so here I am, up writing at 5:30. It has its perks- I'll get to drink this cup of coffee while it's hot. The house is dark and peaceful and quiet. No one is screaming, or asking for a snack, or texting or emailing me. Then when the kids get up? They're getting 100% of me today.
Its going to be exhausting.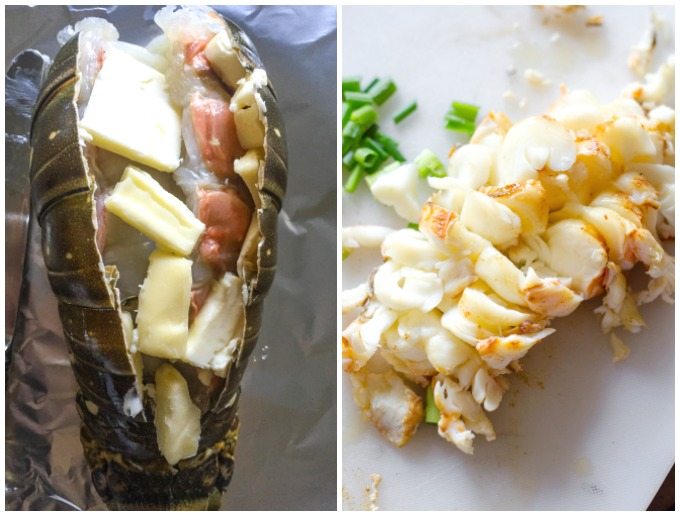 I'm preparing for my annual pilgrimage down to the Keys to pillage the waters for grey snapper and Florida spiny lobsters, which means that I'm also making sure that all of last year's catch is out of my freezer. I love grilling the lobster tails, but it's hard to do so without overcooking them. But lo! I have created a way to grill without ending up with tough, chewy meat at the end of it. As with most things that turn out well- this one involves fat. After cutting the tail down the back and opening it, I use my finger to separate the meat from the shell. Then I slide some thin pats of butter in between the shell and the tailcoat, add some more over the top, season it, and close the tail back up [see picture above]. I wrap them in foil and throw them on the grill- the butter in the shell almost "bastes" the lobster meat while its cooking, keeping it moist while exposed to the heat. The moisture is trapped in the shell and foil packet, so it cooks fast with some moist heat. They were the best grilled lobster tails I've ever had. I sautéed up some peppers and onions and made these delicious lobster quesadillas with it.
Note: when you're wrapping the lobster tails, make sure you follow this method: lay the tail on a piece of foil and bring the two long sides up and together. Roll them down to the tail, then fold up the short sides. This makes it easier to wrap to check for doneness and keeps the butter from leaking out of the packet. Also be mindful of how tightly you wrap them- there are spines along the the bottom that can easily puncture the foil, and your butter will run out as it melts (not what you want).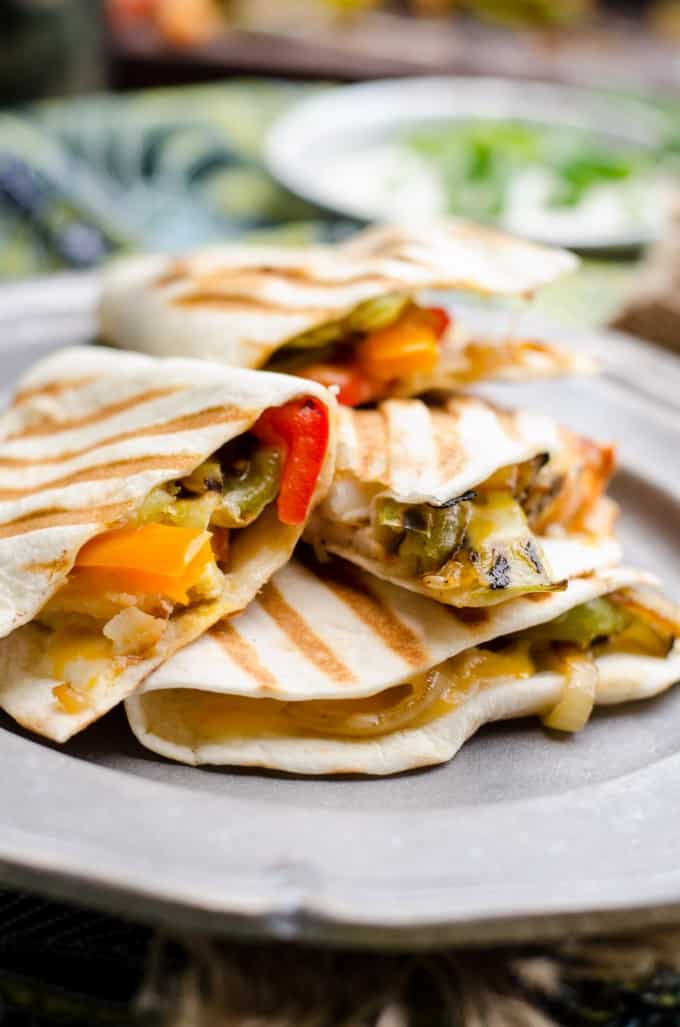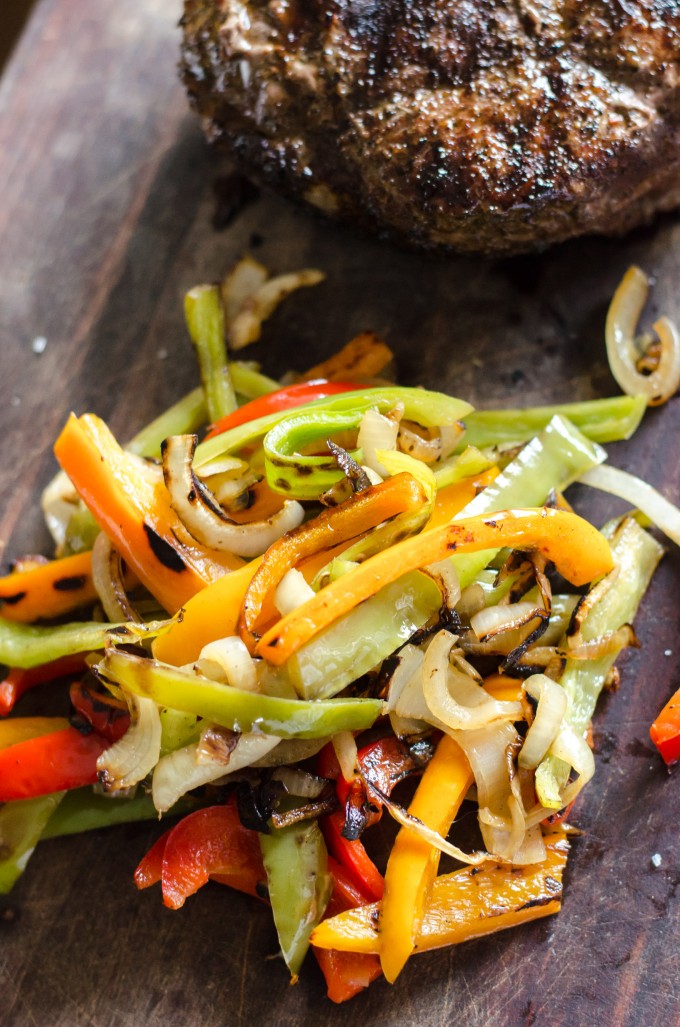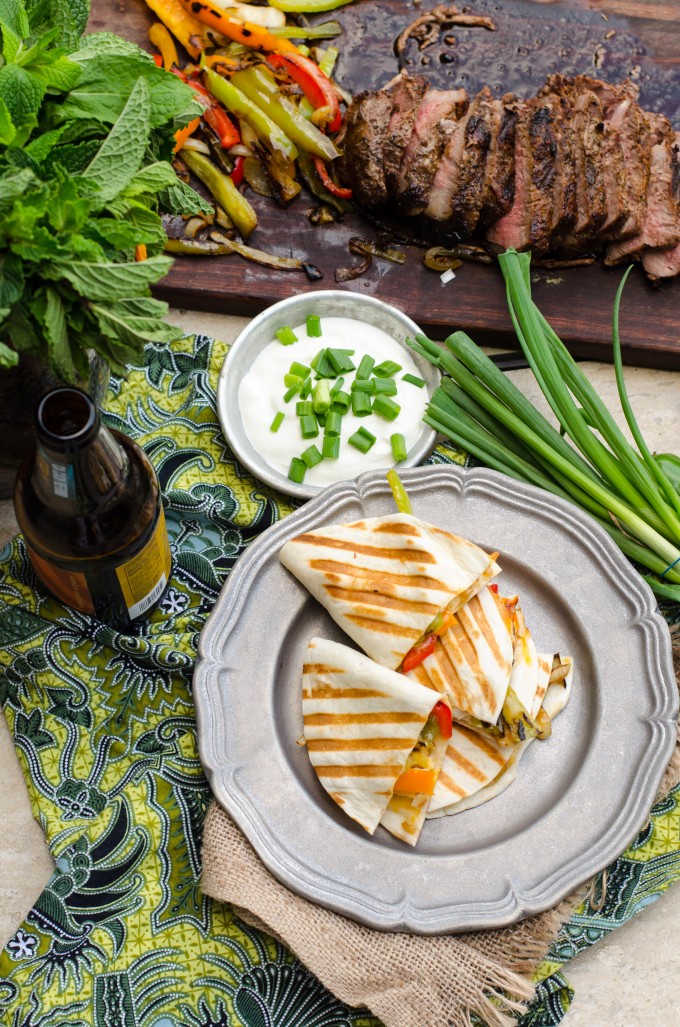 Lobster Quesadillas
Ingredients
2

lobster tails

4

T

butter

2

T

vegetable oil

1

yellow bell pepper

ribs and seeds removed, then sliced into strips

1

red bell pepper

ribs and seeds removed, then sliced into strips

1/2

large onion

sliced

1

Anahem pepper

ribs and seeds removed, then sliced into strips

2

cups

Mexican blend shredded cheese

6

fajita size tortillas

sour cream and green onions

for serving
Instructions
Preheat a grill over medium heat.

To prepare the lobster: use a pair of sharp kitchen shears to cut up the length of the lobster shell. Crack the "ribs" underneath, gently fold in to expose the lobster meat. Use your finger to loosen the lobster meat from the shell.

Cut the butter into small pieces. Tuck them between the lobster meat and the shell and along the top of the meat where you cut the shell. Close the shell back up and carefully wrap tightly in foil. Wrap in foil again and place on the grill. Cook for 10-15 minutes, or until the meat is opaque.

Remove the meat from the shell and roughly chop. Set aside

Heat a large cast iron skillet over medium high heat. Add 2 T vegetable oil to the pan, then the sliced peppers and onions. Saute until softened and browned. Remove from heat.

Divide the peppers, onions and lobster between the tortillas, spreading them evenly over half of the tortilla. Top with cheese and fold over.

Heat a panini press (or use your grill). Place 2 quesadillas on the press, spray the top with cooking spray, and close. Cook until cheese is melted and top is crispy and brown. Cut in half and serve immediately with sour cream and green onions.