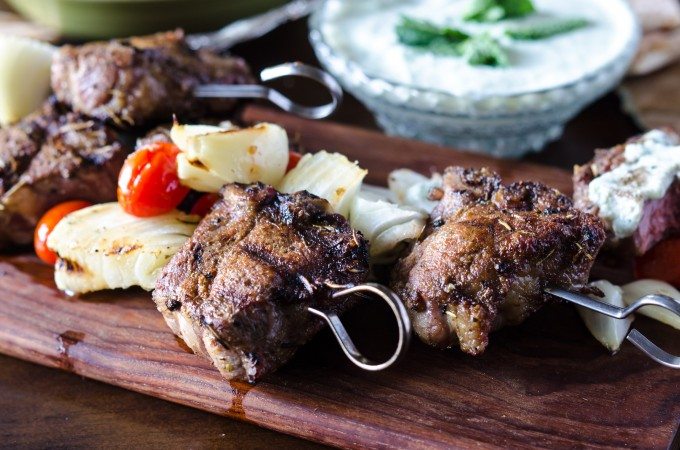 You could call this post a comedy of errors. I have never had more snafus in a recipe than I did with these Greek gyro kabobs.
I had placed an order with Walmart for their new online grocery ordering for David to pick up on his way home from work the next day. As much as I actually love going to the grocery store, its becoming more and more of a stressful event lately. Plus, I felt like I had already gone to the store twice that week, and I really didn't want to make it a third. There were a few things I knew that I needed specifically for this recipe concept- specifically mint, yogurt, cucumber and marjoram.
Dave came home that day with the groceries, "they were out of mint."
Of course they were. I put away the groceries, figuring I would just have to wait till the next day to try these out. I had to go to Target anyway, so I figured I would scoop it up there. Guess what? They were out of mint too. Michael started losing his mind as we were trying to check out, so it was quite the sight as I wheeled the circus train out to the parking lot. I was extra irritated since I still had to source mint. I called the grocery store right down from our house- they were out of it too. For God's sake, is there an embargo on mint in the Tampa area? Cripes. I called one more grocery store (stepping out of the car to do so because they couldn't hear me over Michael's backseat screams), had them hold two packages for me, and raced there. One more crying checkout fest later, we were back home.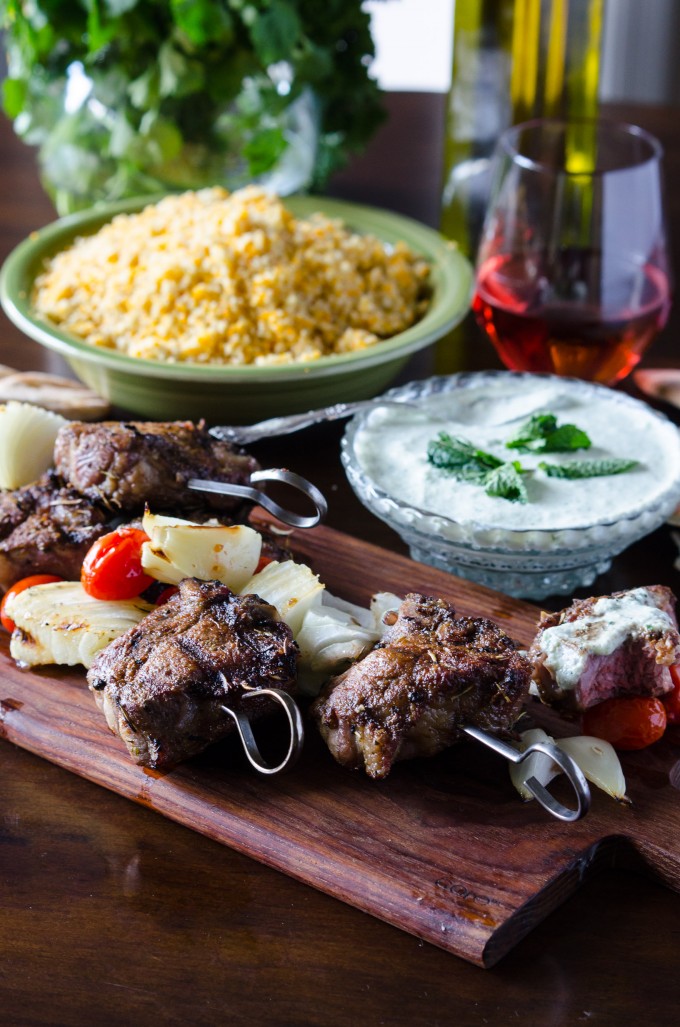 I set out to make these over naptime- lately that's the only time that I can have to myself to cook, write, shoot, whatever. I made my spice mix, rubbed the lamb, preheated the grill. I started getting the ingredients for the tzatziki sauce together when I realized that there was no yogurt in the fridge. I was positive it had been part of my online order- where was it? Walmart was adamant that it had been picked up, so although Dave was also adamant that he had gotten everything out of the car, I had him check anyway. Guess what he found wedged under a seat?
So, of course, I had to go to the store yet again the following day. That made five grocery store trips in a week, not even including the online order. I didn't leave my house for three days afterwards.
But back to these- I love gyros. There is an endless debate in our house as to how they are pronounced- gy-ro, hero, yeero? The flavor of these is nearly dead on- I recommend rubbing them with the spices the day before to really let the flavor get into the meat, and they smell incredible when they are on the grill. I also used regular yogurt for the tzatziki, which was fine, but I think using plain green yogurt would be better. Definitely a repeater!
Tzatziki Sauce
Ingredients
2

cups

yogurt

1

cucumber

finely chopped

2

tsp

roasted garlic

2

T

red wine vinegar

salt and pepper

2

sprigs of mint
Instructions
Place the yogurt in a tea towel and hang over a bowl to drain for at least one hour, preferably longer.

Finely chop the cucumber in a food processor or by hand. Place in another tea towel and wring out as much moisture as possible. Set aside.

Combine the drained yogurt, cucumber, garlic, vinegar and mint in a food processor. Run until smooth.

Season to taste with salt and pepper.
Grilled Greek Gyro Kabobs with Tzatziki Sauce
Author:
Ingredients
3/4 teaspoon seasoned salt
3/4 teaspoon cornstarch
1/2 teaspoon rosemary
1/2 teaspoon oregano
1/2 teaspoon garlic granules
1/4 teaspoon curry powder
1/2 teaspoon onion powder
1/2 teaspoon paprika
1/4 teaspoon chili powder
1/2 teaspoon marjoram
7 1″ lamb chops (about 2/5 lbs)
1/2 large onion, cut into chunks
1 pint grape tomatoes
Instructions
Combine all spices. Rub onto lamb chops. Cover and refrigerate for at least 8 hours, or overnight.
Heat a grill to medium high heat. Thread the lamb chops onto metal skewers, along with the onion wedges and tomatoes. Sprinkle with olive oil.
Grill until the lamb has browned on the outside and is cooked to desired temperature (my preference is medium rare) and the onions and tomatoes have charred and blistered. Remove from the grill and let rest for 10 minutes before eating.