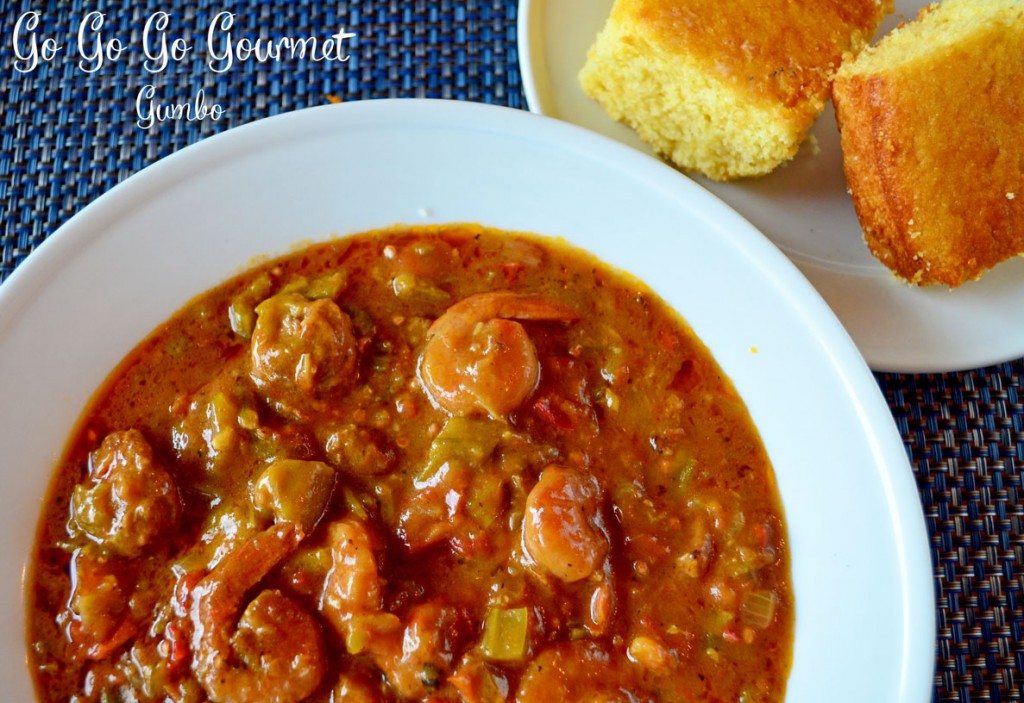 I live in the South now, donchaknow. I felt I had to whip out my first gumbo when I got okra (which I've never eaten before, let alone cooked!) in my produce basket last week. I had no idea what to do with it, the only thing that I've ever seen it used in before is in gumbo!
Now, I've never been to Louisiana, so I don't know that I've ever had an authentic gumbo before. I'm sure that someone could easily say here "Hey, gumbo has [this-very-specific-ingredient] in it." "You aren't supposed to put [blank] in it!" "My grandmother would roll over in her grave if she saw that you said to do [blank] in your recipe!"
Well, I don't know. I looked at some recipes to see what they usually contained other than what I knew- sausage, shrimp, tomatoes, okra, peppers. News flash: not much, and this was delish!
p.s. This goes great with cornbread!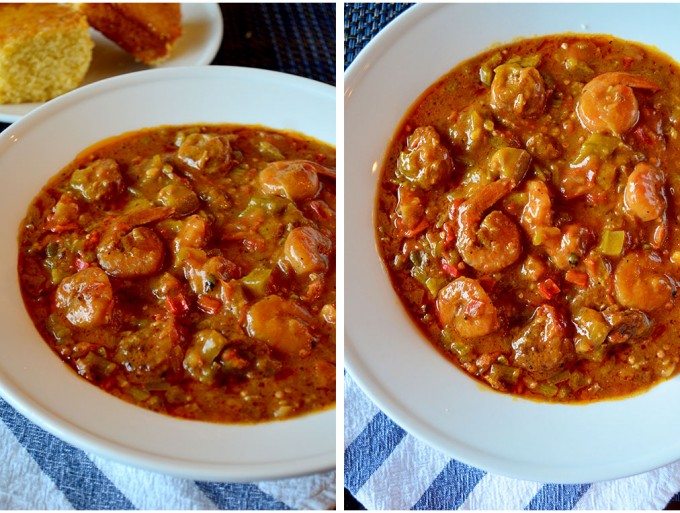 Gumbo
Ingredients
1

lb

kielbasa

1/4

c

vegetable oil

2

T

butter

1/2

cup

flour

1

large onion

diced

4

ribs celery

sliced or diced

5

cloves

garlic

minced or pressed

1

green bell pepper

diced

1

red bell pepper

diced

4 to

matoes

diced

1

quart

chicken stock

3

T

Worcestershire

1

T

chicken or beef bouillon granules

1 1/2-2

cups

fresh oka

sliced 1/2"thick

3/4

lb

shrimp

peeled and deveined (if not already)
Instructions
In a large heavy pot over medium heat, brown the kielbasa in 2 tablespoons vegetable oil. Using a slotted spoon, remove from the pot and set aside.

Add 1/4 cup vegetable oil and butter to the pan. Whisk in flour and cook the roux until golden brown.

Add onion, peppers, garlic, and celery to the pot; cook until vegetables begin to soften, about five minutes.

Slowly pour in worcestershire and chicken stock. Add in tomatoes, okra and bouillon. Return sausage to the pan.

Reduce heat to medium low, and simmer for one hour, stirring occasionally so that the bottom doesn't burn. Add in shrimp 10 minutes before finished.