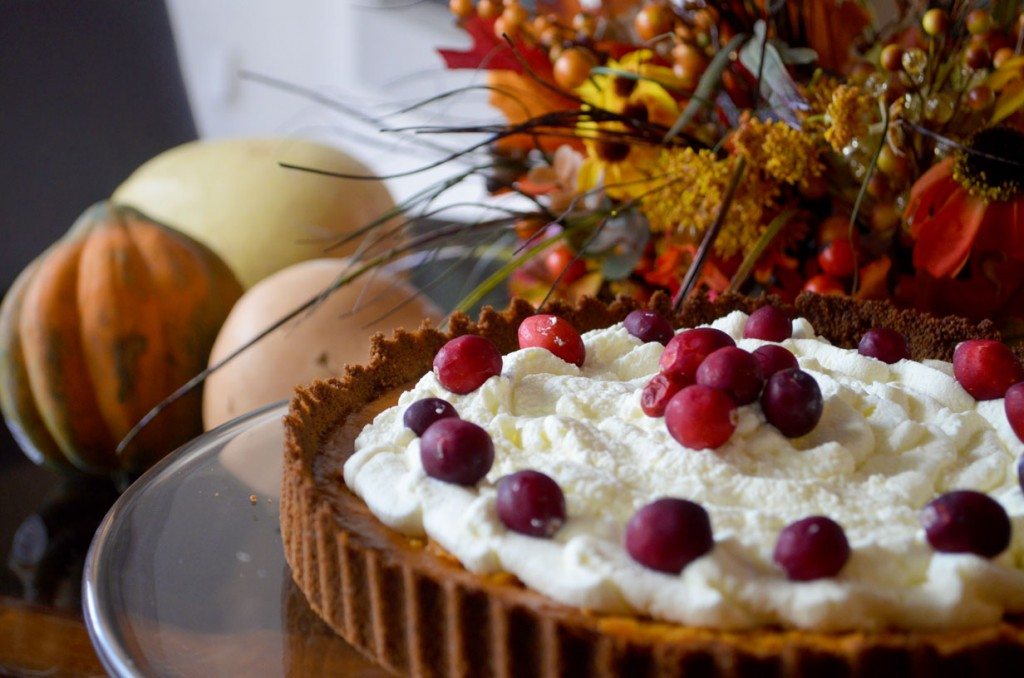 So i gave you a recipe for a kick-ass pumpkin pie on Day Two of this little Thanksgiving side-dish extravaganza I am putting on here.
Then I got up on my soapbox on Day Five, when I talked about keeping it classic when it comes to stuffing.
Well, now I am getting off my soapbox and handing you a recipe that is a twist on the traditional pumpkin pie.
So hypocritical.
But I figure its okay since I gave you the classic recipe first. This recipe originated over at the Food Network, and it's a hit around here. My mom, especially, is a really big fan of this- I personally am partial to the gingersnap crust (one of my favorite fall and holiday flavors).
And in all reality, it deserves its day in the sun on this blog, because it has, like, no ingredients. Seriously. And if you are overwhelmed with pies, I promise you- you can handle this!
Extra credit if you make whipped cream from scratch- 1 cup cream with 2 T powdered sugar beaten together until light and fluffy.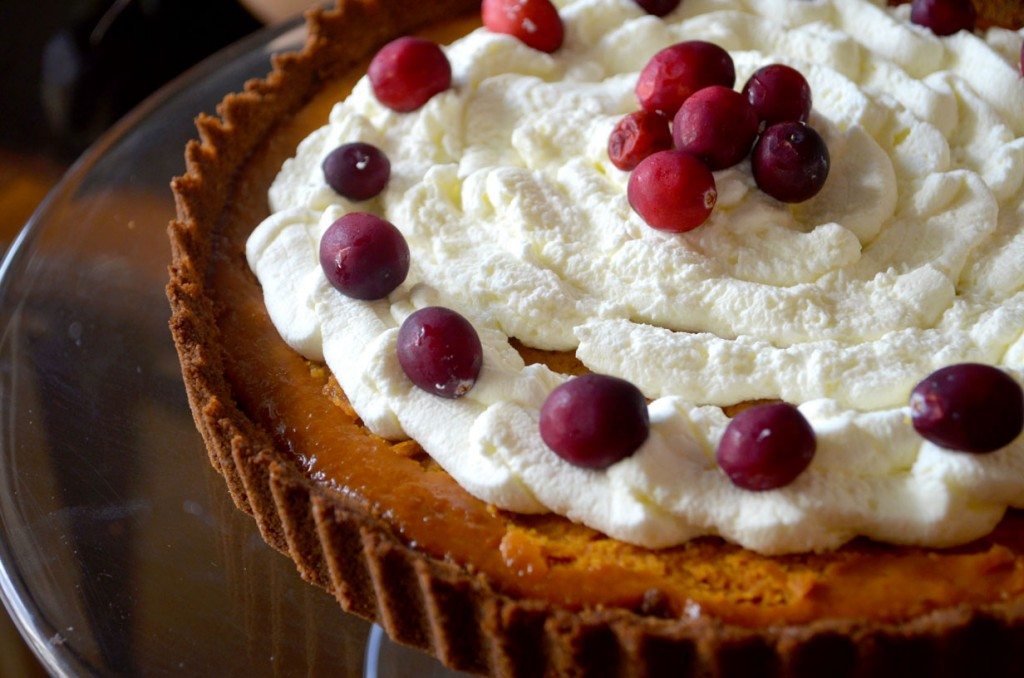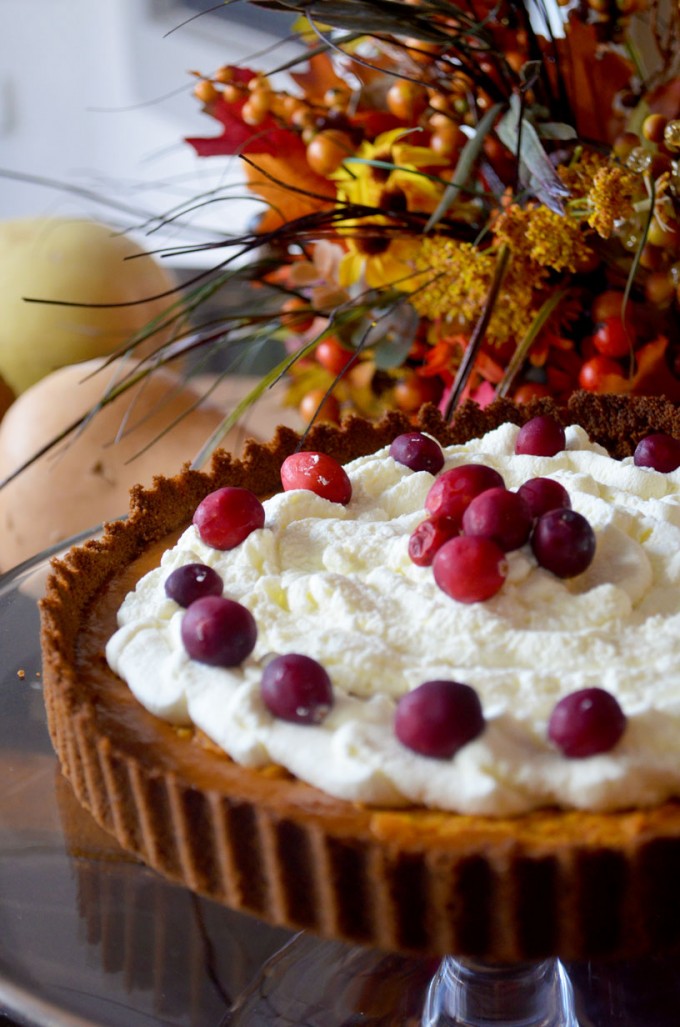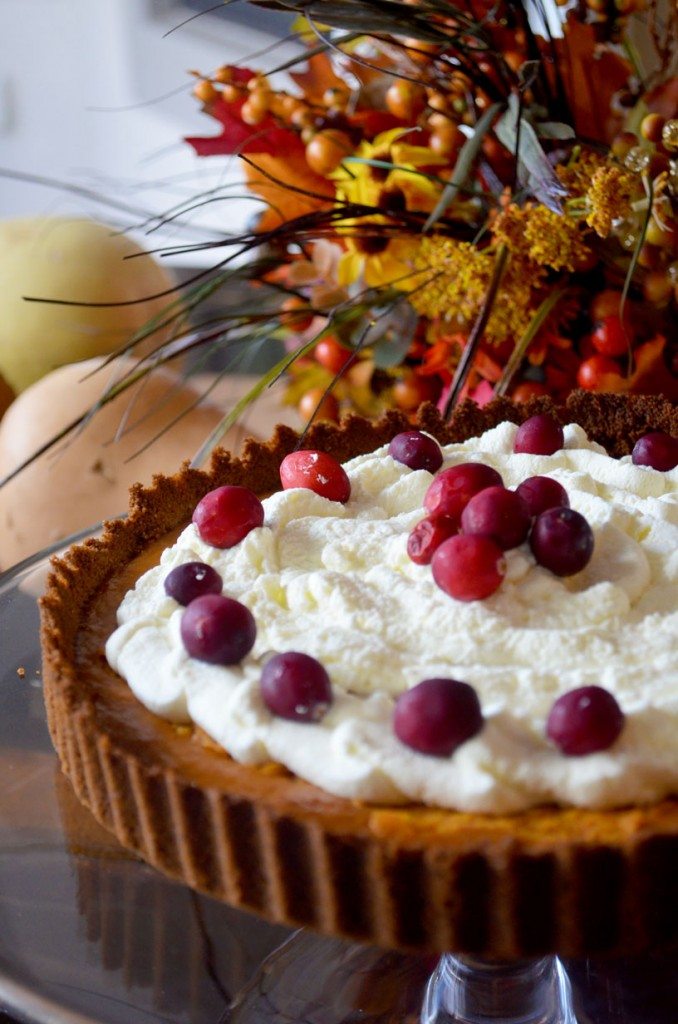 Ginger Pumpkin Tart
Ingredients
1

box gingersnaps

6

T

butter

melted

1 15-

oz

can pumpkin

3/4

cup

sweetened condensed milk

2

egg yolks
Instructions
Preheat oven to 350F.

In a food processor, finely grind the gingersnaps. Mix in the melted butter until moist and crumbly. Pour into a tart pan with a removable bottom, press into pan.

Bake crust for 10-12 minutes. Remove from oven; allow to cool slightly.

In a bowl, whisk together milk, yolks and pumpkin until smooth. Pour into prepared crust.

Bake for 30 minutes, or until set and beginning to brown on top.

Remove from oven and allow to cool for at least one hour.

Top with fresh whipped cream and cranberries, if desired.