My kid is still walking around eating raw potatoes, but has further evolved to thinking that they, like most things, are balls that can be chucked as far as possible. My new approach is to try and cook as many as I have to take away this opportunity- especially side we have entered a new phase of losing our minds when something is taken away from us.
I often forget about potatoes as a side dish, most of which I attribute to the fact that they aren't in the fridge, so they remain out of sight, out of mind. This is grossly unfortunate, because they are so low-maintence (throw them in the oven, on a grill, or in a pot on the stove) and a beautiful blank slate (butter, herbs, bacon, cheese, you name it!). But…can you really beat a bowl of deliciously warm, buttery, homey mashed potatoes????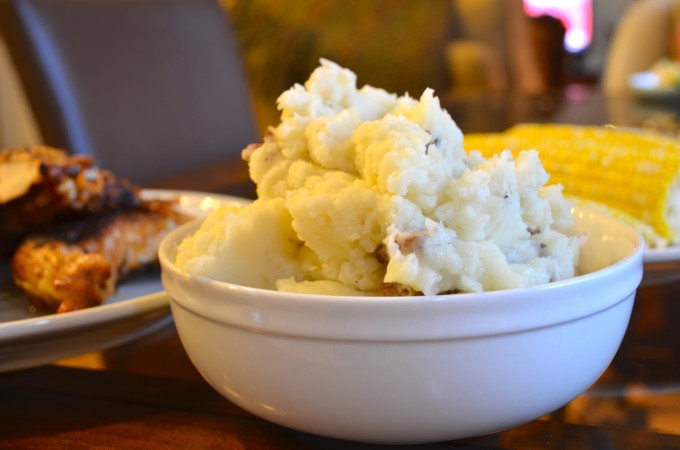 Garlic Mashed Potatoes
Ingredients
3

Russet potatoes

peeled

3

red potatoes

scrubbed

1

clove

garlic

pressed

salt & pepper

3

T

butter

1/2

cup

milk

or as needed
Instructions
Cook potatoes in a salted pot of water until fork tender. Drain.

In the same pan, mash the garlic and potatoes together using a wooden spoon or potato masher. Season with salt and pepper. Add in butter, then milk, a little at at a. Continue mashing until desired consistency is reached.

NOTE: If very creamy potatoes are desired, use a hand mixer to whip. Since I left the skin on the redskin potatoes, I thought it lended itself better to being a rough mash.