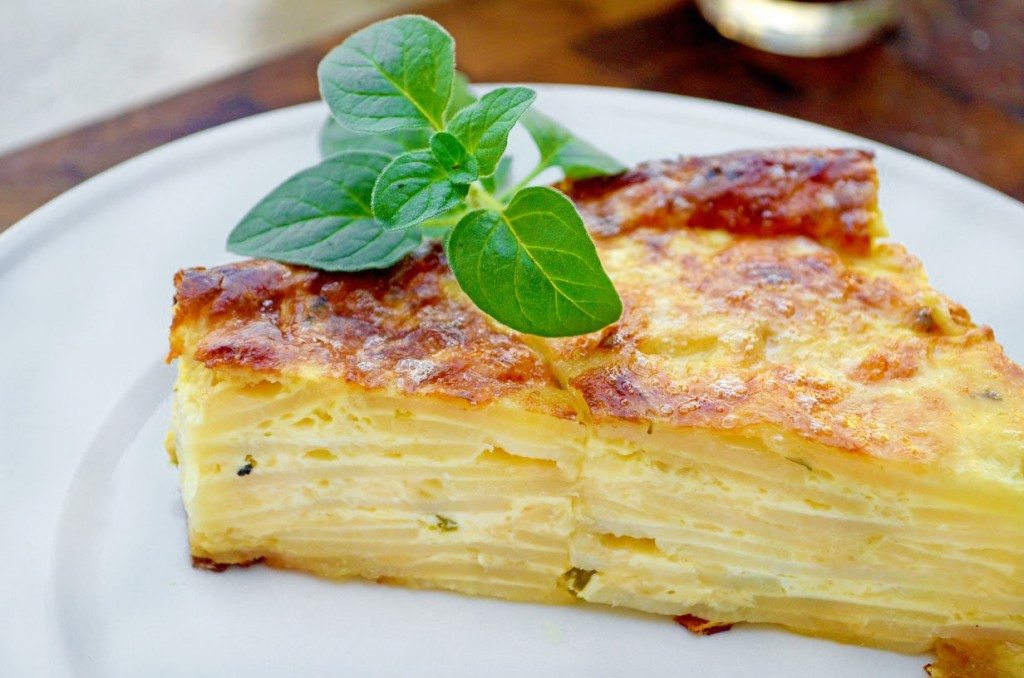 My love for these potatoes may partially stem from the fact that I ate them on one of the best days of my life- my wedding!
The food at our wedding was so exceptional that I decided to recreate our wedding dinner for our one year anniversary. The club was kind enough to share the recipes with me, including this one. I mean, really, whats not to love? Potatoes cooked in a custard and layered with cheese? It had no chance of not being good. Its a versatile side dish that works for a special occasion OR a weeknight dinner, since it can feed a crowd and be made ahead of time.
Dinner Party Delights: Dauphinoise Potatoes
Ingredients
2

cups

cream

3/4

cup

half and half.

1

tsp

roasted garlic

pinch

nutmeg

1

tsp

onion powder

2

tsp

fresh chives

1

tsp

thyme

1

tsp

oregano

6

eggs

1

T

dijon mustard

2

cloved garlic

minced or pressed

8

medium potatoes

peeled

Grated Parmesan Cheese

about 2 1/2 cups (approximately)
Instructions
Preheat the oven to 350F.

Place cream, half and half, roasted garlic, nutmeg, onion powder in a sauce pot. Bring up to about a simmer, then remove from heat and cool.

Add chives, thyme, garlic, and eggs to cooled cream mixture.

Very thinly slice the potatoes on a mandolin.

Layer the potatoes in a 13 x 9 baking pan sprayed with cooking spray. Ladle egg mixture over the top of each layer, season with salt and pepper, and top with a handful of parmesan cheese. Continue layering in this fashion (until you run out of either custard or potatoes).

Spray the top with cooking spray and cover with foil. Bake for an hour and a half, then uncover and cook until top is browned and the dish has set, about another 20 minutes.