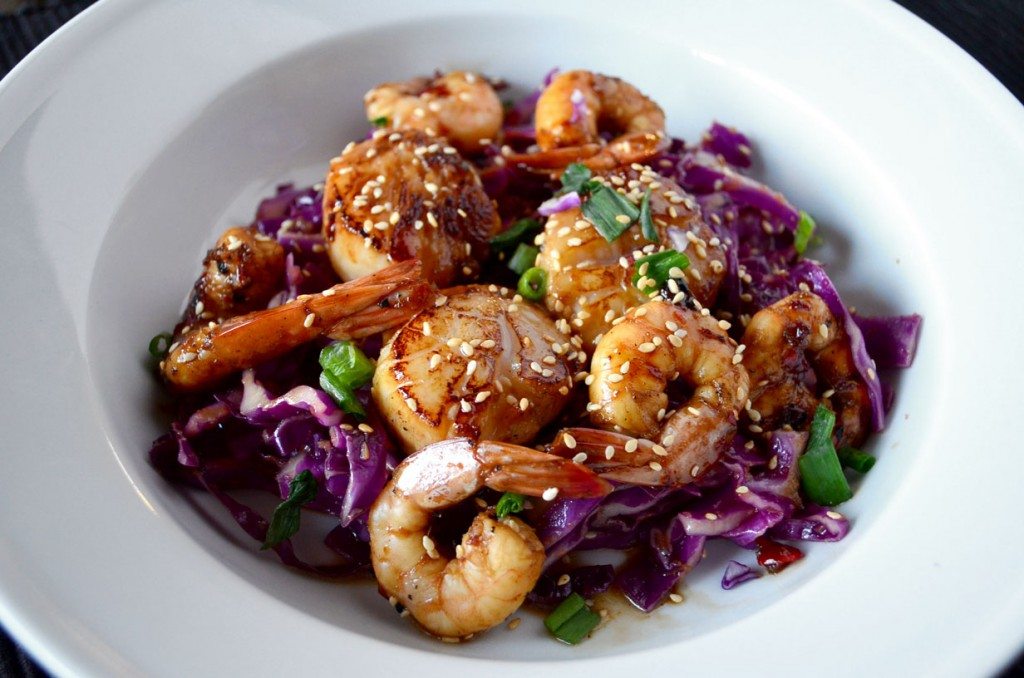 I have to confess, I am a little intimidated by Asian food.
I think its mostly that i don't really understand the flavor profiles like I do with other cuisines. There are SO MANY sauces, with names that give me no idea what they actually taste like or even what they contain? Does oyster sauce actually, in fact, contain oysters? Is it a sauce to go ON oysters? Don't get me wrong, I have a decent amount of them, but I could never pretend to portray that I understand what mirin tastes like and how it blends with soy sauce. Kimchi? I don't even know what it is. I think there's cabbage in it. And its orange. But I don't know why.
Which is not to say that I don't like Asian food, I do. A lot. I just don't, at this point, have the ability to make up a whole lot of recipes on the fly like I can with other kinds of food.
Except for this recipe for Asian shrimp and scallops- which I did actually make up on the fly after having a weird sort of taste-vision in my head. Does anyone else have those? Have specific tastes pop into your head with a picture of what you are mentally tasting and then work backwards to figure out how to make it?
Reading that sentence back, I definitely sound insane.
But that's what happened with this dish. I envisioned a cabbage ginger salad giving a cool crunch in contrast to some seared seafood that was salty, spicy and sweet. The whole thing worked so well together- it was light, fresh and jam-packed with flavor, while being so fast and easy to prepare. Perfect for a hectic weeknight.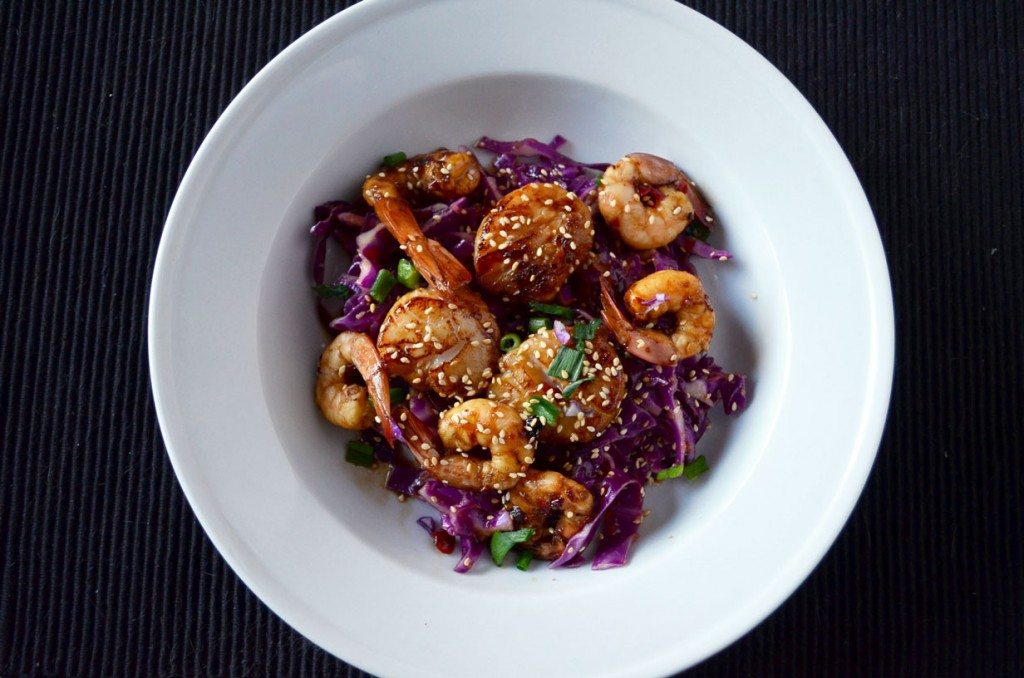 Side note- I can't lie. I'm not totally sure how long I marinated this. I no sooner finished stirring together the marinade and adding the seafood, that Jonathan started walking around (unbeknownst to me) holding my iPad in his hands (a no-no and he knows it) and a straw sippy cup between his teeth. I'm not exactly sure what happened next, but all I know is there was a very loud bang, Jonathan is front facing down on the floor on top of the iPad, screaming his little head off with a very bloody mouth. However long it took me to calm him down, wash his mouth out and wait for it to stop bleeding is how long I marinated the seafood. Lets call it 20 minutes,k?
Never a dull moment.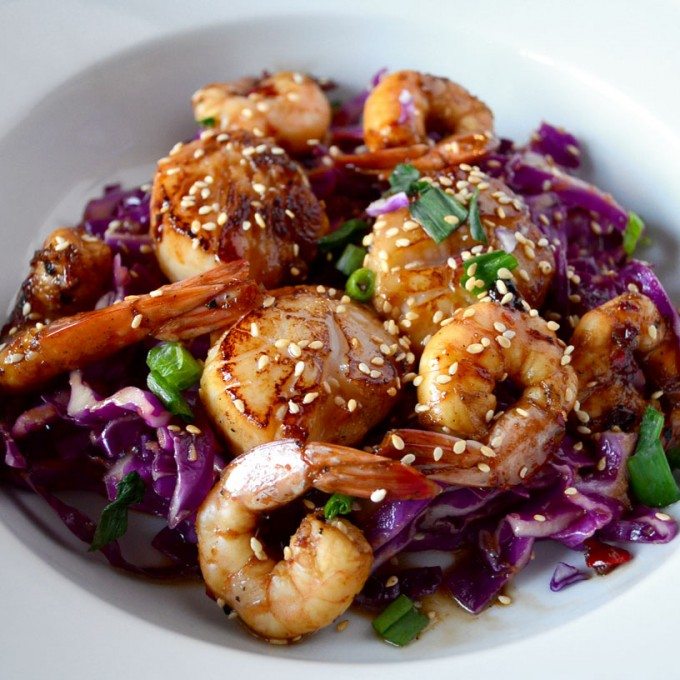 Asian Marinated Shrimp and Scallops
Ingredients
1/2

cup

thai sweet chili sauce

1/4

cup

soy sauce

2

tsp

chili-garlic paste

2

tsp

fresh grated ginger root

1

pound

shrimp

peeled and deveined

1

pound

scallops

1/2

head purple cabbage

thinly sliced

1/3

cup

ginger salad dressing

3

scallions

chopped

1

tsp

sesame seeds
Instructions
In a medium sized bowl, mix the sweet chili sauce, soy sauce, chili- garlic paste and ginger root together. Add the seafood, stirring until all is coated. Let sit for 20 minutes.

In a large bowl, toss the finely sliced cabbage with the ginger dressing and set aside.

Heat a large skillet over medium- high heat. Add 2 T vegetable oil to the pan and heat until shimmering.

Add the scallops to the pan and sear until they release from the pan, and a golden brown crust has formed. Flip the other side and repeat.

Divide the cabbage between plates and top with the cooked scallops.

Add the shrimp to the pan and quickly saute until they are cooked through. Add to the bowls. Sprinkle with green onions and sesame seeds and serve.