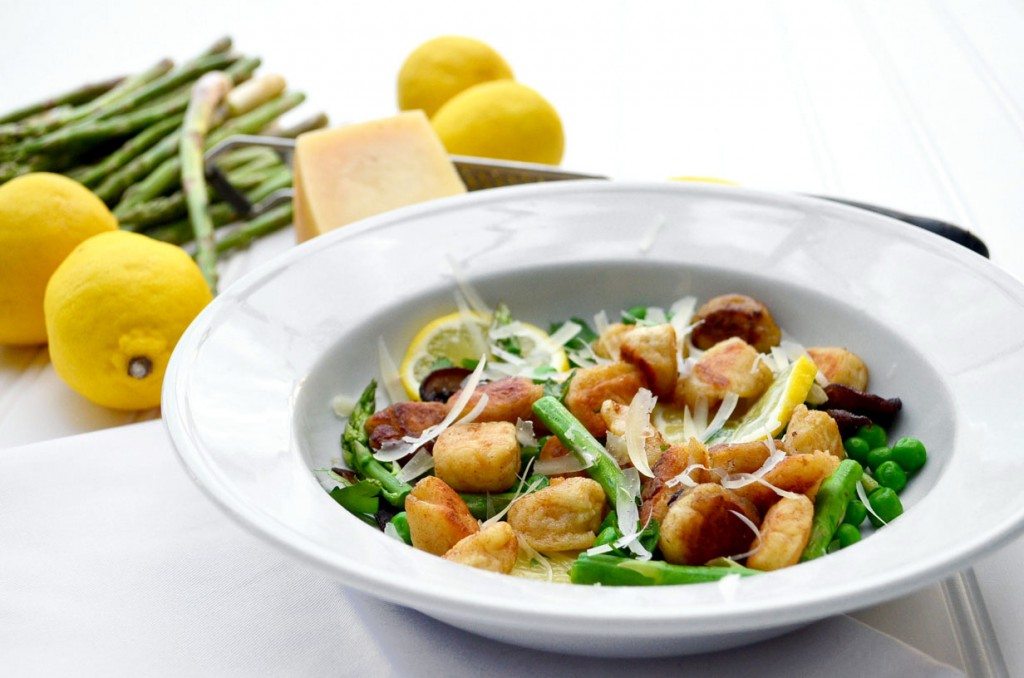 I've been pretty excited about sharing this recipe with you.
I have tried to make gnocchi multiple times with potato- but it seems to be so finicky! They either end up feeling like I'm eating mashed potato balls, or they are too starchy, dense and gummy. I don't find either option particularly enticing. However, I now know the best way to make potato gnocchi.
Don't make it. Make ricotta gnocchi instead.
Bonus points awarded for the fact that they are, in fact, EASIER to make than their potato counterparts. No need to boil potatoes, you simply scoop ricotta out of a container!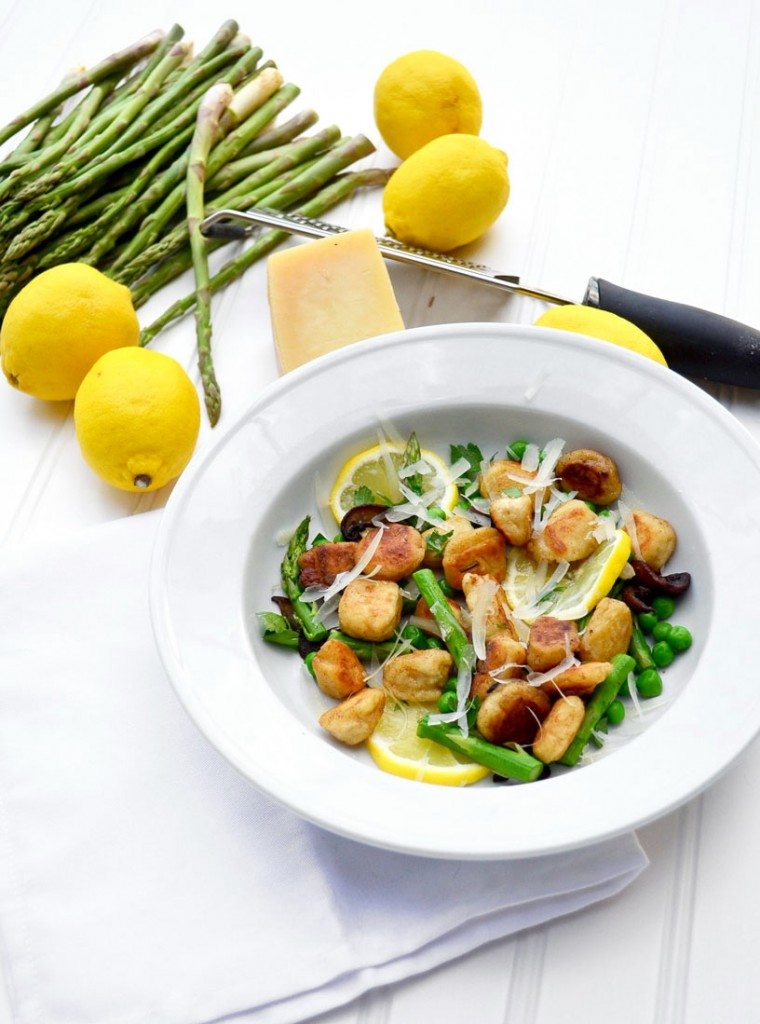 I've never boiled these (but I think that you can, from what I read), but rather sauteed them in butter and olive oil. They are a different kind of gnocchi, much lighter in my opinion, and the lemon zest in the dough only brightens the taste even more. These are always a hit, a recipe that has morphed over time from a Michael Symon recipe (the patron food saint of Northeast Ohio) that I tried years ago- it calls for morels and fresh English peas. I'll let you guess whether I can find either of those in any of my grocery stores around here. To be fair, it seems like half the country is still under snow, so they may just not be in season yet.
But doesn't this dish just look like spring?!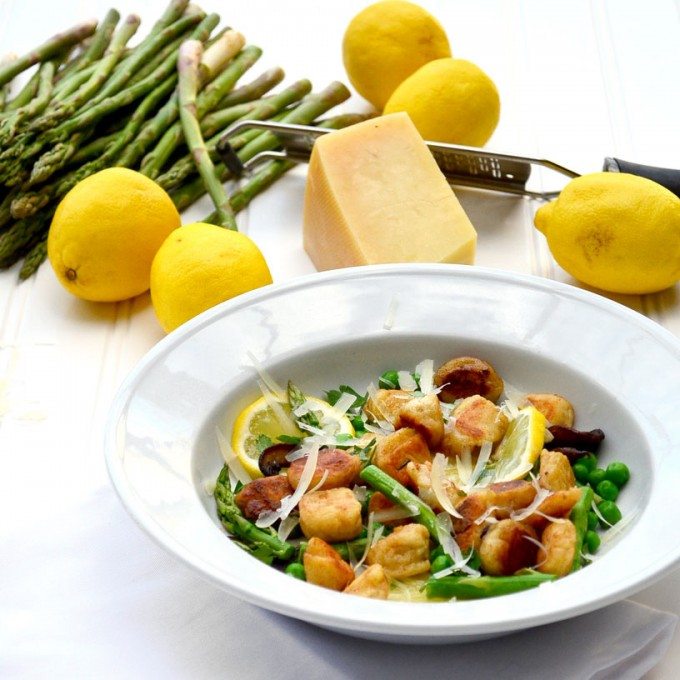 Ricotta Gnocchi with Mushrooms, Spinach, and Lemon
Ingredients
1 1/2

cups

ricotta

1 3/4

cup

flour

1

cup

parmesan

grated

2

eggs

1/2

tsp

salt

zest of 1 lemon

5-6

T

butter

divided

4

oz

portobello mushrooms

sliced

2

cloves

garlic

minced or pressed

3/4

cup

asparagus

cut into 2" lengths

1/2

cup

frozen green peas

thawed in water in the microwave, then drained

2

T

chives

finely chopped
Instructions
In a bowl, mix together the ricotta, flour, parmesan, eggs, lemon zest and salt. Divide dough into four portions.

Flour a work surface. Working with one portion of dough at a time, roll out the dough into a long rope, approximately 3/4" diameter. Transfer to a cookie sheet. Repeat with the remaining portions.

Place cookie sheet in the refrigerator for 20 minutes.

Using a pastry scraper or a sharp knife, make cuts 3/4" apart down the length of the rope.

In a large saute pan set over medium heat, melt 1 T butter with 1 T olive oil. Add as many gnocchi to the pan as will fit in a single layer without being overly crowded. Cook until the gnocchi has crisped up and is a light golden brown, taking care not to burn them. Flip them over and cook the other side in the same fashion, taking care not to overcook. Remove from the pan to a large serving bowl. Repeat with the remaining gnocchi.

While you are cooking the gnocchi- In a separate small skillet, melt 3 T butter over medium heat. Add the mushrooms to the pan, cooking until they are soft and browned. Add in the asparagus and cook until it softens slightly and is bright green.

Add the garlic and the peas and quickly cook for 1-2 minutes, until the garlic has started to turn light golden and the peas are warmed (but not browning). Add the juice from the lemon that you zested for the gnocchi.

Pour the pan sauce over the gnocchi, then top with 1/3 cup parmesan and 3 T water, tossing all together gently until the cheese has melted and a creamy sauce has formed.

Divide into shallow bowls. Garnish with the chives and serve.