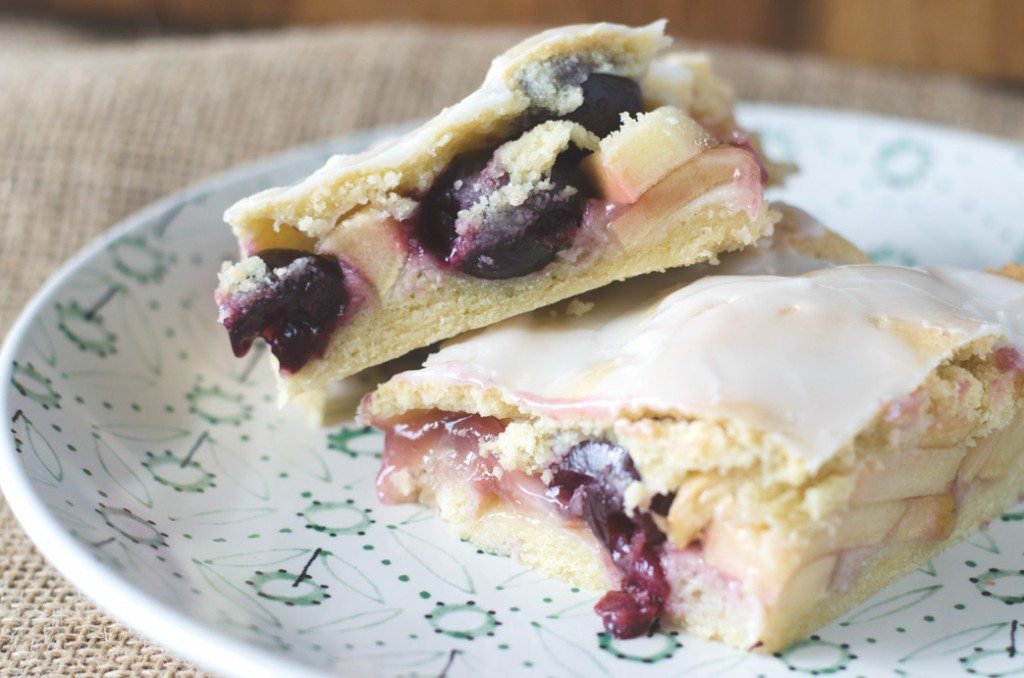 These cookie bars have been created entirely by accident.
When I started making them, I sett out with the intention of ending up with something completely different – something from the deli by my childhood home.
These turned out absolutely nothing like those.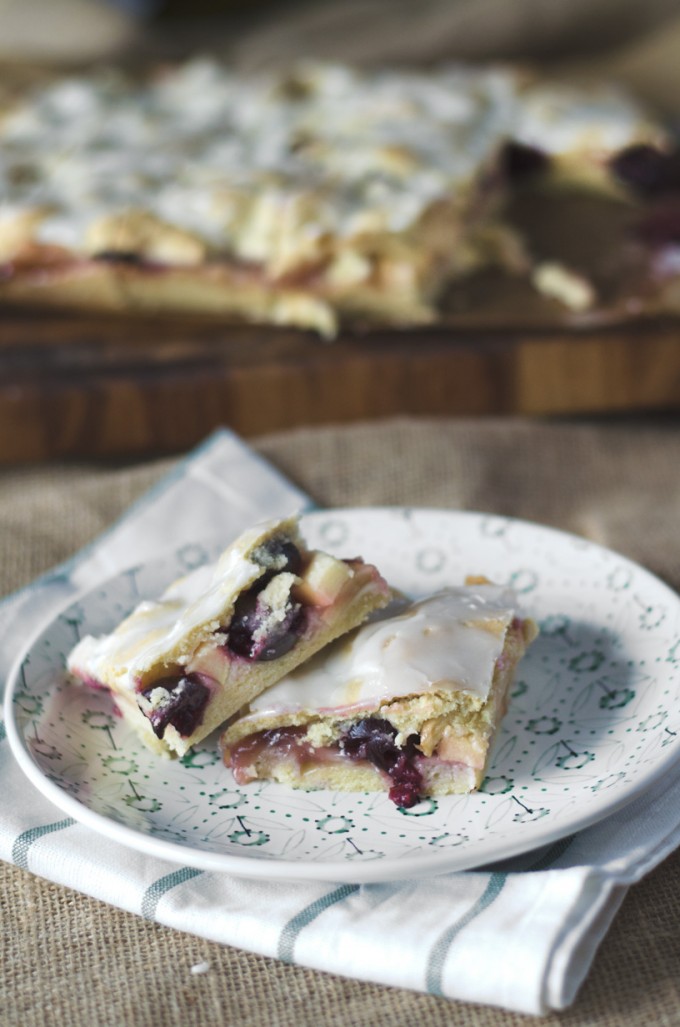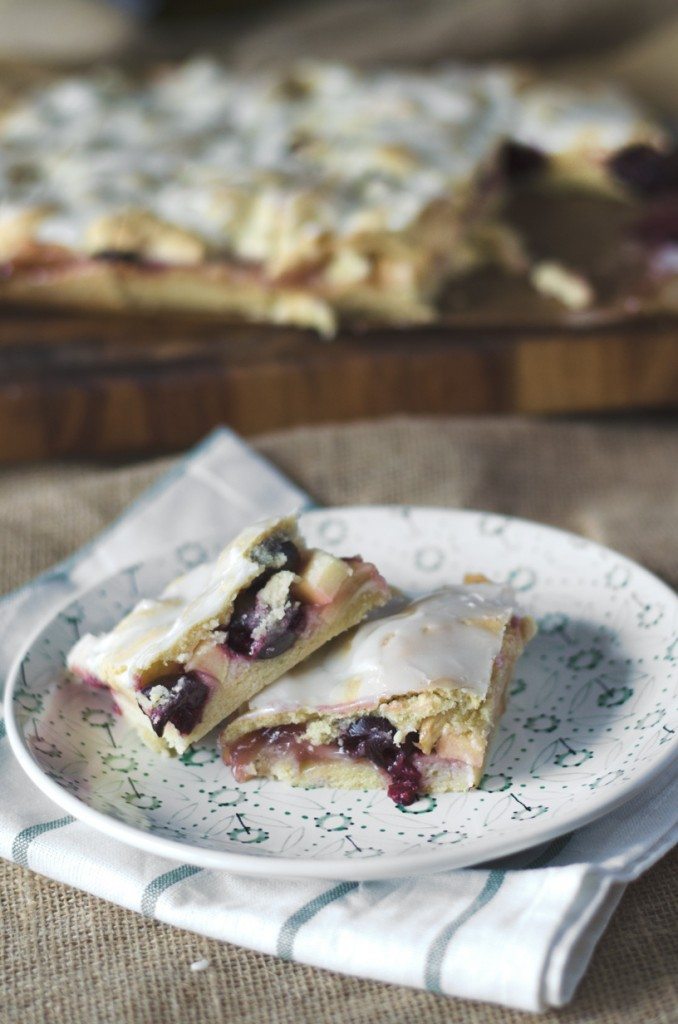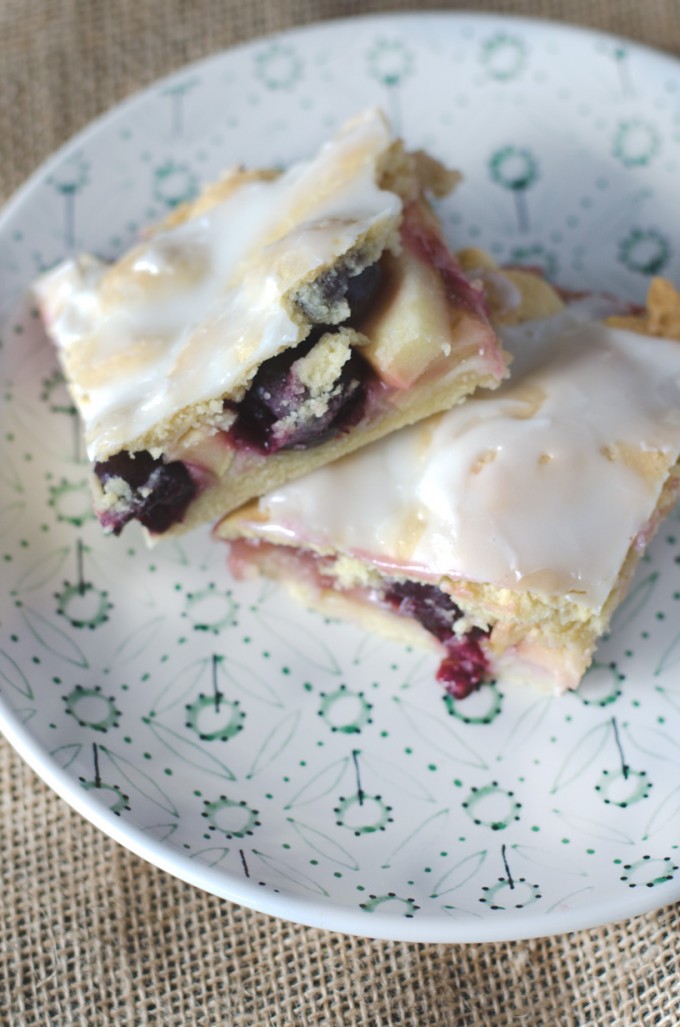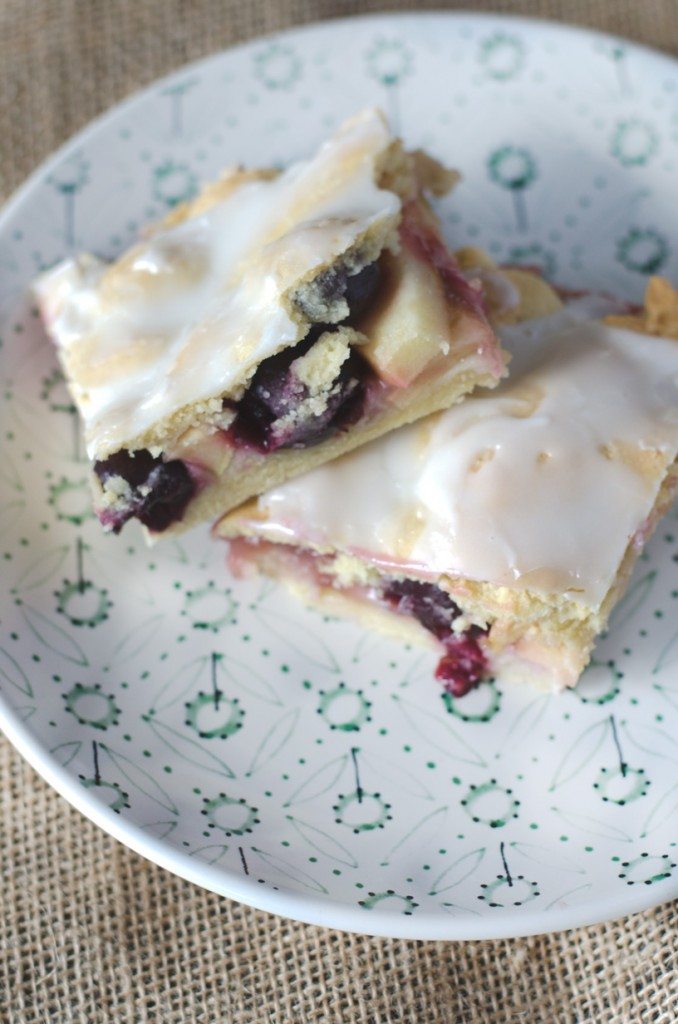 But, they did turn out so well (in their own way) that I decided that they needed to be featured here as well.
While I was hoping for something like a less flaky, somewhat dense pie dough , I ended up with a dough that I think might actually make a really excellent sugar cookie- I will have to try it out sometime. It's buttery and not too sweet, just crumbly enough to stay tender, but firm enough to support a nice layer of fresh fruit. I topped it off with a thinner layer on top and a drizzle (ok a pour) of a basic three ingredient vanilla glaze. The end result is somewhere in between a pie and a sugar cookie, and what a combination it is.
You could use any combination of fruit that you wanted, but you want to make sure you end up with about 6 to 7 cups of fruit. In this case, I wanted to showcase the in-season cherries, which I always think pair really nicely with apples.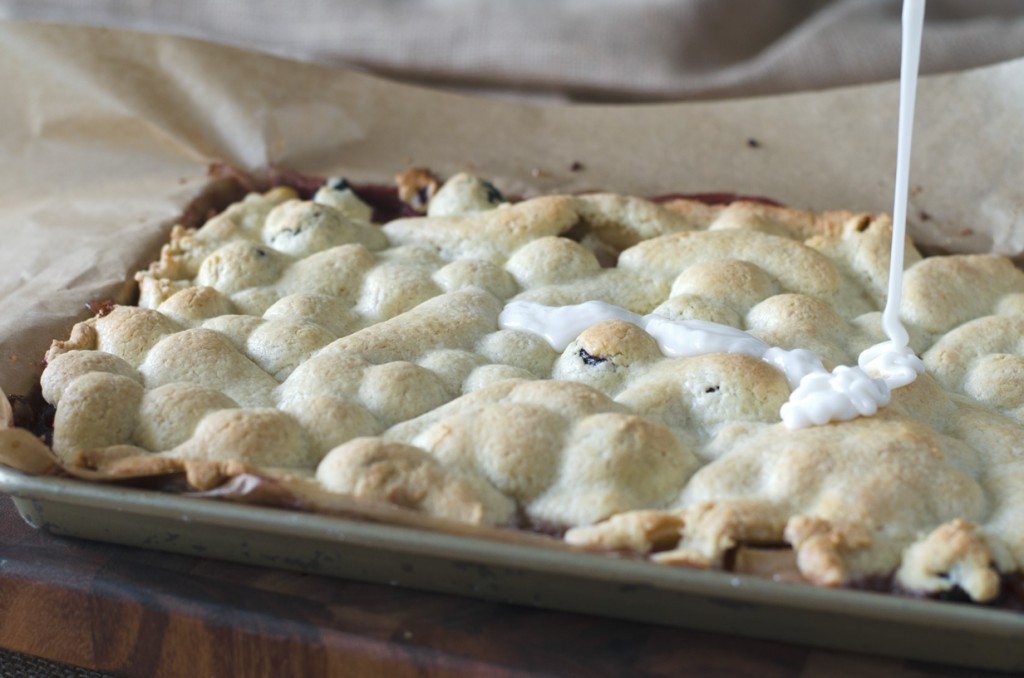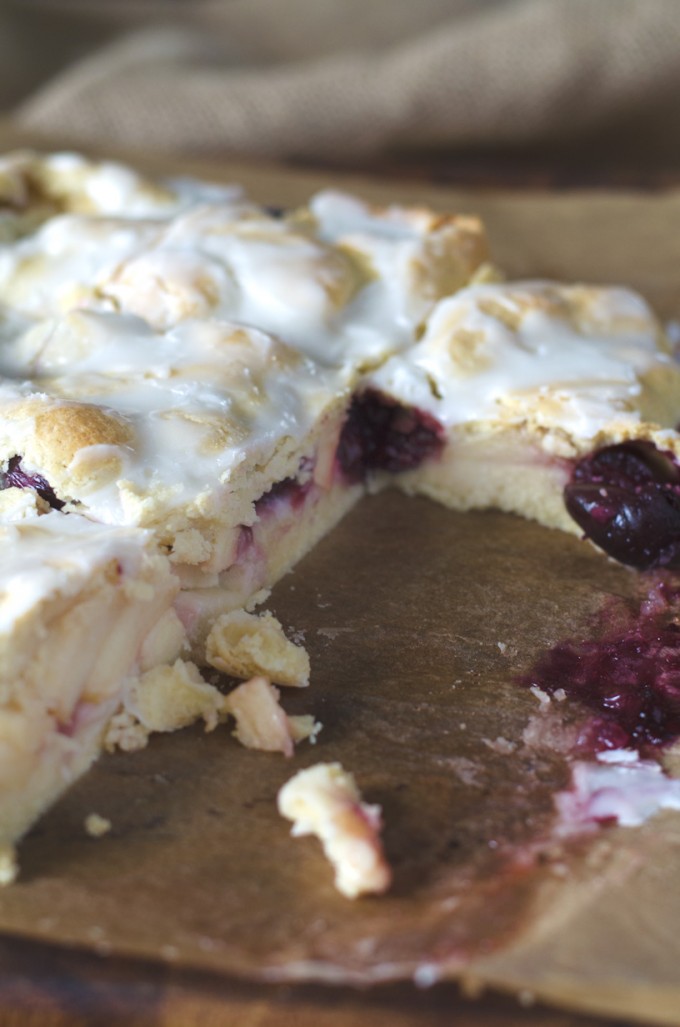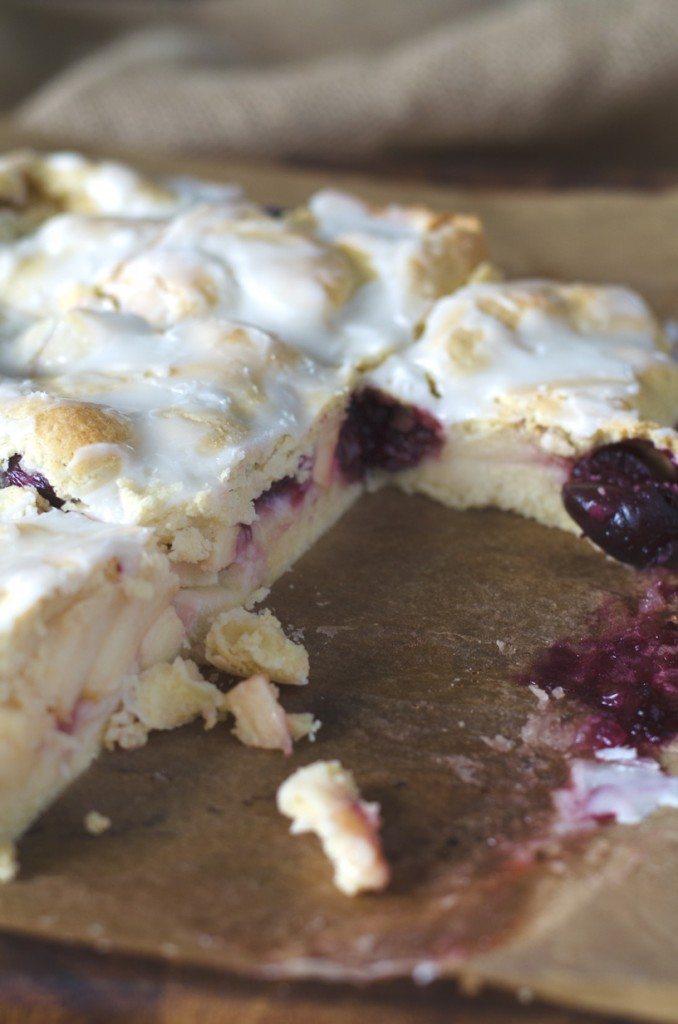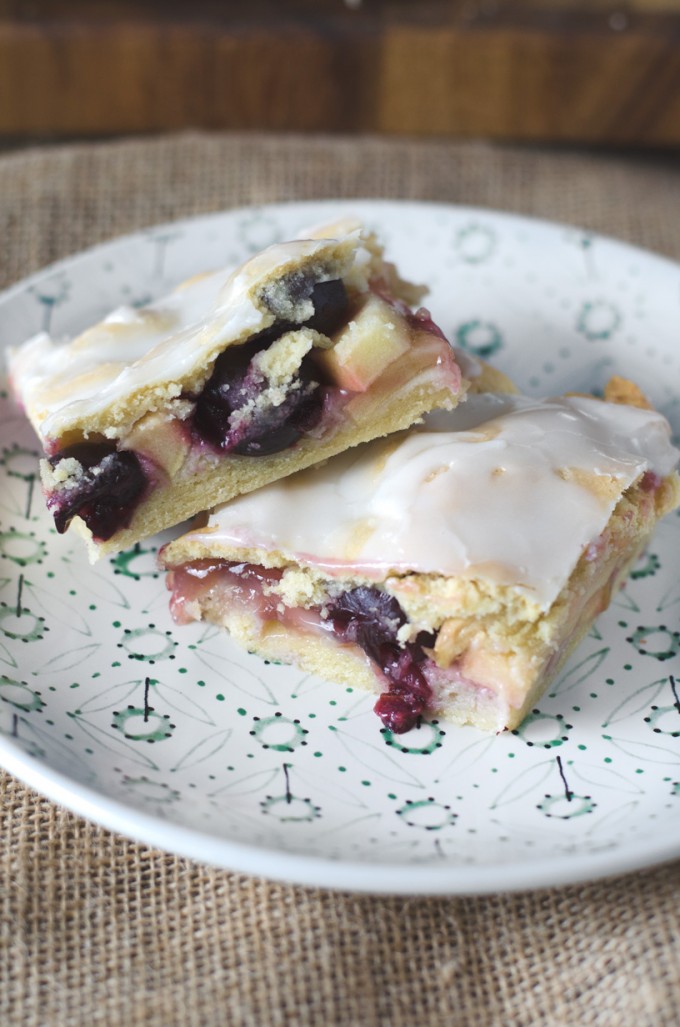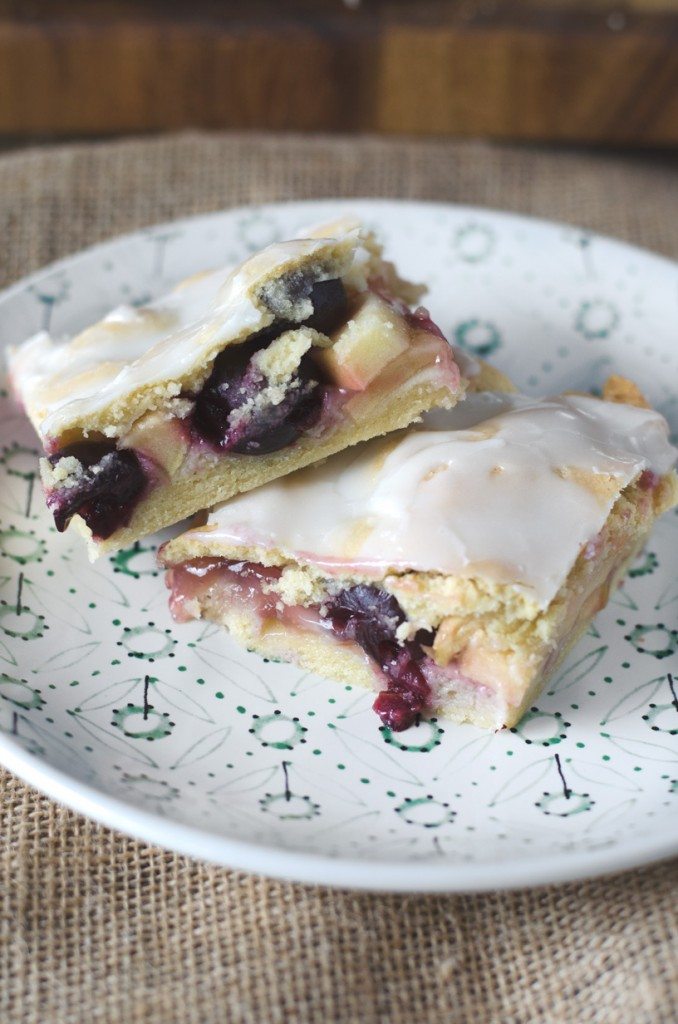 Apple Cherry Cookie Bars
Ingredients
2

sticks butter

1

cup

sugar

3

cups

flour

1/2

tsp

baking powder

pinch

salt

2

eggs

3

cups

pitted cherries

3

apples

peeled and sliced into 1/4" slices

1

cup

sugar

1/4

cup

cornstarch

1

cup

powdered sugar

1 1/2

T

milk

1

tsp

vanilla extract
Instructions
Preheat oven to 375F.

In the bowl of a food processor, add the butter, 1 cup sugar, flour, salt and baking powder. Run the machine until the mixture is homogenous and resembles large crumbs. Add the eggs and pulse until a dough forms.

Line a quarter sheet pan with parchment paper. Take half the dough and press it into the pan. (You may want to cover it with another piece of parchment and using a rolling pin. I did both). Roll out the remaining dough between two pieces of parchment into a rectangle.

In a bowl, stir together the cornstarch and 1 cup sugar. Add the cherries and apples, toss to coat. Spread the fruit mixture over the dough pressed into the sheet pan.

Peel off the top piece of parchment covering the remaining dough rectangle. Flip the dough onto the fruit (dough side down, remaining parchment side up), then carefully peel back the remaining parchment.

Bake for 40 minutes. Remove from oven and cool slightly.

Mix together the powdered sugar, milk and vanilla to make the glaze. It should be thick, but pourable- add small amounts of milk if necessary. Pour over the bars and allow to set. Cut into squares and serve.