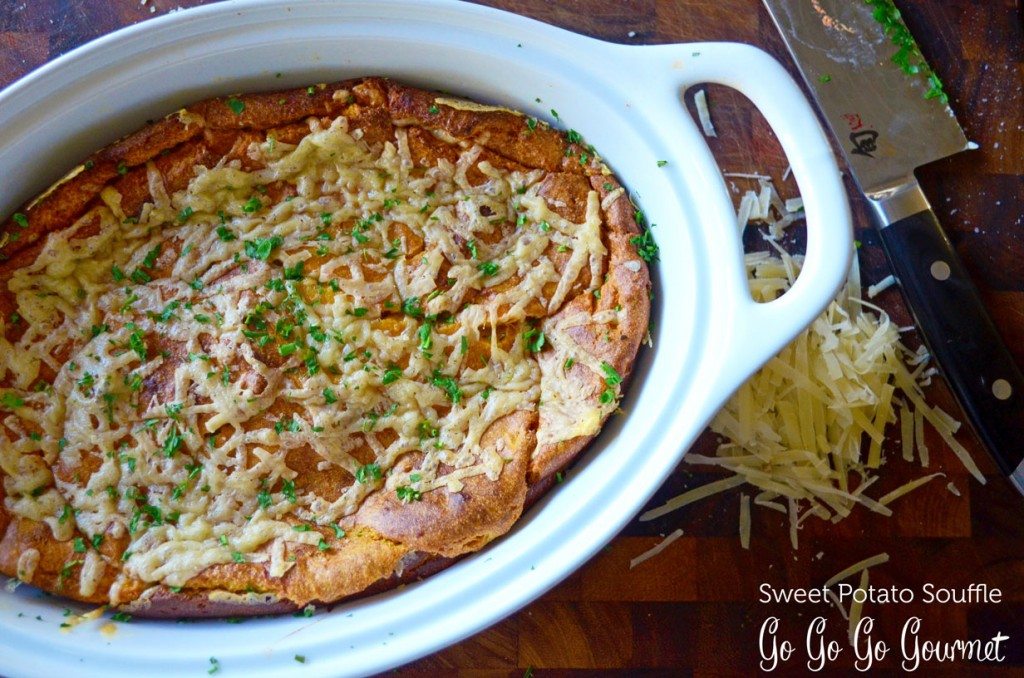 There is a never-ending sweet potato battle in this house.
I love sweet potatoes, my husband has never liked them, he doesn't seem to like eating anything remotely sweet with dinner. It's kind of the hard thing about when you have two people that grew up with slightly different food tastes. I feel as though each of us are missing out from time to time on things that we really like because of it.
This almost always comes up during Thanksgiving, since I insist on making sweet potatoes. I never give up on Dave's food tastes. I'm determined to find some version of a disliked food that he will, in fact, like. Think along the lines of Green Eggs and Ham:
Say! I do like green eggs and ham! I do like them, Sam-I-Am!… Thank you! Thank you! Sam-I-Am!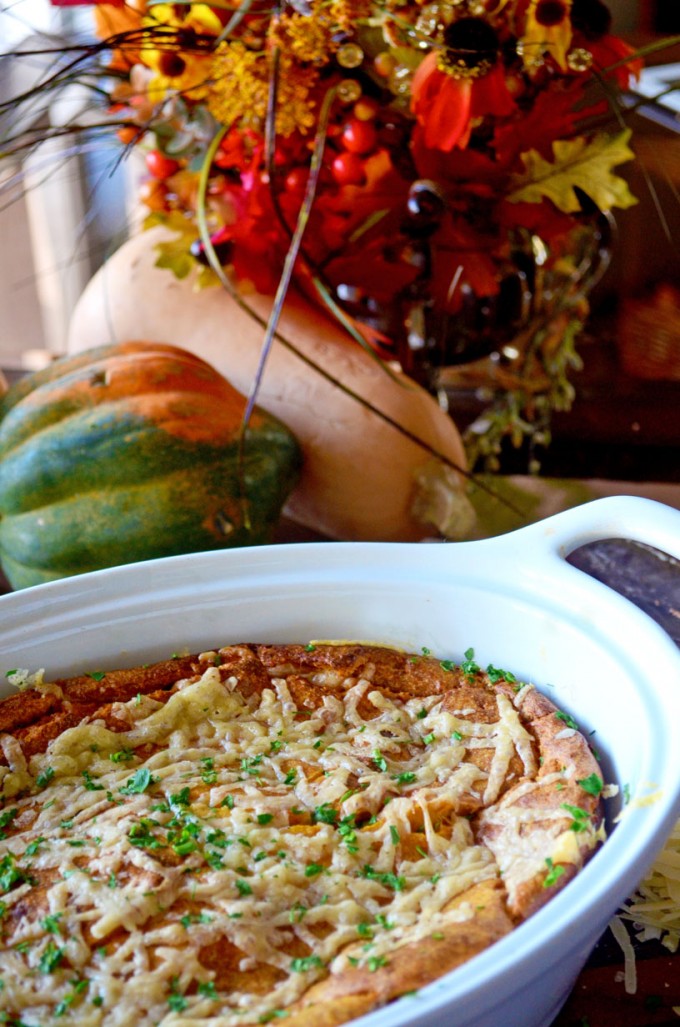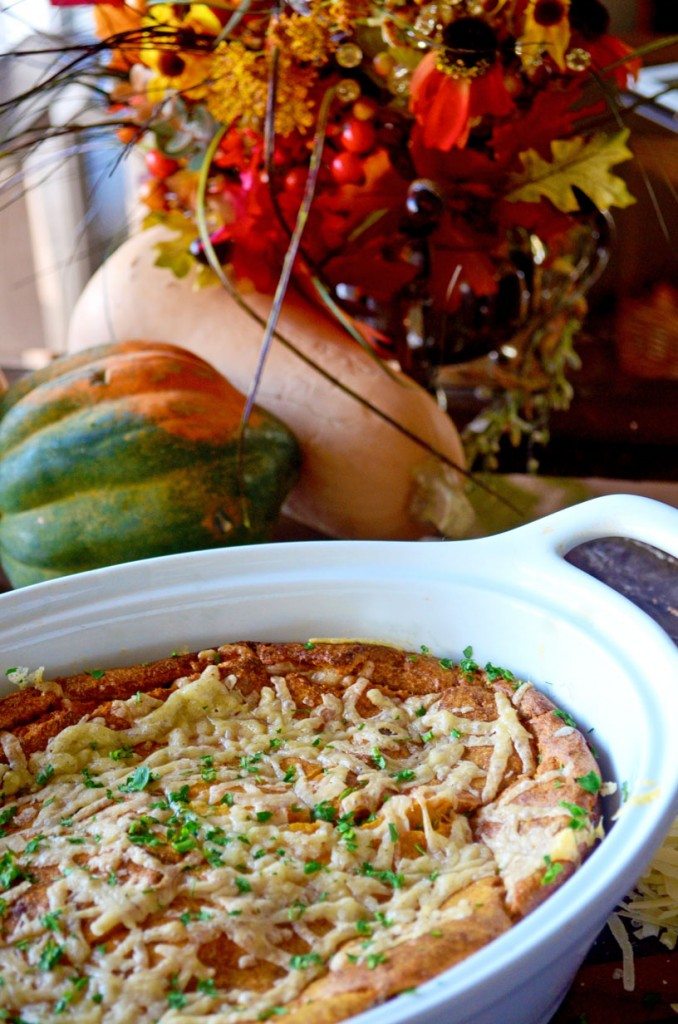 I might win the battle with this sweet potato soufflé, which is light and fluffy and delicious, despite the fact that it is comprised mainly of sweet potatoes and cheese. I would mark it as a moderate difficulty, just FYI. I thought it was okay, but I probably wouldn't recommend it to a novice.
I also learned an important lesson here. You CANNOT go and watch the end of an episode of Grey's Anatomy before taking pictures of a soufflé. You know what happens? It falls. So when yours inevitably does that, don't worry. It still tastes good.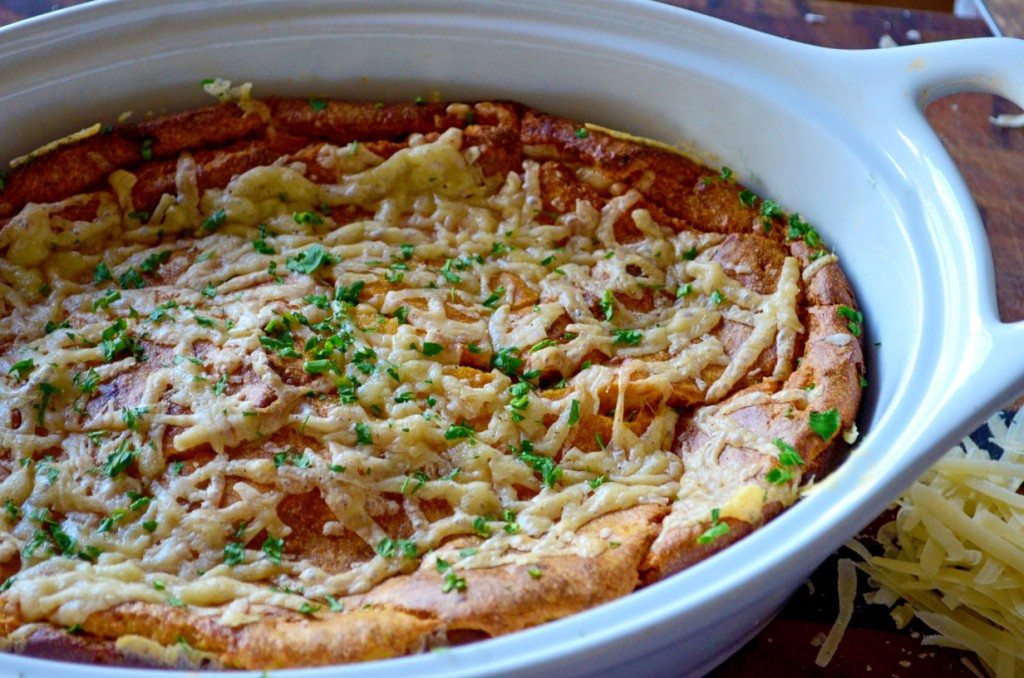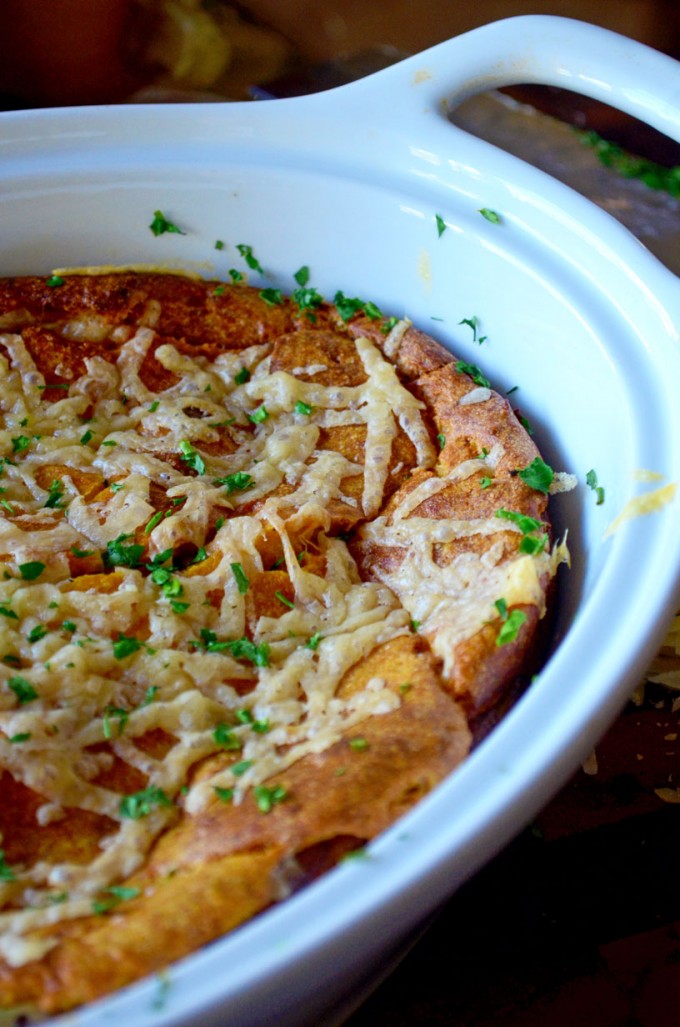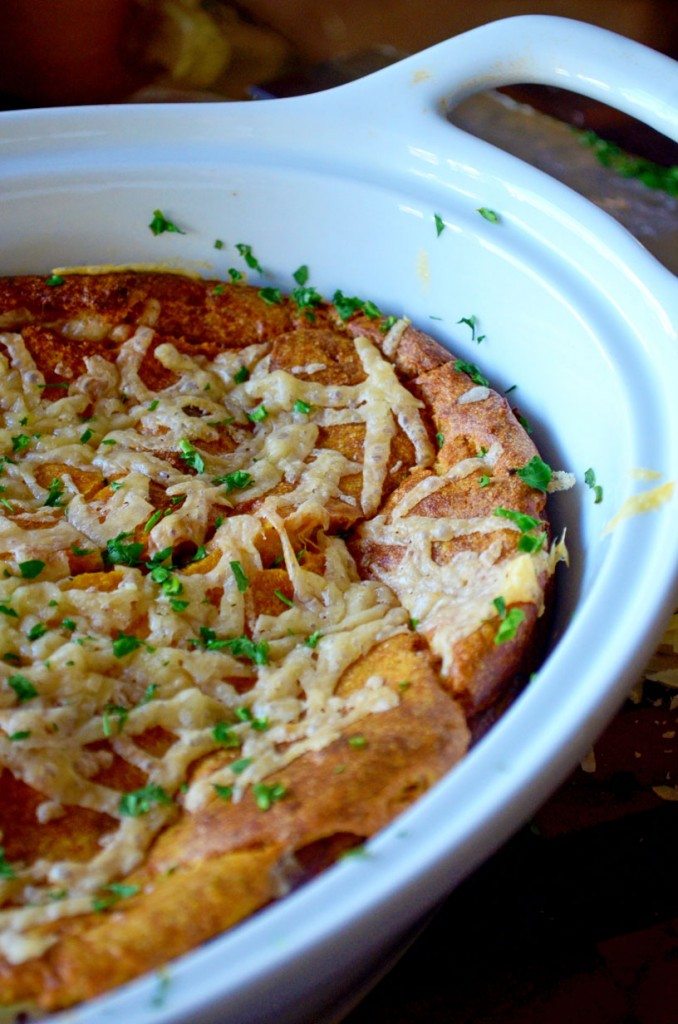 Sweet Potato Soufflé
Ingredients
2

lb.

sweet potatoes

peeled and cut into 1-inch cubes

8

garlic cloves

unpeeled

2

T

olive oil

6

oz.

Gruyère cheese

shredded

1

oz.

Parmigiano-Reggiano cheese

grated

4

T

1/2 stick unsalted butter

¼

cup

all-purpose flour

1

cup

whole milk

4

egg yolks

6

egg whites

1 ½

teaspoons

finely chopped fresh flat-leaf parsley

1 ½

teaspoons

finely chopped fresh chives
Instructions
Preheat an oven to 375. Spread out the potatoes and garlic on a cookie sheet. Sprinkle with olive oil, toss with your hands to combine. Roast for about 45 minutes, stirring occasionally, until the potatoes are tender. Remove from oven and cool for 15 minutes.

Reserve 1/2 cup of the Gruyère, then toss the remaining cheeses together.

Peel the garlic cloves, then add to a food processor along with the sweet potatoes. Puree until smooth.

Using either a stand mixture or a handheld mixture, whip the egg whites until medium peaks form.

In a saucepan over medium heat, melt the butter. Whisk in the flour and cook until it is pale golden. Slowly add in milk, then whisk until smooth and the mixture is very thick.

Add in the cheeses, one handful at a time, waiting to add the next handful until the previous one is fully melted and incorporated. Add the sweet potato mixture, stir, then add the egg yolks.

Fold in the whipped egg whites, 1/3 at a time.

Spray a 3 quart dish with cooking spray. Carefully pour the soufflé mixture in, then bake for 35 minutes, or until the top is set and golden brown. Sprinkle the reserved Gruyere cheese over the top; bake for an additional 10 minutes.

Remove from oven, sprinkle with herbs, and serve immediately.