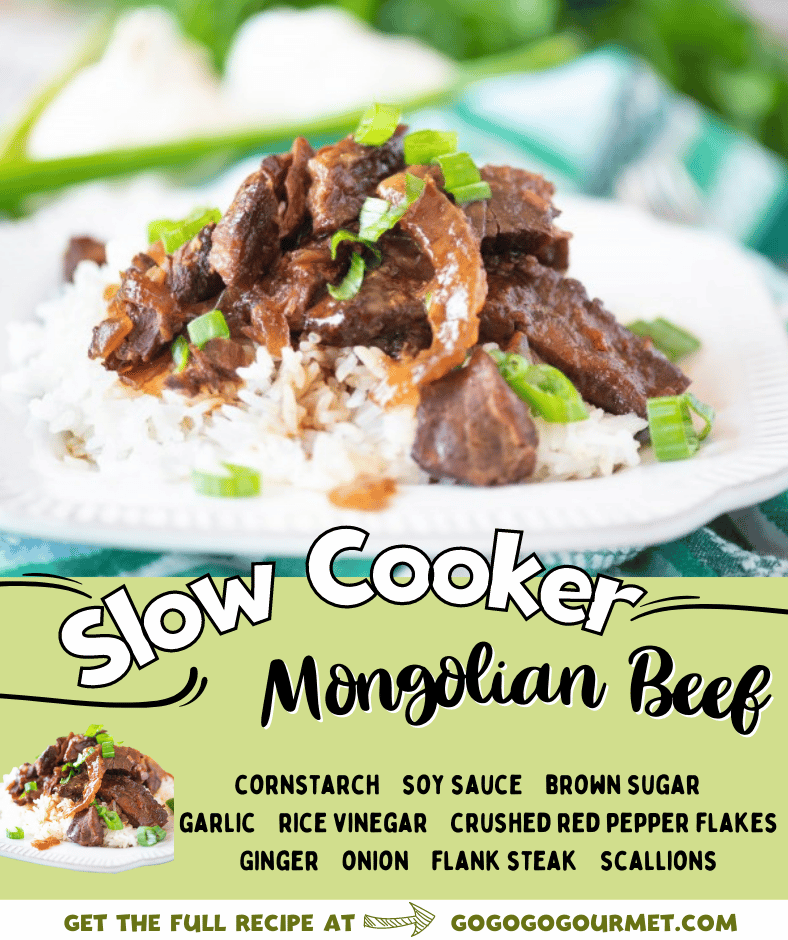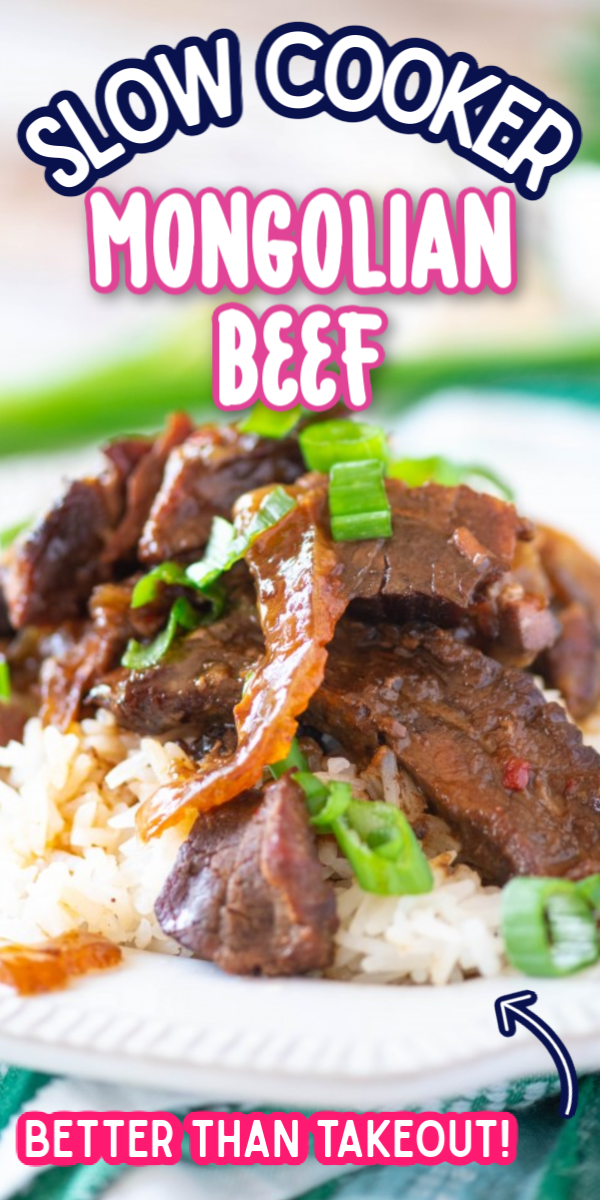 Have this tasty Mongolian Beef ready when you get home from work, thanks to your crockpot! Salty, a little sweet and a touch of heat make this the perfect at-home version of take out.
When it comes to Chinese take out, I have a been a Mongolian beef girl for just about as long as I can humanly remember.
I'm also extremely picky about it. I've had some truly great versions in my life. I've had some truly awful ones too.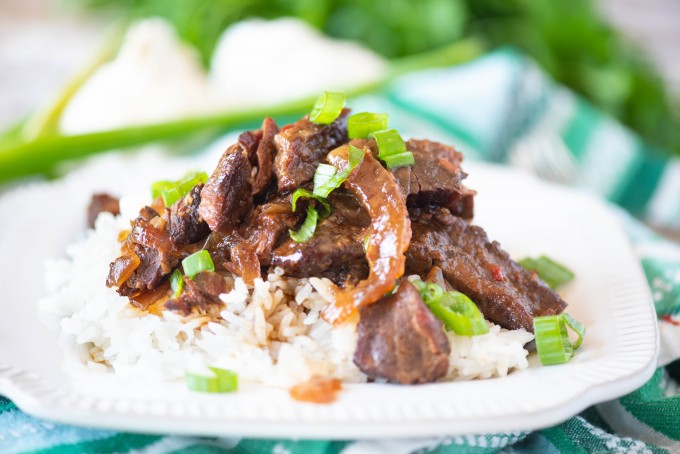 The key, for me, to a good Mongolian beef are a few things:
Onions. Don't skimp on my onions. Preferably there are both white and green onions present.
Sauce. The sauce is NOT just salty and sweet. There HAS to be some heat in there too!
The place that we order from gets those two things (I'm really not asking me for much here) totally right. It's not the best I've ever had, but I'm a fan.
Dave, on the other hand, is a beef and broccoli man. Always has been. In fact, I don't think that I've ever seen him order anything other than that.
Not too long ago, I was having a supremely bad day and made the determination that I was NOT cooking and we would be picking up Chinese and that was the end of it.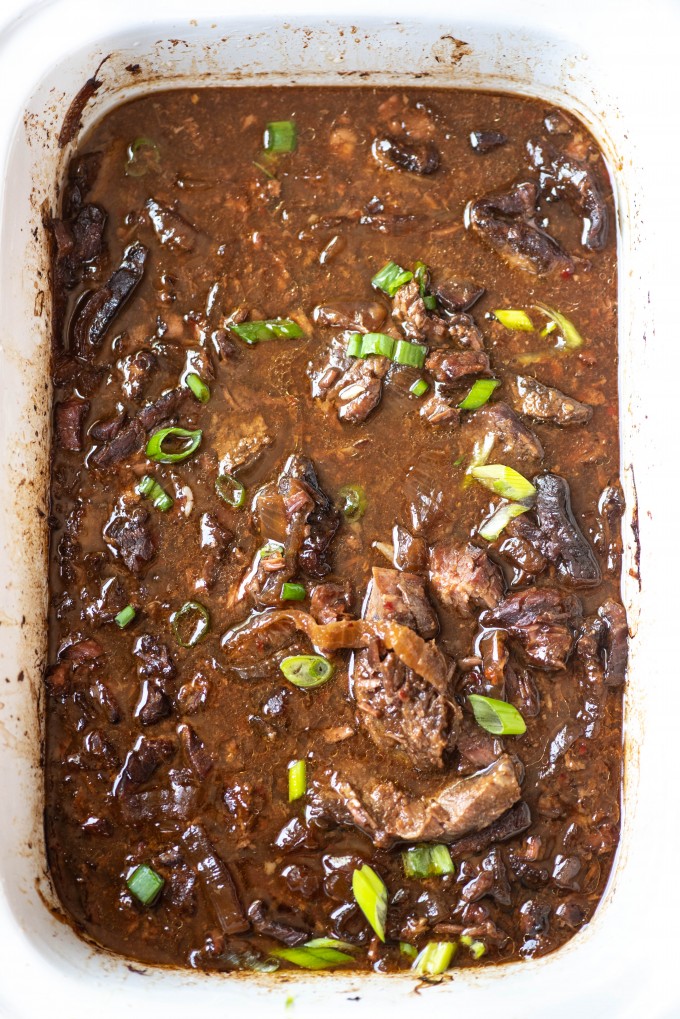 When I got home with it, I was on the phone dealing with some problem or other. Dave served the kids. I was not paying attention to what he was doing.
I finally got ready to eat after the kids went to bed. I asked Dave if he wanted me to make him a plate too, to which he told me that he already ate. Okay, cool.
Man, my Mongolian Beef portion is looking really skimpy this evening. Where's all my beef?!
Then I saw an unopened container in the bag. Lots of brown and green. Beef and broccoli.
"I thought you said that you ate?"
"I did."
"Um, what did you eat? Yours is still here, untouched."
A look of dread overtook Dave's face as he realized he ate my dinner. And as of this moment, that was the last time that we got Chinese.
Suffice it to say, I am still craving my Mongolian Beef. But not anymore! Because I figured out how to make a kick-ass version in the slow cooker, of all places.
As much steak as I want, as much heat as I want- it's perfect. And this version takes just as good, if not better, than any you'll pick up in a plastic container.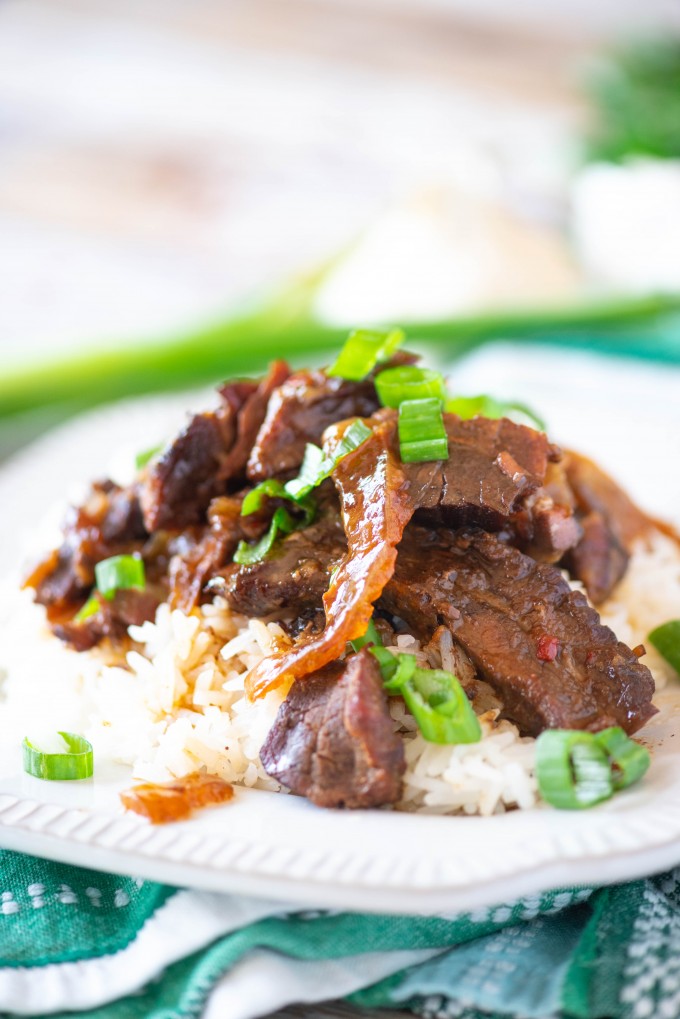 Recipe Notes:
I used flank steak on this. I wanted to use some cut of beef that wouldn't shred and fall apart, because that wouldn't give the right texture. I had never done flank steak in the crockpot before, but I was really impressed. It gave me just the right texture.
You can adjust your heat on this by adding more red pepper flakes. Dave, who loves spicy food, said that he thought it had a nice heat to it as it's written below. Just FYI.
This is also super fast to put together. I prepped this recipe, my Slow Cooker Chipotle Barbacoa, and my Grilled Lemon Pepper Chicken in 15 minutes before we left for school one morning.
Equipment needed:
Crockpot. I actually got a new one (I am still super fearful that mine is going to suddenly die. I like this one because it was smaller. I felt that it was helpful in getting the sauce to reduce and thicken at the end.
Measuring cup and spoons. – I love how cute and colorful these are.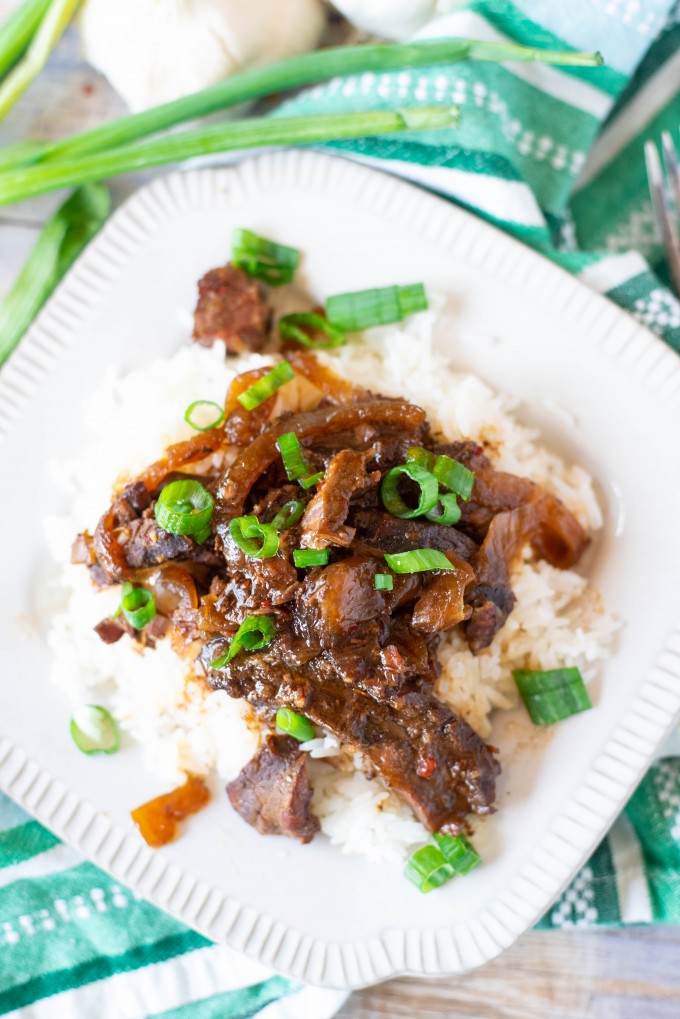 Slow Cooker Mongolian Beef
Have this tasty Mongolian Beef ready when you get home from work, thanks to your crockpot! Salty, a little sweet and a touch of heat make this the perfect at-home version of take out.
Ingredients
2/3

cup

soy sauce

1/3

cup

water

1/2

cup

brown sugar

2

teaspoons

crushed red pepper flakes

2

teaspoons

rice vinegar

4

cloves

minced garlic

1

tablespoon

fresh grated ginger

1

large onion

sliced 1/2"

1.5

lbs

flank steak

2

tablespoons

cornstarch

3

green onions

dark and light green parts sliced 1/4"
Instructions
In a small bowl, whisk together soy sauce, water, brown sugar, red pepper, vinegar, garlic, and ginger.

Slice the flank steak against the grain into 1/2" strips and place in slow cooker. Add onions, toss to combine. Pour sauce over top.

Cover and cook on LOW 6 hours or HIGH for 3-4.

At the end of cooking, you have two options- remove a small amount of cooking liquid and whisk it into the cornstarch in a separate small bowl until smooth, then return it to the slow cooker, stir in and cook on HIGH for 45 minutes to thicken the sauce; or, pour off all cooking liquid into a saucepan, whisk in the cornstarch and simmer on the stove until thickened.

Gently stir together the beef and onions, sauce and green onions. Serve over white rice.
SaveSave