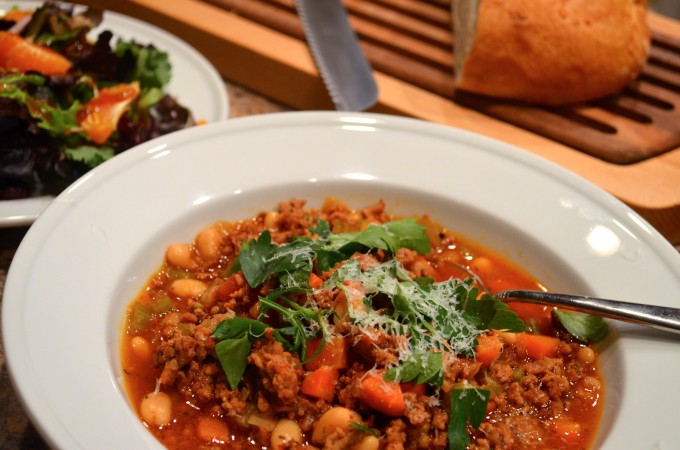 "Hmm. I have meatloaf mixture and italian sausage in here. There isn't enough of either for two meals. Alright, well let's see what we can come up with."
Thus began the creation process of this soup, which I am pleased to say turned out really well, considering it was one of those dishes where I was scavenging my pantry.
Side note: This is not something I would have come up with a year ago. For some reason, I had it in my head that I did not care for beans. This was fairly unfounded, especially considering that I like beans in chili and I love baked beans. I am choosing to blame this on the old elementary-school-playground song:
Beans, beans, they're good for your heart;
The more you eat, the more you…
Well, we all know how it ends.
Point is, I was being ridiculous. Beans are so good for you- low in fat, high in fiber and protein. They're also a great way to beef up a meal without adding more meat. I am now, at 28, slowly working my way out of self-imposed bean exile, and liking what I am discovering.
So, this is almost like pasta fagiole soup without the pasta. Homey, warm, and simple. I put it together in the pot, and then got J to bed while it simmered. Perfect!
Sausage & Bean Soup
Ingredients
1/2

lb

ground beef or meatloaf mix

1/2

lb

italian sausage

1

large onion

diced

2

large carrots

diced

2

ribs celery diced

2

cloves

garlic

minced or pressed

1

can diced tomatoes

1

can great northern beans

rinsed and drained

4

cups

vegetable stock

2

tsp

dried oregano

Fresh parsley

for serving

Grated parmesan

for serving
Instructions
In a 6 qt (or larger) pot, brown both meats together. Drain all but 1 T of the fat from the pot. Add onion, carrot, celery and garlic to the pot, sauté until the onion is translucent and vegetables have softened. Add tomatoes, beans,  stock, and oregano to the pot; season with salt and pepper. Simmer for at least twenty minutes (soup should reduce by about 1/3) to let the flavors come together. Serve with parsley and parmesan.
Some possible changes that I thought of after the fact:
If you like heat, consider using hot sausage, or adding 1 1/2 tsp red pepper flakes to the meat when browning.
Use one more can of beans (I only had one can)
Add several handfuls of fresh baby spinach about five minutes from the end (I definitely would have done this if I hadn't used it all the day before)