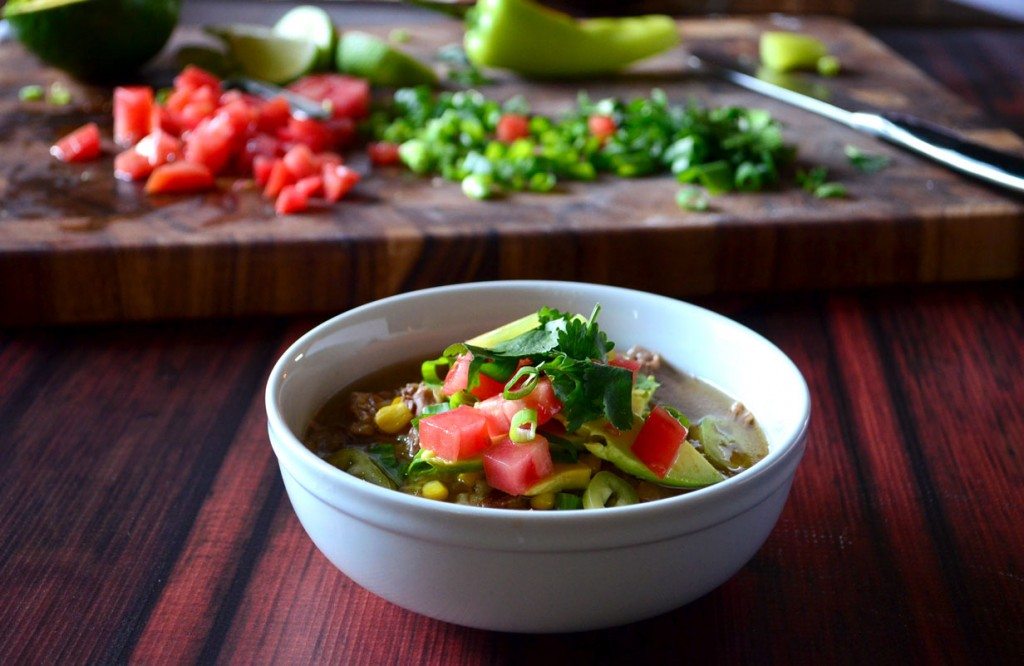 I get crazy ideas in my head sometimes, totally out of nowhere. I was thinking about how I needed more slow cooker / crockpot recipes on here, more recipes that required little more work than putting things into a crockpot. I also had a large pork shoulder in my freezer. For whatever reason, fate struck, lightning flashed, thunder clapped, and I had a vision in my head of a hearty crockpot stew reminiscent of a Chipotle burrito bowl- chock-full of tender braised pork, rice, corn and peppers, topped with an assortment of crunchy salsa-ish ingredients and cheese. Bam! Crockpot Carnitas Burrito Bowl Soup was born.
This is not to say I didn't have my doubts. Sometimes when I have these visions, they turn into more of a "No No No Gourmet" than "Go Go Go Gourmet." I called up my sister-in-law, my personal consultant on mexican food and flavors and asked her if I was crazy. "Well," she said, "all those things go together really well, so I can't imagine it wouldn't be good. I'd make it!"
Endorsement enough for me!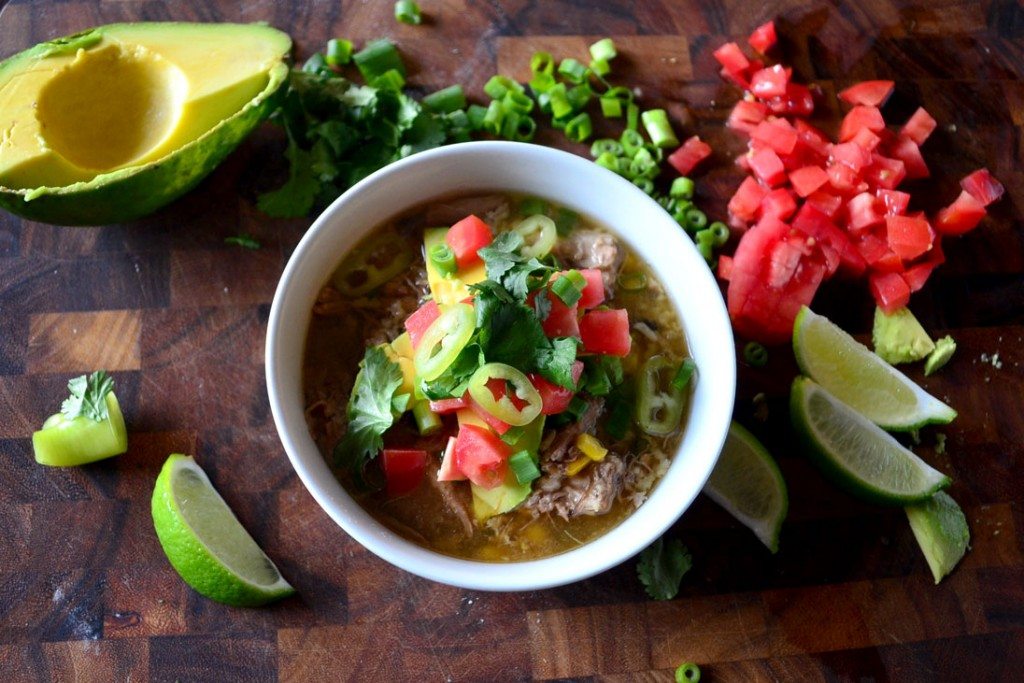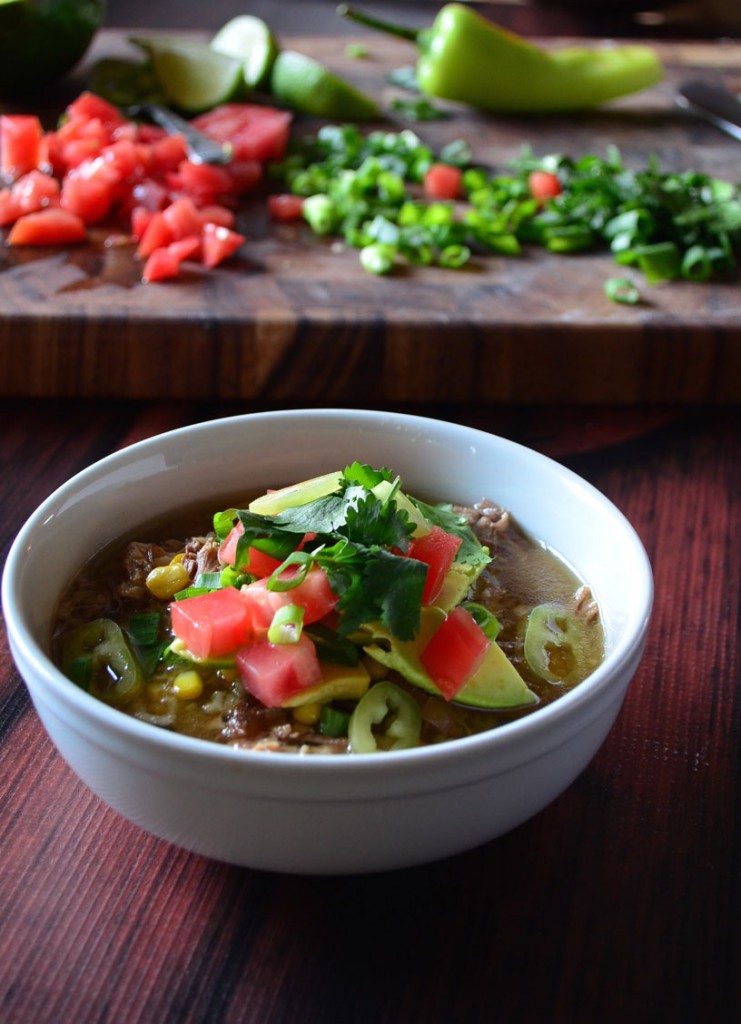 The only problem with coming up with a crockpot recipe is that if its no good, or you wish you could tweak something, you really can't. It requires, for the most part, starting over, and no one wants fifteen pounds of the same dinner around. Luckily for me, this turned out really well and we all really enjoyed it. The only unfortunate dinner-related part of the evening was when I was slicing things up for the top of the soup, and licked my fingers, expecting the sweet tartness of fresh-cut lime. What I actually got was the sweet tartness of fresh-cut lime for about 1.5 seconds, followed by the burning fire of a thousand suns.
I had also been cutting up a hot banana pepper. Ouchies.
Notes: You know me, there are always multiple ways to get almost the same result:
If you wanted to skip the pork browning step, okay I can understand that, but please don't skip browning the onions. If you don't want to do it that morning, do it the night before so all you have to do is put it all together in the slow cooker before you head out in the morning.
If you were thinking that you wanted this to be ready when you got home (AKA not have to wait another hour), you could probably add the black beans, corn and sliced poblano initially, then cook rice separately and stir it in. I just wanted it all done in one pot so I had less to clean up (that is the beauty of a multicooker, I can do my browning and sauteeing in the same appliance and pot as I do my slow cooking!).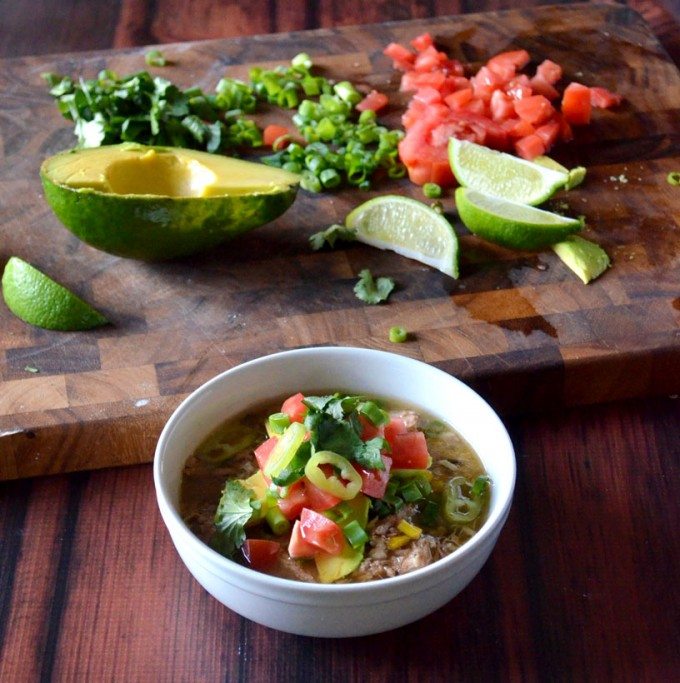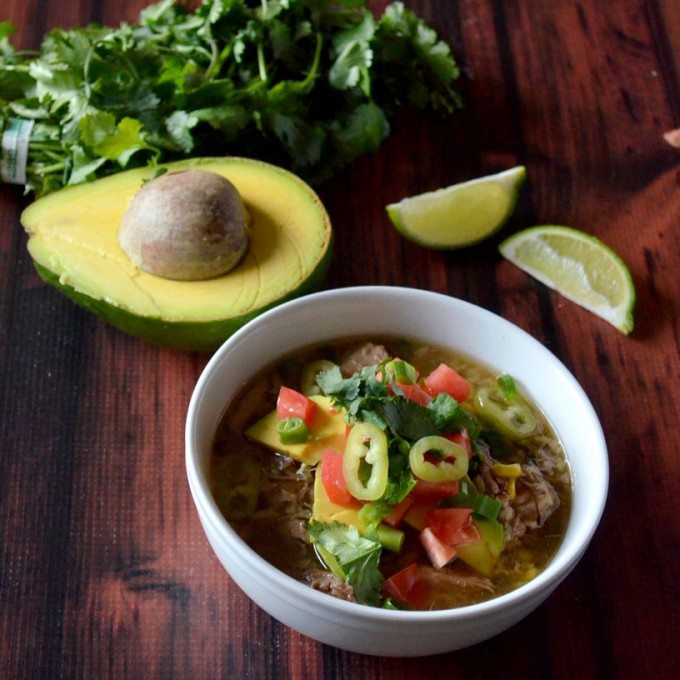 Crockpot Carnitas Burrito Bowl Soup
Ingredients
3.5

lbs

pork shoulder

cut into 5-6 large chunks

1

onion

sliced thinly

1

quart

chicken or vegetable stock

1

sprig thyme

1

can black beans

drained and rinsed

1

poblano pepper

seeded and cut into strips lengthwise

1 1/2

cups

frozen corn

2 1/2

cups

rice

Toppings: diced tomato

grated cheese, lime wedges, sliced banana peppers, chopped cilantro, chopped green onions
Instructions
Heat a heavy pot over medium-high heat (or heat a multicooker to 475). Season the pork chunks with salt and pepper, then add them to the pot to brown, approximately 5 minutes per side. Remove from the pot and add to a slow cooker.

Add the sliced onions to the pot and saute until they are golden brown and caramelized. Add a small amount of stock to the pot to deglaze the pan, scraping up the any browns bits on the bottom with a wooden spoon. Add the onions to the slow cooker.

Place 2 large sprigs of thyme on top of the pork and onions, then pour in the remaining stock. Cook on LOW for 6-7 hours, until the pork is tender and falling apart.

Shred the pork. Stir in the beans, corn, rice and sliced pepper, turn the slow cooker to HIGH, cover, and cook until the rice is tender, approximately 30-60 minutes.

Ladle soup into bowls. Squeeze a lime wedge over, then top with diced tomatoes, cheese, peppers and cilantro and serve.