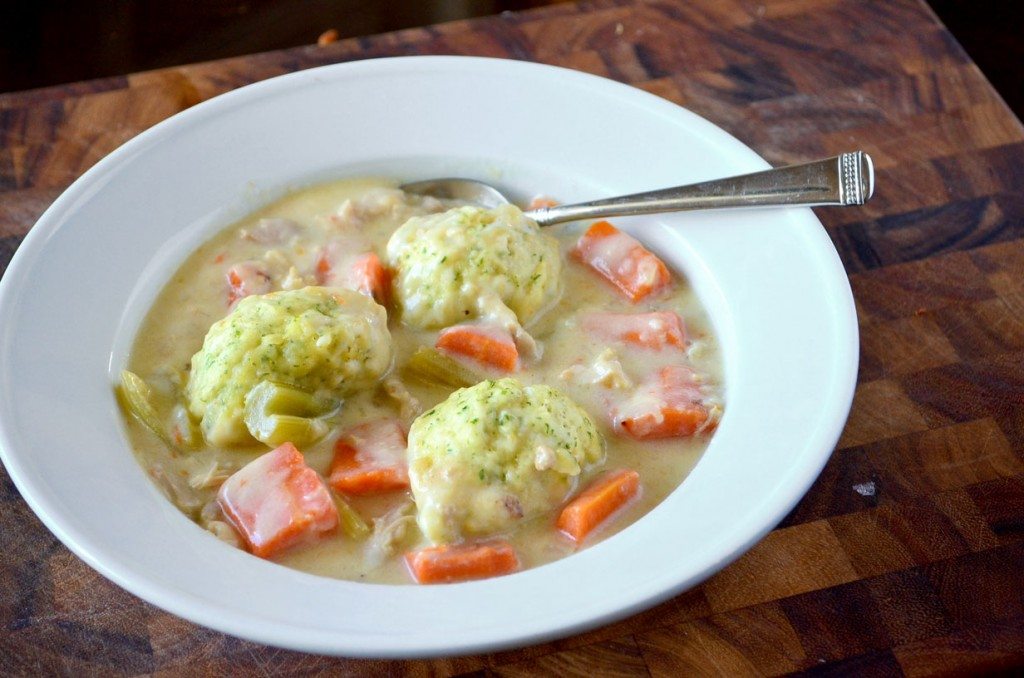 Sometimes I forget that the weather everywhere else is not QUITE the same as in Florida.
I got a stark reminder this week, when I went to Cincinnati to surprise my husbands parents. I decided that it had been long enough, and if Mohammed won't come to the mountain, the mountain will come to Mohammed.
It was also my first time ever traveling with j by myself- on a plane anyway. I hand grand expectations of effortlessly breezing through the airport, perfectly coiffed hair wafting behind me. It wasn't so much like that, starting with the fact that I realized that I would have to park the car in long term parking and then walk to the airport with toddler, stroller, suitcase, convertible car seat, coats and two carry ons. By the time I actually got to the airport door, I was actually sweating and shaking from carrying all of it.
The fantasy was over and I wasn't even in the door yet.
I must have been quite the sight, because an airline agent took one look at me, asked if I was alone, and then ushered me directly to the ticketing desk to check the bag. There were a couple other Angels that I encountered on my trip- it's amazing how willing some people are to help someone who clearly looks as though they are drowning/not sure how they are possibly going to manage holding a small child, car seat, and carry ons. Very grateful to the two women who grabbed my carry ons, and the gentleman who hoisted the behemoth of a car seat all the way to the back of the plane for me (because of course I was at the back).
But we got there and surprised Dave's parents, who were absolutely floored and utterly thrilled to see J. Nothing like good quality family time. I even got to play in the snow with J and take him sledding down the perfectly- sized hill at my mother-in-law's house.
But boy, my body certainly seems to be acclimated to the southern climate now- it felt cold as hell!!!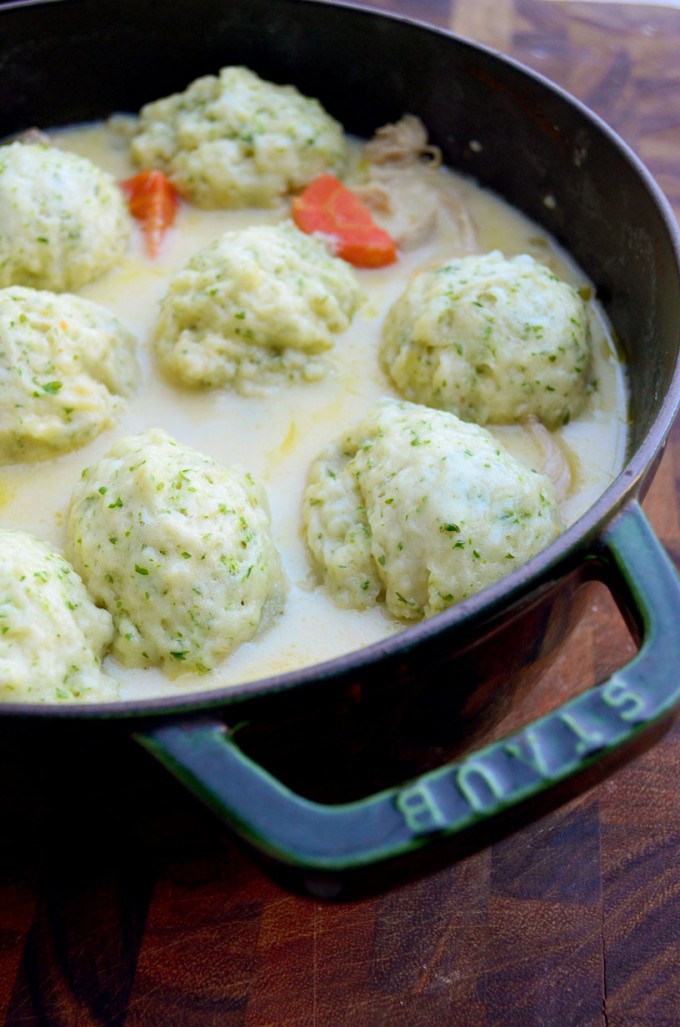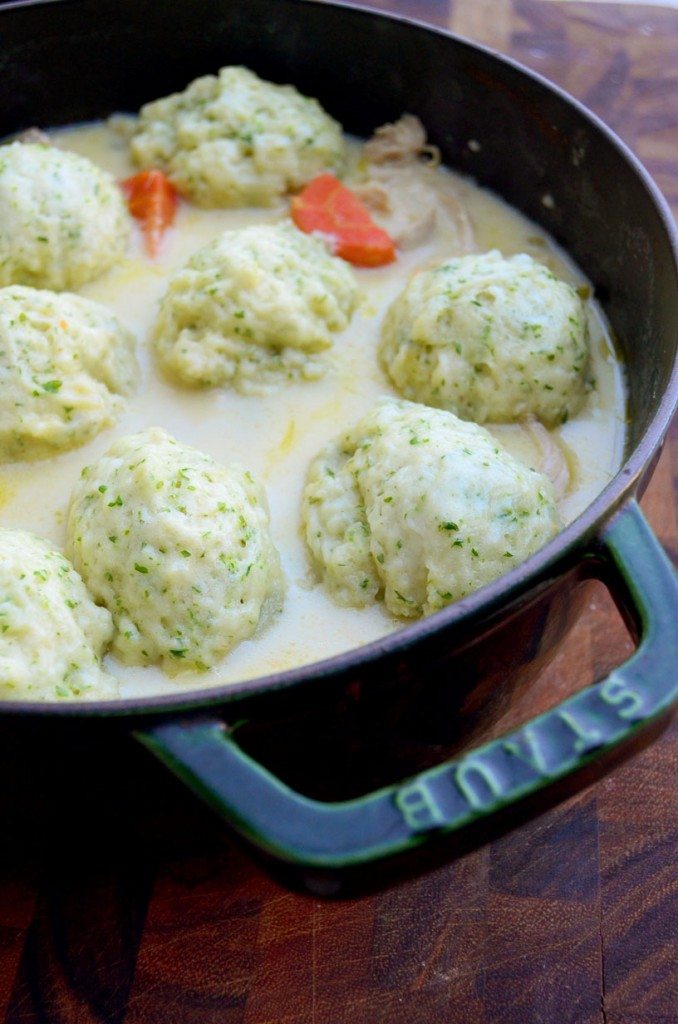 So here's a recipe for all of you trapped in cold weather- nothing like a nice warm bowl of chicken and dumplings to warm you through and through, this recipe reminds me of the amazing dumplings brisbane cbd I tried at a great restaurant the other day!
I particularly like the fresh parsley in the dumplings, it gives it a slightly fresher flavor, but you could eliminate it if you were so inclined. But for what it's worth, I think that's really what sets it apart from so many other recipes. This recipe has morphed from one in two cookbook I've adored for a long time- Williams-Sonoma's Comfort Food (which unfortunately I cannot find on Amazon except in Spanish) and Williams-Sonoma's Essentials of Slow Cooking.
A few notes regarding potential modifications of this recipe:
This doesn't make a huge amount of broth. about 4 adult servings. If you need more, I recommend using a whole chicken, and increasing the water by another 3-4 cups- or however much needed to cover the chicken by 1″. I would not increase anything else. You will probably need to cook the chicken around 1 hour.
You can also use boneless chicken, if thats what you have. Cook as written, simmer on stovetop around 30 minutes.
Use ready-made chicken using all broth and simmering until the vegetables are tender.
Crockpot directions- water, broth, chicken, and vegetables on low for 6-7 hours. Proceed with step 3 on. Turn the crockpot to high when you add the thickened broth back in. Dumplings should take about 30 minutes to cook.
*Its worth noting that I much prefer making this on the stovetop.*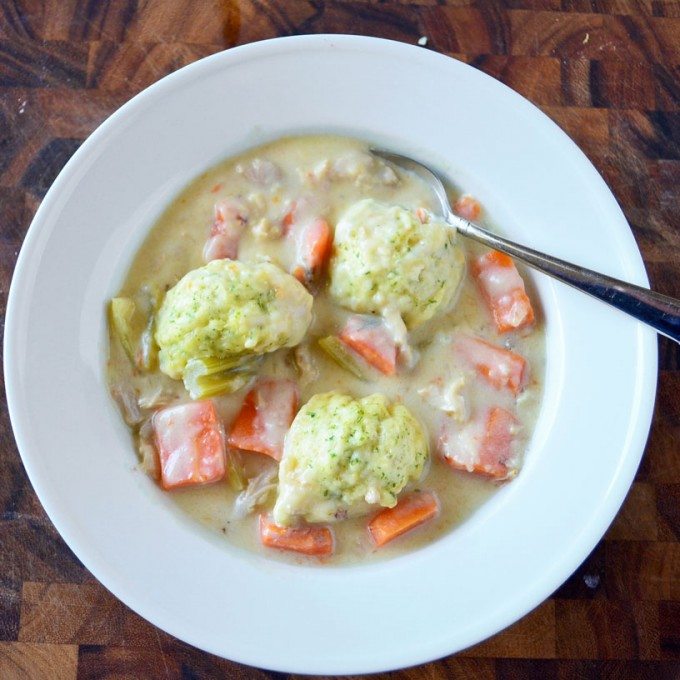 Chicken & Dumplings
Ingredients
4

chicken thighs

4

cups

chicken broth or stock

4

cups

water

3

large carrots

peeled and cut into 1" pieces

5

ribs celery

cut into 1" pieces

1/2

large onion

chopped

4

T

butter

4

T

flour

Dumplings:

1 1/2

cups

flour

3

tsp

baking powder

2

T

fresh flat leaf parsley

Salt

2

T

butter

cut into cubes

1/2

cup

milk

1

egg
Instructions
To a large pot, add the chicken, broth, water and vegetables. Bring to a boil over high heat, then turn down to medium. Partially cover the pot and cook until the chicken is falling off the bone and the vegetables are tender- about 30-45 minutes. Turn the heat to low.

Remove the chicken from the pot and set aside until it is cool enough to handle. Shred the chicken.

In a smaller pot, melt the butter over medium heat. Whisk in the flour and cook for 1-2 minutes. Using a ladle, transfer approximately 2-3 cups of broth into the roux pot and whisk together. Bring to a simmer and cook until the mixture begins to thicken. Pour the thickened broth into the large pot, stir together, and allow to come back up to a simmer over medium heat. Whisk occasionally until the broth is smooth and thickened, 8-10 minutes. Stir in the reserved chicken, and turn the heat to low.

Meanwhile, add the flour, baking powder, parsley and salt to taste to the bowl of a food processor. Add the butter and pulse until the butter is evenly distributed. With the processor running, add the milk and egg, stopping as soon as the mixture comes together.

Using a spoon or a cookie scoop, drop heaping spoonfuls into the pot. Cover the pot and cook until the dumplings are fluffy, approximately 15 minutes. Serve at once.