What is that glorious looking thing above? Is it a beautiful morning bun? A pastry?
Nope! Its hummus! Isn't it beautiful??!?!?

I actually only had hummus for the first time maybe a year ago. To me, it just never sounded like something that was appealing to me. Chickpeas? What the hell even are those? Are they beans? Peas? Something about whipped beans just didn't sound good.
But then Dave urged me to try it. More than once. And I did. And I felt stupid from not trying it sooner.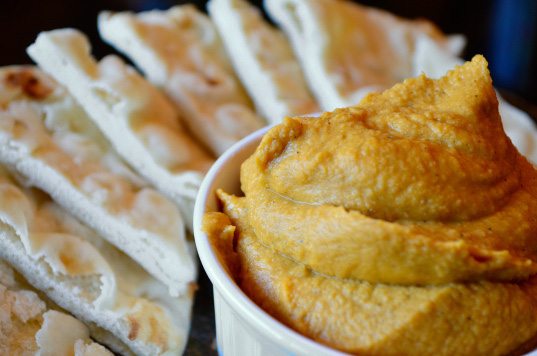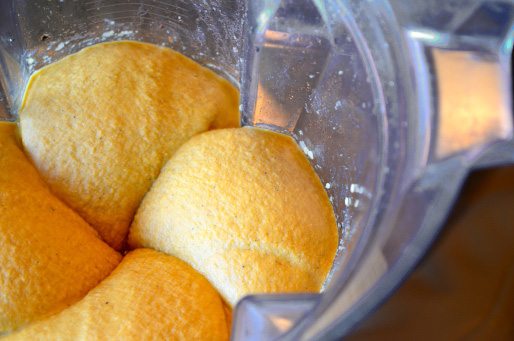 I also never really knew how easy it was to make at home- especially with a Vitamix. Throw it all in there and turn it on! I'm sure it would work equally as well in a food processor. I had a plethora of bell peppers in fridge, accumulated from the last few weeks of co-op food baskets. I have to be in the right kind of mood for bell peppers, but I figured I would give hummus a go (hell, I haven't done an "Ingredient of the Week" in awhile- hello, chickpeas!).
Roasted Red Pepper Hummus
Ingredients
4

bell peppers

halved and seeded

2

cans chickpeas

2

gloves garlic

2

T

olive oil

1/2

large lemon

juiced

2

tsp

salt

1

tsp

cumin

1/2-2/3

c

water

3

T

sesame seeds

or 2 T toasted sesame seeds, 1 T untoasted
Instructions
Preheat a broiler on HIGH. Line a baking sheet with foil and add with peppers. Roast bell peppers until skin is black and blistered. Flip to the other side and continue roasting until the edges blacken. Remove from oven and allow to cool. Peel the blistered skin off. You should have about 1/2 cup of peppers.

In a food processor or blender, add all ingredients together. Start with 1/2 cup water, adding more if needed to keep the mixture running. Process until mixture is completely smooth. Serve with pita triangles and vegetables.
Red Pepper Hummus